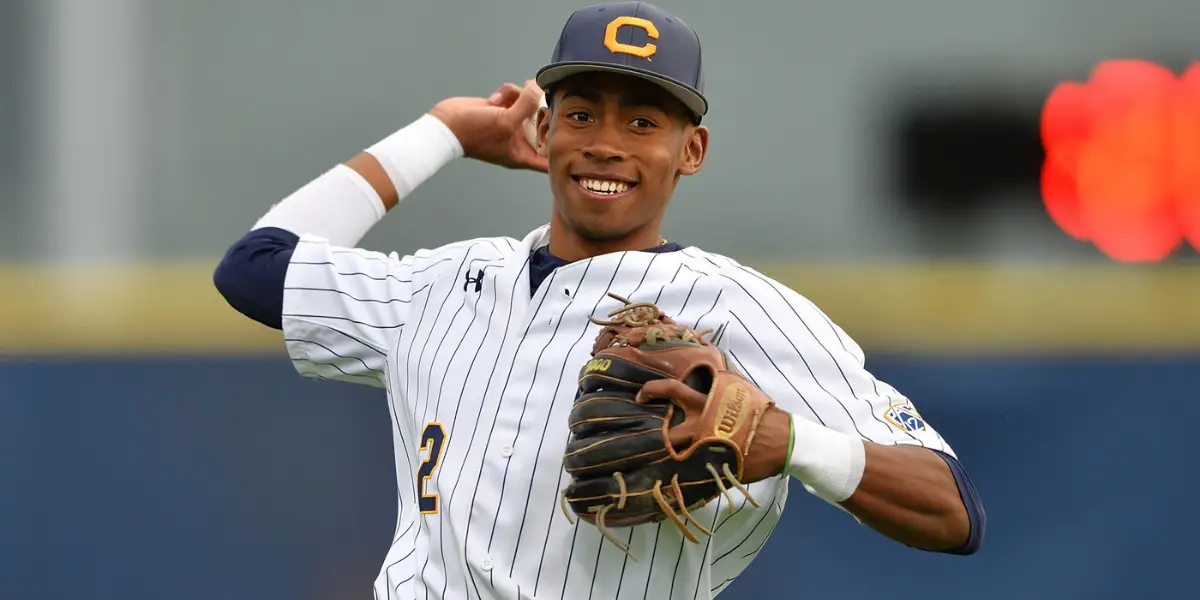 Last week I wrote about the Washington Nationals' Top 10 Prospects, and this was the list I came up with:
James Wood
Elijah Green
Cade Cavalli
Jarlin Susana
Robert Hassell
Brady House
Cristhian Vaquero
Thad Ward
Jackson Rutledge
T.J. White
The top seven were easy to pick because they're highly rated across baseball. Check out that article for further explanations and descriptions. Eight through ten were tough to pick because the Nationals have a lot of middling/solid prospects who have some potential to become good MLB players. Without any particular order, here are the other prospects to look out for in the Nationals' farm system.
Armando Cruz SS
Hit: 50 | Power: 40 | Run: 55 | Arm: 60 | Field: 60 | Overall: 45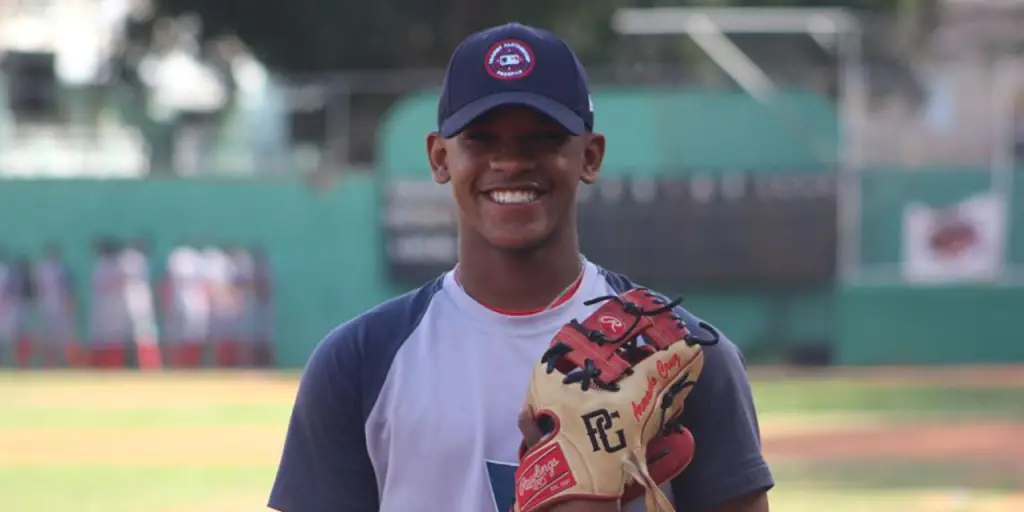 Armando Cruz was the Nationals' top International Free Agent signing in the 2020-21 signing period. Cruz's best tool is his defense. He's got great range and footwork, and he can make all the throws from the shortstop, and he's been doing that since his teenage years. Cruz is not the quickest guy on the field, which makes his fielding prowess more impressive because he relies on proper technique at shortstop. Armando Cruz's bat, however, still requires some work. He has a decent hit tool but without much power. In 2021 he struggled at the plate in the DSL (73 wRC+), but an 8.1 BB% and a 13.7 K% shows that he has a good understanding of the strike zone and can consistently make contact. He took a step forward in 2022 as in 55 games across the FCL and A ball, he hit .275/.322/.360, which was suitable for a 94 wRC+. Cruz improved his average and continued to make consistent contact (16.8 K%). He also stole 22 bases on top of that. Armando Cruz has got gold glove ability at shortstop, so the key for him moving forwards is to have more power in his bat to produce better contact to remain at league average or above. Cruz just turned 19, so he'll continue to get stronger, and the hope is that will help him become an everyday MLB player. He'll start 2023 in A ball, and if he continues to perform well, he'll become a top-10 prospect for the Nationals.
Darren Baker 2B
Hit: 35 | Power: 35 | Run: 55 | Arm: 40 | Field: 50 | Overall: 35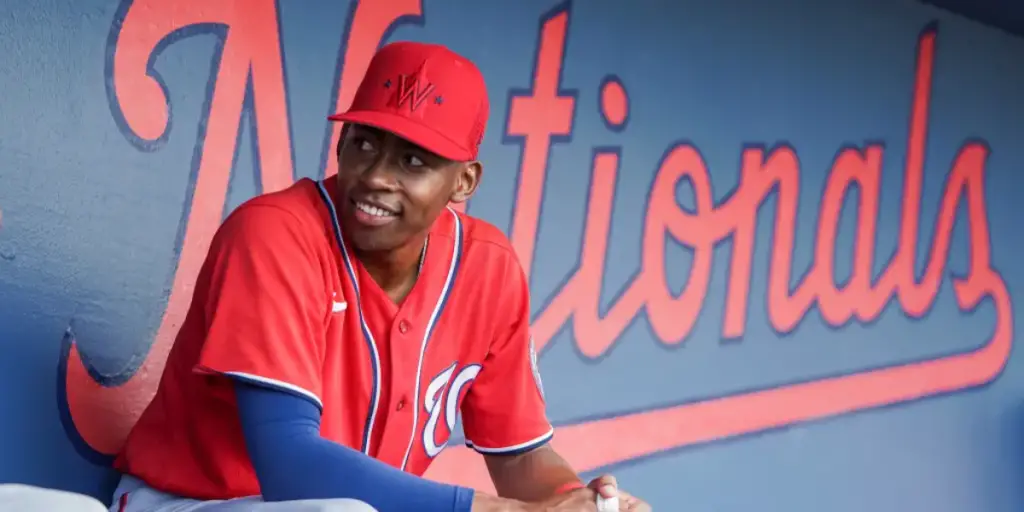 Darren Baker is the son of former Nationals manager Dusty Baker. There isn't much potential for Baker as he didn't play too well at college, hence why he was a 10th-round pick as a senior. He isn't even a top-30 prospect for the Nationals. Baker plays good defense at 2B and has decent speed, but he has next to no power with his bat. I thought he'd struggle in his time in the minors, but to his credit, he has played at a consistent level so far, and he hit AA just a year after being drafted. In 18 A games in 2021, he hit .318/.352/.394 (105 wRC+). Baker proceeded to 105 games in 2022, with 62 of them at A+ ball and the other 43 in AA. At A+ ball, he hit .273/.333/.367 (94 wRC+), not impressive, but to his credit, he did hit 16 2B and stole ten bases. Baker had a good strikeout rate (18.7%) and walk rate (8.1%). Surprisingly he was promoted to AA, and he improved! Baker posted a line of .290/.356/.361, which was above league average (102 wRC+). He hit 9 2B and stole five bases as well. Baker was able to draw more walks (9.4%) and strikeout less (15.7%). Darren Baker won't be a star or a solid everyday player in the MLB, but he can be a useful bench or utility player. He's had consistent numbers at the plate across various levels of the minor leagues so far, with good defense and speed. Baker has also shown that he has good plate discipline and can consistently make contact. He's already 24, so he won't gain much more power, but it'll be interesting to see if he can keep his production up.
Matt Cronin RP
Fastball: 65 | Curveball: 55 | Changeup: 40 | Control: 45 | Overall: 40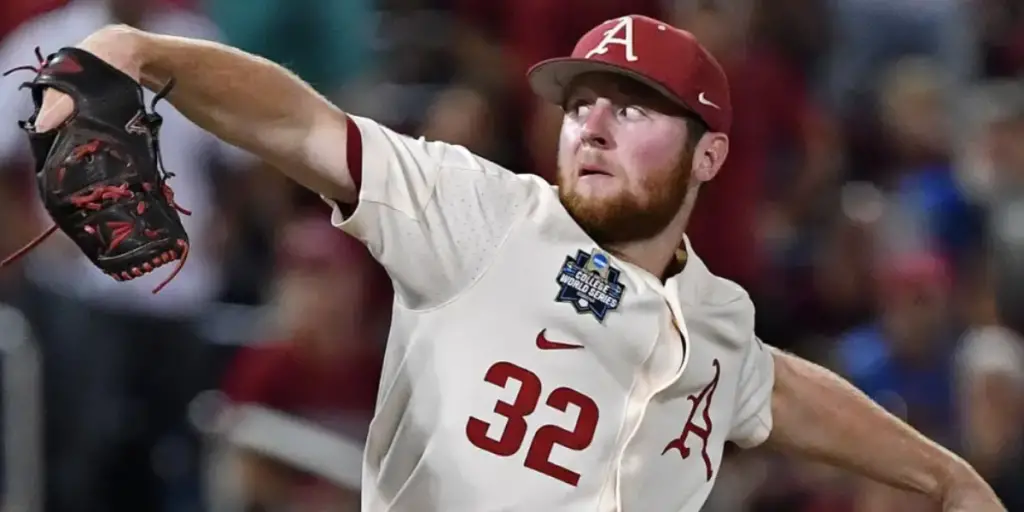 Matt Cronin was a dominant reliever at Arkansas when he got drafted in the 4th in 2019, pitching to a 1.86 ERA with 13.0 K/9 in 25 innings in his last year of college ball. Cronin has a mid-90s fastball with great break and spin rates and a 12-to-6 curveball that can be filthy. He used this to dominate the A and A+ levels, producing an ERA of 0.98 in 36.2 IP while striking out 16.9 per 9 innings. Cronin struggled in AA at the end of 2021 (5.56 ERA), but he rebounded in 2022 by giving up no runs in 14 appearances, earning him a promotion to AAA. The southpaw struggled early on, giving up 9 ER in 13.2 IP, but rebounded in the last two months, giving up only 5 ER in 22 IP in the final two months of the season. Cronin has pitched well and has shown that he can adjust at all levels. Although his biggest issue is his control, as he's had a walk rate of 4.2 BB/9 throughout the minor leagues, it was also an issue in college (3.8 BB/9). Something else to watch for is his strikeout rate took a massive nosedive in AAA (8.6 K/9) after being at least 12.0 K/9 in previous levels. His FIP has also been significantly higher than his ERA so he might be benefitted from some luck. Overall if he can work on control, especially with his curveball, and get his changeup to be somewhat effective, Cronin can be a good southpaw for the Nationals to have in their bullpen. He's already on the 40-man roster, and the Nationals don't have many left-handed options, so that he could be making his MLB debut soon.
Zach Brzykcy RP
Fastball: 65 | Curveball: 55 | Changeup: 45 | Control: 40 | Overall: 40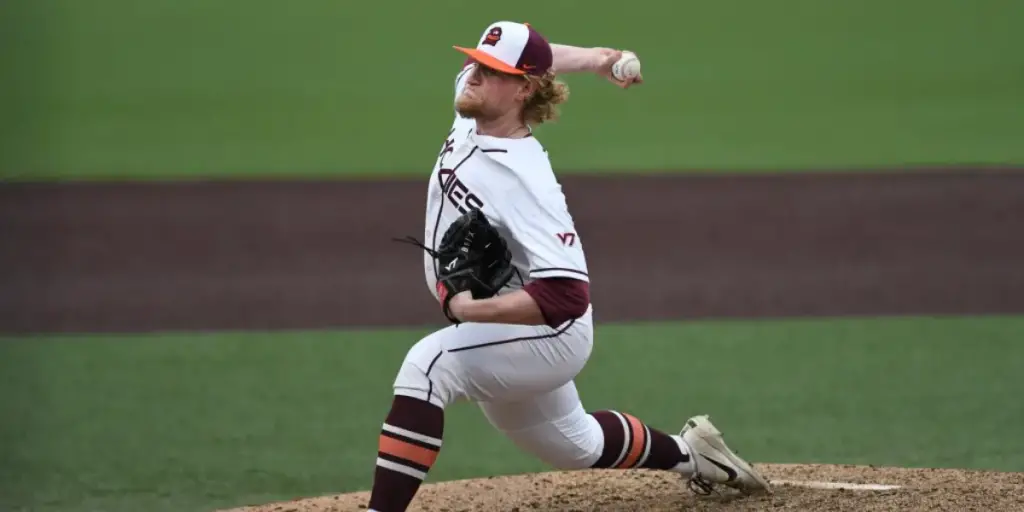 Unfortunately, because of the shortened 2020 College Baseball season and MLB Draft, Brzykcy went undrafted, but he later signed with the Nationals. He has a dominant fastball in the upper 90s with his over-the-top release and is supplemented by a good curveball. Brzykcy also has a changeup, but it's a work in progress like Cronin. After struggling at A+ in 2021 (5.20 ERA), he was dominant in 2022, pitching to a 1.76 ERA in 61.1 IP across A+ and AA. Brzykcy even made two appearances at AAA. He didn't allow many hitters to reach base (1.011 WHIP) and generated many swings and misses (13.9 K/9). In addition, he also produces a groundball rate of approximately 40%. Zach Brzykcy has the potential to become a dominant late-innings reliever at the big-league level, but his control is the only thing holding him back. His walk rate was 4.3 BB/9 in 2022, and it shows his tendency to overthrow on the mound sometimes and make uncompetitive misses. Brzykcy's FIP is also about a run higher than his ERA, so that is something to look out for. The main reason Brzykcy and Cronin don't find a spot in the Nationals' Top 10 is that they are relievers, and those types of players are hard to predict and project. That being said, if Brzykcy can hone his control, he'll be making his MLB debut this year.
Jake Alu 3B
Hit: 50 | Power: 45 | Run: 40 | Arm: 45 | Field: 45 | Overall: 40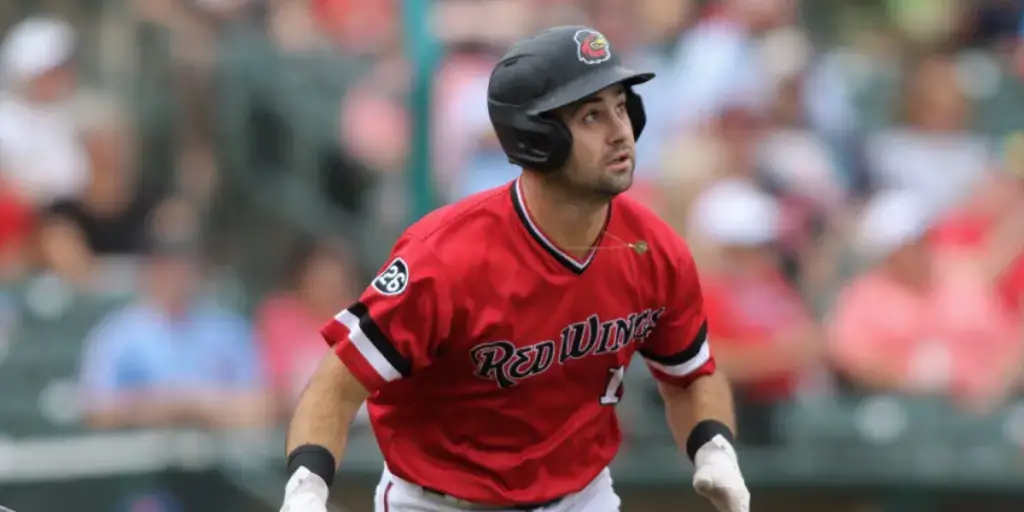 Jake Alu doesn't have a great evaluation, and being a 24th-round draft pick as a college senior doesn't didn't put attention toward him. He did find himself starting 2022 at AA after hitting .303/.357/.490 (126 wRC+) in 39 A+ games in the year prior. Alu started off slowly, mustering only a .736 OPS in his first 45 games, but he took off from June 5 to July 9, hitting .327/.430/.551 with 17 extra-base hits in 28 games which earned him a promotion to AAA. Once again, Alu had a slow start, having only nine extra-base hits and a .714 OPS in his first 35 games, but then he proceeded to tear the cover off the ball in September. Alu hit a mammoth .414/.444/.772 with seven home runs and ten doubles in 24 September games. Overall he hit .324/.392/.553 in his last 87 games of 2022 across AA and AAA, and this earned him a spot on the Nationals' 40-man roster. In 2023 Jake Alu will be knocking on the door for a spot on the 26-man opening day roster, and even if he doesn't make it then, he should make his MLB debut later on in the year if he continues to hit well. The main reason he isn't in the top 10 prospect list is he'll be turning 26 in April, which is old for a minor league player, and his 2022 performance could've just been a quick outburst as he didn't perform that well in college or the lower parts of the minor leagues. Despite that, there's still a lot to like about Jake Alu since he only strikes out 20% of the time, and 30% of the balls he puts in play heads to left field. Defensively, he's above average at 3B and can play at 2B and in LF, making him versatile defensively. If Alu becomes a solid big-league player, he'll be a diamond found in the rough after many years of the Nationals struggling to develop players.
Israel Pineda C
Hit: 40 | Power: 50 | Run: 30 | Arm: 60 | Field: 50 | Overall: 40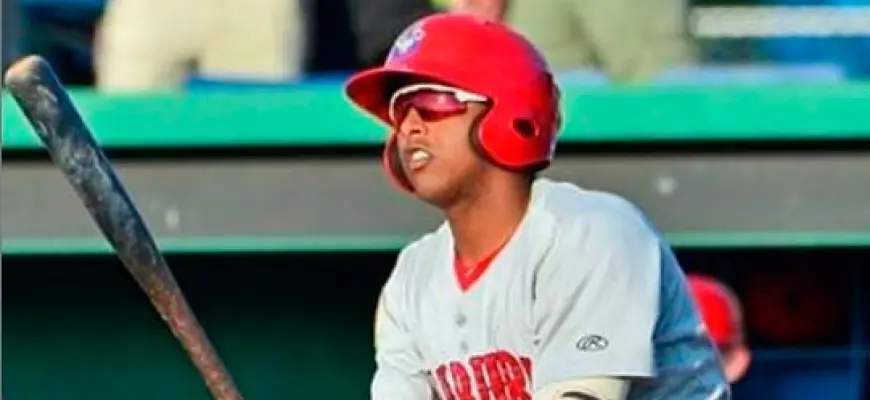 Israel Pineda had several solid months in 2022, just like Jake Alu, which enabled him to make his MLB debut as the number 3 catcher in September. He was signed out of Venezuela in 2016, and he struggled early on in his minor-league career. He posted a .583 OPS (73 wRC+) in 101 games at A ball in 2019 and an OPS of .649 (71 wRC+) in 77 games at A+ ball in 2021. He continued to struggle in 2022 with an OPS of .624 in his first 46 games, but he took off from June 19, hitting .342/.433/.645 with 6 home runs in 21 games which earned him a promotion to AA. His hot streak continued there as he posted a line of .280/.340/.538 with 7 home runs in 26 games. Pineda's hot 48-game streak, where he hit .314/.394/.611 with 14 home runs, earned him a spot on the Nationals' roster in September as the third catcher. Pineda showed his potential with the bat last year, but the best aspect of his game is his arm. His arm has an evaluation rating of 60, and he showcased that strength by throwing out 41% of base runners in his minor league career. I left Pineda out of the top 10 because, like Alu, the sample size is too small. That being said, there is a lot to like because, at worst, he'll be a strong defensive catcher. Pineda should start the year at AAA, he's better than Riley Adams, but Ruiz will be the everyday catcher, so it'll provide a huge benefit to Pineda's bat if he plays almost every day at Rochester.
Jeremy De La Rosa CF
Hit: 45 | Power: 55 | Run: 60 | Arm: 50 | Field: 55 | Overall: 45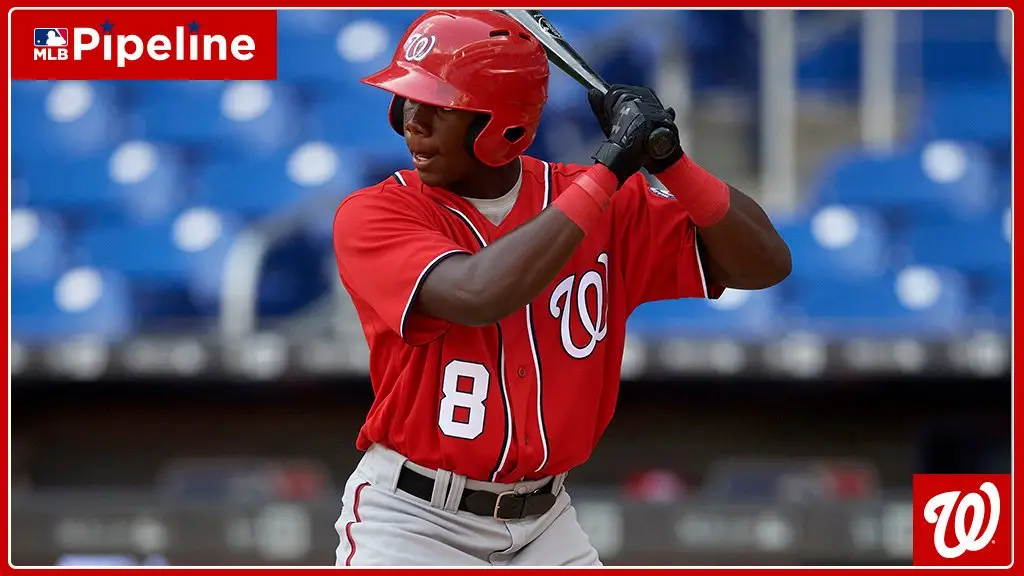 De La Rosa was signed out of the Dominican Republic in 2018 as his speed, and defensive tools in Center Field attracted the Nationals. He impressed early on, but unfortunately, the elimination of the minor league season in 2020 hampered many minor league players, and De La Rosa was one of them. De La Rosa massively struggled in Fredericksburg in 2021, posting a line of .209/.279/.316 (65 wRC+) in 87 games. He was able to rebound in 2022, hitting .315/.394/.505 (147 wRC+) with 10 home runs and 31 extra-base hits in 69 games, mainly thanks to cutting his strikeout rate from 34.1 to 24.8%. De La Rosa also stole 26 bases and continued to play great defense in Center Field, which is an indication that he'll be able to stick in that spot. He's got a higher rating and potential than T.J. White in almost every aspect of the game, but I have him outside of the Nationals' top 10 for a couple of reasons. First, he did well in Single-A, but he was repeating after 2021. His performance after getting promoted to High-A ball dipped massively (.195/.273/.271 53 wRC+). De La Rosa's season did end due to injury, and there are some reports saying that he played with an injury that could've hampered his performance. If so, De La Rosa could find a spot in the Nationals' top 10 this year if he performs well at A+ ball, and doesn't show a big dip in performance after a promotion. The Nationals placed him on the 40-man roster in the offseason to protect him from the rule-5 draft, so they have put their faith in him.
Jake Bennett SP
Fastball: 50 | Slider: 50 | Changeup: 60 | Control: 55 | Overall: 50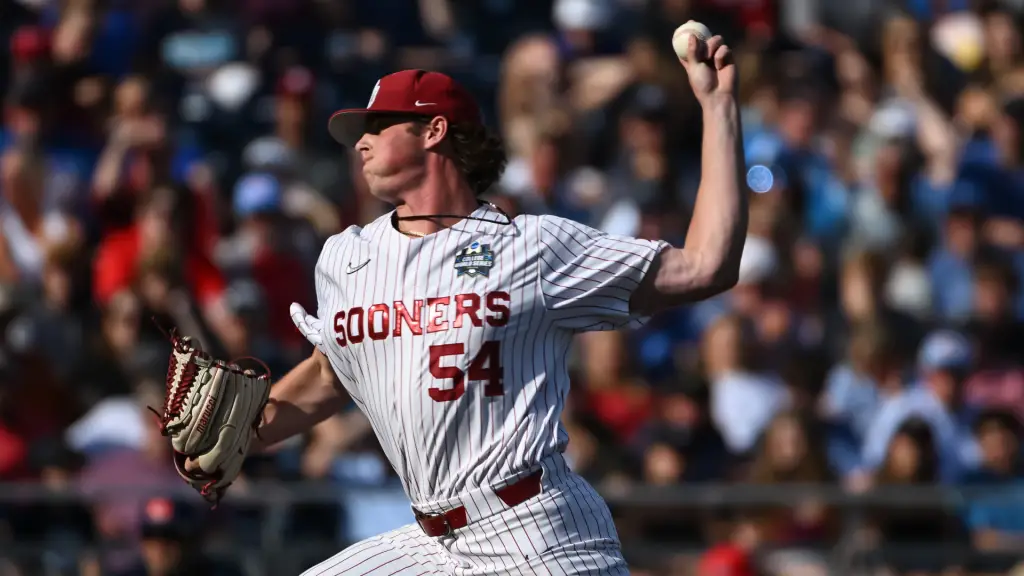 Elijah Green is the star of the Nationals 2022 MLB Draft class, but Jake Bennett was also a day-one selection that should make an impact in the near future. Bennett isn't too far from being polished, and his floor has been labeled as a backend rotation starter by many scouts. He has a fastball in the lower to mid-90s, a slider, and a changeup about 10 mph slower. His stuff isn't overwhelming like many top-rated high school and college pitchers. Still, Bennett has an easy, repeatable, and a bit of a deceptive delivery and release, which allows him to effectively and consistently throw strikes with his arsenal. That's why his pitches are rated at 50 and above, and he's got a control rating of 55. Bennett's 3.69 ERA at college last year wasn't too impressive, but his strikeout rate (10.2 K/9) and walk rate (1.7 BB/9) were excellent. I kept him out of the top 10 because the Nationals opted not to let him pitch in the minors last year because of the heavy workload he had in college before the draft, so he should crack the list this year. Jake Bennett may not have the crazy stuff to overwhelm hitters. Still, his control and consistency will allow him to keep hitters off balance enough to generate weak contact and some swing and misses to become, at worst, the backend starter of an MLB rotation.
Cole Henry SP
Fastball: 60 | Curveball: 55 | Changeup: 55 | Control: 55 | Overall: 50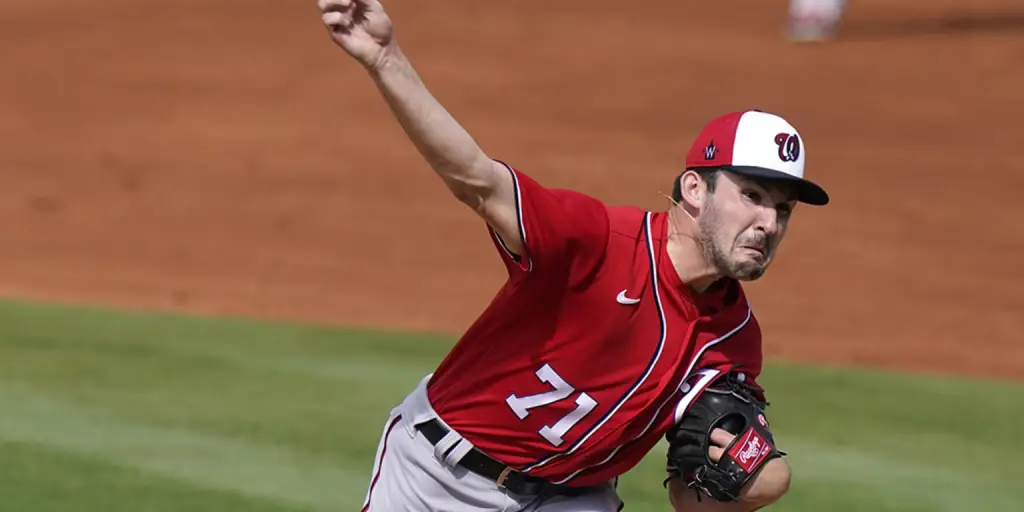 The Nationals' 2nd round pick of the 2020 MLB Draft has incredible upside and potential. Cole Henry's arsenal consists of the mid to high-90s two-seam and four-seam fastballs and a curveball and changeup in the mid to low-80s. They all project to be at least above-average pitches because he's shown good control and has generated swings and misses with them. Throughout the minor leagues, he's pitched to an ERA of 2.06. Henry strikes batters out (11.9 K/9), has good control (2.6 BB/9), and keeps hitters off base (0.826 WHIP). All of these numbers point to Henry soon making his MLB debut and having success at that level, but he's been held back by too many injuries. He was limited to only 58.1 IP in 2019 because of an elbow injury. Henry dominated A+ and the AFL in 2021 (2.59 ERA), but a midseason elbow injury meant he only threw 66.0 innings. It was looking up in 2022 as he dominated AA (0.76 ERA) and was promoted to AAA, giving him a chance to hit the big leagues soon. Alas, it was too good to be true as his season ended in August with another injury, and he had to undergo the dreadful Thoracic Outlet Surgery (TOS). Yes, the same surgery that has kept Strasburg out for so long. Cole Henry would've easily cracked the top 10 prospect list, but injuries have hampered him too frequently throughout his career. Most pitchers haven't had great success after TOS surgery, so the hopes of Henry becoming an effective MLB starter are pretty much in ashes. Cole Henry is still young so he could turn it around. Maybe the best route for him is to convert to a reliever because he still has an incredible arsenal of pitches. It'll be intriguing to see how the Nationals handle him this year.