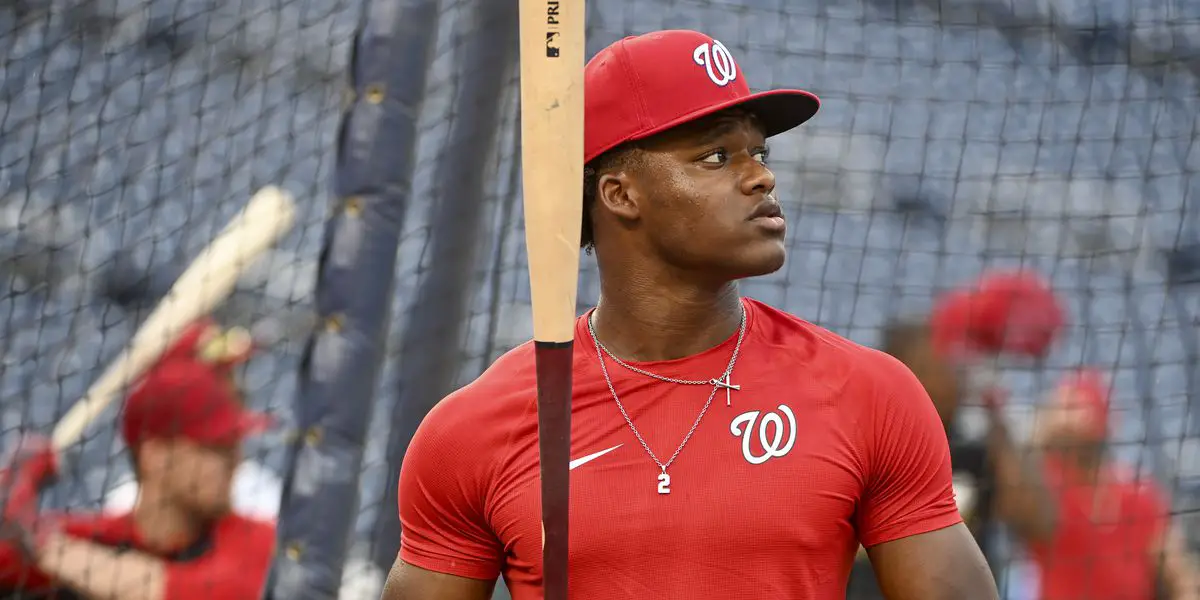 The calendar has flipped to February, which means baseball will be played this month! The Washington Nationals will most likely continue to struggle as the rebuild continues, but they have a talented and exciting pool of young prospects in their minor league system to watch out for. Some of these prospects were acquired in the blockbuster trade with the San Diego Padres, but they've also made some well-needed changes to their player development system. Let's take a look at the top ten prospects of the Washington Nationals.
10. T.J White OF
Hit: 40 | Power: 60 | Run: 45 | Arm: 50 | Field: 45 | Overall: 40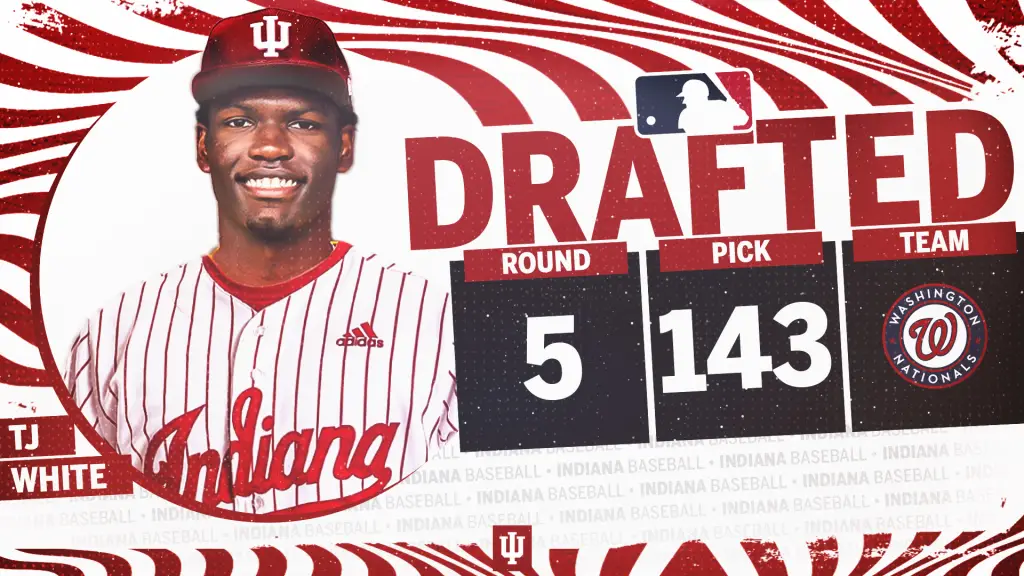 There wasn't much attention paid to corner outfielder T.J. White entering 2022 since he was a 5th-round pick in 2021. His numbers in 92 games this year at Single-A weren't eye-popping, but he held his own. He hit .258/.353/.432 (118 wRC+) with 11 HR, 20 2B, two 3B, and eight SB. White strikes out a lot (27.2 K%), but he does have a solid walk rate (11.5 BB%). The best part about him is that he's only 19, which means there potentially is a lot of room for improvement, and that's a big reason why I have him in my top 10.
9. Jackson Rutledge SP
Fastball: 65 | Curveball: 50 | Slider: 60 | Changeup: 50 | Control: 45 | Overall: 45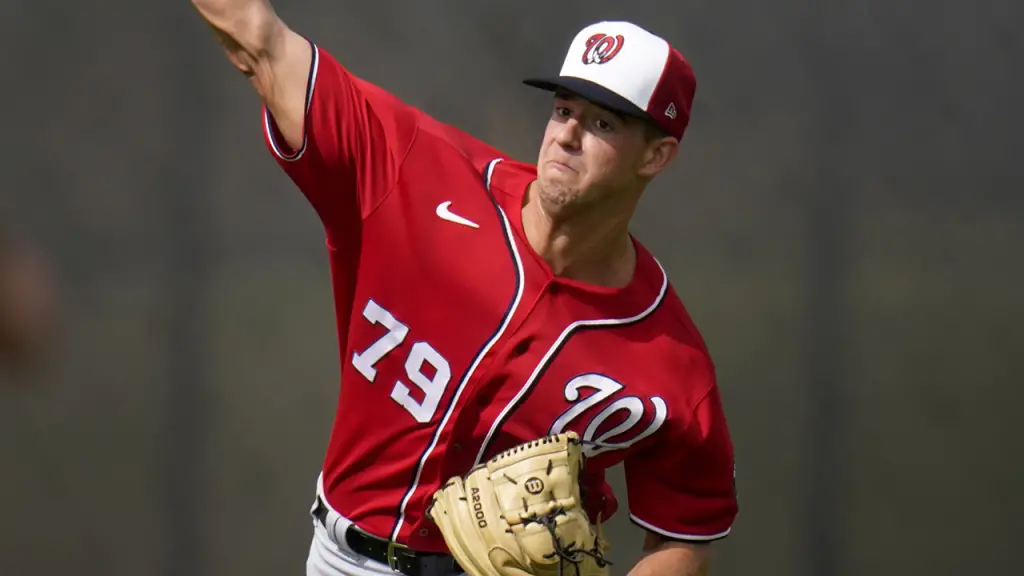 It's been a rough go so far for the 2019 1st round pick. Jackson Rutledge has dealt with injuries and poor performance (5.11 ERA) throughout his professional career. He was able to stay healthy in 2022, and after a rough first month, he turned his season around. Rutledge pitched to a 3.63 ERA in his last 15 starts with a strikeout rate of 9.3 K/9 and a low walk rate of 2.2 BB/9. Those numbers aren't brilliant, considering he's 23 in A-ball, but his playoff performance has given a reason to have hopes for him. He pitched eight scoreless innings in front of an electric FredNats crowd. Hopefully, being healthy and his second-half season performance has injected confidence in Rutledge to get him back on track. He is a 1st round pick, after all.
8. Thad Ward SP
Fastball: 55 | Slider: 60 | Changeup: 50 | Control: 50 | Overall: 45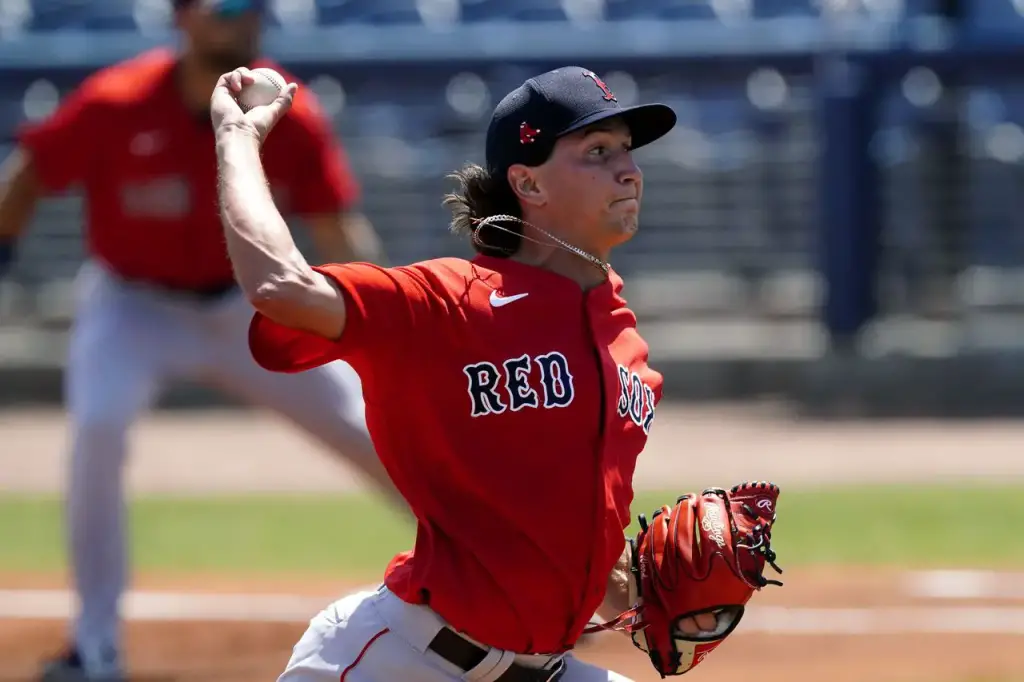 I was extremely delighted when the Nationals picked Thad Ward in the rule 5 draft. The 2018 5th-round draft pick for the Red Sox did undergo TJ surgery in 2021, but he looked great at AA in his return in 2022. He pitched to an ERA of 2.43 in 33.1 IP in seven starts. He has a great slider which allows him to strike batters out (11.1 K/9). Ward has some control issues (3.8 BB/9), but being healthy should help him improve on that. There's a good chance Ward ends up being a solid middle-of-the-rotation starter. The Nationals will have to keep Ward on the 26-man roster for the entirety of the season if they want to keep him, so he'll graduate from his prospect status this year.
7. Cristhian Vaquero OF
Hit: 55 | Power: 60 | Run: 65 | Arm: 55 | Field: 55 | Overall: 50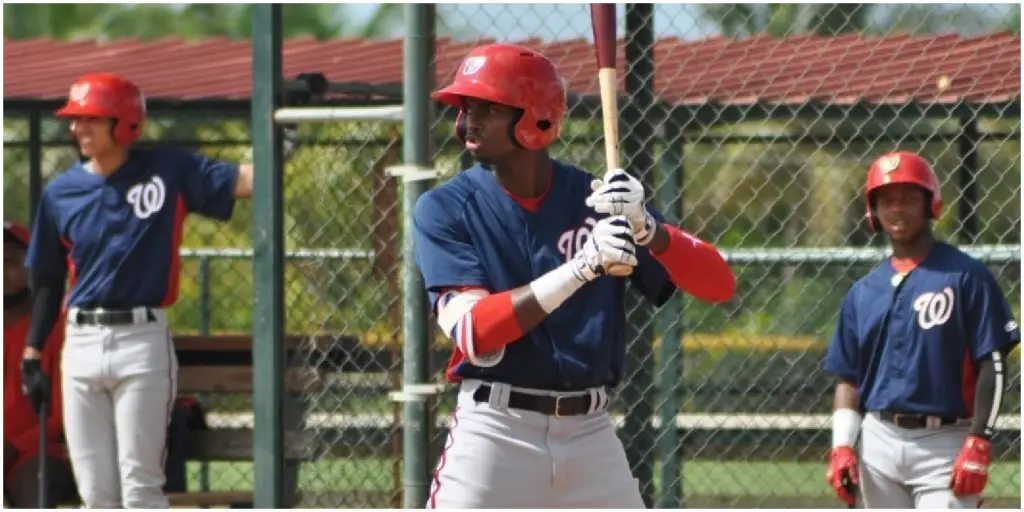 The top signing of the 2022 international free agent class has been touted highly by scouts. They say he brings the skillset of an Alabama wide receiver because of his highly-rated defense in center field and speed on the basepaths. Vaquero showed that speed with 17 SB in only 55 games in the Dominican Summer League. Few scouts have even said he's better than Juan Soto was at the age of 17. He showed the slightest flash of that since his walk rate (15.3%) was almost the same as his strikeout rate (17.6%). His overall offensive numbers were average (103 wRC+), but he's only 17. It'll be exciting to see him grow, get stronger, and improve
6. Brady House SS
Hit: 50 | Power: 60 | Run: 50 | Arm: 60 | Field: 50 | Overall: 50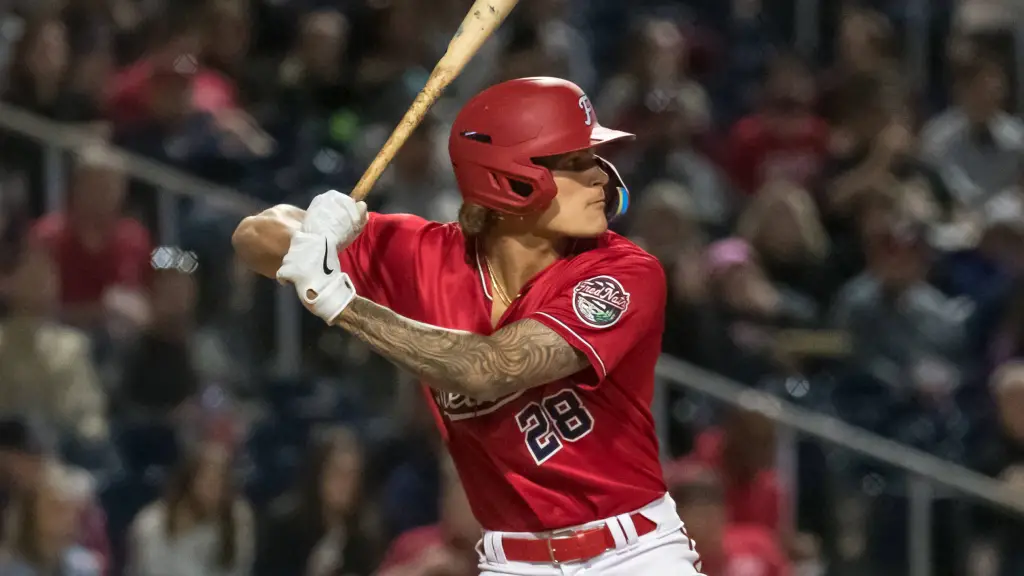 Brady House was rated as a top 100 prospect by many rankings heading into 2022 despite not playing a game above the rookie leagues. He started well, hitting .386/.463/.529 in his first 16 games in A-ball, and he looked like a professional. House sprayed the ball across the field and limited his strikeouts (20.7 K%). Unfortunately, a couple of IL stints hindered his performance (.731 OPS) and limited him to only 45 games. House will probably move over to 3B because he struggled at SS, but he'll do well there because of his strong arm, and SS adjusts well to other infield positions. House's bat is still rated highly with tons of talent and potential, so hopefully stays healthy this year and gets back on track.
5. Robert Hassell CF
Hit: 60 | Power: 50 | Run: 55 | Arm: 55 | Field: 55 | Overall: 55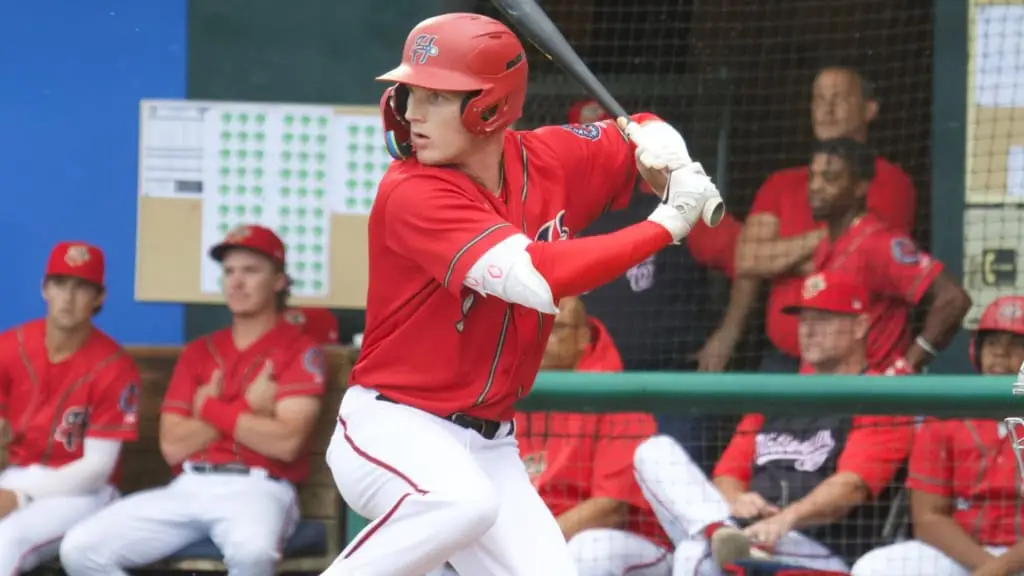 I'm lower on Hassell than most, and that's because his ceiling isn't high, and he doesn't have superstar potential like the other top prospects on this list. The main reason is his bat doesn't hold much power, he's only had an ISO of .150 so far from A to AA ball. He's projected to be a 15-20 home run hitter in the Majors. Home runs and slugging aren't everything, though, he's still a great all-round hitter with good plate discipline (.375 OBP) and approach (.288 BA). Hassell plays good defense in CF and has shown his speed by stealing 58 bases in 222 MILB games. A good defensive center fielder who can run the bases well and be an above-average hitter is still a good player. Hopefully, we'll see him perform well after recovering from his hamate injury and make his MLB debut later this year.
4. Jarlin Susana SP
Fastball: 70 | Curveball: 45 | Slider: 55 | Changeup: 45 | Control: 45 | Overall: 50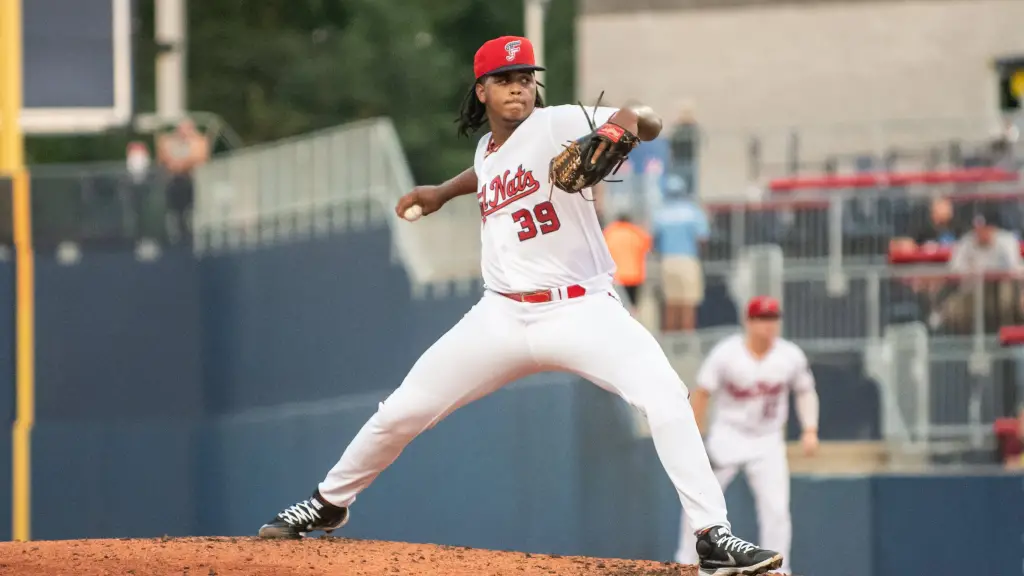 Jarlin Susana has incredible talent, he's only 19, and he's hit 104 mph with his fastball and throws his slider in the low 90s. His great stuff has him being compared to Jacob deGrom and allowed him to strike out 13.9 batters per nine innings with an ERA of 2.40 in 2022. Susana is still raw because he still needs to work on his control (4.4 BB/9) and works on refining and improving his arsenal outside of his fastball and slider. It'll be interesting to see how the Nationals manage his workload since he only threw 45 innings last year, and his longest outing was four innings on 68 pitches. Jarlin Susana oozes talent and ace potential, and he's only 19. He has an incredible upside, and he'll be exciting to watch in 2023
3. Cade Cavalli SP
Fastball: 70 | Curveball: 60 | Slider: 60 | Changeup: 55 | Control: 45 | Overall: 55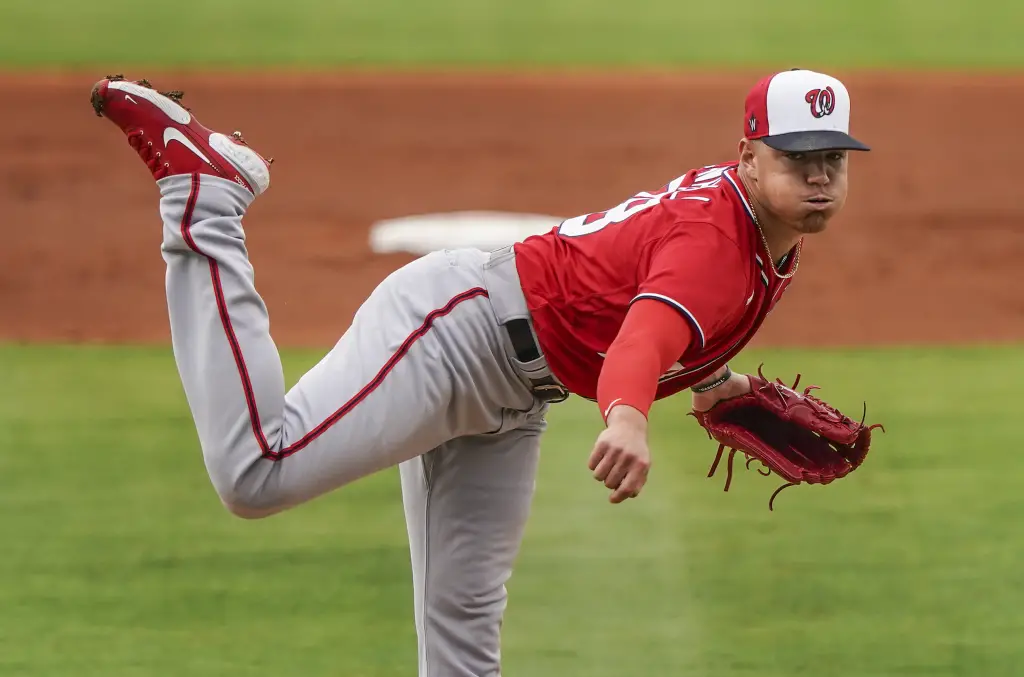 Cade Cavalli was the Nationals' top prospect heading into 2022 after his quick rise from A+ ball to AAA. He struggled at AAA, so the 2020 first-round pick started 2022 at the same level. He struggled early on but dominated in his last 13 starts with an ERA of 2.10 and a WHIP of 1.09 in 68.2 innings. Cavalli pitches a fastball in the high 90s and possesses great swing-and-miss curveballs and sliders, which has allowed him to get a lot of strikeouts (11.4 K/9). Another great part about his game is he limits home runs (0.3 HR/9) which will help a pitching staff that is prone to giving up the long ball. Cavalli does need to work on his control, as he's walked too many batters in his career (4.0 BB/9). It will be exciting to watch Cavalli in his first full season in the big leagues this year, and he could become the first good pitcher the Nationals have drafted and developed in a long time.
2. Elijah Green CF
Hit: 50 | Power: 60 | Run: 70 | Arm: 60 | Field: 60 | Overall: 55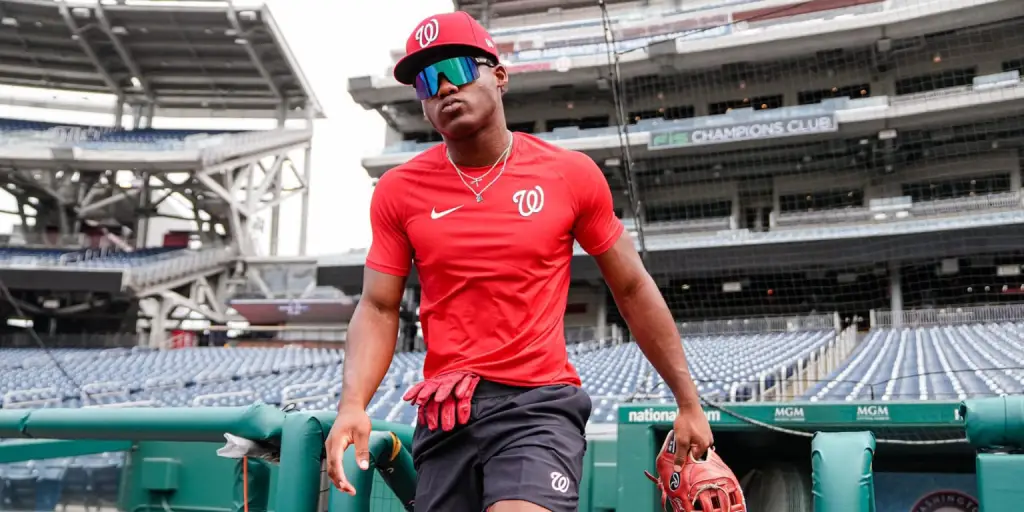 Elijah Green is a freak athlete, at the young, ripe age of 19, he's incredibly strong, which allows him to hit the ball hard and far. That doesn't stop him from being extremely athletic, as he's got incredible speed to steal bases and play great defense in center field. The talent is incredible, and he's got the highest ceiling out of any player in the Nationals system and the 2022 MLB draft. Green showcased that talent in 12 rookie league games last August, hitting .302/.404/.535 (156 wRC+). The determining factor for Green will be if he can limit the strikeouts, as he struck out 40% in those 12 games and had a high strikeout rate in high school. He should be able to do that since he cut his K% by 15% from his junior to senior in high school while playing against top talent for the prestigious IMG academy. The best part about Elijah Green is he has had a great work ethic and confidence instilled in him, which will help him grow tremendously.
1. James Wood CF
Hit: 50 | Power: 60 | Run: 60 | Arm: 55 | Field: 50 | Overall: 55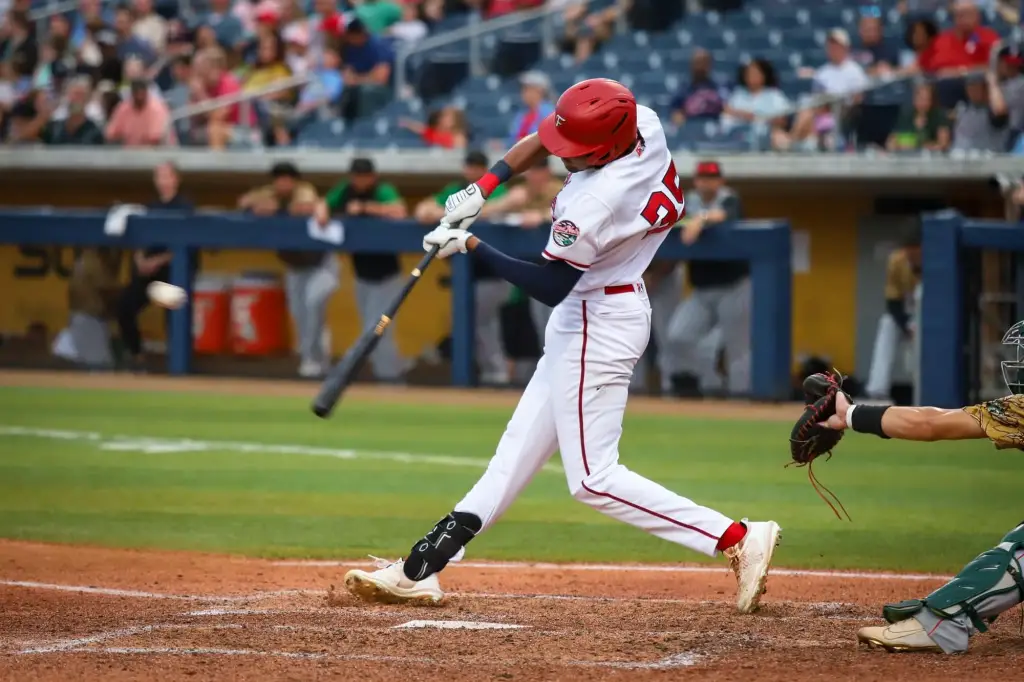 James Wood is incredible, and he's good at everything. He can handle high heat, breaking balls, and offspeed pitches at the plate. Wood hits the ball hard with an average exit velocity of 92 mph to all parts of the field. The plate discipline in 2022 was elite (15.7 BB% vs 17.8 K%) after some concerns on that after he was drafted in 2021. He destroyed A ball pitching, hitting .324/.429/.560 (157 wRC+) with 27 2B and 12 HR. Wood is also fast (19 SB) and plays solid defense in CF, although he'll most likely be shifted to a corner spot or 1B. I also forgot to mention that he's 6′ 7", yes, he shows great speed and agility and has a low strikeout rate while having a monstrous size. He's drawn comparisons to Aaron Judge and is rated as a top-20 prospect. James Wood is filled with incredible talent and limitless potential with no flaws in his game. If anything, he should add some muscle to his frame because he's on the skinnier side. Wood is going to travel through the system fast, and his rise will be exciting to watch.