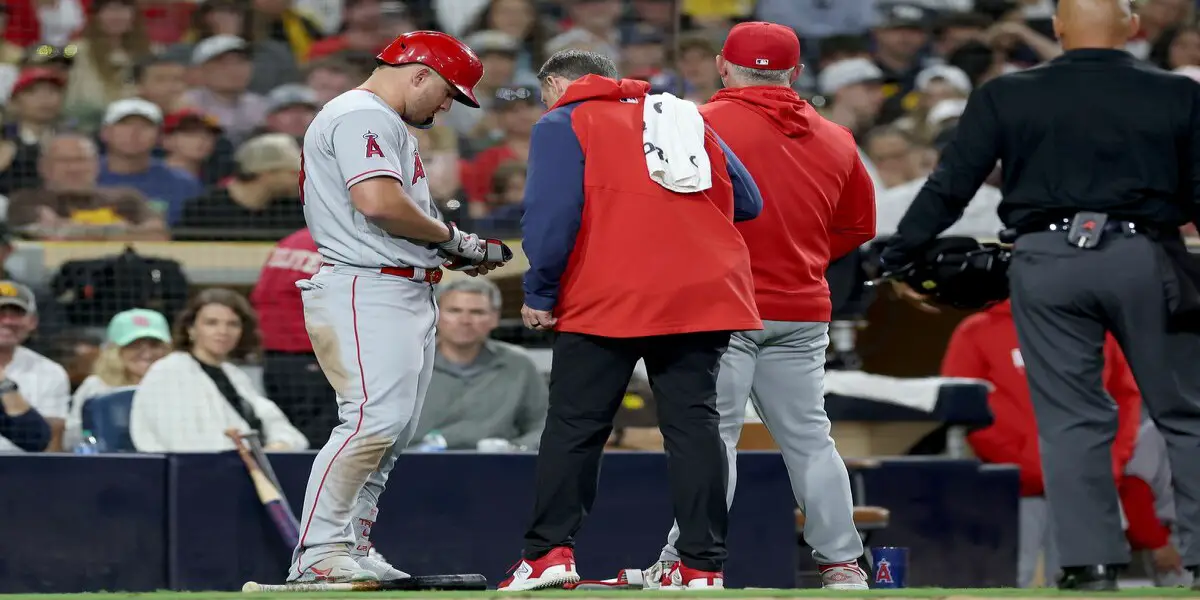 A night that felt like anything that could go wrong, went wrong for the Angels where they lost 10-3 to the Padres was capped off with superstar Mike Trout leaving the game in the 8th inning in pain after a foul ball. Trout was placed on the 10-day injured list this morning after X-rays showed a fracture in his left hamate bone and is expected to miss 4-8 weeks.
Saying this is a huge loss to the Angels is an understatement. Their offense is already missing Logan O'Hoppe, Zach Neto, and Gio Urshela and has been struggling the last few weeks. Trout has not been his usual self this year, hitting .263/.369/.493 .862 OPS with 18 home runs. Even with Trout's "struggles" his 137 wRC+ is still third best on the Angels among players with at least 100 PA, only trailing Shohei Ohtani (182) and Mickey Moniak (168).
Since the start of the series against the Dodgers on June 20th the Angels have played 13 games but excluding the 25-run outlier against the Rockies, the Angels are hitting .222 and have averaged three runs per game in those 12 games. The Angels have also been atrocious with runners in scoring position all year and it has been exaggerated in this stretch. They are hitting .154 with RISP and have left 80 runners on base in these 12 games. On a larger scale, the Angels have the third most runners left on base at 609 and rank 24th in baseball hitting .246 with RISP this season.
The Angels have recalled Jo Adell from Triple-A Salt Lake City to fill in for Trout. Adell only has four plate appearances in the majors this year and he is 1/3 with a home run and a walk. In Salt Lake City, Adell is .271/.376/.580 with a .956 OPS and a PCL leading 23 home runs.
Another challenge the Angels face with Trout out of the lineup is the defense in center field. Mickey Moniak can handle center field just fine, but he has not been starting when a left-hander is starting on the mound given his struggles against lefties. If that trend continues, who does manager Phil Nevin stick in center field? After Trout and Moniak, the next highest appearances in center is two with Luis Rengifo and Andrew Velazquez, who are infielders. Time will tell what Nevin decides to do with center field outside of Moniak. Nevin can try to move Taylor Ward from left field just to give the Angels some outfield experience and put Adell in left. In my personal experience, I would let Moniak play every day even if he struggles against lefties because he is the only player left that can play good defense in center.
Losing Trout came at a horrible time (as if there is a good time to lose him) as the Angels are battling for a Wild Card spot and are just 28 days until the trade deadline. The Angels kind of have no choice but to be buyers at the deadline because this is the Angels' last shot at winning to convince generational talent Shohei Ohtani to stay once he hits free agency this winter. Trading for veteran infielders Eduardo Escobar and Mike Moustakas has already shown that the Angels are buying.
Not to sound so "doom and gloom" but with the Angels' struggles recently, their strength of schedule for the rest of the summer, and the loss of Trout for the next 4-8 weeks, the Angels are going to have to pull off a miracle to turn it around and make the postseason.