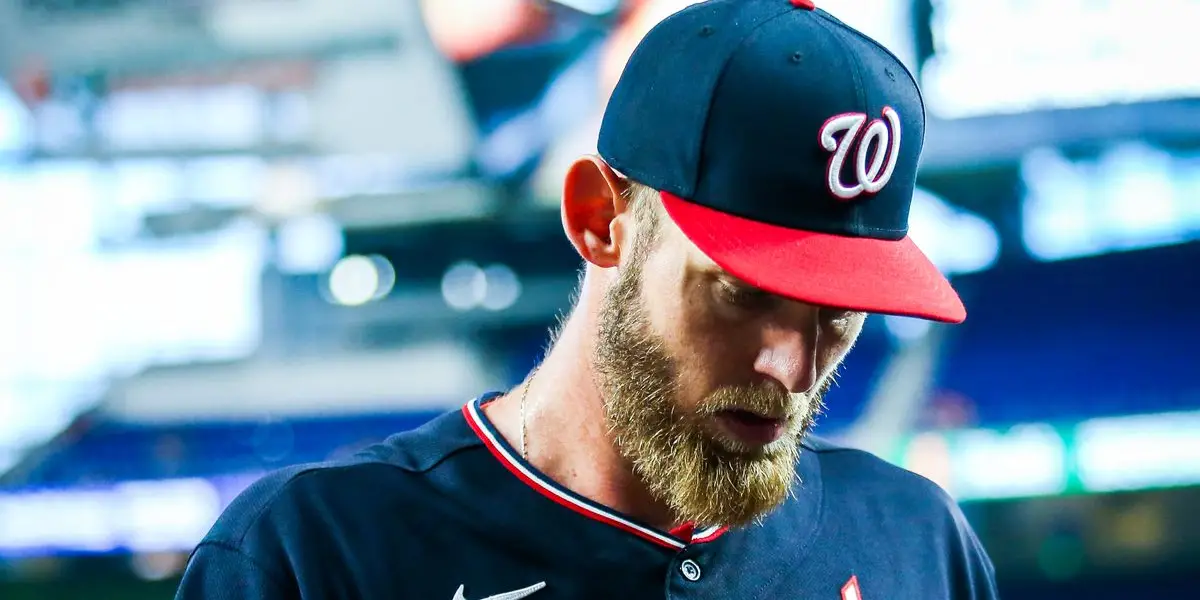 February 15 marked the official start of Spring Training for the Washington Nationals as they had their first full workout with all pitchers and catchers. Let's take a look at the headlines that have been running around the Nationals this past week.
Young Starting Pitchers Healthy and Ready to Compete
MacKenzie Gore and Cade Cavalli both had injuries toward the end of last season, which cut their time in the big leagues short. There hasn't been any confirmation that the two of them will be in the starting rotation come Opening Day, but they're both healthy now. They'll look to do well in Spring Training to confirm their spot in the starting rotation.
Gore dealt with elbow soreness last year, which sent him to the IL in July, right before he was traded to the Nationals. He did end up making several rehab starts in AAA last September, but the Nationals decided to play it safe and shut his season down there. Cavalli was diagnosed with should inflammation and went to the IL right after his MLB debut late last August. That was his final appearance of 2022.
Gore is almost a lock to be a part of the starting rotation. His overall numbers weren't great last year, but he pitched to a 1.50 ERA in 48 IP during his first nine MLB appearances. Gore struggled massively afterward, but he reportedly pitched through injury, which was evident since his velocity was down a couple of ticks. Cavalli has a good chance of making the rotation, but not as high as Gore. His MLB debut was a big struggle as he gave 7 ER in 4.1 IP to the Reds last August. Although he was dominating AAA before that, pitching to a 2.10 ERA in 13 starts. Cavalli should get a nod for the rotation.
MacKenzie Gore and Cade Cavalli are two young pitchers with great potential, and the Nationals will be relying on them as big pieces of the next championship team. It would be a big step forward for the team if both of them can stay healthy and perform well in 2023.
Another Strasburg Setback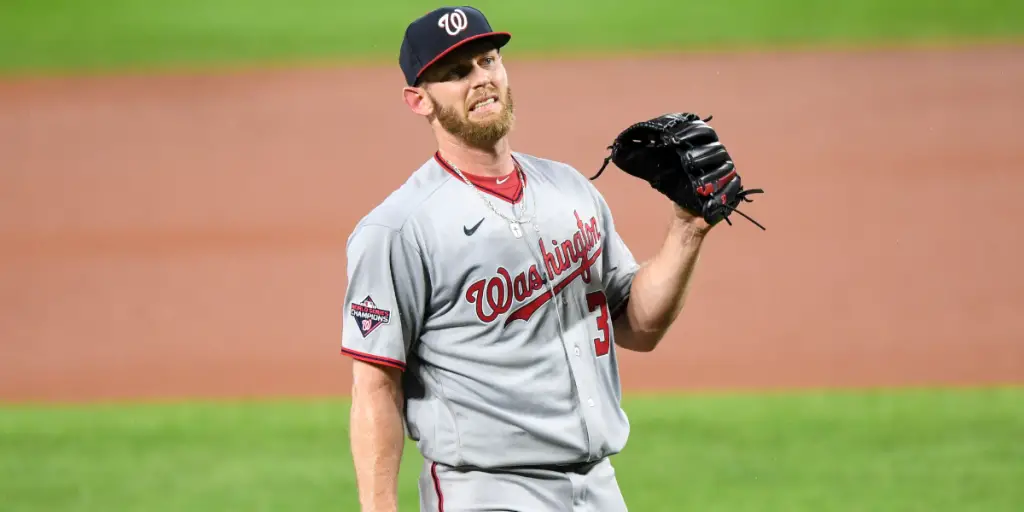 Stephen Strasburg was going through a typical throwing session right before the start of Spring Training. He felt fine while throwing, but he again felt pain after the session. This shouldn't come off as a surprise to many, as he's constantly been dealing with various injuries in his arm after winning the WS MVP in 2019. Since 2020 he's gone to the IL five times, and his time between hasn't been long. The most he's gone is four games before reinjuring himself.
The Washington Nationals have to figure out what to do with Stephen Strasburg. Strasburg has had injury issues throughout his career, mainly due to his violent delivery. It's never been this bad as from 2012-19. He always made at least 22 starts every season. Unfortunately, since the pandemic, it has been much worse. Strasburg is currently 34, and he isn't getting younger, so it's going to be tougher for him to come back and be healthy for a long stretch.
Stephen Strasburg almost certainly won't retire soon because he's only just in the fourth year of his seven-year $245 million contract. The Nationals won't cut him as well because of the lengthy contract, and he's got a great legacy with the team, so they'll respect his wishes. They have to find a way to move on because he's not coming back.
Evan Lee Healthy and Jackson Tetrault Not
Evan Lee and Jackson Tetrault spun some decent performances in the upper levels of the minor leagues last year to earn some big-league appearances last June. Lee had an ERA of 3.60 in seven AA starts and made his MLB debut on June 1. He ended up making one start and three relief appearances (4.15 ERA) before heading to the IL due to a flexor strain. Tetrault had an ERA of 4.19 in 12 AAA starts and made four starts (5.14 ERA) in June. His season ended with a right scapula fracture sending him to the IL.
Evan Lee has made a full recovery, and he's been participating as a non-roster invite so far. The Nationals look at him as a reliever right now, and he has a chance of making the bullpen since the team doesn't have many left-handed options. Tetrault hasn't been a full participant yet so far. He's been throwing on flat grounds. Tetrault won't crack the starting rotation, but he did spin two quality starts (1 ER 7 IP, 0 ER 6 IP) out of his four starts last year.
Both Tetrault and Lee aren't seen as building blocks for the Nationals, but they do serve as nice depth pieces to have in the minor leagues. There's a decent chance they will be called up to the big leagues this year, as the Nationals have dealt with many injuries to their arms over the past several seasons. That's how both of them made their debut in the first place.
Brady House Officially Transitioning to Third Base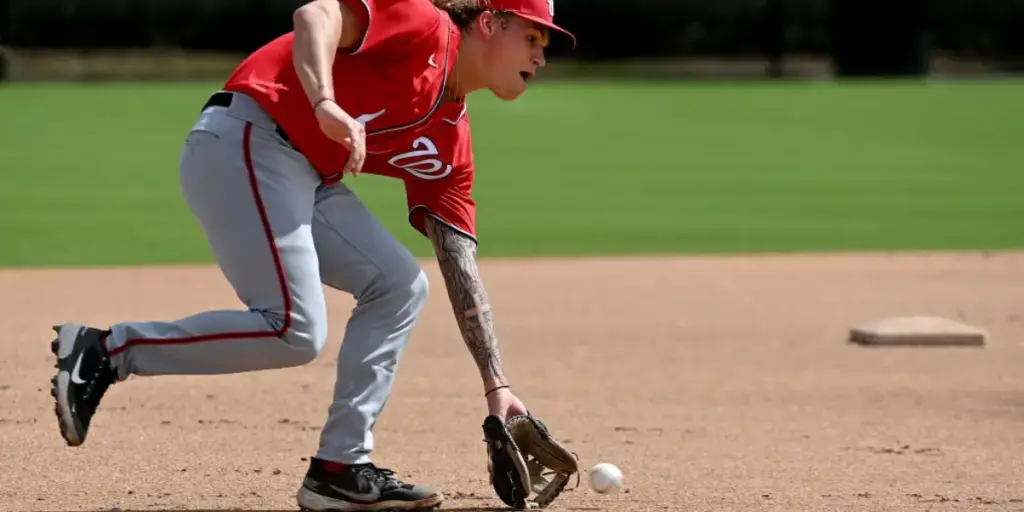 Mike Rizzo announced this past Friday that Brady House would officially be transitioning to third base. House was drafted as a shortstop in the first round of the 2021 MLB Draft, and he's hoped to stay there, but it has been questioned if he could remain there due to his large build. The question was always more when and not if he transitions to 3B. The Nationals chose a nice time to make this decision as House is coming off a back injury that limited him to only 45 games last year, and he's still early in his pro-ball career. With Kieboom, the Nationals waited until he was in AAA to move him to 3B, and it hasn't worked out so far.
He should fit in nicely at 3B since he has a big arm, and playing shortstop sets you up to handle any other infield position well. House initially will take some time to get used to the position. Still, after getting accustomed to the hot corner, he can focus more on fulfilling his great hitting potential. Be on the lookout for Brady House to bounce back this year and soar up the prospect rankings.
Carter Kieboom and Tanner Rainey Still Recovering From TJ
Carter Kieboom and Tanner Rainey are two notable players that haven't been full participants in Spring Training. It's no surprise for Rainey as he underwent Tommy John surgery last July, and he's still months away from full recovery. It's safe to say Rainey won't be pitching in the MLB until 2024. He's done alright so far in the big leagues, but he hasn't met his full potential yet, so he'll be itching to get back on the mound as soon as possible.
Kieboom had an elbow injury at the beginning of 2022. The original plan was to rehab to avoid surgery, but that didn't work out, and he eventually underwent Tommy John surgery in May. His injury could've been handled better if it wasn't for the MLB Lockout before the 2022 season. He hasn't been a full participant, but he's been throwing across the field, so he isn't too far from return. Kieboom was drafted out of high school in the first round of the 2016 MLB Draft. He's had stints in the MLB from 2019-21, but he's had big struggles at the plate and on the field.
2022 would've been a big year for him as it would've been his first full 162-game season in the big leagues. Unfortunately, now he's close to running out of chances with Jake Alu waiting in AAA and Brady House being a young stud. Kieboom will get one more shot, and he'll have to make the most of it.
Robert Hassell has a Healthy Hamate
Robert Hassell's AFL stint last November was cut short due to an injury to his hamate. He played through this injury over the last several months of the 2022 MILB season, which was hopefully why he struggled after being traded to the Nationals. Hassell wasn't on the list of NRIs, so there was some concern that he hasn't made a full recovery.
GM Mike Rizzo and Manager Davey Martinez erased those concerns when they said Hassell is fully healthy and he's been participating in normal baseball activities over the past two weeks. They also said he'd be called up a good amount of times from the minor league camp to play in the official Spring Training games. It'll be exciting to see what he can do because there's a solid chance he will make his MLB debut this year if he performs as he did in the San Diego system before his injury.
James Wood and Elijah Green are not NRIs
Even if top prospects are still a couple of years away from hitting the big leagues, they do hit Spring Training as Non-Roster Invitees (NRIs) so that they can be around the more seasoned and veteran players because chances are they'll be playing in the MLB at one point. For example, top draft picks from last year, Jackson Holliday and Termarr Johnson, were invited to their big league camps, despite only having played a handful of games at A ball.
James Wood and Elijah Green are two top prospects for the Nationals with crazy tools and potential, and they aren't NRIs this year. It might be too soon for Green since he was drafted just last year and has only played in the Rookie Leagues so far. James Wood should've been invited as he tore up Single-A last year, and he's regarded as a top-20 prospect in the game. Wood could make his MLB debut early in 2024, especially due to the ROY incentives.
Both of them can still be called up to the big league camp to appear in some games, so we'll have to look out for that. It could've been a good experience for them to be a Non-Roster Invite.
R.I.P Ted Lerner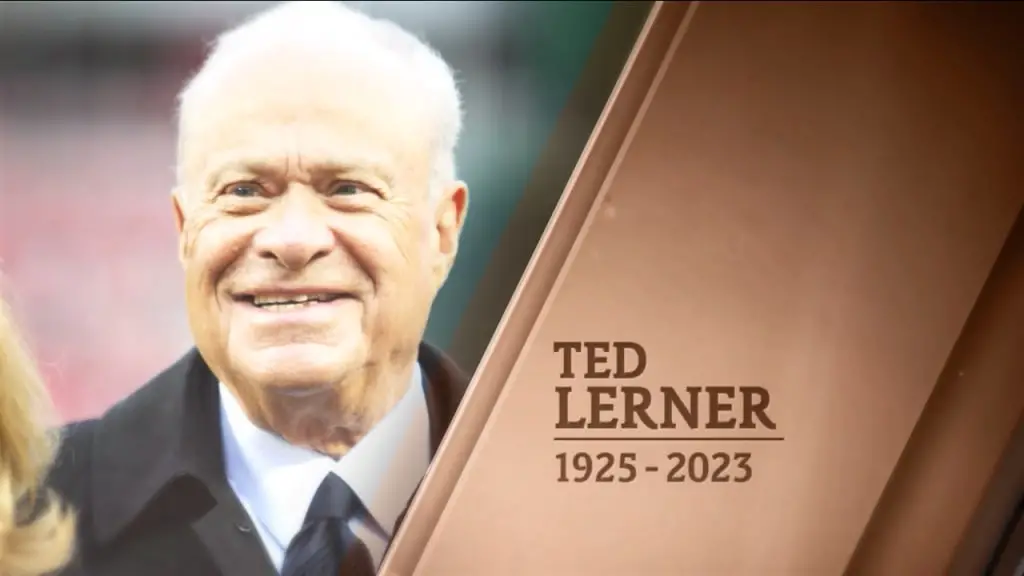 Former managing principal owner of the Nationals, Ted Lerner, fell victim to pneumonia as he passed away at his home on February 12. Ted Lerner was a billionaire and has been a real estate tycoon in the DMW after starting Lerner Enterprises in 1952. Lerner Enterprises has helped in uprooting malls and shopping centers such as Wheaton Plaza, Tysons Corners Center, White Flint, and Dulles Town Center.
In Washington D.C., Ted Lerner has helped become Navy Yard a place of attraction. He's supported many Jewish organizations worldwide and is a founding member of the United States Holocaust Museum in Washington, D.C.
Ted Lerner was a big Washington Senators fan growing up, and he bought the Washington Nationals in 2006. It was a rough go the first several years, but the team started to improve in 2010 and finally made the playoffs in 2012. Ted's son Mark Lerner took over in 2018. Ted played a significant role in building a winning baseball team that eventually captured the crown in 2019. The Nationals were top 10 in payroll from 2014-19. Ted was inducted into the Washington DC Sports Hall of Fame in 2015.
Davey Martinez, Mike Rizzo, Stephen Strasburg, and Ryan Zimmerman were notable members at his funeral. Ted Lerner has a great legacy in the DMW as a father, entrepreneur, and philanthropist. May his soul rest in peace.