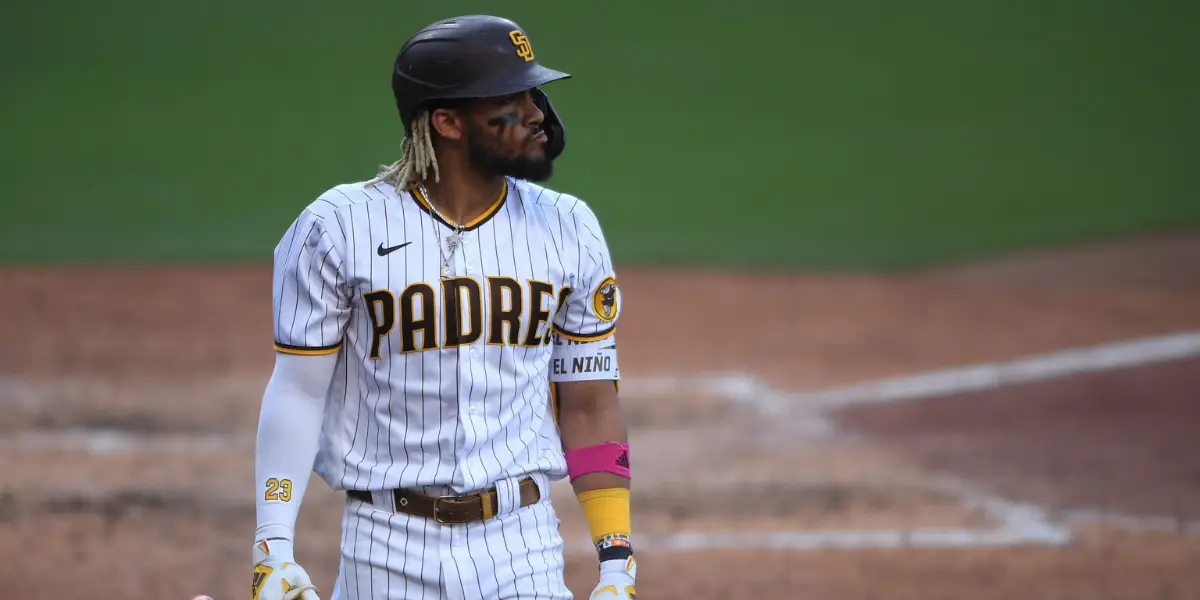 Shortstop is the deepest position in baseball by a mile. There are going to be some people on this list that, at first glance, you'd think, "Woah, this guy is way too low," then you'll see the guys after him and think, "It all makes sense now." Shortstop is arguably the most critical position on a baseball field. Therefore, this list is full of superstar potential. Let us know your thoughts in the comments!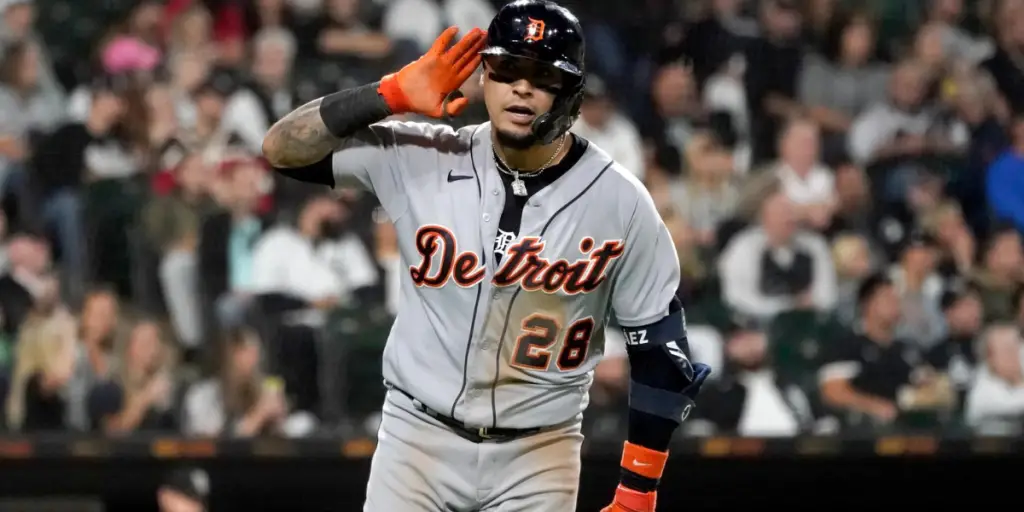 Honorable Mentions:
Javier Baez – Detroit Tigers
In 2022, Javier Baez was nothing more than a liability at the plate for the Detroit Tigers, posting a .671 OPS (93 OPS+) with only 17 home runs and 27 doubles in 590 plate appearances. Baez also had a horrendous K/BB ratio, posting 147 strikeouts and only 26 walks. 2023 should be better for Baez, right? We think so, though it won't be by much. However, Baez's consistently elite fielding at shortstop puts him on this list.
Trevor Story – Boston Red Sox
Though Trevor Story's 2022 was injury rattled, when he was healthy, he was, to put it lightly, disappointing. Story posted a .737 OPS (102 OPS+) with 16 home runs and 26 doubles in 396 plate appearances in 2022. Like Javier Baez (see above), Story plays excellent defense at shortstop, where he'll be returning in 2023 with the departure of longtime Red Sox SS Xander Bogaerts. We expect a big bounceback in 2023 from the 2x all-star, with Story, Rafael Devers, and newly acquired Masataka Yoshida carrying the load offensively in Boston.
Tommy Edman – St. Louis Cardinals
27-year-old Tommy Edman could be the best fielder on this list, playing both second base and shortstop at an elite level. The switch-hitter also had a good season at the plate in 2022, posting a .725 OPS (108 OPS+) and 31 doubles in 630 plate appearances. Although Edman may not have the pop some of these other guys might have, he consistently finds gaps and is an elite baserunner, stealing 32 bases in 2022. Entering his 5th season in the majors, expect a leap from Edman, as he's looking like the everyday shortstop in St. Louis.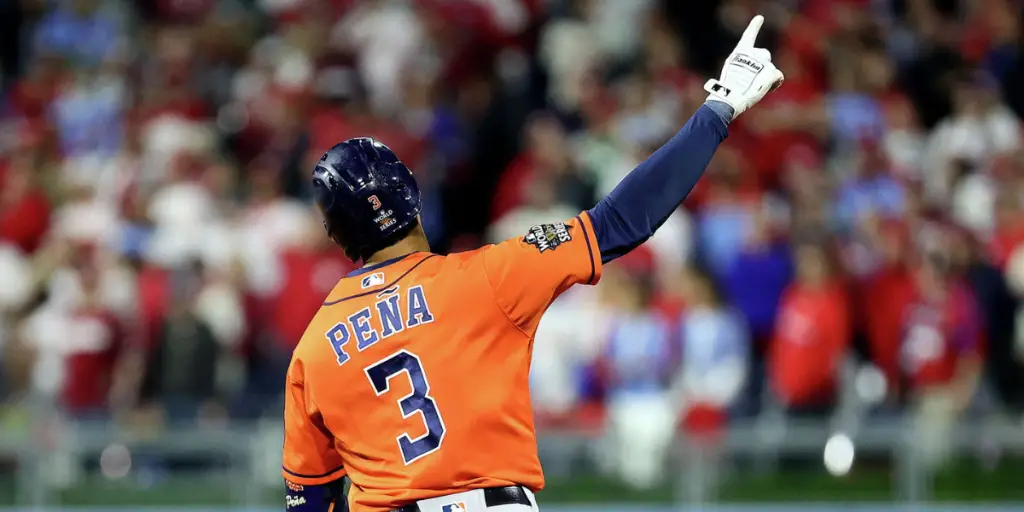 10. Jeremy Pena – Houston Astros
Jeremy Pena's first regular season in the majors didn't stand out much at the plate, posting a .715 OPS (101 OPS+) with 22 home runs and 20 doubles in 558 plate appearances, but Pena's potential really shined in the 2022 postseason. In 11 postseason games in 2022, Pena posted a 1.005 OPS with four home runs and five doubles, eventually winning World Series MVP in his first year as a pro. Pena also won a Gold Glove award as a rookie with his outstanding fielding. Pena, in 2023, has to show that he can produce like he did in the postseason for an entire season, and if he does, the Astros will be heavy favorites.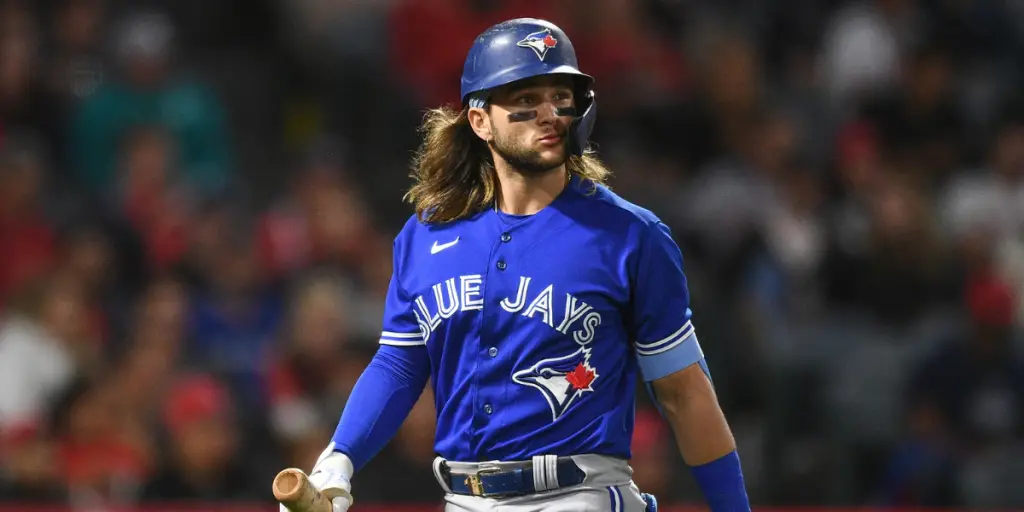 9. Bo Bichette – Toronto Blue Jays
Despite below-average fielding at shortstop, Bo Bichette is a beast at the plate. In 2022, Bichette posted an .802 OPS (127 OPS+) with 24 home runs and 43(!) doubles in 697 plate appearances. Going into his 5th year in the majors, Bichette looks to continue improving in hopes that Toronto will be a contender in 2023. Believe it or not, Bichette (24) is six months younger than 2nd year SS Jeremy Pena (25), so if there's ever a time for Bichette to blossom into the superstar he's been projected to be, it's now. Expect big thing from Bo Bichette in 2023.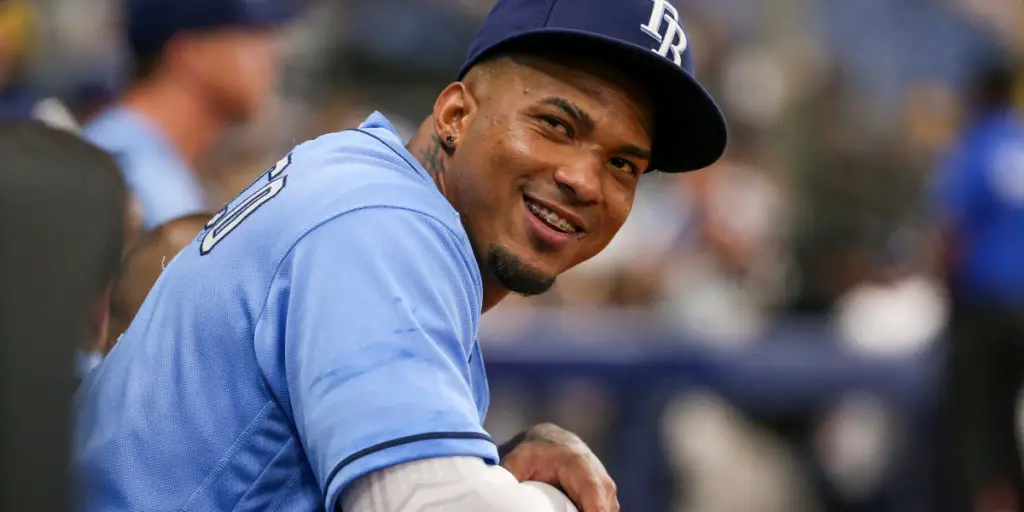 8. Wander Franco – Tampa Bay Rays
Wander Franco has some of the highest potential in baseball. Franco was projected to have a huge first full year as a pro in 2022, but injuries prevented that from happening. While Franco was healthy in 2022, he posted a .746 OPS (117 OPS+) with 20 doubles in 344 plate appearances. Suppose 21-year-old Franco can stay healthy in 2023. In that case, it'll be a scary sight for the AL East, with Franco, Randy Arozarena, and Yandy Diaz leading the Rays offense, along with an amazing pitching staff consisting of Tyler Glasnow and Shane McClanahan. Here's hoping Franco and his elite talent can stay on the field in 2023.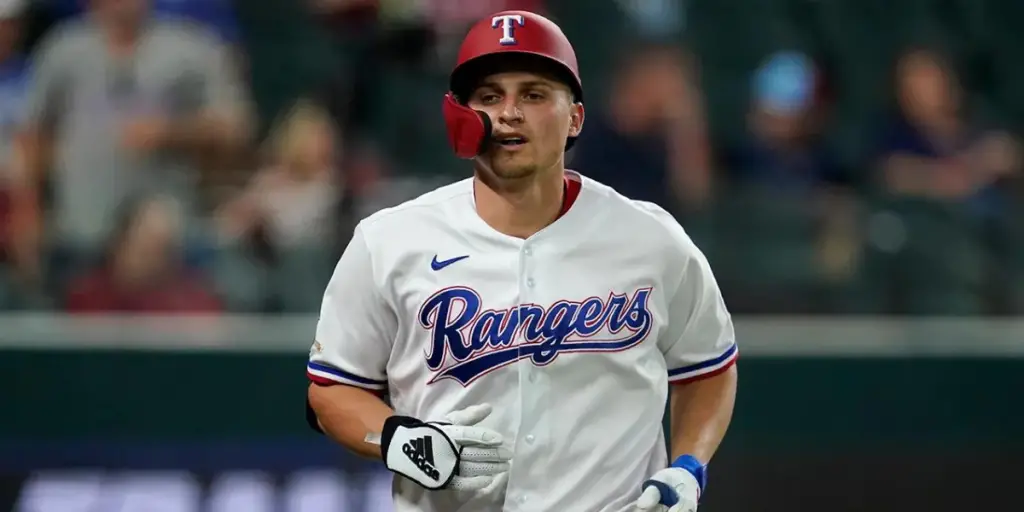 7. Corey Seager – Texas Rangers
Corey Seager is coming off his first year as a Ranger in 2022, in which he posted a .722 OPS (119 OPS+) with 33 home runs and 24 doubles in 663 plate appearances. Although the 2022 Texas Rangers were underwhelming, to say the least, it wasn't because of Seager. He and 2B Marcus Semien carried a big load in 2022, and if his teammates like Adolis Garcia, Nathaniel Lowe, and Jonah Heim can over-perform at the plate, the 2023 Rangers will be a force to be reckoned with in the AL West. Expect more elite production at the plate from Seager in 2023.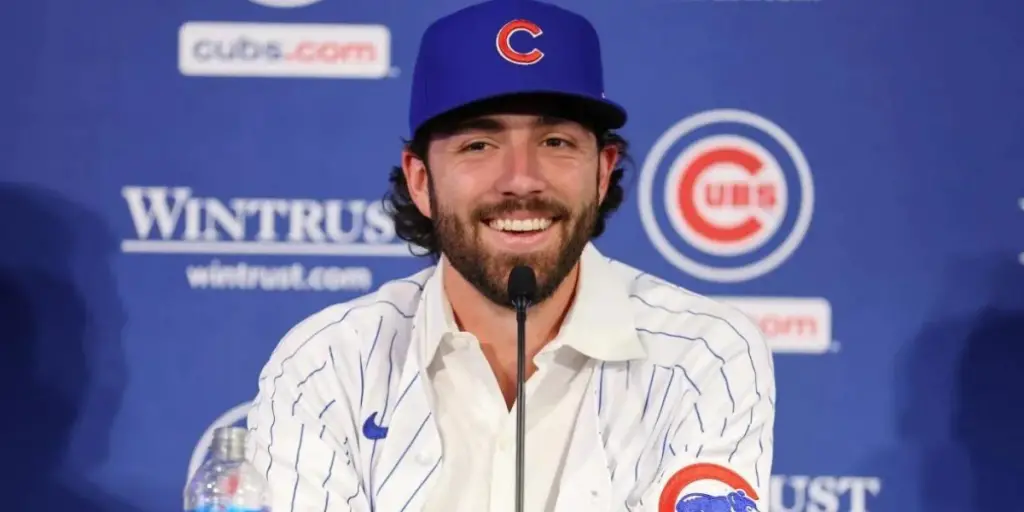 6. Dansby Swanson – Chicago Cubs
Dansby Swanson is coming off the best year of his career in 2022, in which he posted a .776 OPS (115 OPS+) with 25 home runs and 32 doubles in 696 plate appearances, to go along with 18 stolen bases. Swanson also happens to be, arguably, the best fielder at the shortstop position, winning a Gold Glove award in 2022. Swanson's breakout year couldn't have happened at a better time, earning him a seven year, $177,000,000 (25.285,714 AAV) contract with the Cubs. Chicago looks to have given Swanson the keys to the franchise in 2023, and we expect Swanson to make the most of it and keep riding on the back of his all-star 2022 season.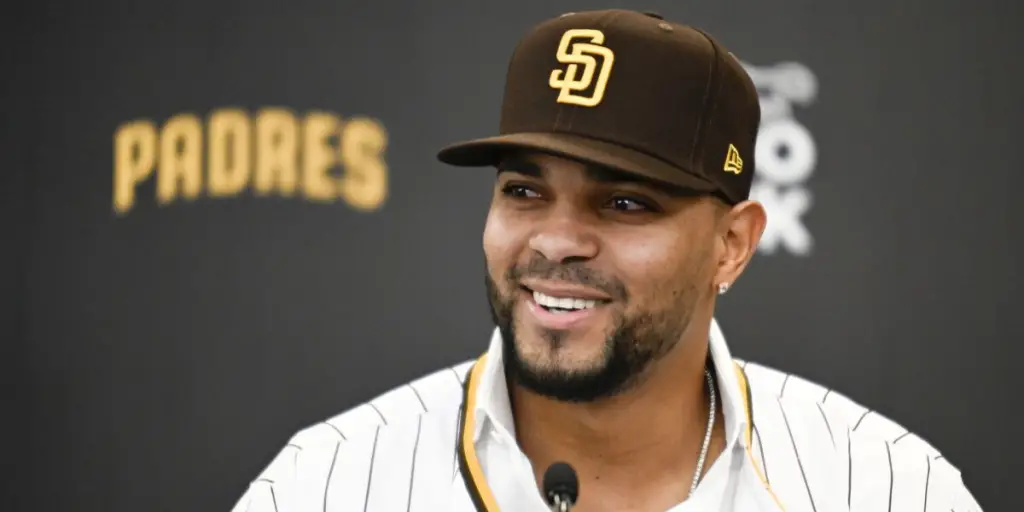 5. Xander Bogaerts – San Diego Padres
Xander Bogaerts was one of the most sought-after free agents in the 2022 off-season, and it's clear why. In 2022, Bogaerts posted an .833 OPS (131 OPS +) with 38 doubles in 631 plate appearances, earning him a Silver Slugger award. On December 7th, Bogaerts signed an 11 year, $280,000,000 (25,454,545 AAV) contract with the San Diego Padres, joining an already stacked lineup consisting of Manny Machado and fellow SS Fernando Tatis Jr. If Bogaerts can produce similarly to his 2022 season, the Padres become instant heavyweights in the NL. The favorites to win the NL West. Look out for Xander Bogaerts and the San Diego Padres, NL.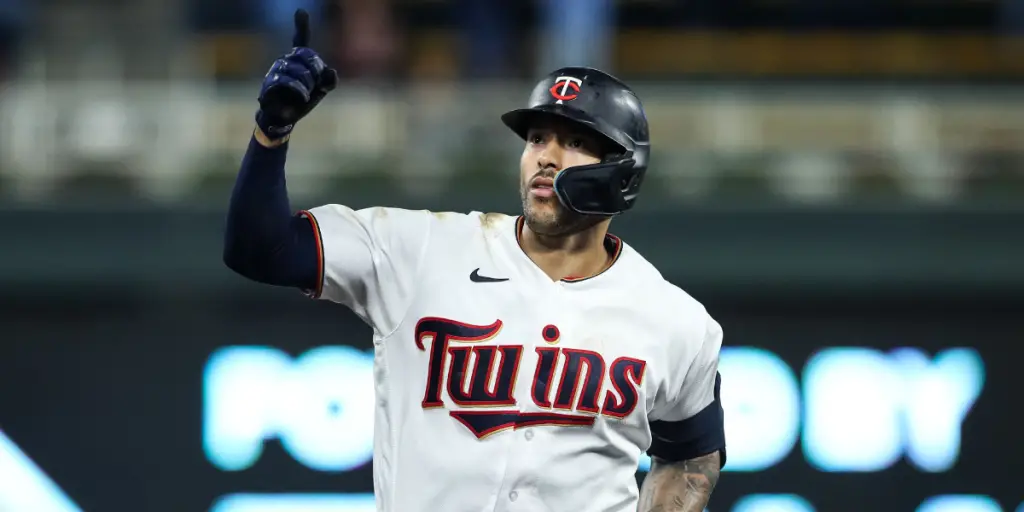 4. Carlos Correa – Minnesota Twins
The story of the 2022 off-season has undeniably been about Carlos Correa. On December 21st, it looked like the New York Mets had signed Correa to a 12 year, $315,000,000 ($26,250,000 AAV) contract, pairing him with fellow stud SS Francisco Lindor, but that deal fell through. Instead, Correa re-signed with the Minnesota Twins, signing a contract for six years worth $200,000,000 ($33,333,333 AAV). Regardless of his contract or where he plays, Correa is one of baseball's best hitters (and fielders). In 2022, despite a slow start, Correa posted an .834 OPS (140 OPS+) with 22 home runs and 24 doubles in 590 plate appearances. If Byron Buxton can stay on the field to play alongside Correa in 2023, The Twins will be set for success. Expect more top level production from Correa in 2023.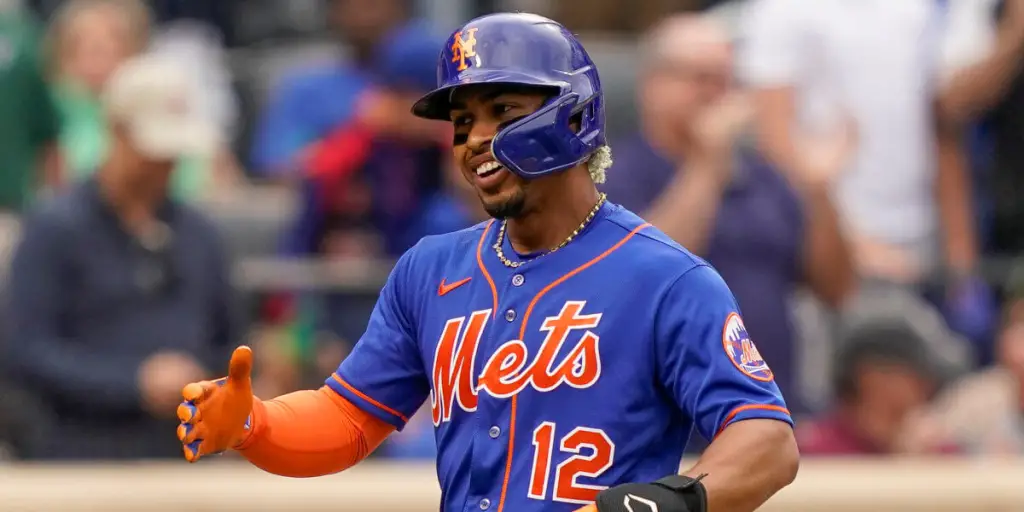 3. Francisco Lindor – New York Mets
Francisco Lindor has yet to return to the MVP level player we saw him be in Cleveland, but we believe that this will be the year that happens. In 2022, Lindor posted a .788 OPS (125 OPS+) with 26 home runs and 25 doubles in 706 plate appearances, to go along with 18 stolen bases. Lindor recorded a career-high 133 strikeouts (18.8% strikeout rate) in 2022. However, Lindor also had an impressive 59 walks. Lindor, 29, is in the prime of his career, and we fully expect his numbers to showcase that in 2023, potentially having a 30 home run and 40 doubles season. Be scared of the Mets in 2023 because Francisco Lindor is officially back.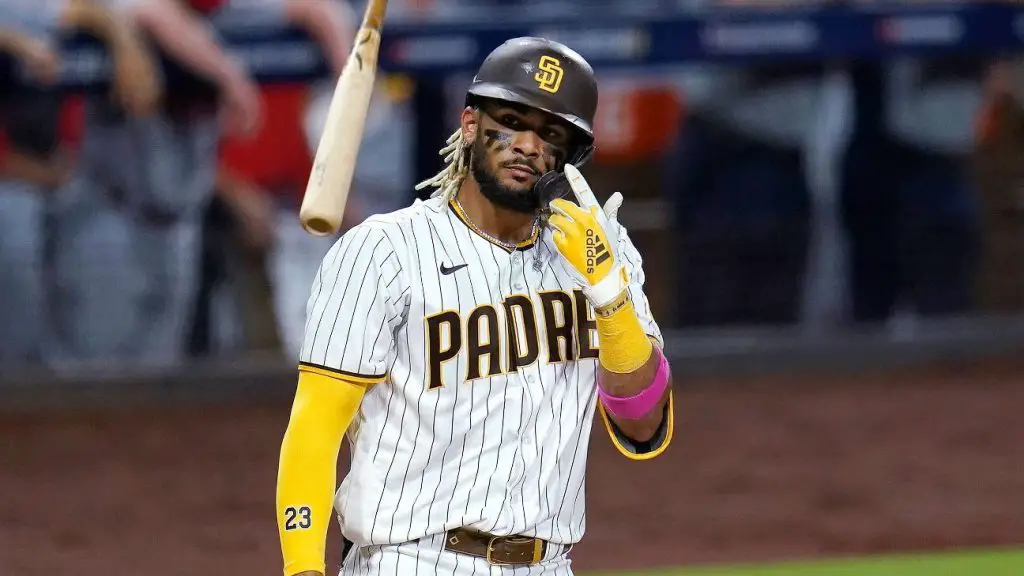 2. Fernando Tatis Jr. – San Diego Padres
Although Tatis Jr. missed the entire 2022 season, his raw talent at the plate is undeniable. In his last season (2021), Tatis Jr. posted a .975 OPS (166 OPS+) with an NL leading 42 home runs and 31 doubles in 546 plate appearances, to go along with 25 stolen bases. Tatis Jr. missed the first half of 2022 with a wrist fracture and would eventually miss the rest of 2022 with a suspension. Tatis Jr. is available to play on April 20th, about a month after opening day (March 30th). While we don't know where Tatis Jr. will play in the field, with the Padres acquiring SS Xander Bogaerts (see above) in the 2022 off-season, it won't matter much. Tatis Jr. will join a star-studded Padres lineup consisting of Manny Machado. If Tatis Jr. can return and perform how he did in 2021, he will have a strong case for NL MVP once the 2023 season is over.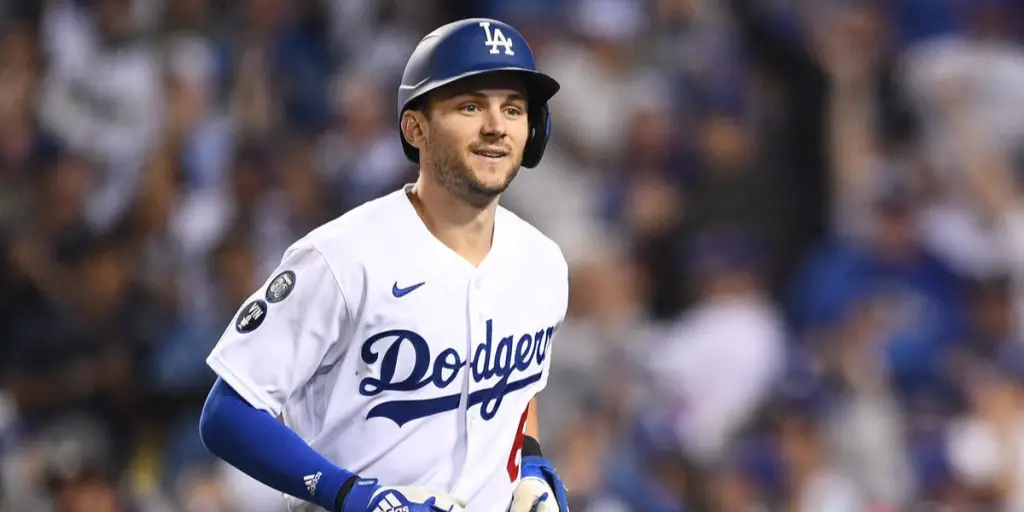 1. Trea Turner – Philadelphia Phillies
Trea Turner is a unique talent and arguably the best pure hitter at the shortstop position. After an electric 2021 season, in which Turner posted a .911 OPS (145 OPS+) with 28 home runs and 34 doubles in 646 plate appearances, to go along with a league-leading 32 stolen bases, Turner's 2022 season was sort of a "down" year. In 2022, Turner posted an .809 OPS (121 OPS+) with 21 home runs and 39 doubles in an NL leading 708 plate appearances, to go along with 27 stolen bases. However, in back-to-back seasons, Turner has been among the leagues best at getting on base, posting a league-leading 195 hits in 2021 and then following that up with 194 hits in 2022. Turner joins an elite Phillies team that has finally found their identity. Offense, offense, offense. Turner fits right in with the 2021 NL MVP Bryce Harper, Kyle Schwarber, and J.T. Realmuto, making the 2023 Phillies an absolute force to be reckoned with. Expect Turner to continue his elite production in his first year as a Phillie.