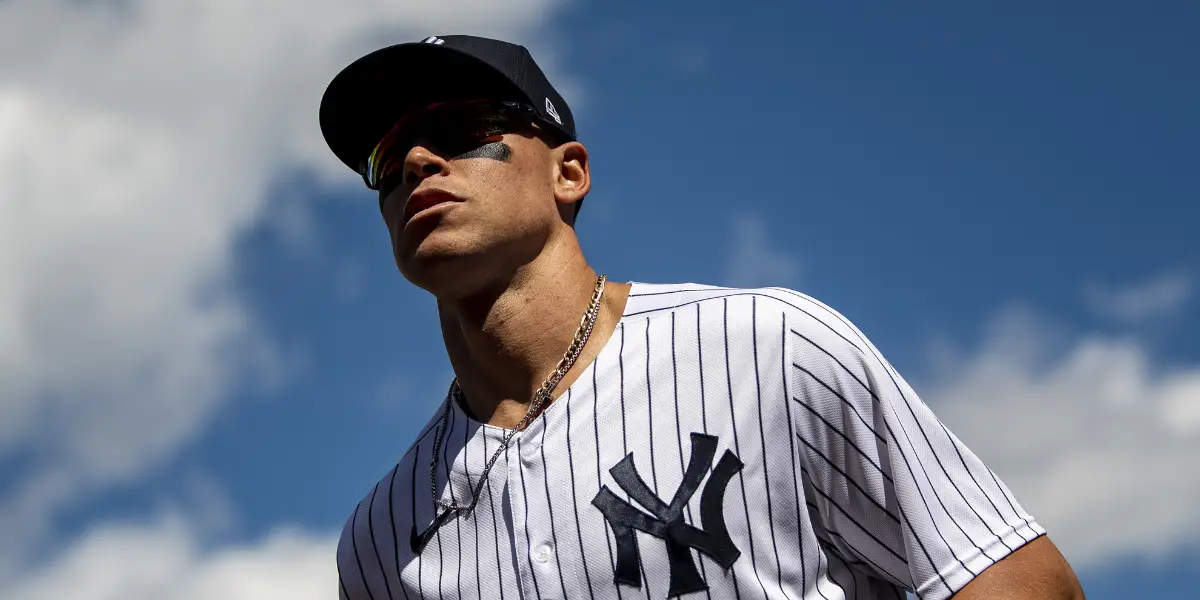 The Quest for Championship #28 Continues
Yankee Stadium will soon be alive with a house filled with enthusiastic Yankee fans awaiting the home team to take the field against the San Francisco Giants. Three weeks from Thursday, the Yankees will be pulling on the pinstripes for the first of one hundred sixty-two games. Time will tell if the results lead to entry into October and a path to the World Series. I am grateful Aaron Judge will be running out to right field in the top of the first inning rather than the bottom of the inning when his primary off-season suitor takes the field.
The Yankees currently have open competition for three positions. Left field, shortstop, and the fifth spot in the pitching rotation. My projection for the Opening Day roster stands as follows:
Right Field – Aaron Judge
Center Field – Harrison Bader
Left Field – Aaron Hicks
First Base – Anthony Rizzo
Second Base – Gleyber Torres
Shortstop – Oswald Peraza
Third Base – DJ LeMahieu
Catcher – Jose Trevino
Designated Hitter – Giancarlo Stanton
Starting Pitcher 1 – Gerrit Cole
Starting Pitcher 2 – Carlos Rodón
Starting Pitcher 3 – Luis Severino
Starting Pitcher 4 – Nestor Cortes, Jr
Starting Pitcher 5 – Clarke Schmidt
Closer – Clay Holmes
Reliever – Michael King
Reliever – Jonathan Loáisiga
Reliever – Tommy Kahnle
Reliever – Wandy Peralta
Reliever – Ron Marinaccio
Reliever – Lou Trivino
Long Reliever – Domingo Germán
Bench – Josh Donaldson
Bench – Oswaldo Cabrera
Bench – Kyle Higashioka
Bench – Isiah Kiner-Falefa
Maybe this is just my wish list and not a realistic expectation of the team's final decisions. Clarke Schmidt has an option remaining and might start the year in Triple-A, which would open a bullpen spot for Jimmy Cordero or Albert Abreu. I am not expecting a non-roster guy like Nick Ramirez to make the team. I have Schmidt over Germán because I believe the 27-year-old pitcher is primed for a breakout season ala Michael King last year. I like Germán better in long relief and spot starts. 
More than likely, Josh Donaldson will be the Opening Day third baseman despite my preference for Le Machine. For my lineup, I could not bring myself to insert the Bringer of Rain, considering he has hit more like the Bringer of Light Mist as a Yankee (or maybe it is the Bringer of Light Breeze with those swings and misses). I am hopeful for a stronger 2023 season for Donaldson, but admittedly I am not holding my breath.
Left Field remains the problem. Although I have Aaron Hicks as the starting left fielder, my preference…my hope…is that he finds himself in a city other than New York on Opening Day. Yet, I am not expecting my wishes to be granted. Hicks will be on the team, barring a miracle, and Manager Aaron Boone will have him in the Opening Day lineup. I know everybody loves Oswaldo Cabrera, but I will die on the hill that Cabrera's greatest value is his versatility and ability to play multiple positions. Knowing how much Boone loves to rest guys, the energetic and talented Cabrera can find himself in the starting lineup nearly every day without being dropped exclusively into left field. 
Anthony Volpe is not making the Opening Day roster. He will begin the year with the Scranton/Wilkes-Barre RailRiders to finish his development and to position himself for promotion to the big-league club later this summer. Volpe has a chance to be a special player, and I support the Yankees' decision to take it slowly with him. He might be ready to play in the Major Leagues right now, but I think there is value in conquering Triple-A before he faces the bright lights and enormous pressure of Yankee Stadium. I do not believe this is a case of service time manipulation. When Volpe is ready, he WILL be in the Bronx.
Sadly, I had no room on the 26-man roster for Estevan Florial. Out of options, Florial will soon find himself as an ex-Yankee. I had hoped for more from the one-time top prospect, and I like him better than Aaron Hicks, but you must hit at the Major League level, and I am not convinced Florial can. If not with the Yankees, I hope another organization allows Florial to achieve his dream of playing in the Major Leagues. He has been in the Yankees organization for a long time. The 25-year-old originally signed with the Yankees in 2015 as an international free agent. He is family, and it will be sad to see him go.
I thought there might be room on the roster for a non-roster invitee like outfielder Rafael Ortega or Willie Calhoun. Unless there is a trade to clear space, there is simply no room. If GM Brian Cashman can find a way to keep Ortega, there would be no complaints from me. I prefer him over Calhoun, at least based on what I have seen this Spring. I know Calhoun once held the loftier pedigree.
Injuries can undoubtedly change the Opening Day outlook, and it seems like a trade or two is coming. But in early March, this is my best guess for Opening Day based on the guys currently on the roster and/or in camp with the team. 
Is it enough to beat the Houston Astros or the Toronto Blue Jays? Maybe, maybe not. I would have felt better if the Yankees had retained Andrew Benintendi or traded for a strong left fielder and if Frankie Montas had been healthy. Yet, this Yankees team can win the American League East and advance deep into the playoffs. Brian Cashman will bring in July reinforcements, and hopefully, the results will lead to the franchise's twenty-eighth World Series championship.