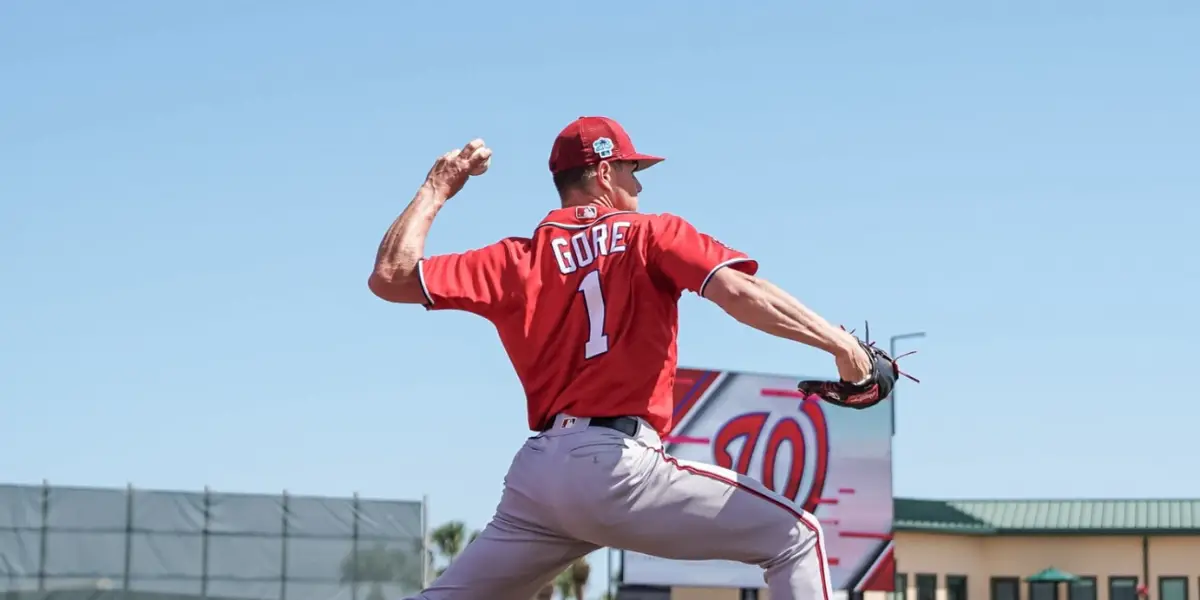 We're in the first full week of March, and Spring Training games have been underway for over a week. The Nationals are only 3-5-1 with a -7 run differential so far, but the record isn't important. A lot of position players have had great at-bats, and young pitchers have thrown the ball well. It's looking much better than last year when the Nationals went 4-11 with a -28 run differential. Yesterday on Twitter, @Bobby_Blanco was the first to report the first roster cuts the Nationals have made this year.
Let's take a deeper analysis of why they were cut and what it means for them going forward.
Special Treatment for Joan Adon
Joan Adon was the only player to be directly optioned to AAA. Manager Davey Martinez said Adon has looked good so far, and he's only given up 1 ER in 3 IP this spring. Unfortunately, he was rushed to the big league level last year and was probably the worst starter in the league (7.10 ERA). Adon was optioned to AAA after a couple of months, but his struggles continued there as he pitched to a 4.68 ERA in 10 starts. It'll be tough, but he's only 24, so he still has time to improve and perform well at AAA to get another shot in the MLB.
Re-Assigned to Minor League Camp
Alberto Baldonado: It might have been surprising to see Baldonado gone so soon because of the lack of LHP options for the bullpen, especially since Sean Doolittle won't be ready for Opening Day. He threw a scoreless inning in his only appearance this spring. Unfortunately for him, he struggled in his only time at the MLB in 2021 (8.44 ERA), and his AAA performance (3.84 ERA) doesn't suggest that he'd be effective in the MLB. Baldonado should start at AAA again.
Francisco Perez: Perez was another LHP possibly in the mix for the bullpen since Doolittle won't be prepared for opening day, but it wasn't surprising to see him gone. Perez struck out 11.7/9 in AAA last year, but an outrageous 6.2 BB/9 rate meant he had a 4.82 ERA. He fared even worse after being called up to the MLB last September (7.24 ERA). Perez will look to dominate in AAA and make a case to enter the MLB roster later in the season.
Evan Lee: With Doolittle not being available for Opening Day, Lee could take a bullpen spot as a LHP. He made his MLB debut last year and was solid in several appearances before heading to the IL with a flexor strain. Lee not pitching in a professional game since his injury should be the reason why he was cut, so the Nationals will want him to build himself up in the minor leagues before getting a possible opportunity at the MLB.
Jackson Tetreault: Tetreault made his MLB debut last June and made four starts with two quality starts before hitting the injury shelf with a stress fracture on his right scapula. He's still recovering from his injury, so it was just a matter of time before he got re-assigned to the minor league camp. Tetreault will look to recover as quickly as possible so he can get back in action.
Zach Brzykcy: Zach Brzykcy was a diamond found in the dust as the Nationals signed him as an undrafted free agent in 2020. His domination at A+ and AA last year gave him an outside shot of making the bullpen. Unfortunately, he recently suffered an injury that could keep him out for more than a month. Brzykcy should start at AAA after his recovery, and he'll look to prove himself there to earn a potential call-up to the MLB.
Derek Hill: Hill is another player dealing with injuries as he left the game against the Yankees last week with issues in his hamstring. He was signed to a minor league deal with a small chance of becoming a utility player on the MLB roster. Hill will be extremely disappointed since he was 2-5 with 3 BBs, but his MLB career OPS of .630 suggests it was not going to last. Hill most likely spend the entirety of the year at AAA.
Tommy Romero: Romero never had a chance of making the Opening Day Roster. After being claimed from the Rays on waivers last year, he gave up 6 ER in 3.2 IP, and his arsenal did not look suited for the MLB in his only start. Romero's struggles carried into this spring as he gave up two runs in his first appearance. Romero's done well at AAA, so he'll be at Rochester this year.
Anthony Castro: Castro has a career ERA of 6.00 in the MLB, but he posted a 2.16 ERA in 8 AAA appearances in the Oriole's organization last year so the Nationals gave him a shot. He gave up three runs in his only appearance, so it was evident that he wasn't going to last long in camp. Castro will be a solid reliever at Rochester this year.
Gerardo Carrillo: Carrillo was one of the players acquired in the Max Scherzer-Trea Turner trade with the Dodgers in 2021. Injuries have kept him off the field, and his performance hasn't been good when on the field, as he had an 11.32 ERA in 10 AA appearances last year. Carrillo looked sharp and more promising this spring and had a scoreless first outing, but he gave up a walk-off home run in his last appearance. He'll look to find consistent success at AA this year to take a step closer to the MLB.
Donovan Casey: Casey was another player acquired in the Max Scherzer-Trea Turner trade, and like Carrillo, he hasn't found success yet. Ever since being promoted to AAA in late 2021, he's hit a meager .204/.268/.328 in 122 games. He even got DFA'D before the Nationals reclaimed him. Casey didn't get any playing time this spring, and he'll look to improve his hitting this year to supplement his good CF defense, which could allow him to become a backup outfielder on an MLB team.
Erick Mejia: Mejia hasn't hit in his short time at the MLB level (.466 OPS), and he's been a light hitter in the minor leagues (.726 OPS). Mejia's value comes from being a nice versatile defender in the infield and outfield. He did go 3-8 this spring, but it's evident that his bat won't be better than average in the MLB. Mejia is a solid depth piece to have in the minor leagues.
Brady Lindsly: With Ruiz, Adams, and Pineda as the catchers on the 40-man roster, it's not a surprise he was re-assigned so soon. Lindsly has been poor defensively (24 CS%) and offensively (.600 OPS) in the minor leagues, so he'll remain as a depth catcher in the minor league system.
Lucius Fox: The former top international broke camp and earned a spot on an MLB roster for the first time. Fox only got two hits in 25 at-bats, so he was sent down to AAA in a month and struggled (.646 OPS), nothing different from his entire pro career (.671 OPS). Fox has good athletic ability, so he serves as a decent depth in the minor leagues.
Yasel Antuna: The once top international draft pick who's been overrated for a while now. Antuna hit a homerun last Saturday and has two hits in five at-bats this spring. Antuna is a good athlete, but his bat has never come around (.687 OPS). He reached AA last year after making his pro debut in 2017, and his hitting was terrible (.498 OPS). Antuna will start at AA this year, and we'll just have to wait and see if his bat can ever get going.