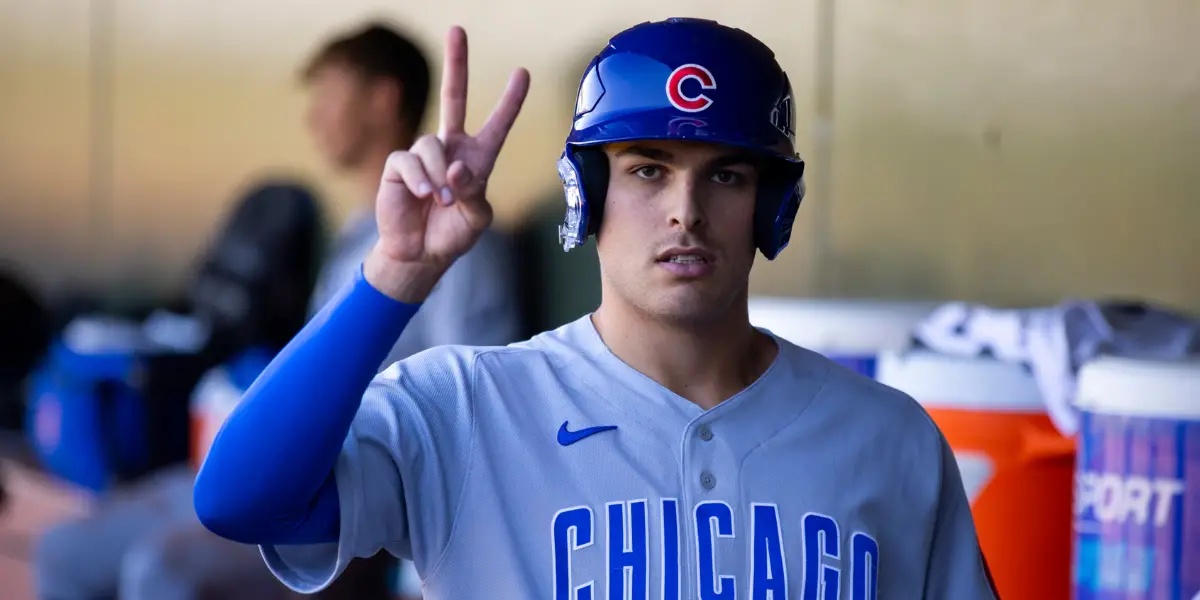 Matt Mervis had a phenomenal season last year to make his name familiarized league-wide. The Duke graduate went from A+ ball at the start of 2022 to possibly being a part of the Cubs Opening Day roster this upcoming season. How did he do it so fast?
A+ Ball
As mentioned above, Matt Mervis started 2022 as a part of the South Bend Cubs A+ team. Mervis played a total of 27 games in Indiana. He had a total of 100 at-bats and 35 hits(that is a .350 batting average). Twenty-seven of those hits knocked in at least a run, 16 hits were extra-base hits(XBH), and he had a total of 7 home runs(HR). That means 77.1% of his hits resulted in a run-scoring. OPS has become a stat that is looked at more and more as each year advances. Matt Mervis had a 1.039 on-base plus slugging percentage! As you can probably tell, he was tearing it up in A+; as a result, he got called up to AA ball very quickly.
AA Ball
In late May of 2022, Matt Mervis got the call he would be moving up to the Tennessee Smokies- the Cubs AA affiliate. He had a longer AA stint than his A+ ball stint. He played a total of 53 games for the Smokies. He had a total of 203 plate appearances and ended up with the following stats: 61 hits, 31 XBH, 14 HR, 51 RBI, .300 AVG, and .966 OPS. Matt Mervis was given more time with higher competition to get a bigger sample size and did not disappoint. In only 26 more games than his A+ play, he almost doubled the amount of XBH. He had an RBI and doubled the number of home runs hit. Once again, Mervis got the call to pack his bags because he'd be moving again- this time to Iowa.
AAA Ball
After 53 games in Tenessee, Matt Mervis spent the rest of the season in Iowa playing for the ICubs. At this point, he became a very familiar name to Cub fans. A primarily Cubs shirt store known as Obvious Shirts even allowed Mervis' teammate, Pete Crow-Armstrong, and himself to market their own shirt!
Mervis played 57 games in Iowa to finish his 2022 campaign. He had a total of 209 plate appearances. He continued to rake in Iowa hitting 15 home runs and 31 EXH. He had 62 hits overall. He did increase his OPS to .976 as well. Mervis' numbers as a triple-A ball player were very similar to his double-A numbers.
Mervis to the MLB?
Matt Mervis has 100% made a great campaign to make his way up to the show. His ETA is 2023, so he is expected to get time in the MLB. On January 19th, 2023, he was announced as the number 4 first-base prospect in the MLB.
It is still up in the air if he will be a part of the Opening Day roster, though. The Cubs signed Trey Mancini and Eric Hosmer, so it will be interesting to see what the Cubs decide to do.
Eric Hosmer is a Good Buy-Low, Bridge to Matt Mervis

From Jack Vita of Fastball FN
It's possible that the Cubs will start him in AAA at the beginning of the year and see how he does. For all we know, they could trade him away while he's a hot commodity.
Whatever the Cubs do, they currently have a top first-base prospect who appears to be on the rise, and it will be exciting to watch him for years to come.