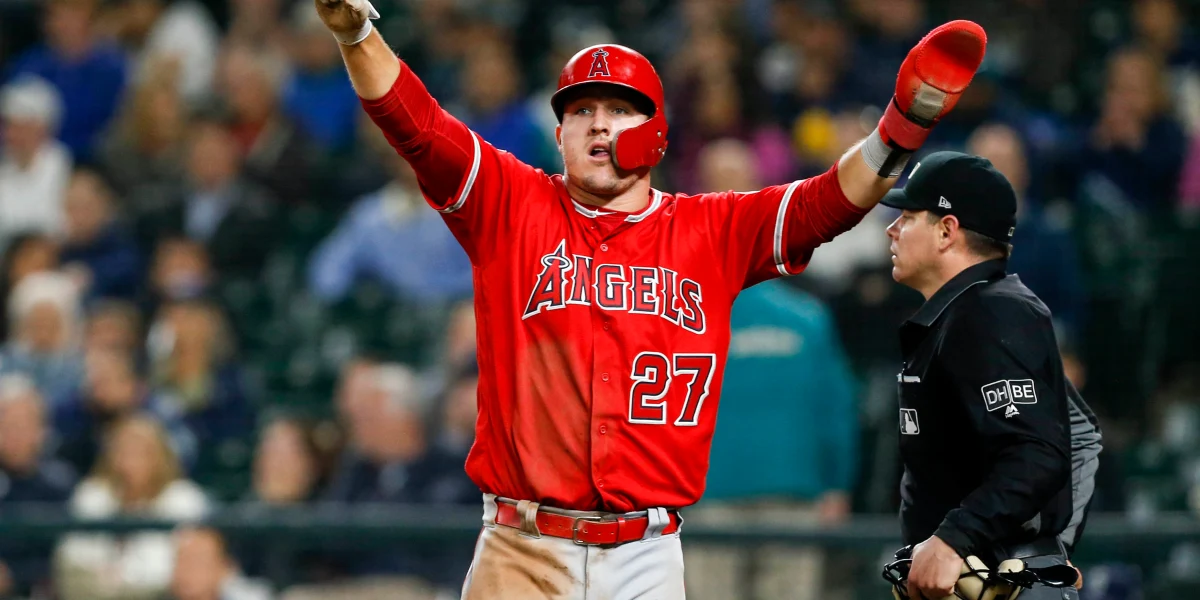 Depending on how this season goes for the Angels, there will be a lot of situations to consider. Some of these would be an absolute dream, and others, not so much. We will dive into some of the more likely possibilities on both sides of the coin.
DREAM SITUATIONS
The number one dream situation for the Los Angeles Angels of Anaheim has to be that the stars align, and they are not only competitive and make the playoffs but put everything together and win the World Series. Shohei Ohtani and Mike Trout are fighting for the MVP all season, with Trout edging out Shohei for MVP with a batting line something to the effects of .289 AVG, 45 HRs, 115 RBIs, an OPS somewhere around 1.079, and a WAR of 10. Shohei Ohtani would win the Cy Young award and finish second in the MVP balloting. His pitching stats are around 17-5 with a 2.00 ERA and a 0.89 WHIP. At the plate, he hits .270 with 35 HRs, 100 RBIs, an OPS around .990, and a WAR of 8. The Angels would also avoid the injury bug. They'd get substantial offensive production from all of their lineup players and solid bench production from all of their offensive players. For the pitching staff, Tyler Anderson is everything the Angels hoped for when they signed him. He gives them a 1A to Shohei Ohtani, is a leader in the clubhouse, and provides the team with six innings of quality pitching each time he takes the bump. Patrick Sandoval continues his rise as a developing rotation stud by continuing to throw quality innings, time and time again. Reid Detmers finds consistency from outing to outing while continuing his electric stuff from his no-hitter last season. Jose Suarez makes a big leap in his amount of innings pitched, and with that jump, he finds some additional success in the wins and loss column. His periphery numbers have always been very solid (3.96 ERA, 109 IP, 103 SO, 1.25 WHIP), so that continues and even improves a bit. Griffin Canning is finally healthy, wins the 6th rotation spot, and pitches to the promise he had shown before getting hurt. The bullpen doesn't have to be called upon quite as much, so they have a truly excellent season on the whole.
The bright spots in this scenario are that Ben Joyce wins the closer role out of Spring Training and looks like a young Troy Percival to the tune of 40 saves while throwing gas and getting punch-outs with his change-up. Joyce's meteoric rise allows for Estevez to dominate in the 8th inning. Jimmy Herget and Aaron Loup will dominate the 7th inning. Longtime Angel fans will get some welcomed Brendon Donnelly, Frankie Rodriguez, and Troy Percival 2002 vibes! This will lead to the Angels becoming a substantial player in the Free Agent market yearly, a greater player in keeping current stars in Anaheim, and most importantly, locking Shohei Ohtani in an Angels uniform for the foreseeable future. I feel the deal will be somewhere around ten years and 550 million dollars with a full-player no-trade clause and a player opt-out in five years. Worth every penny, in my opinion.
In situation two, things don't end up quite as rosy as in situation one, but the Angels do still make the playoffs but get eliminated in the ALCS by the dreaded Astros. Things go pretty well on the injury front, although the Angels do lose David Fletcher for three weeks to a forearm bruise after he is hit by a pitch in June. The Angels do scuffle for a week or so when Perry Minasian makes a trade crucial to this season and the Angels' short-term future. He is able to acquire Brandon Woodruff and Joseph Hernandez from the Brewers for Jo Adell, Edgar Quero, and Tucker Davidson. The Angels finish strong to earn a wild card spot and go on a run in the playoffs that ends in a game seven loss in Houston. Shohei Ohtani signs a 10-year deal for 550 million dollars, and our rotation is set for years with Ohtani, Woodruff, Anderson, Detmers, Sandoval, and either Suarez, Silseth, or Canning and the Angels added to their Minor League system of arms without sacrificing too much in the trade.
EMERGENCY PLANS
In Emergency Plan one, the Angels have a very good season and miss the playoffs on the very last day of the season. In the offseason, they trade for Yu Darvish and give up Jo Adell, Edgar Quero, and Chase Silseth. After that, they make a monster offer to Shohei Ohtani, which he accepts for ten years and 600 million dollars. In a second trade, the Angels acquire Francisco Lindor from the Mets for Tyler Anderson and Anthony Rendon. This allows for Zach Neto to make the jump to the Angels at 3B and also shores up the hole at SS with a perennial all-star caliber player.
Emergency plan two is the "nuclear" option. The Angels have substantial injury issues again and decide mid-season that this is a complete teardown. The Angels package Mike Trout to the Phillies for a package of RHP Hans Crouse, OF Emaarion Boyd, and RHP Tommy McCollum. The Angels package Shohei Ohtani to the LA Dodgers for RHP Nick Nastrani, OF Jose Ramos, LHP Maddux Bruns, and 3B Logan Wagner. Anthony Rendon and Tyler Anderson are sent to the New York Yankees for middle prospects to clear up salary and give maximum flexibility. The Angels continue to stockpile young players and pick with the hope to be competitive by the 2028 season with a deep and complete farm system and focusing on player development.
I honestly believe that the nuclear option is by far the least likely of happening. Still, I also hope that if the writing is on the wall, we are not going to be competitive this year and ultimately going to lose Shohei Ohtani. I am very excited about this season's Angels roster and think they are poised to do big things. I hope that Mr. Minasian and Mr. Moreno will do right by the organization, the players we love, and lastly, the fan base and give us the best chance to be a proud, competitive, championship level baseball team again as soon as possible.