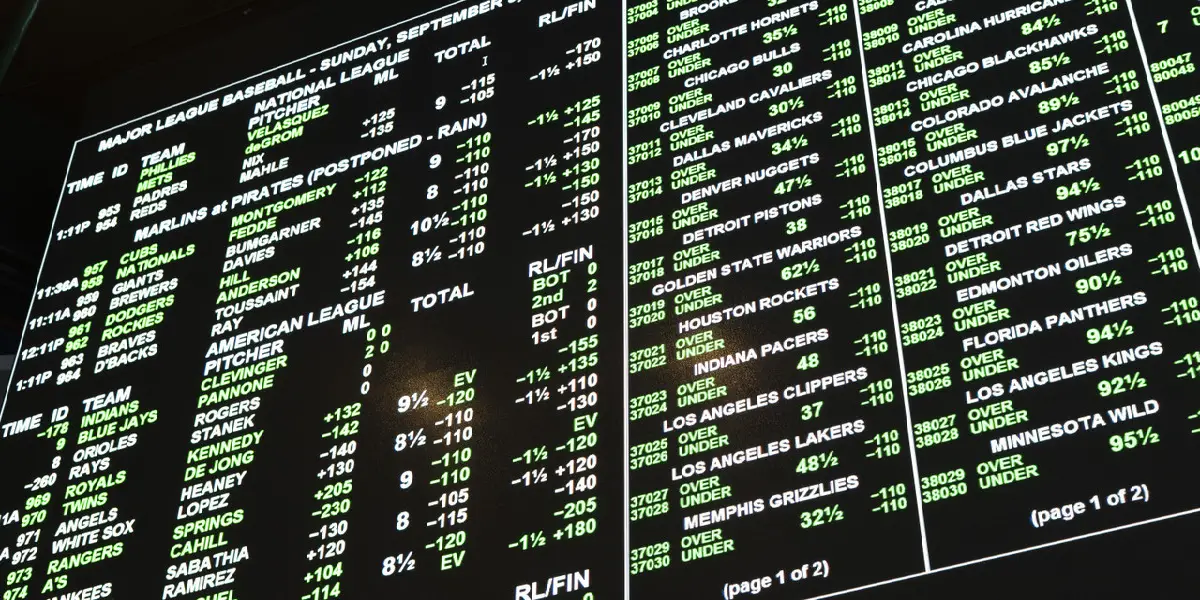 Spring Training is right around the corner, and Las Vegas sportsbooks have released their season win totals betting lines. Let's go division by division and see how the sharks in Vegas think the regular season will pan out and pontificate if there is a good bet to be had. All win totals provided are current DraftKings lines as of February 1.
NL East (2022 win totals)
Atlanta Braves 94.5 wins (101)
 New York Mets 94.5 wins (101)
 Philadelphia Phillies 88.5 (87)
 Miami Marlins 76.5 (69)
 Washington Nationals 61.5 (55)
It appears the folks in the desert enjoyed the NL East race last year and are predicting more of the same. Atlanta is the most complete team in the division and is poised to clinch another bye into the NLDS. Philadelphia and New York will certainly have something to say about it, but with Bryce Harper missing a huge portion of the season, this appears to be a two-horse race yet again.
Playoff teams: Atlanta (bye), New York, Philadelphia
Betting advice: With the new scheduling, the top teams can't beat up on the Nats and Fish all season; there could be some value in the under on the Braves, Phillies, and Mets. Bet cautiously.
NL Central
St. Louis Cardinals 88.5 (93)
 Milwaukee Brewers 85.5 (86)
 Chicago Cubs 77.5 (74)
 Pittsburgh Pirates 67.5 (62)
 Cincinnati Reds 65.5 (62)
Another division and another replica of last season's final results. While Vegas is predicting a tighter race this go-round, the Cardinals appear to be the class of the division. Milwaukee's injury woes allowed the Cards to pull away last September, but if their rotation remains healthy, we could see a change at the top. Dansby Swanson and Cody Bellinger will need a lot of help if Chicago is going to make a push.
Playoff teams: St. Louis
Betting advice: The Brewers have a stable of arms, and if they can remain healthy, they will surpass the 90-win mark and enter the playoff race. Good value here.
NL West
Los Angeles Dodgers 95.5 (111)
 San Diego Padres 92.5 (89)
 San Francisco Giants 81.5 (81)
 Arizona Diamondbacks 74.5 (74)
 Colorado Rockies 65.5 (68)
It seems the Dodgers will be favored yet again, even after losing some significant pieces. The oddsmakers did knock their prediction down a whopping 15.5 wins from their 2022 total, but can they beat out the Padres? A full season of Juan Soto and Josh Hader, the addition of Xander Bogaerts, and the return of Fernando Tatis Jr surely have to mean more than a 3.5 increase in wins, doesn't it? Well, Vegas doesn't build those casinos by losing.
Playoff teams: Los Angeles (bye), San Diego
Betting advice: As hinted at earlier, the market is going to push San Diego's total higher as people hammer the over 92.5. Wait to see how this unfolds and take the under at a higher win total.
AL East
New York Yankees 94.5 (99)
 Toronto Blue Jays 90.5 (92)
 Tampa Bay Rays 88.5 (86)
 Boston Red Sox 77.5 (78)
 Baltimore Orioles 76.5 (83)
In seasons past, this has been the most competitive division in Major League Baseball. With the decline of Boston and some solid acquisitions by the Yankees, it no longer appears that way. The Yankees appear to be better than last season as they solidified their rotation and brought back Aaron Judge. Their roster seemingly underperformed last year, and they still managed 99 victories. Toronto and Tampa may jockey for position in the playoffs, but the division crown seems out of reach without any major injuries or additions.
Playoff teams: New York (bye), Toronto, Tampa Bay
Betting advice: Hammer the Yankees over now because the number won't get any better. The Red Sox made some sneaky additions after losing Xander Bogaerts and are flying under the radar.
AL Central
Cleveland Guardians 86.5 (92)
 Chicago White Sox 83.5 (81)
 Minnesota Twins 81.5 (78)
 Detroit Tigers 70.5 (66)
 Kansas City Royals 69.5 (65)
Not a whole lot has changed in the AL Central this offseason, so the predictions are in line with what transpired last season. The most boring division in baseball stays that way for another season.
Playoff teams: Cleveland
Betting advice: The Tigers did not improve their team, and they will play more games outside of their weak division; 70.5 is too much to ask for this roster.
AL West
Houston Astros 95.5 (106)
 Seattle Mariners 87.5 (90)
 Texas Rangers 82.5 (68)
 Los Angeles Angels of Anaheim 81.5 (73)
 Oakland Athletics 60.5 (60)
The AL West will perhaps be the most watched division outside of the East Coast. The star power this division boasts is insane, and there is going to be a lot of good baseball to come from four of these teams. Texas is projected to make considerable strides in their win totals from a season ago with the additions of Jacob deGrom and Nathan Eovaldi to their starting rotation. The Angels have the two best players in the game, Mike Trout and Ohtani; the question is purely if Trout can stay healthy for an entire season which he has failed to do since 2016. The Astros will remain the class of the division even after losing last year's Cy Young winner Justin Verlander to the Mets. The Mariners are one of the most exciting young teams in recent memory and are capable of beating anyone.
Playoff teams: Houston, Seattle
Betting advice: This new scheduling seems to favor teams from strong divisions as they won't beat up on each other throughout the season. Houston and Seattle are solid overs for me, and I will be fading the Angels and Rangers.
Playoffs Look Familiar
Bookmakers have predicted the same seedings and playoff matchups in the National League, with the Dodgers and Braves getting byes into the NLDS while New York and St. Louis host a Wild Card series against the Padres and Phillies, respectively.
The American League will have a change of opening-round matchups as the Blue Jays will now host Tampa Bay, and Seattle will travel to Cleveland for Wild Card matchups.
This seems very unlikely, but this was just an exercise in using Las Vegas futures betting to predict what October baseball could look like.
This article is not intended to encourage or promote gambling. Wager at your own risk. If you or someone you know has a problem gambling, please call 1-800-522-4700 to speak to someone at the National Problem Gambling Helpline.