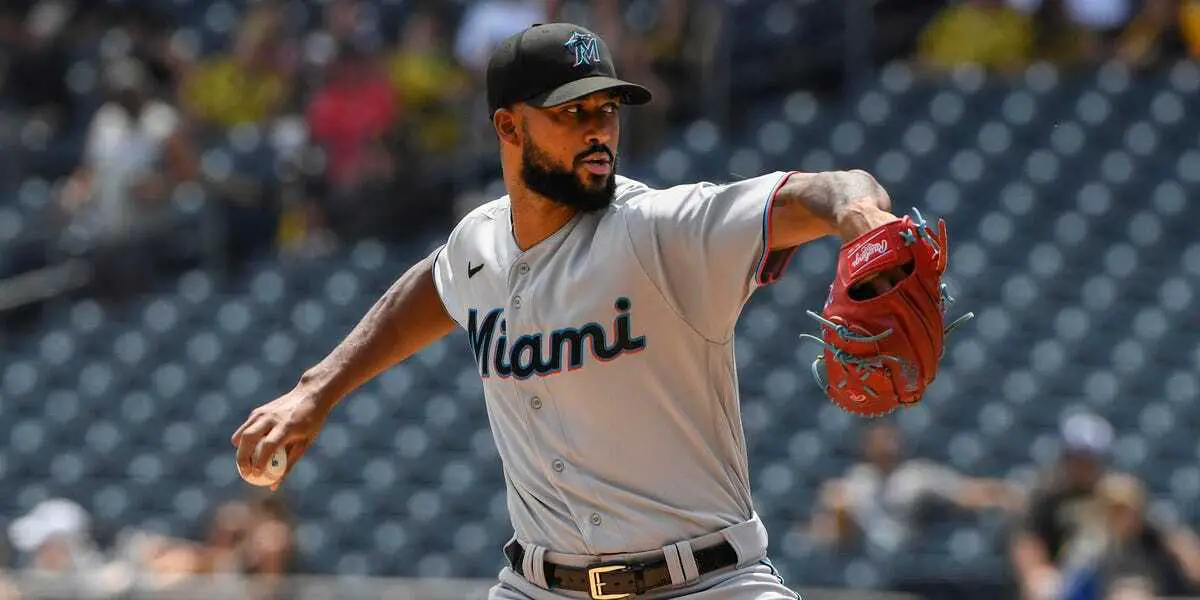 Elite starting pitching is maybe the most valuable thing you can have in baseball, and there are so many elite pitchers in Major League Baseball. It's tough to rank every single one of them, so we narrowed it down to 10. Let us know your thoughts in the comments!
Honorable Mentions:
Kevin Gausman – Toronto Blue Jays
Gausman had a down year in 2022, falling from a sub-3 ERA (2.81) in 2021 to a 3.35 ERA in 2022. While his K/BB ratio improved in 2022, the strikeout rate took a slight hit. With the addition of Daulton Varsho to the Blue Jays outfield, the defense behind him in 2023 will be better than ever. Kevin Gausman will have a bounceback year in 2023, but he barely misses our top 10.
Aaron Nola – Philadelphia Phillies
Aaron Nola is coming off one of the best years of his career in 2022, finishing 4th in NL Cy Young voting. Nola posted a 3.25 ERA, 0.961(!) WHIP, a career-high 235 strikeouts, and an absurdly low 29 walks in 205 innings (That's one walk every seven games!). Even though the Phillies didn't prevail in the World Series, Nola proved he could be a top 2 pitcher on a contending team in 2022. Expect more of the same in 2023.
Carlos Rodon – New York Yankees
Some might be surprised that Rodon isn't in our top 10 for 2023, and we can see why. Rodon had arguably the best year of his career for the Giants in 2022, posting a 2.88 ERA, 237 strikeouts, and 52 walks in 178 innings. The newly acquired Yankee is bound to have another monster season in 2023, in maybe the best rotation in baseball, but there are ten pitchers who we think will be better.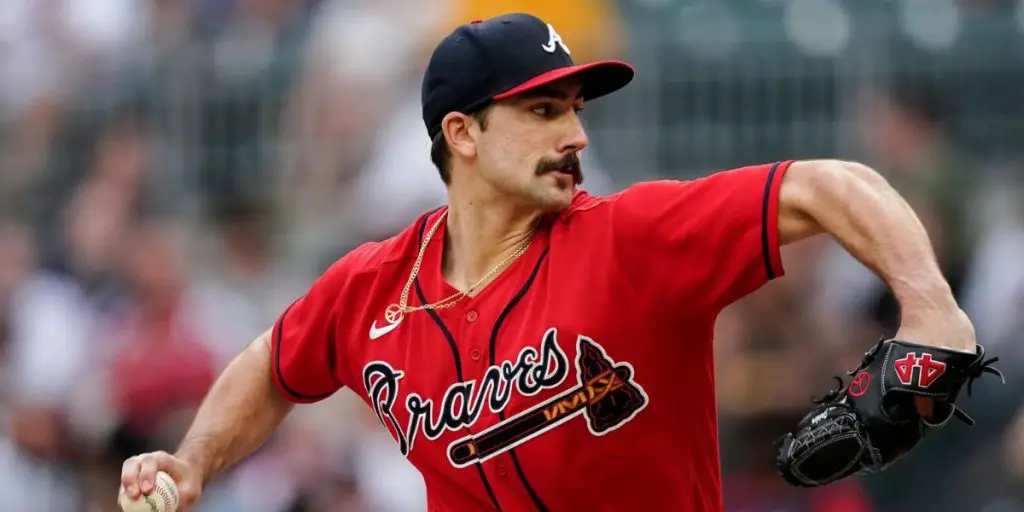 10. Spencer Strider – Atlanta Braves
After posting a monster 2022 season and finishing 2nd in NL Rookie of the Year voting, Spencer Strider of the Atlanta Braves kicks off our top 10. In 2022, the 24-year-old flamethrower posted a 2.67 ERA with 202 strikeouts and 45 walks in 131.2 innings. Strider's 13.8(!) K/9 led all starting pitchers in 2022. Oh, and his slider is among the best we've seen in years. Expect nothing more than another leap from Strider this year and potentially some Cy Young talk.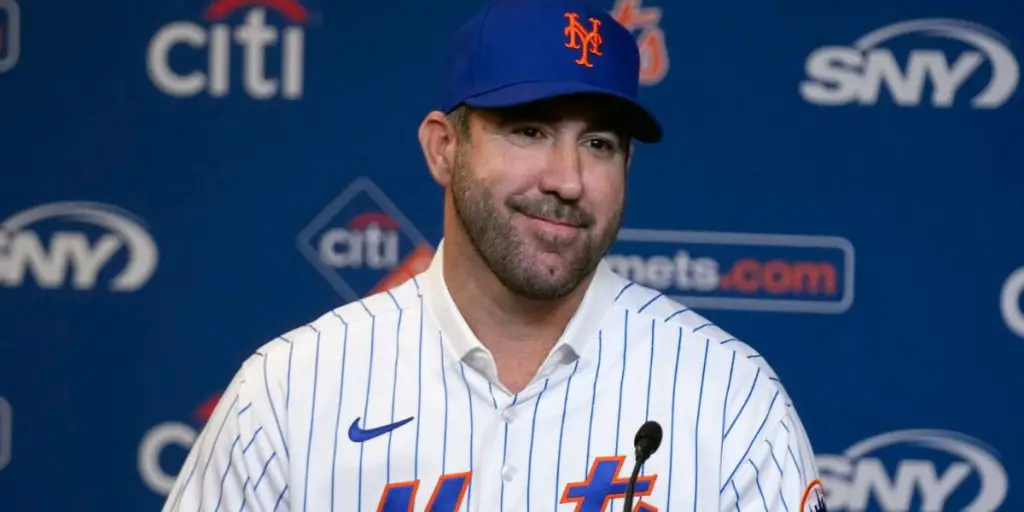 9. Justin Verlander – New York Mets
39-year-old Justin Verlander is still kicking, and at an elite level, winning the 2022 AL Cy Young. In 2022 Verlander posted a ridiculous league-leading 1.75 ERA, with 185 strikeouts and only 29 walks in 175 innings. He also led all qualifying pitchers in WHIP (0.829). But we expect some regression. Verlander will be 40 by the time the 2023 season starts, and even though he may still be elite, Verlander won't be on the same level he was in 2022 and won't even be the best pitcher on his team…
8. Max Scherzer – New York Mets
The best pitcher on the Mets in 2023 will be Max Scherzer. In 2022, "Mad Max" posted a 2.29 ERA with 173 strikeouts and 24 walks in only 145.1 innings, and we're expecting the same, if not better, in 2023. Scherzer was riddled with injuries in 2022, and if he can stay healthy (enough) for the 2023 season alongside 2022 AL Cy Young winner Justin Verlander (see above), watch out, NL.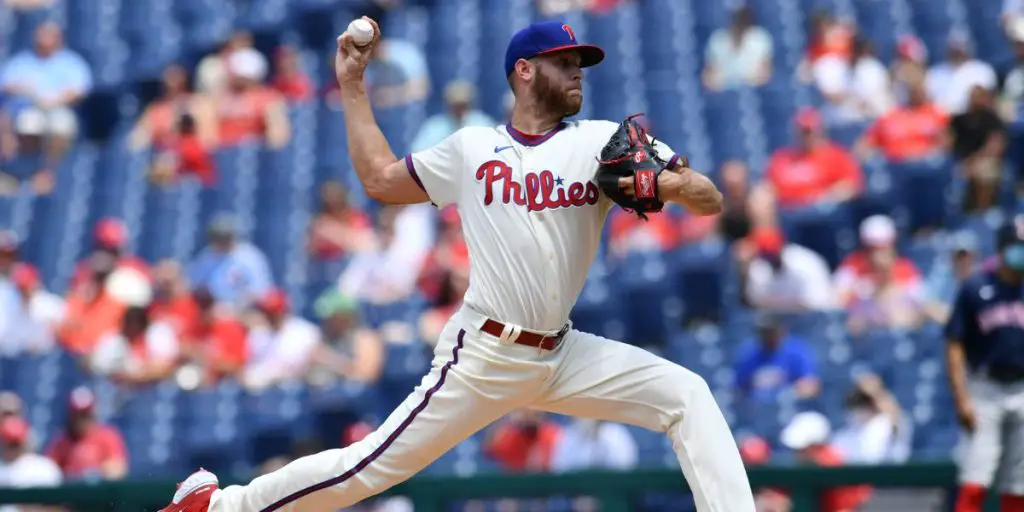 7. Zack Wheeler – Philadelphia Phillies
Zack Wheeler is the definition of consistent, having back-to-back excellent seasons. Although he was injured for some time in 2022, Wheeler posted a 2.82 ERA with 163 strikeouts and 34 walks in 153 innings. Entering his 4th year in Philadelphia, Wheeler, alongside ace Aaron Nola (see above), looks to bring the Phillies back to the promised land, and a healthy Wheeler helps do that. Expect another Cy Young caliber season in 2023 from Wheels.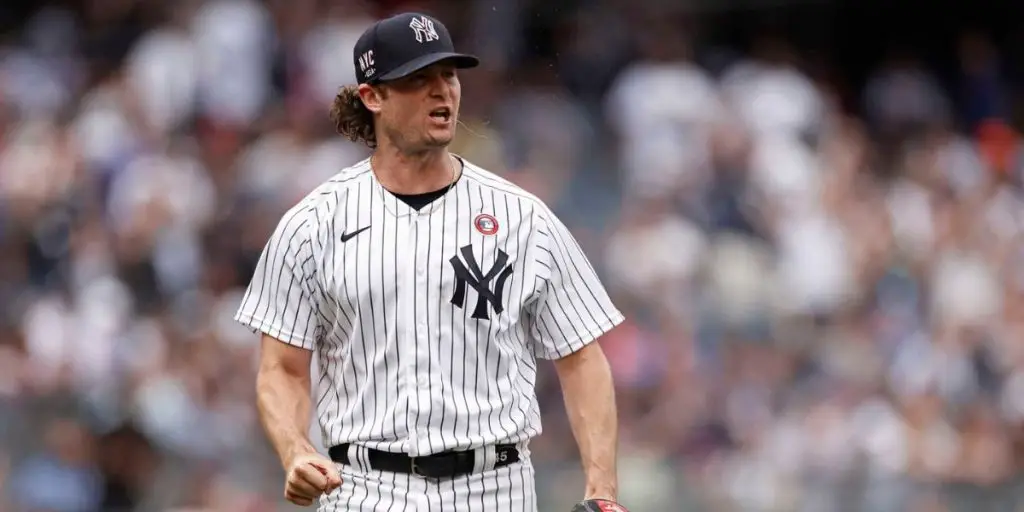 6. Gerrit Cole – New York Yankees
Regardless of what some people might tell you, Gerrit Cole is still an elite pitcher and a strikeout MACHINE. In 2022, Cole led the league in strikeouts for the second time in his career with 257. The New York Yankees ace also posted a 3.50 ERA and 50 walks in 200.2 innings, and we think Cole's 2023 will be even better. Adding Carlos Rodon (see above) takes some much-needed weight off Cole's shoulders, and we expect Cole to continue to be elite.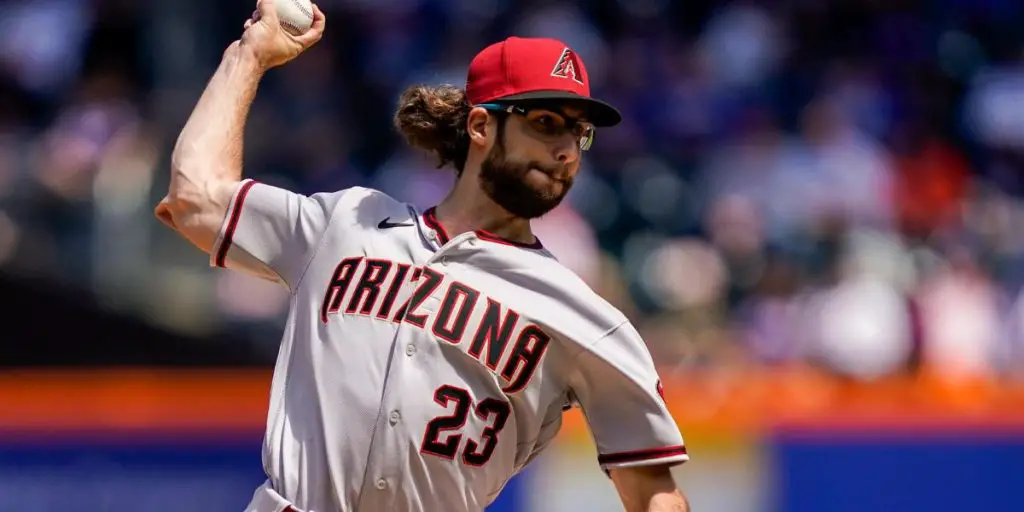 5. Zac Gallen – Arizona Diamondbacks
Considering how below-average the Diamondbacks have been, this may surprise the casual fan, but Zac Gallen is an absolute stud. The 27-year-old, entering his prime, had a 2.54 ERA with 192 strikeouts and 43 walks in 184 innings in 2022. Now, if you haven't watched a Diamondbacks game in a while, change that when Gallen is starting because he is electric. Gallen finished top 5 in Cy Young voting in 2022 and very well could win it in 2023.
4. Corbin Burnes – Milwaukee Brewers
2-4 were insanely hard to rank because they're all so close. You could have any order of the next three pitchers, and it would be completely valid, but starting at #4 for us is Corbin Burnes. Burnes had somewhat of a down year compared to 2021, but it was still an elite season, posting a 2.94 ERA with 243 strikeouts (2nd behind only Gerrit Cole, 257) and 51 walks in 202 innings. Don't let this ranking fool you, Burnes is still one of the best pitchers in the game, but there just happen to be three that we think will be better in 2023.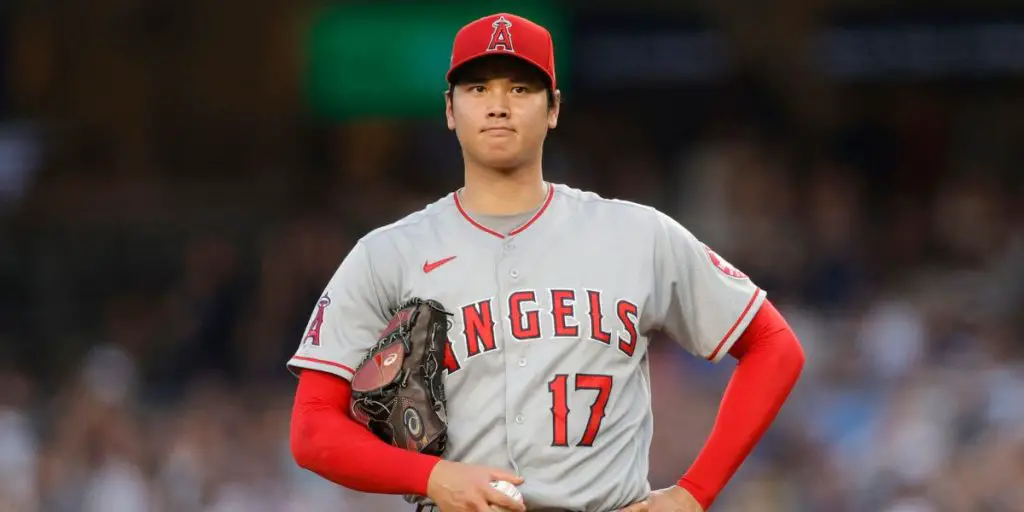 3. Shohei Ohtani – Los Angeles Angels
Every baseball fan knows the legend of Shohei Ohtani, an elite two-way player like we've never seen before. He's an elite hitter and one of the best pitchers in baseball. In 2021, everybody knew they were watching something special, but he got even better on the mound in 2022, posting a 2.33 ERA with 219 strikeouts and 44 walks in 166 innings, all career bests. Nobody as good of a hitter as Ohtani should ever finish 4th in Cy Young voting, but that's precisely what he did, and he might even win it in 2023. Appreciate greatness.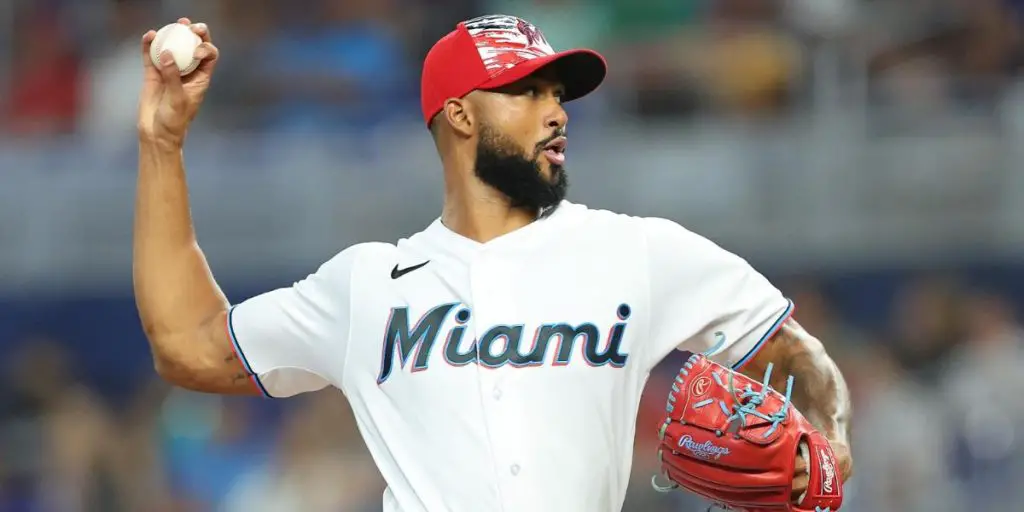 2. Sandy Alcantara – Miami Marlins
The 2022 NL Cy Young winner is an absolute phenom and could easily go back to back. Alcantara posted a 2.28 ERA with 207 strikeouts and 50 walks in a ridiculous league-leading 228.2 innings, which came with six complete games. Sandy Alcantara is one of the best pitchers in baseball, that's a fact, but he's also the most resilient pitcher in baseball. The Marlins won games in 2022 single-handedly because of Alcantara, and we expect more of the same production in 2023.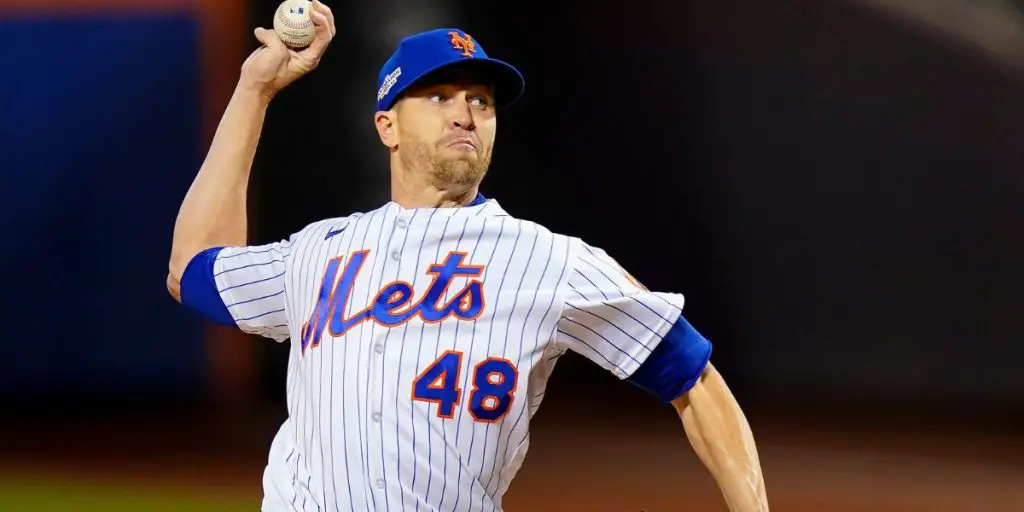 1. Jacob deGrom – Texas Rangers
Was it much of a debate about who #1 would be? Injuries have been a big problem for deGrom over the past couple of years, but when he's healthy, he's one of the best pitchers the game has ever seen. In deGrom's last fully healthy season (2019), he posted a 2.43 ERA with a league-leading 255 strikeouts and 44 walks in 204 innings, winning the NL Cy Young. Oh, and the season before that (2018), he was even better, posting a league-best 1.70(!) ERA with 269 strikeouts and 46 walks in 217 innings, winning NL Cy Young. Even though deGrom has been hit by the injury bug as of late, he's only 34 years old and projects to still be the same pitcher he was in 2019. If deGrom can stay healthy, look out, MLB. He will be a problem.