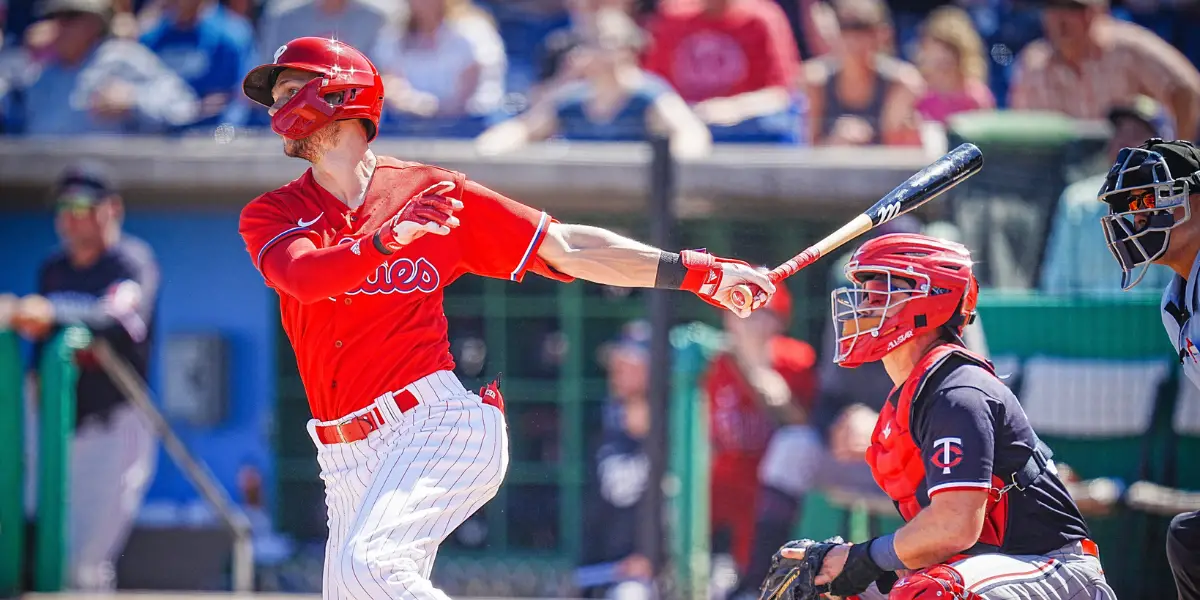 Spring Training is underway, and the Phillies have had a hot start, to say the least. Philadelphia has hit 15 home runs while hitting .249 as a team, along with a 5-4 record to start the Spring. Let's take a look at the Phillies' Spring Training so far:
2/25 – vs. New York Yankees (W, 7-4), @ Detroit Tigers (L, 2-4)
The Phillies started Spring Training with a split-roster day in Florida. Most Phillies fans had eyes on the game vs. the Yankees due to the Tigers game not being televised. Luckily, the Fightins had a more impressive performance vs. New York. Brandon Marsh got off to a hot start, going 2/2 with a walk leading off for Philadelphia, but the game's main story was Weston Wilson. Wilson also went 2/2 with a walk in his first outing as a Phillie, but unlike Marsh, Wilson had a huge home run in the 2nd inning to put the Phils up 2-0 early. Wilson would then bring in two more runs, putting him at a total of 4 RBI for the day, an outstanding first performance as a Phillie. The player who stood out on the mound the most this game was RHP prospect Andrew Baker. In one inning of work, Baker fanned two batters and showed off his electric slider.
2/26 – vs. Minnesota Twins (W, 10-8)
The big story of this game was the Phillies' debut of superstar offseason acquisition Trea Turner, and he did not disappoint, going 2/3 with 1 RBI. He even had a stolen base and a run in his first-ever at-bat for Philadelphia. Nick Castellanos also came to play, hitting a big home run in the bottom of the 5th inning to bring the Phils within two after a huge 6-run 5th inning from Minnesota. Philadelphia would go on to score 6 of their own in the bottom of the 6th, on the back of a staggering grand slam from Ethan Wilson, to pull away from the Twins.
2/27 – @ Pittsburgh Pirates (W, 9-7)
Aaron Nola got his first start of Spring Training against Pittsburgh, and in two innings, he struck out one and walked one. At the plate, two names gave the Phils a 5-0 lead through 3: Alec Bohm and Edmundo Sosa. Bohm started off the game hot, hitting a 2-run home run in the top of the 1st inning to give the Phils an early 2-0 lead. Then Edmundo Sosa happened. In the top of the 3rd, Sosa hit a ball so far into left field it left the stadium, driving in three and giving the Phillies a 5-0 lead. The rest of the game was smooth sailing from there offensively. However, Pittsburgh did score five runs in the last two innings, providing a bit of a scare, but Philadelphia ultimately prevailed.
2/28 – vs. Toronto Blue Jays (W, 7-2)
Although Philadelphia didn't hit a single home run this game, they still managed to score seven runs on the back of above-average production from almost everybody who stepped foot in the batter's box. Trea Turner continued his hot start to Spring, going 2/3 once again with 2 RBI, bringing his Spring total to 4/6 with 3 RBI in two games so far. Impressive start to your Phillies career, Trea. Zack Wheeler took the mound for Philly vs. Toronto, and he had a great outing, striking out two batters in two innings and not allowing a single hit. Nick Castellanos led the good guys with 3 RBI.
3/1 – @ Minnesota Twins (T, 4-4)
There was one thing on everybody's mind going into this game, Andrew Painter. The #1 pitching prospect in baseball took the mound for the first time for Philadelphia against Minnesota, and boy, did he look good. In two innings, Painter struck out one, gave up three hits, and one run. However, Painter gave up nothing more than a single, and his stuff looked great. Jake Cave and Darick Hall hit home runs for the Fightins, both of them being absolutely blasted to right-center field. Connor Brogdon had an outstanding showing on the mound, striking out two batters in one inning. Unfortunately for both teams, this game ended in a tie.
3/2 – @ Boston Red Sox (L, 3-15)
Boy, this game was a disaster for Philadelphia. Going into the 3rd inning, the Red Sox were up 1-0 on the Phils, then the Phillies #3 prospect Griff McGarry took over, allowing five runs on the back of three walks. Not the best first impression for the RHP prospect. Philadelphia just could not get it going at the plate during this game, and the momentum was with Boston the whole way through.
3/3 – vs. Detroit Tigers (L, 3-6)
This game highlighted new Phillies facing off against former Phillies, as Taijuan Walker took the mound for the first time in a Phillies uniform, while Matt Vierling and Nick Maton bat 1 and 2, respectively, for Detroit. Walker gave up two runs on four hits in 2.1 innings. Vierling even hit a home run later in the game, looking to show Philadelphia that trading him was a mistake. Edmundo Sosa hit yet another moonshot in this game, this one going 441 feet, raising his Spring OPS to 1.783 at the time of the home run. October hero Rhys Hoskins also made his Spring debut, going 2/2 with a walk. The Phillies lost this one on the box score, but some key guys really impressed.
3/4 – vs. Pittsburgh Pirates (W, 4-3)
Alec Bohm really loves to show off, doesn't he? After putting on 15 pounds of muscle in the offseason, Bohm put it to use, hitting a 2-run oppo bomb to put the Phils up 3-2 in the bottom of the 3rd inning. Bohm would end up going 2/3 on the day, continuing a Spring in which he's produced highly at the plate. Aaron Nola pitched a good-looking three innings, allowing one earned run while striking out two and only giving up one hit: a Ke'Bryan Hayes triple.
3/5 – @ Toronto Blue Jays (L, 4-16)
This game went just about as well as the Red Sox game a few days prior. On the bright side, after a slow start to Spring Training, Kyle Schwarber hit a Schwarbomb in the top of the 1st inning after a Trea Turner base hit. Get used to seeing that this season. Oh, and did we mention that this was Schwarber's birthday? What a great way to start your 30th birthday, Kyle. Man, Zack Wheeler had a rough time on the mound this game, allowing 7(!) earned runs in 1.1 innings, seven hits, and not a single strikeout. Hopefully, this performance from Wheeler is a one-time thing.
We'll be doing recaps on the Phillies' schedule every week, so keep an eye out! Let us know what your thoughts are on the Phillies' Spring so far.