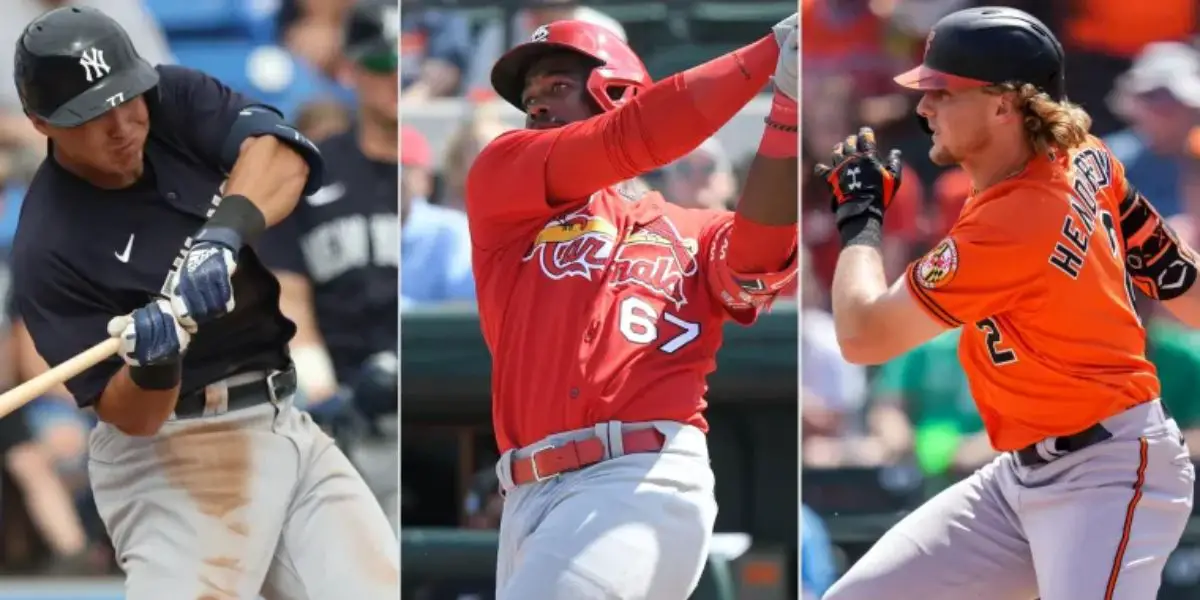 The 2022 season saw some historic campaigns from its rookie class, including, but not limited to, Julio Rodriguez, Adley Rutschman, Michael Harris, and Spencer Strider. As we soon enter the second month of the 2023 season, we have already seen some of MLB's most prized prospects make their way to the majors, as well as some many have never heard of before. Across the board, many young players are looked to as the future of their teams, and many have the promise to soon enter the ranks of MLB's top players. Here is one Rookie of the Year candidate as well as an additional rookie from each MLB team.
AL East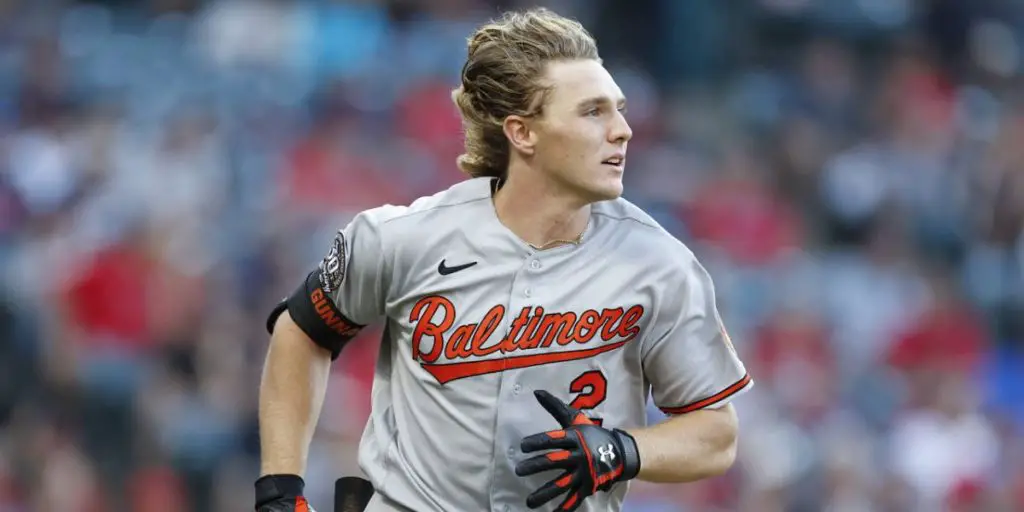 Yankees: Anthony Volpe
As one of the most hyped prospects in the league, rising to #5 on MLB's preseason rankings, Volpe carried a 1.035 OPS across 18 Spring Training games to the Yankees Opening Day roster. He put up a .802 OPS in 2022 in Double-A and Triple-A with 21 home runs, 35 doubles, and 50 steals. Volpe was the Yankees' Opening Day shortstop in 2023 at 21 years old, recording his first hit against the Giants. He has struggled so far through the beginnings of the '23 campaign but has shown off his speed, becoming the fifth player since 1901 to steal a base in his first three MLB games.
Also: Oswald Peraza
Blue Jays: Yosver Zulueta
The 25-year-old Zulueta is ranked as the number three prospect for the Blue Jays after a solid 2022 campaign between four levels in the minors. He came up short in his bid to crack the Jays' Opening Day roster but could see an opportunity in the majors before long. He put up a 3.72 ERA over 21 games (12 starts) in 2022, striking out 84 in 55.2 innings pitched. An issue for Zulueta is his workload as he underwent Tommy John surgery after signing in 2019 and tore his ACL after returning in 2021. His low innings total from last year will surely be a notable concern throughout the 2023 season.
Also: Rickey Tiedeman
Rays: Taj Bradley
The 22-year-old top Rays prospect was called up to the majors early in the 2023 season due to injuries and has impressed through two starts, striking out 23 over 15.1 innings with a 3.52 ERA. Bradley pitched to a 2.57 ERA over 28 starts between Double-A and Triple-A in 2022, striking out 141 batters over 133.1 innings as a 21-year-old. He's likely to be given a long-term look in the rotation after injuries in Tampa Bay's rotation. His four-pitch mix of a 4-seamer, cutter, changeup, and curve has already proven to miss bats at the MLB level, and although he was just optioned to AAA Durham, he should be back before too long.
Also: Curtis Mead
Orioles: Gunnar Henderson
Gunnar Henderson made his MLB debut late in 2022, putting up a .788 OPS in 34 games, but keeps his rookie qualification for the 2023 season. Henderson slashed .297/.416/.531 in 112 games between AA Bowie and AAA Norfolk before his call-up while hitting 19 home runs and stealing 22 bases. He started the season ranked as MLB's number-one overall prospect, and while he hasn't gotten off to the best start, his plate discipline and ability to walk have been impressive to start the season. It shouldn't take long for Henderson to truly break out, and that is a good reason why he is likely the favorite to win the Rookie of the Year in the American League.
Also: Grayson Rodriguez
Red Sox: Triston Casas
Casas entered the 2023 season as a top 25 prospect according to MLB.com after playing in 27 games in 2022. Casas hit only .197 but had a .358 OBP and .766 OPS for the Red Sox. He slashed .281/.389/.500 across 76 minor league games in 2022 before his call-up in September. He ranked as the Red Sox's #2 prospect coming into the 2023 season and earned an Opening Day roster spot as Boston's first baseman. The 23-year-old has struggled to start his 2023 season but has the talent to succeed at the MLB level before too long.
Also: Bryan Mata
AL Central
Guardians: Bo Naylor
The Guardians #4 prospect made his debut in late 2023 but went 0-8 in his short stint with Cleveland. He had struggled offensively since being drafted in 2018, but broke out in 2022, slashing .263/.392/.496 between Double-A and Triple-A, hitting 21 home runs and stealing 20 bases along the way. He has started the 2023 season in the minors and has begun the season playing well again, putting up a .854 OPS for AAA Columbus through 23 games.
Also: Brayan Rocchio
White Sox: Oscar Colas
Oscar Colas made his minor league debut in 2022 in High-A ball and ended up in AAA Charlotte before his season was over. He slashed .314/.371/.524 with a .895 OPS and 23 home runs in 117 games as a 23-year-old and cracked the White Sox Opening Day roster in 2023 as their second-ranked prospect. He has struggled out of the gate, putting up an OPS of just .567 through his first 21 games, but has started almost all of Chicago's games, mostly as their right fielder.
Also: Lenyn Sosa
Twins: Edouard Julien
Julien was called up recently to the Twins and played eight games before being optioned back to AAA St. Paul. He hit two home runs and put up a .720 OPS over his first 27 at-bats, and through 12 minor league games, Julien is slashing .255/.415/.451 with a .866 OPS. He has played all around the field throughout his career but settled as a second baseman in 2022, and while his defense isn't necessarily something to write home about, it is Julien's bat that will carry him back to the majors.
Also: Simeon Woods Richardson
Tigers: Joey Wentz
The Tigers 25-year-old lefty had a strong 2022 season between the minors and majors, pitching to a 3.04 ERA in High-A and Triple-A and a 3.03 ERA in Detroit. Wentz struck out 57 over 53.1 innings before being called up and struck out 27 over 32.2 afterward. Wentz also threw 12 scoreless innings in Fall League play to end his 2022. He has struggled immensely through his first four starts in 2023, giving up 14 earned runs in just 16.2 innings pitched, but should be given the chance to improve for Detroit.
Also: Justyn-Henry Malloy
Royals: Drew Waters
The once-top prospect for the Atlanta Braves was dealt to Kansas City in 2022 and made his Major League debut. Waters slashed .240/.324/.479 with a .803 OPS and five home runs over 32 games. An injury has delayed the start of his 2023 season, but he has shown the promise that led him to be ranked as MLB's #26 prospect going into the 2020 season. After putting up a .698 OPS over 49 games for Gwinnett, the Braves AAA club, Waters put up a .940 OPS over 31 games for AAA Omaha before his callup. Now 24 years old, Waters looks to play a big role for the Royals as they look to take a step forward in 2023.
Also: Maikel Garcia
AL West
Astros: Hunter Brown
The Houston Astros lost Justin Verlander in the 2022 offseason, but it might not matter as they already have found a new budding ace in 24-year-old Hunter Brown. Brown pitched to a 2.55 ERA in Triple-A in 2022 over 106 innings before a late-season callup, where he went on to give up just two runs across 20.1 major league innings. Brown cracked Houston's Opening Day rotation in 2023 and has pitched well through four starts with a 2.37 ERA across his first 30.1 innings. Brown might be the Astros' next big thing as they look to repeat as champions in 2023.
Also: Korey Lee
Mariners: Bryce Miller
The 24-year-old Miller just cracked MLB's top 100 prospects going into the 2023 season after a strong 2022 between Single-A, High-A, and Double-A. Miller pitched 133.2 innings with a 3.16 ERA and 163 strikeouts in his first full professional season. He has struggled to start the year in AA Arkansas through his first three starts, but should soon turn the corner and move his way up before too long. His hard fastball combined with a slider, curve, and changeup has proved his ability to stick as a starter and has a chance to join an MLB rotation sooner rather than later.
Also: Taylor Dollard
Angels: Zach Neto
Note: This would have been Logan O'Hoppe before the news a few days ago that he will undergo shoulder surgery, possibly ending his season.
Neto was drafted 13th overall in the 2022 MLB Draft and played 37 professional games that year. He slashed .299/.377/.476 with five home runs and five steals between High-A and Double-A. Neto began the 2023 season in AA Rocket City and hit .444 with a 1.374 OPS over seven games and earned a call-up to the Angels. Through Neto's first 10 games, he is slashing .215/.313/.310 with a .622 OPS, and the first 2022 draft pick to crack the majors has the chance to remain as the Angels shortstop throughout the year.
Also: Chase Silseth
Rangers: Josh Jung
Jung made his MLB debut in 2022 after a delayed start to his minor league season due to injury, playing 26 games for the Rangers and putting up a .654 OPS. In his first full professional season in 2021, Jung slashed .326/.398/.592 with a .990 OPS and went on to put up a .866 OPS in 31 minor league games in 2022 before his callup. He cracked the Rangers' Opening Day roster in 2023, now 25 years old. Jung has started the year strong, hitting .281 with a .828 OPS across his first 23 games.
Also: Justin Foscue
Athletics: Mason Miller
Mason Miller recently made his Major League debut for the Athletics after a strong start to the year in AAA Las Vegas, where he gave up two runs over 8.2 innings, striking out 19 batters. Miller pitched just 14 innings in 2022, giving up six runs and striking out 25. He gave up two in his MLB debut over 4.1 innings with five strikeouts for the Athletics. Miller threw the two fastest pitches in the Statcast era from an Athletic at 102.3 MPH and 102.5 MPH and pairs his fastball with a slider, cutter, and changeup to create an electric arsenal for the 24-year-old.
Also: Estuery Ruiz
NL East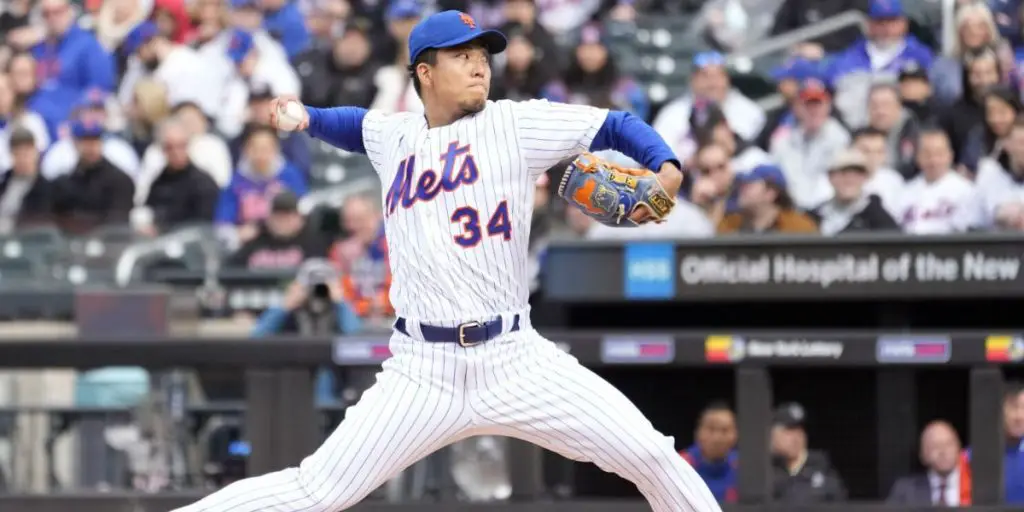 Braves: Jared Shuster
Shuster had a strong 2022 between Double-A and High-A, pitching to a 3.29 ERA over 139.1 innings. Shuster struck out 145 and walked just 38, good enough for a 2.5 BB/9. Shuster has a solid three-pitch mix of a fastball, changeup, and slider which he fills the strike zone with. Shuster has made two starts in the majors in 2023 but has struggled, with eight runs allowed over 8.2 innings and nine walks to go along with twelve hits allowed. Even with this rough start, Shuster will still likely play a role for the Braves throughout the season.
Also: Braden Shewmake
Mets: Kodai Senga
Senga is an unusual rookie at 30 years old, but after over a decade playing in Japan, he signed a five-year deal with the Mets during the 2022 offseason. Senga has started the season with a 4.15 ERA and 32 strikeouts over 26 innings across five starts. His unique ghost pitch pairs with a high-90s fastball, a slider, and a cutter. His arsenal has already proven to work in the United States, but his first year will likely have some adjustment period as he adapts to the majors.
Also: Brett Baty
Phillies: Andrew Painter
Painter was ranked as the top pitching prospect in baseball going into 2023 and could have already made his debut as a teenager if not for a Spring Training injury sidelining him for some time. Painter had a 1.56 ERA over 103.2 Single-A, High-A, and Double-A innings, striking out 155 while walking just 25. He is a consensus top-10 prospect in baseball for good reason, and will likely debut at some point in the 2023 season after he recovers from his injury.
Also: Simon Muzziotti
Marlins: Jacob Amaya
Amaya was acquired for longtime Marlins shortstop Miguel Rojas from the Dodgers during the 2022 offseason and ranks as the number 10 Miami prospect. Amaya is a strong defender at short, and had a solid offensive season between Double-A and Triple-A, slashing .261/.369/.426 with 17 home runs in 133 games. With the Marlins' awkward defensive positioning and struggling offense, Amaya could be both their short-term and long-term shortstop in the not-so-near future.
Also: Xavier Edwards
Nationals: Thaddeus Ward
This spot would have been for Cade Cavali if not for his season-ending injury this spring, so instead it goes to Thaddeus Ward. Ward threw 51.1 innings between four minor league levels in 2023 with a 2.28 ERA and 66 strikeouts before being taken by the Nationals in the Rule 5 Draft. He also pitched well in the Arizona Fall League and earned a spot on Washington's Opening Day roster. The 26-year-old pitcher was a starter in the minors but has started the year as a reliever, although he could see a chance in the rotation at some point in 2023.
Also: Jake Irvin
NL Central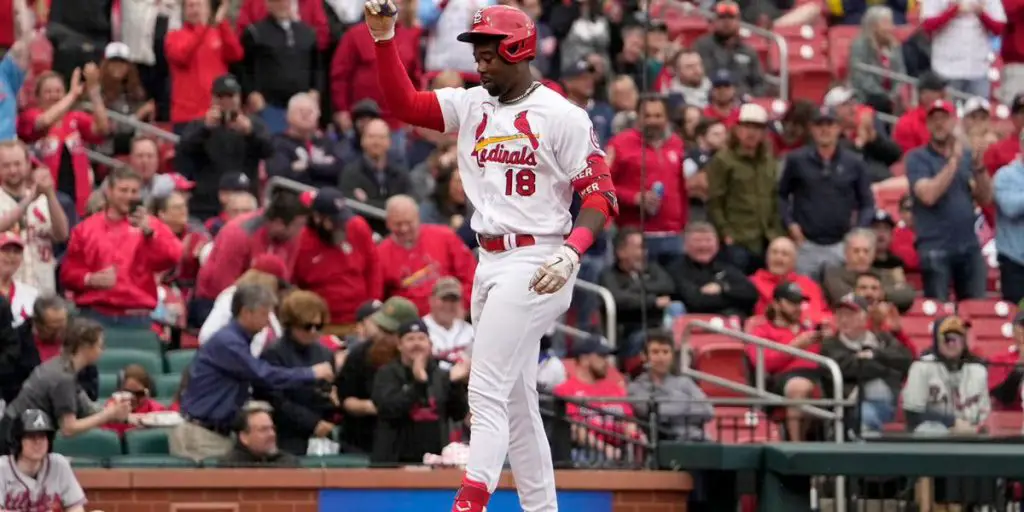 Cardinals: Jordan Walker
Walker had a huge 2022 in Double-A, hitting .306 with a .898 OPS, 19 home runs, and 22 stolen bases across 119 games. He performed well in Spring Training and earned a surprise Opening Day roster spot at just 20 years old. He has already impressed, matching a 111-year-old record with a 12-game hitting streak to begin his career as a 20-year-old player. Arenado's spot at third forced Walker into the outfield, where his athleticism and strong arm should allow him to perform well, especially in right. Although Walker was just optioned to AAA Memphis, he should soon earn his way back to the majors.
Also: Alec Burleson
Brewers: Joey Wiemer
Wiemer was unable to earn an Opening Day roster spot but was quickly called up due to injuries. The number 90 prospect according to MLB.com slashed .256/.336/.465 between Double-A and Triple-A with 21 home runs to go along with 31 stolen bases in 2022. Wiemer has started off his big league career slowly, putting up a .683 OPS across his first 24 games, but the 24-year-old's unique approach at the plate could soon lead to significant improvements in his major league performance.
Also: Sal Frelick
Cubs: Matt Mervis
Matt Mervis had a huge 2022 between three minor league levels, hitting 36 home runs and getting 119 RBIs over 137 games to go along with an impressive .309/.379/.606 slash line. He was unable to earn an Opening Day roster spot and was stuck behind Eric Hosmer and Trey Mancini at first base, but has been fantastic to start the year for the AAA Iowa Cubs. Mervis has a .953 OPS across his first 19 games in 2023, and has 15 walks to just 17 strikeouts, giving him a walk rate over 17%. The pressure is mounting for the Cubs to call him up soon, and it could be any day now before Mervis earns a chance in the majors.
Also: Brennen Davis
Reds: Christian Encarnacion-Strand
The 23-year-old Encarnacion-Strand was dealt to the Reds last summer and impressed across his first full professional season. He slashed .304/.368/.587 with 32 home runs in 122 games between High-A and Double-A. Encarnacion-Strand had a huge Spring Training for the Reds in his first big league camp but suffered a back injury which has delayed the start of his minor league season. He may return at first at a lower level but should soon head to AAA Louisville, where a call-up to Cincinnati shouldn't be too far away.
Also: Elly De La Cruz
Pirates: Endy Rodriguez
The 23-year-old Rodriguez is coming off of a huge 2022 season between High-A, Double-A, and Triple-A, slashing .323/.407/.590 with a .996 OPS through 25 games. The switch-hitter has primarily been a catcher but has also played second base, first base, and even the outfield. Rodriguez has started off the 2023 season in AAA Indianapolis, hitting .263 with a .789 OPS through 14 games. The Pirates, who are off to a shockingly successful start to the year, could soon look towards their young top prospect to make his way to the majors.
Also: Quinn Priester
NL West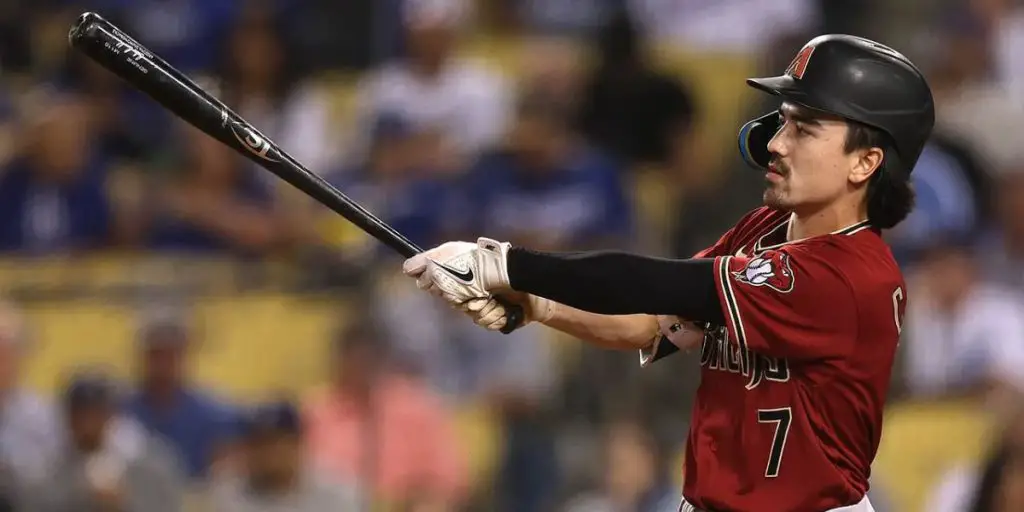 Dodgers: Miguel Vargas
Vargas made his MLB debut late in 2022 after a big minor league season and has begun the 2023 season as the Dodgers' primary second baseman. He hit .304 with a .404 OBP and .915 OPS over 113 games in AAA Oklahoma City before struggling in his short stint in Los Angeles. He is hitting just .221 with a .309 slugging percentage to start 2023 but has a .372 OBP and 16 walks to just 17 strikeouts. Vargas has played all over the field throughout his career including second, third, first, and the outfield.
Also: James Outman
Padres: Eguy Rosario
Ranked as the number 8 prospect for the Padres, Rosario played seven games for the Padres last season after a strong run in the minors. He slashed .288/.368/.508 with a .876 OPS across 124 games in AAA El Paso with 22 home runs and 21 stolen bases. Rosario spent time at second, third, and shortstop, showcasing his great athleticism and strong arm. He suffered an ankle injury during the Winter League, but when he returns, he could hold a valuable utility role for San Diego.
Also: Jay Groome
Giants: Casey Schmitt
In his second professional season, Schmitt rose from High-A to Triple-A over 126 games in 2022. Schmitt hit 21 home runs and slashed .293/.365/.489 with a .854 OPS while playing third and shortstop. He is a great defender at third and played well at shortstop after filling in for injury at High-A. Schmitt has a strong arm from his pitching days in college, where he threw up to 96 MPH. He has started the year off in AAA Sacramento, hitting .330 through his first 22 games.
Also: Helliot Ramos
Diamondbacks: Corbin Carroll
The 22-year-old outfielder came into the 2023 season as the number 2 prospect in all of MLB after a huge year in the minors and a strong first stint in the majors. Carroll slashed .307/.425/.611 with a 1.036 OPS over 93 games between AA Amarillo and AAA Reno with 24 home runs and 31 stolen bases. In 32 major league games, Carroll put up a .830 OPS with four home runs and inked a contract worth over $100 million before the 2023 season even began and is a rare true five-tool player with the talent to be one of the best players in the league for years to come.
Also: Brandon Pfaadt
Rockies: Ezequiel Tovar
The 21-year-old infielder made his debut late in 2022 as a 20-year-old, playing nine games for the Rockies. He earned a call-up after 71 games between Double-A and Triple-A, where he slashed .319/.387/.540 with a .927 OPS, 14 home runs, and 17 stolen bases. He has always been a great defender at short, but his offense also broke out, skyrocketing him into the top 25 prospects heading into 2023. He earned the Rockies' shortstop role with a great Spring Training but has struggled to start 2023, putting up an OPS+ of just 33 across 23 games.
Also: Michael Toglia