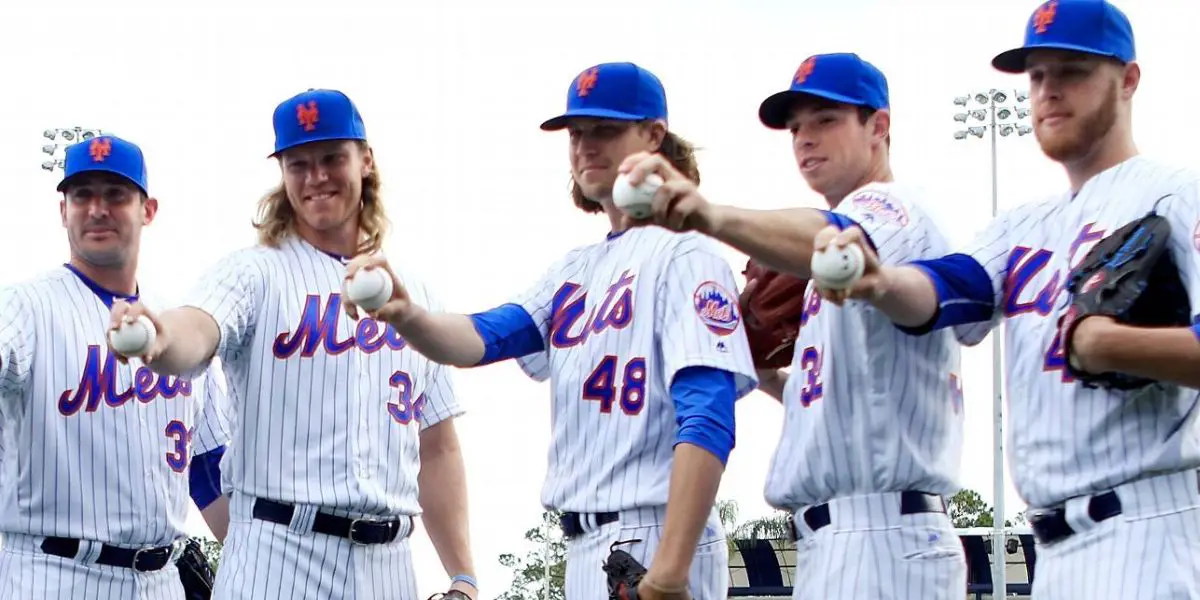 After heartbreaking finishes to the 2007 and 2008 seasons, the New York Mets began a stretch of six straight seasons finishing under .500. Most of the core from the 2006 division champion team was gone, and the biggest highlights of this stretch included Johan Santana's no-hitter and R.A. Dickey's Cy Young season, but both would throw their final pitch as Mets in 2012. The early age of Citi Field had seen some incredibly average teams. However, there was one thing looking up for the Mets. Throughout this age, through draft picks and trades, the Mets began to build up a core of young starting pitcher prospects. The first, Matt Harvey, would make his debut in 2012. The second, Zack Wheeler, made his debut in 2013. Jacob deGrom came up next in 2014, followed by Noah Syndergaard and Steven Matz in 2015. This core of five young starters was supposed to lead the Mets for years to come, but as fate would have it, they would only make two full rotation turns together. The first start from any one of the five came on July 26, 2012, and the last came on October 8, 2022, but in the end, the Mets' dream rotation never was anywhere close to what it was thought to be. Let's take a look at each of the five pitchers and what happened with them in order of their debuts.
Matt Harvey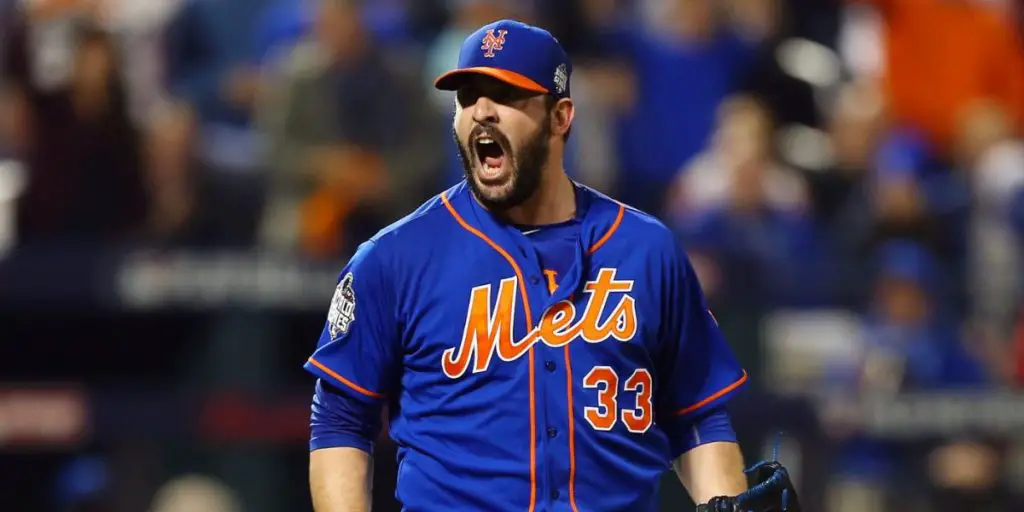 Matt Harvey, or the 'Dark Knight' as he came to be known, was the first to make his debut in July 2012 and put up a 2.73 ERA over 59.1 innings that year. At age 24, Harvey took another leap forward, pitching to a 2.27 ERA over 26 starts, and even started the 2013 All-Star Game at Citi Field. His season came to a disappointing finish, however, as he injured his UCL and underwent Tommy John surgery, putting him out for all of the 2014 season. His return in 2015 saw him putting up a 2.71 ERA over 189.1 innings, helping lead the Mets to the NL East crown. Rumors of an innings limit for Harvey were quickly put to rest as the Mets entered the postseason, and Harvey won both of his first two postseason games. Harvey, in the first-ever postseason game at Citi Field, defeated the Dodgers and went on to dominate the Cubs in Chicago in Game 1 of the NLCS. He settled with a no-decision in Game 1 of the World Series against Kansas City, leading up to his infamous Game 5 performance. Attempting to keep the Mets' hopes alive, Harvey dominated through eight scoreless innings. He loudly expressed his desire to keep pitching, and manager Terry Collins allowed him to begin the ninth. Obviously, it did not go the way either wished, and Harvey was pulled before Jeurys Familia relieved him but was unable to hold the lead, and the Royals eventually won in 14 innings. Injuries, poor pitching, and a bad attitude limited Harvey over the next two years with New York, and he was eventually dealt away in 2018 after being moved to the bullpen. He pitched fine in Cincinnati to finish the season and signed a deal with the Angels for 2019, where he put up a 7.09 ERA in 12 starts. An 11.57 ERA in 2020 with Kansas City and a 6.27 ERA in 2021 with Baltimore would put an end to his Major League career. Harvey would eventually play with Team Italy in the 2023 WBC, pitching well to help Italy make it to the quarter-finals. A few months later, Harvey announced his retirement from baseball, a quiet end to the career of the Dark Knight.
Zack Wheeler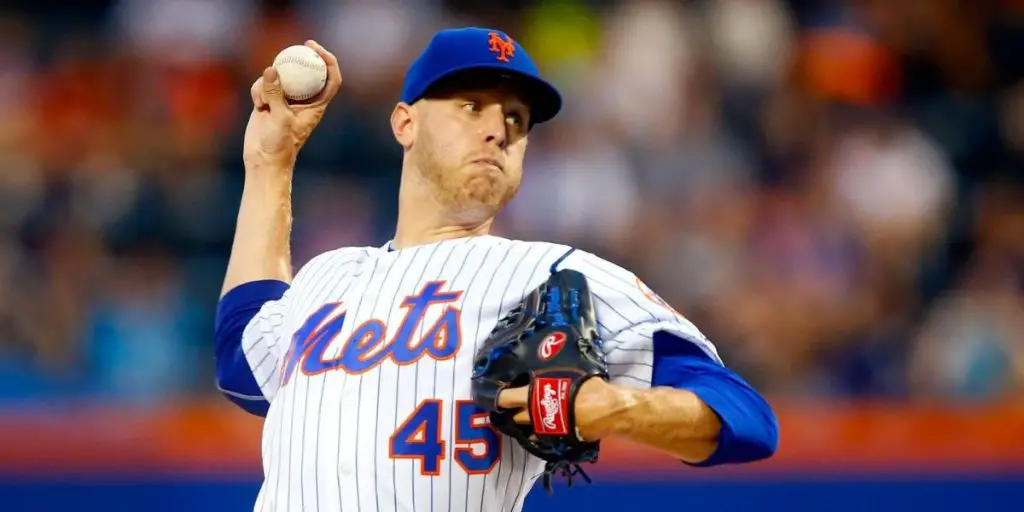 Wheeler was acquired in a trade for probable future Hall of Famer Carlos Beltran in 2011 after being drafted in the first round of the 2009 Draft. He made his debut in 2013, pitching to a 3.42 ERA over 100 innings. He made 32 starts in his second season with a 3.54 ERA and 187 strikeouts. Wheeler would miss the entirety of the 2015 and 2016 seasons after undergoing Tommy John, a huge blow for the Mets' back-to-back postseason teams. His return in 2017 was underwhelming, to say the least, as Wheeler had a 5.21 ERA over 86.1 innings. The following season in 2018 was a major bounce-back season for Zack, as he struck out 179 over 182.1 innings with a 3.31 ERA. In 2019, leading up to free agency, Wheeler threw a career-high 195.1 innings with a 3.96 ERA. In the offseason, he signed a massive five-year deal worth $118 million with the Philadelphia Phillies, ending his Mets career. Over $23 million a season for a starter with a career ERA at 3.77 and just one season with an ERA+ over 110 seemed like a lot, but the Phillies surely don't regret the contract. In 11 starts in the shortened 2020 season, Wheeler put up a 2.92 ERA. In year two in the City of Brotherly Love, Wheeler made his first All-Star team, pitching a league-leading 213.1 innings with a league-leading 247 strikeouts. He had a 2.78 ERA and very narrowly missed out on the Cy Young award. Corbin Burnes of the Brewers tied Wheeler with 12 first-place votes but beat him by ten total points in the end. Over 2022 and the first half of 2023, Wheeler has thrown 241 innings with a 3.06 ERA and was a major factor in the Phillies' run to the 2022 World Series. While his Mets career never reached the peak of his potential
of the 'Big 5', Wheeler will be known as the one that got away.
Jacob deGrom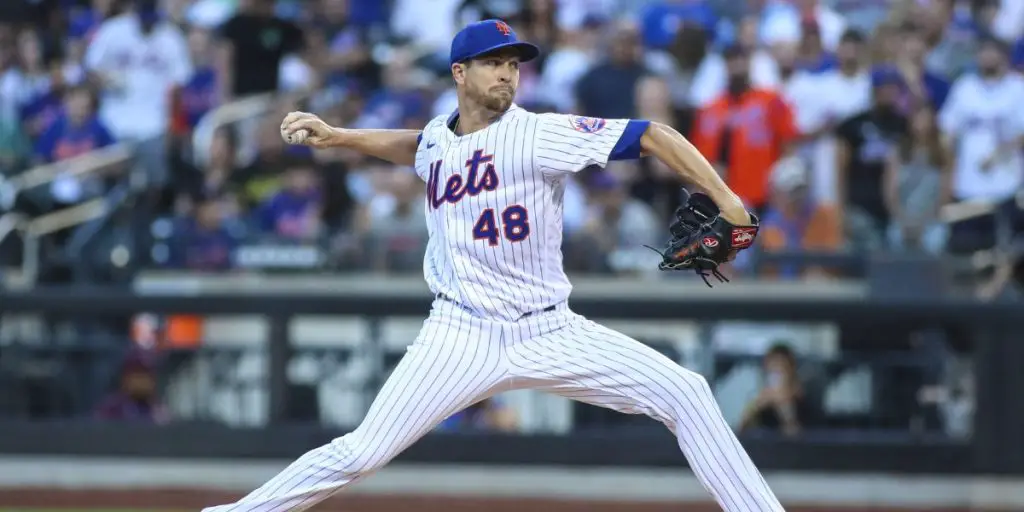 While deGrom was the only one in this group to be drafted after the 2nd round and was easily the least hyped while a prospect, he ended up being by far the best. deGrom was suspected to go to the bullpen when called up, but an injury allowed him to make his first start against the Yankees. He threw seven innings of one-run ball and has never looked back since. deGrom finished his rookie campaign with a 2.69 ERA over 140.1 innings and won the NL Rookie of the Year award. He followed it up with an All-Star season in 2015, putting up a 2.54 ERA in 30 starts and finishing seventh in Cy Young voting. He established himself on the national stage with his two NLDS starts. Over the next two seasons, deGrom compiled a 3.32 ERA across 55 starts. 2018 was when deGrom evolved from a very capable frontline starter to the best pitcher in baseball. His historic 2018 campaign saw a 1.70 ERA over 217 innings, striking out 269. deGrom won the Cy Young and finished fifth in MVP voting as the only player besides eventual winner Chrisitan Yelich to earn a first-place vote. He followed that year up in 2019 with another Cy Young season with a 2.43 ERA and 255 strikeouts in 204 innings. The shortened 2020 season had deGrom striking out 104 batters in just 92 innings with a 2.38 ERA and a third-place finish in Cy Young voting. From 2018-2020, deGrom was the best pitcher in baseball, but in 2021 deGrom became one of the most dominant pitchers ever. His 2021 campaign will always be one of the biggest what-ifs in baseball history, as he managed just 92 innings across 15 starts before going down with an injury. deGrom put up a 1.08 ERA with 146 strikeouts and a 0.554 WHIP in arguably the greatest half-season in the history of baseball. He started 2022 with another injury and managed just 11 starts with a 3.08 ERA. He pitched well in his lone postseason start that season before entering free agency. He signed a monster contract with Texas worth $185 million over five years, pitching well over his first six starts before an elbow injury knocked him out. It was announced weeks later deGrom would have to undergo Tommy John surgery, missing the rest of the 2023 season and most of, if not all, of 2024. While deGrom's unbelievable stuff is on an entirely different level from anybody else in the majors with his triple-digits fastball and wipeout slider, injuries have riddled the last few years of his career. deGrom's Mets career ended as the franchise leader in ERA, WHIP, K/9, ERA+, FIP, and K/BB, and he is currently the all-time MLB leader in K/BB. It is certainly possible that eventually deGrom's plaque with end up in Cooperstown and his 48 in the rafters of Citi Field.
Noah Syndergaard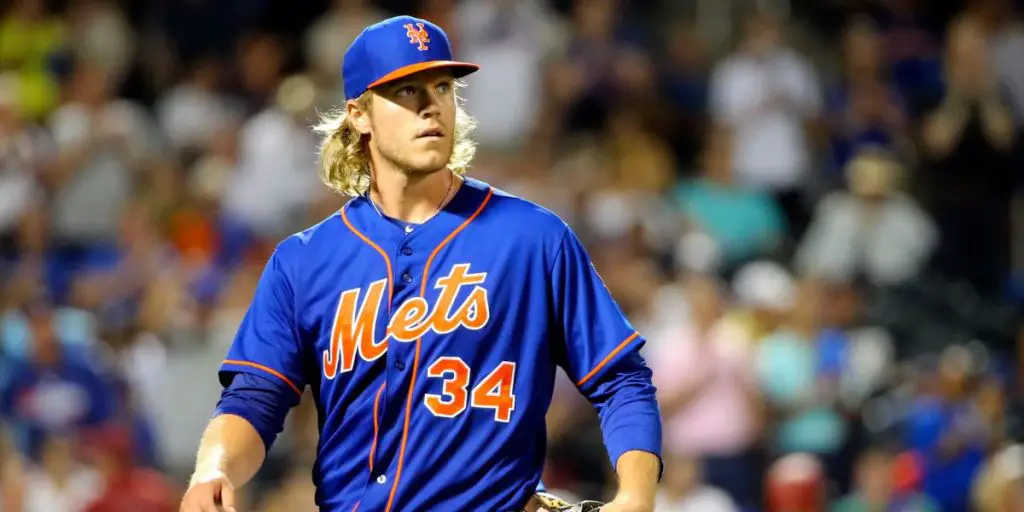 Syndergaard was acquired in the R.A. Dickey trade after the 2012 season and made his debut in 2015, finishing fourth in Cy Young voting with a 3.24 ERA over 150 innings. He went 2-1 over four postseason starts that season, including a victory in Game 3 of the World Series. Syndergaard took a huge leap forward in 2016, pitching to a 2.60 ERA with 218 strikeouts across 183.2 innings. He became known as 'Thor' in New York due to his long hair. Syndergaard started the Wild Card game at Citi Field and dominated across seven scoreless innings in the Mets' eventual heartbreaking loss to San Francisco. Syndergaard made just seven starts in 2017 due to injury but returned in 2018 with a 3.03 ERA across 25 starts. He regressed in 2019, putting up a 4.28 ERA but pitched a career-high 197.2 innings. Before the 2020 season, Syndergaard underwent Tommy John surgery, missing the entire season and nearly all of 2021. Setbacks forced his return back until the last few games of the season, where he threw two innings across two starts. He left for Los Angeles following the season with a one-year deal with the Angels. He was traded at the deadline to Philadelphia and pitched solidly for them in four postseason appearances. His 2022 can best be described as average, as he had a 3.94 ERA across 134.2 innings with 95 strikeouts. Syndergaard signed a one-year deal with the Dodgers for 2023, and to say that it hasn't gone well so far for him is an understatement. He has a 7.16 ERA across 12 starts and 55.1 innings. Syndergaard's velocity is way down from his Mets career, as his fastball has fallen from his 2016 peak average of 98.6 MPH to just 92.6 this year. His peak with the Mets was one of the best in the league, but injuries slowed him down before he left New York as an entirely different pitcher,
as Mets fans would remember.
Steven Matz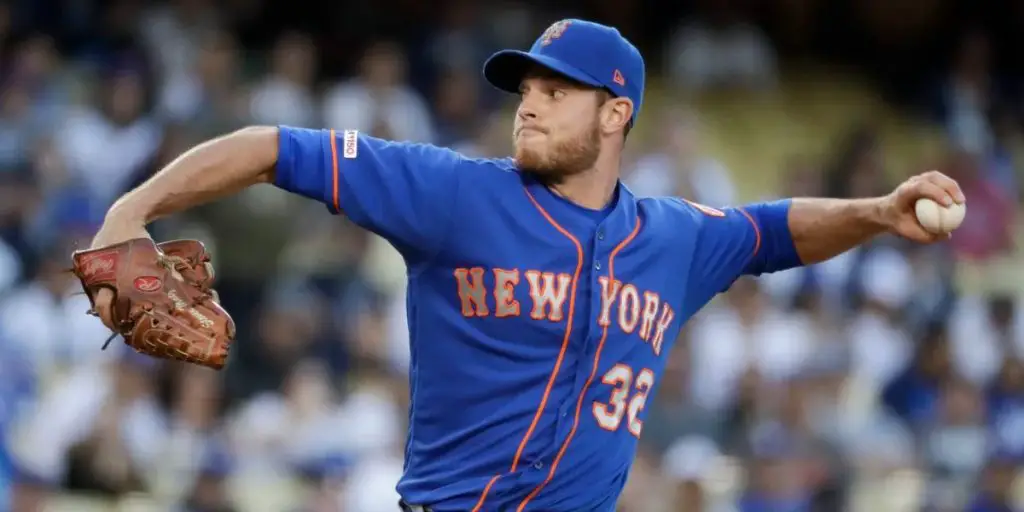 Matz had the most memorable debut of the group, giving up a homer to the first batter he faced before settling down for 7.2 innings of two-run ball. The real magic of that game for Matz came at the plate, as he went 3 for 3 with 4 RBIs. The hometown kid went on to make three starts in the postseason, including a strong outing in Chicago in Game 4 of the NLCS to help the Mets complete the sweep. Matz followed that up in 2016 with a solid rookie campaign, putting up a 3.40 ERA over 22 starts en route to a sixth-place Rookie of the Year finish. He regressed significantly in 2017 before putting up back-to-back solid seasons in 2018 and 2019. Matz combined for a 4.09 ERA over 62 games and 314.1 innings across those two years. His shortened 2020 season, however, was a disaster, as Matz gave up 33 runs in just 30.2 innings with 14 home runs allowed. Following the season, the Mets parted ways with Matz, dealing him to the Toronto Blue Jays. He bounced back in a big way for the Blue Jays, pitching to a 3.82 ERA over 29 starts, making it the first season for Matz with an ERA+ over 100 since his rookie year back in 2016. After the season, Matz embarked on an intriguing free agency experience, where it seemed he may return to the Mets before signing a three-year deal with St. Louis. Mets owner Steve Cohen was unhappy about the way Matz and his agent handled the situation and made that clear on Twitter. Mets fans may have Matz to thank for Cohen's spending spree following the Matz deal. For Matz himself, however, his time in St. Louis could not be going much worse. Over his first year and a half with the Cardinals, Matz has a 5.38 ERA across 105.1 innings, making just 20 starts and ten appearances from the bullpen. The now 32-year-old lefty is struggling to maintain a spot on the struggling Cardinals roster. Of the five pitchers in this group, Matz may have had the most exciting beginning but has rarely been able to be a consistently reliable pitcher since.