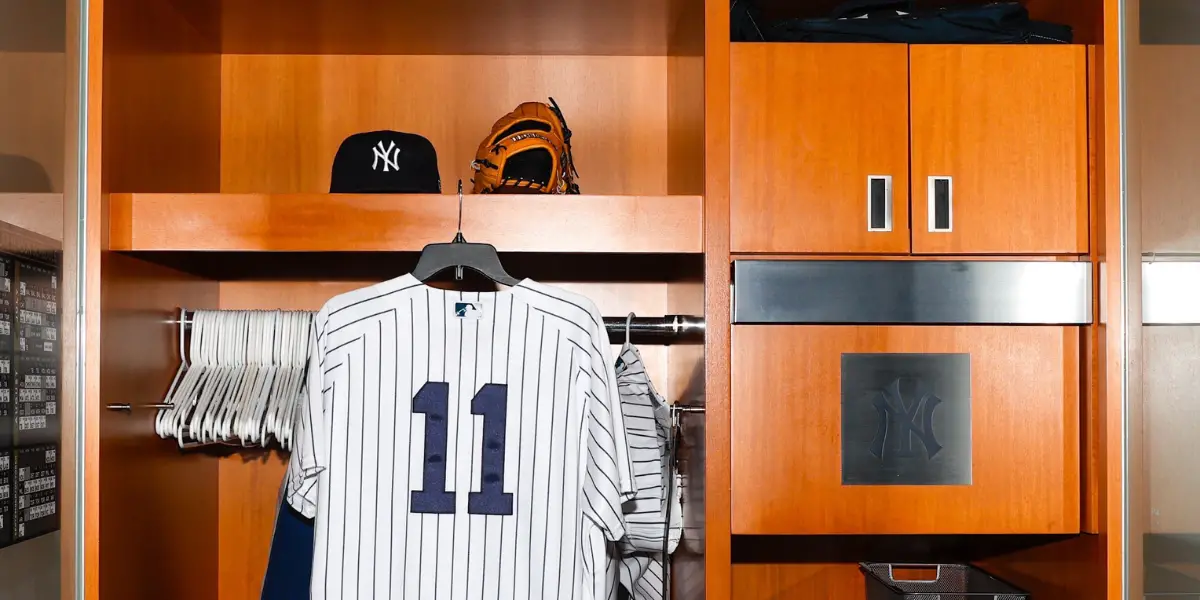 Anthony Volpe Makes Number Announcement
I am excited that 21-year-old Anthony Volpe has made the Opening Day Roster as the starting shortstop for the New York Yankees. With all honesty, I thought the Yankees would send him to Triple-A to finish off his development and call him up later in the season, perhaps sometime before the All-Star Break. Even with his hot Spring Training performance that opened many eyes, I expected Oswald Peraza to be the Opening Day shortstop. The difference maker is Volpe's maturity (wise beyond his years) and strong baseball acumen. Peraza may have the better throwing arm, but Volpe is the better all-around player. 
My excitement for Volpe is tempered by my sadness for Peraza, who was demoted to Triple-A. I believe Peraza has nothing left to prove in the minor leagues, and his development needs to continue at the Major League level. No doubt he will be recalled at some point, hopefully sooner than later, but the Yankees do need to clear the glut of infielders to make room. 
But Volpe's promotion aside, I am surprised at how opinionated Yankees fans are about the number Volpe would wear. He wore 77 during Spring Training, and I was perfectly fine with that choice. 7 is a magical number in Yankees history, and to wear Mickey Mantle's number "twice" is cool. I get the downside; it was a number once worn by failed Yankees prospect Clint "Jackson" Frazier. I feel over time, we grow to accept numbers associated with players. There is a strong push for higher numbers with the Yankees because so many lower numbers are retired. There are no single-digit numbers available unless you count Domingo German's 0. 
Asked a few days ago, Volpe said he needed a few days to contemplate his choice in numbers. 77 was meaningful to him because of his grandfather's love of Mickey Mantle which caused him to gravitate toward the number 7. On Wednesday, the day before Opening Day, the Yankees announced that Volpe has chosen to wear 11, which was most recently worn by lifetime Yankee Brett Gardner. According to reports, Volpe reached out to Gardner to get Gardy's permission. 11 represents the lowest available number. Sorry, I just cannot accept 0 as a number, although I am sure plenty of mathematicians would argue otherwise.   
While I was fine with 77, I like the decision to go with Brett's number. Former Yankees like Hector Lopez, Lefty Grove, Fred Stanley, Gary Sheffield, and Gene "Stick" Michael, among others, have worn the number. Gardner wore the number from 2008 through 2021. I feel bad that Gardy has not received an official goodbye from the organization. There was a rumor that the Toronto Blue Jays had offered Gardner a one-year contract for $6 million last May, but Gardy turned it down, not wanting to wear another uniform. Brett Gardner wore the number proudly, and Volpe will continue the tradition of upholding the quality of the number in the years moving forward. 
Of course, if Volpe has a miserable April/May, he could find himself in Scranton/Wilkes-Barre, but here is hoping for a tremendous start for an incredible career for a brilliant young man. Number 11, Anthony Volpe, Number 11.