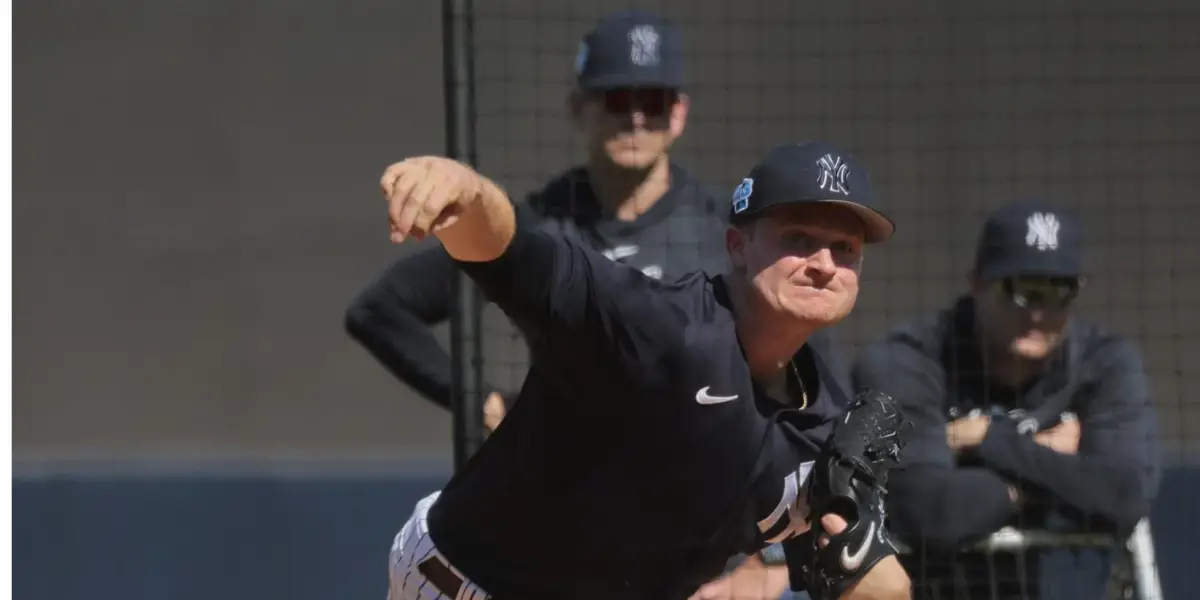 Help Wanted: Pitching, Hitting, and Defense
Spring is alive even if the calendar does not catch up until next month. 
The beautiful sights and wondrous sounds at George M. Steinbrenner Field in Tampa, Florida, as pitchers and catchers reported Wednesday, along with a few position players who showed up early in advance of Monday's reporting date. 
As camp nears a full house, there are two primary questions confronting the New York Yankees as they prepare to compete in the 2023 MLB Season. First, who replaces Frankie Montas in the starting rotation as the team's fifth starter? Secondly, who will be the Opening Day left fielder? Or better yet, are the Yankees really going to throw Aaron Hicks out there and hope for the best?
Frankie Montas is shaping up to be the latest Sonny Gray episode for the Yankees. Lesson learned: trading for Oakland A's starting pitchers with thicker medical records is a bad idea. Last season, Montas was having a career year for the Oakland A's and then encountered shoulder inflammation in July that caused him to miss a start. Yankees general manager Brian Cashman traded for him anyway after watching the Seattle Mariners snatch the best available starting pitcher, Luis Castillo, at the trade deadline. The shoulder issues continued, and the Yankees, and their fans, never saw the best of Montas.
Earlier this winter, we heard Montas was behind schedule and would miss the first month of the season. When camp opened this week, manager Aaron Boone advised everyone that the shoulder issues had worsened, and a second trip to see noted orthopedic surgeon and Los Angeles Dodgers head team physician Dr. Neal ElAttrache concluded Montas would need arthroscopic surgery on the ailing right shoulder. Although the Yankees will have a better understanding of the timeline after the surgery, Montas is expected to miss most, if not all, of the upcoming season, his contract walk year. There is a chance Montas never suits up in pinstripes again. 
Not one of Brian Cashman's finer moments.
The favorites to replace Montas are Domingo German and Clarke Schmidt. German seemingly has the edge if for no other reason than Schmidt has an option left and can be shuttled back and forth between Scranton/Wilkes-Barre, Pennsylvania, and the Bronx. The opportunity for Schmidt to win the job is huge. He is a talented pitcher who seems primed for a breakout season at age 27. He may not be on the Opening Day roster, but Schmidt will get his starts in 2023 and needs to make the most of them. 
The Yankees are unlikely to seek outside help for the rotation. Wednesday, when it was announced Montas would need surgery, the best available free agent starter was Michael Wacha, who has since signed with the San Diego Padres. The Padres also signed former Philadelphia Phillies ace Cole Hamels this week, although he is a gamble at his age (39), given his injury history. The Yankees were not in on either guy.
I believe German will start the season as the fifth starter, but sometime before the All-Star Break, he will be replaced by Schmidt. I am hopeful Schmidt makes his mark for the Yankees and never looks back. 
As for left field, it is a conundrum. Over the past two years, Brian Cashman has traded away prospects Josh Smith, Ezequiel Duran, Trevor Hauver, Glen Otto, T.J. Sikkema, Beck Way, and Chandler Champlain (for Joey Gallo and Andrew Benintendi) to upgrade the position over Aaron Hicks who seems to have worn out his welcome. Hicks' frequent trips to the Injured List and his at-times lackadaisical play have not exactly endeared him to Yankees fans. Gallo was a noted high-profile failure, but Benintendi showed promise as a contact hitter with strong defensive skills until injury ended his season. Yet, the Yankees let Benny go to the Chicago White Sox as a free agent this off-season. It is unclear if the Yankees simply did not want to match Chicago's offer or if Benny preferred a Midwest location to be near his St. Louis, Missouri, home. Regardless, after losing seven quality prospects, the only return the Yankees received was minor league pitcher Clayton Beeter (a probable future reliever) from the Los Angeles Dodgers last summer in the trade deadline deal that sent Gallo to LA. 
After the dust has settled, Aaron Hicks stands as the most likely to take left field…much to the chagrin of Yankees fans everywhere. Estevan Florial faces his final make-it-or-break-it opportunity with the Yankees. He is out of options and will be designated for assignment if he does not make the Opening Day roster. Florial has not proven the ability to identify or hit Major League pitching in his limited opportunities. Oswaldo Cabrera filled in admirably after Benintendi was lost for the season with the broken hamate bone, but he is a trained infielder, not an outfielder. Despite his athleticism and skill, his best attribute is his versatility…not locked into one position with limited outfield experience. 
Non-roster invitees Willie Calhoun and Rafael Ortega enter camp as outsiders with possibility, although both seem to be fourth outfielder types. 
Another trade is possible, but the Yankees may decide to take their chances with the players they have and re-evaluate the situation in July like they have the last two years with Gallo and Benintendi. 
There will always be those who say to play Giancarlo Stanton. While I am confident he will play a few games in left, it is dangerous to risk injury with the 33-year-old designated hitter. When Stanton is hurt, he is generally gone for weeks in shrouds of mystery. Much better to keep the guy as healthy as possible, which means less time on the field and more time wearing batting gloves. 
My guess is the Opening Day starter will be Hicks, and he will share time with Cabrera (with a few spot starts for Stanton). This is not the desired outcome, and I feel the Yankees made a huge mistake by not trying to bring back at least Benintendi. 
Fortunately, Opening Day is more than a month away. The Yankees have time to improve if they intend to catch the Houston Astros this season. 
Until then, let's enjoy the Spring Air. Yankees Baseball is back.