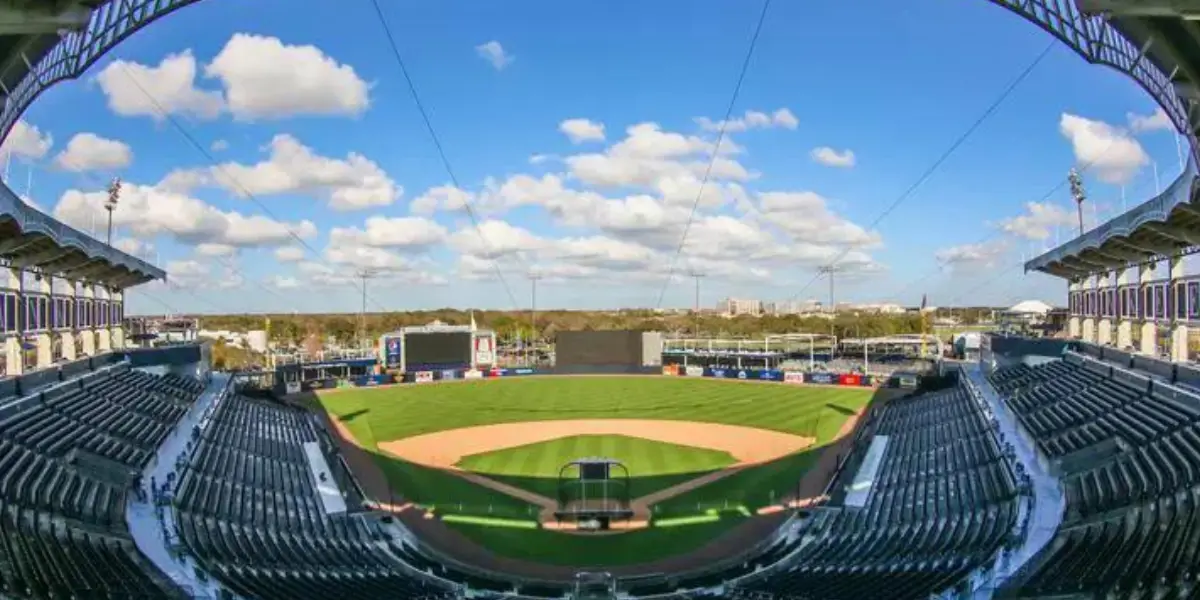 Baseball Season is nearly here.
Yankees Baseball is back.
As the saying goes, Spring is in the air! On Thursday, pitchers and catchers report to George M. Steinbrenner Field in Tampa, Florida. Many players have already migrated to Tampa, and some, like Aaron Judge, already live there.
Players participating in the World Baseball Classic must report a few days earlier, so Nestor Cortes Jr, Kyle Higashioka, Jonathan Loaisiga, and Gleyber Torres must be in Tampa by Monday. Cortes and Higashioka are on the Team USA roster. Former Yankees reliever Graeme Lloyd will serve as the team's bullpen coach. Jonathan Loaisiga will pitch for Team Nicaragua, and Gleyber Torres will pick up a glove and bat for Team Venezuela. Yankees bench coach Carlos Mendoza will serve the same role for Team Venezuela. 
Indigo Diaz, a minor league reliever acquired last December as part of the deal that sent reliever Lucas Luetge to the Atlanta Braves, will pitch for Team Canada. There are a couple of former Yankees on Team Canada's coaching staff. Paul Quantrill will serve as bullpen coach, and Russell Martin is listed as a coach.
After a six-year absence, this year's World Baseball Classic will be played from March 7th through March 21st. There are four pools consisting of twenty teams in total. Pool C, which includes USA and Canada, will play the first round in Phoenix, Arizona. Nicaragua and Venezuela, part of Pool D, will be in Miami, Florida. If any of the teams advance, the games will be played in Miami for the duration of the competition for the Pool C and D teams. Pool A and B teams will play in Taichung, Taiwan, and Tokyo, Japan. The quarterfinals and semifinals will be held in Tokyo. The Pool A/B winner will fly to Miami for the championship game. 
Yankees LHP Luis Severino wanted to pitch in the WBC but was denied permission by the Yankees. While Severino may be unhappy with the decision, I felt it was the right move. As Severino continues to distance himself from Tommy John surgery, he remains a pitcher that requires careful observation. He missed two months before the All-Star break last season with a strained right lat. Given the intensity and competitiveness of the WBC, it would have exposed Sevy to unnecessary risk of injury. If the Yankees intend to make noise in October, they need a strong, healthy Luis Severino. One way to fix poor hitting in the playoffs is to ensure the opposing teams hit worse. 2023 is a big year for Severino. His contract expires at the end of the year, and a big payday is contingent upon the state of his health. If he stays healthy, the Yankees will hopefully move to sign him to an extension.
Yankees fans had expected a more robust off-season, particularly with an eye toward left field. The search for a left fielder continues, but former San Francisco Giants LHP Carlos Rodón and reliever Tommy Kahnle will be new pitching arrivals in Tampa. High expectations accompany Rodón, who is expected to slot behind ace Gerrit Cole in the starting rotation. Kahnle, now a three-time Yankee, is back after spending the last couple of years with the Los Angeles Dodgers during his recovery from Tommy John surgery. Kahnle adds a right-handed power arm to the late-inning bullpen mix to help set up closer Clay Holmes. 
Former Chicago White Sox reliever Jimmy Cordero, who underwent Tommy John surgery in March 2021, will be in camp with the Yankees for the first time. The Yankees had signed him last off-season while he was in his recovery. He returned late in the year to pitch 38 2/3 innings for Triple-A Scranton/Wilkes-Barre. He will get a chance to return to the Majors with the Yankees this year. The Yankees lost a few guys from the bullpen to free agency since last season. Former closer Aroldis Chapman left (thank you!) to sign with the Kansas City Royals, and Chad Green, recovering from Tommy John surgery, signed with the division rival Toronto Blue Jays. Zack Britton remains on the free-agent market, so there is always a possibility of a reunion with the Yankees. Interest in Britton should pick up now that left-handed reliever Andrew Chafin has signed with the Arizona Diamondbacks. 
As if 'Tommy John Surgery' has not been mentioned enough, the Yankees have two relievers, Scott Effross and Luis Gil, who will be placed on the 60-day Injured List as they continue their recoveries from arm surgeries. Once the Yankees can move the two relievers to the 60-day IL, they will probably ink a couple of free-agent relievers to compete for bullpen jobs with Cordero and others. Hopefully, Britton is one before he signs with a team like the Red Sox, Blue Jays, or Rays. 
Position players report for Spring Training on Monday, February 20th. Among position players, the Yankees' top two prospects, Anthony Volpe and Jasson Dominguez, received Spring invitations. Non-roster invitees Willie Calhoun, Rafael Ortega, and Billy McKinney will be in camp to compete for the left-field job with Aaron Hicks, Estevan Florial, and Oswaldo Cabrera.
Cabrera is a talented kid, but his highest and best use is super-utility with his versatility. Maybe the Yankees' Opening Day starter for left field is not yet on the roster, but regardless, I hope Cabrera is free to play many positions. Rest and recovery are essential to keep players fresh for the long, hard season, and Cabrera can play nearly every day (when he is not resting, of course). His versatility is underappreciated by many in the Yankees fanbase. While he covered left field capably last season after Andrew Benintendi went down, the truth is he is a trained infielder, and the outfield remains a new gig for him.   
The Yankees open their Spring schedule on Saturday, February 25th. They will be at BayCare Ballpark in Clearwater, Florida, to play the Philadelphia Phillies. When we last saw the Phillies, Nick Castellanos hit a flyout in right-field foul territory to hand the World Series championship to the hated Houston Astros. 
Baseball is back, and it feels good—time to dethrone the 'Stros.