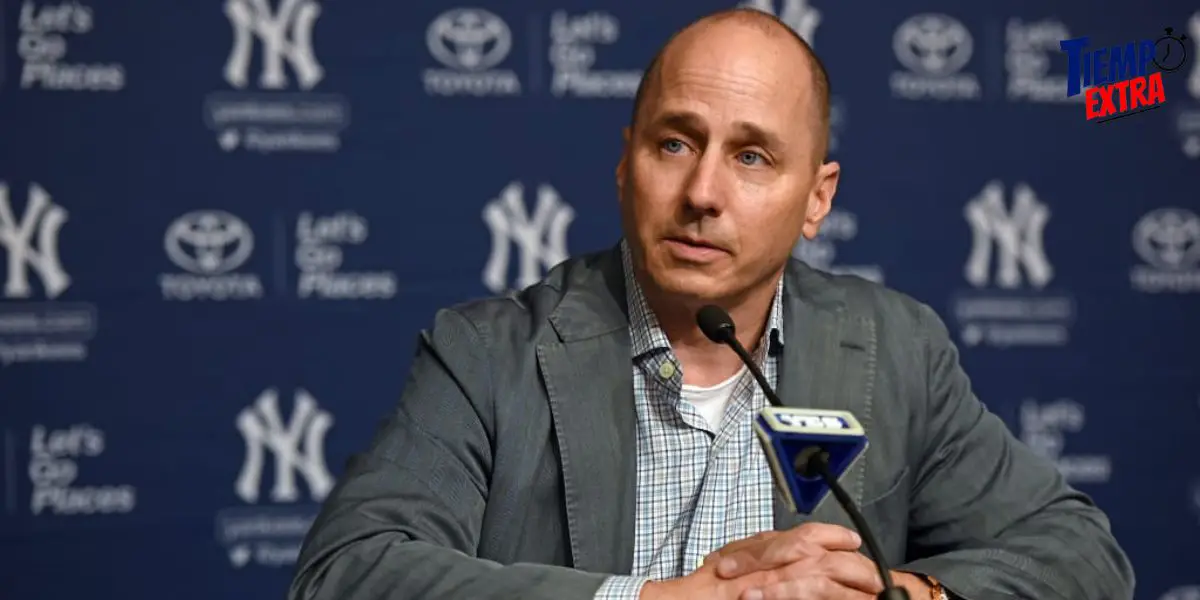 Yankees GM celebrates his Twenty-Fifth Year
Brian Cashman has been the General Manager of the New York Yankees for twenty-five years. When Bob Watson resigned in February 1998, Cashman became the sixteenth general manager under George Steinbrenner, who had acquired the team twenty-five years earlier. Cashman was just thirty years old when he took the baton from Watson as the second-youngest GM in MLB history. 
Cashman is the only GM that many younger Yankees fans in their early twenties have ever known, and he had been in place for three years by the time top prospect Anthony Volpe was born.
By all accounts, Brian Cashman is a respected Major League executive who has a rapport with Yankees Managing General Partner Hal Steinbrenner and strong relationships internally with the Yankees and externally in Major League Baseball. He recently signed a new four-year extension which takes him through the 2026 season. 
Suffice it to say Brian Cashman is not going anywhere. Despite his secure status as the Yankees' longest serving General Manager in the history of the franchise and most tenured GM in Major League Baseball, Cashman has had his share of questionable trades in recent years.
To give credit where credit is due, Cashman has been instrumental in making the Yankees one of baseball's most analytics-driven teams. He changed the pitching and hitting cultures within the organization over the last few years, bringing in some of the brightest young innovative minds to help accelerate and enhance player development.
I am not trying to build a case for why Cashman should be fired. Yet, I am concerned about the team's trades over the last several years. It is only one aspect of Cashman's job, but it draws the most scrutiny.
In the final minutes before last year's trade deadline on August 2nd, the Yankees stunned the team and baseball fans everywhere, well, at least Yankees fans, when they traded a reliable starting pitcher, Jordan Montgomery, to the St. Louis Cardinals for the injured Harrison Bader. When Bader returned to the field, making his Yankees debut in late September, he quickly endeared himself to Yankees fans and was one of the few post-season heroes for the team. I doubt any Yankee fan would undo the trade today, but at the time, it was a baffling move.
Recent words by Yankees reliever Michael King alluded to how the trade impacted the clubhouse, which cannot be underestimated ("…threw off the locker room…". I doubt it was the reason the Yankees could not hit in the American League Championship Series, but I believe in team chemistry, and Jordan Montgomery was popular among his teammates. 
I look forward to a healthy Harrison Bader this season, his walk year. My only concern about the trade was the disruption of team harmony. I am hopeful the Yankees can sign him to an extension, but accept the team needs to see him on the field for extended play before they commit future years (and dollars) to the Bronxville, New York native. Unfortunately, anything can happen once he becomes a free agent after the season. 
The more puzzling trade was a day earlier when the Yankees acquired RHP Frankie Montas and reliever Lou Trivino for top pitching prospect LHP Ken Waldichuk, LHP JP Sears (who had filled in capably during spot starts), RHP Luis Medina and 2B Cooper Bowman. As a Yankee, Montas had been dealing with shoulder inflammation and never really got untracked. His offseason is behind schedule, and he is expected to miss the first month of the season. There are unconfirmed reports he may need surgery. Most Yankees fans had wanted Cincinnati's Luis Castillo, but he had gone to Seattle in an earlier trade for prospects the Yankees could not (or would not) match. 
Waldichuk, 25, a lefty, is Oakland's highest-rated pitching prospect and will have a chance to break camp with the A's this year. Meanwhile, the Yankees are looking at Domingo German and Clarke Schmidt as replacements for Montas. Waldichuk would have looked nice in Pinstripes this year.
On the same day as the Montas trade, the Yankees sent their second-ranked pitching prospect RHP Hayden Wesneski to the Chicago Cubs for reliever Scott Effross. The side-arming right-hander Effross pitched effectively for the Yankees out of the pen, but a torn UCL at the end of the season resulted in Tommy John surgery which has cost Effross the upcoming season. Wesneski, another quality arm, lost for no return until Effross can resume his career in 2024. 
Right or wrong, the trade does not look good in retrospect. Less than a week earlier, the Yankees had sent three pitching prospects (Chandler Champlain, T.J. Sikkema, and Beck Way) to the Kansas City Royals for outfielder Andrew Benintendi. Benny started slowly with the Yankees, then as he was rounding into form, making contact at the plate, and performing brilliant defensive plays in left, he suffered a broken hamate bone, and his season was lost. Despite the obvious need in left field, the Yankees let Benny walk through free agency when they were unwilling to go five years as the Chicago White Sox did.
Brian Cashman was able to make one positive trade at the deadline when he shipped beleaguered outfielder Joey Gallo to the Los Angeles Dodgers for RHP Clayton Beeter. Beeter has become the Yankees' second-ranked pitching prospect. He most likely profiles as a reliever, but frankly, I was surprised Cashman was able to get anything of value for Gallo. It is unfortunate because I like Gallo's personality and felt that he is a consummate professional and a terrific team-oriented guy. He signed with the Minnesota Twins this offseason through free agency, and I wish him the best of luck in the Twin Cities. Hopefully, with the elimination of the shift, Gallo can recapture some of the success he once had in Texas. 
Cashman's best trade of the 2022 season occurred on April 2nd when he acquired catcher Jose Trevino for RHP Albert Abreu and LHP Robert Ahlstrom. Trevi, a strong defensive catcher, came up with a few key base hits throughout the season, even if he is not known for his offensive prowess. Abreu returned to New York after being placed on waivers by the Rangers and the Kansas City Royals. So, the net loss of the trade was a replaceable minor-league pitcher for a first-time All-Star catcher.
Trevino became a necessity because of the stunning March 13th trade that shipped catcher Gary Sanchez and third baseman Gio Urshela to the Minnesota Twins for 3B Josh Donaldson, infielder Isiah Kiner-Falefa, and catcher Ben Rortvedt. Rortvedt was expected to pair with Kyle Higashioka to replace Sanchez, but injuries kept him off the field and created the void that brought Trevino to New York. I have written before about how the Yankees should have just non-tendered Sanchez in late November 2021. The March trade is worsened in retrospect with the decline in Donaldson's production at the plate, leaving the Yankees with an extremely overpaid veteran causing a deterrent to spending dollars to improve other areas of need like left field.
Prior seasons have shown similar trade misfires, such as the original acquisition of Joey Gallo from the Texas Rangers, which cost prospects Glen Otto, Ezequiel Duran, Josh Smith, and Trevor Hauver. I heard the Yankees could use one of those. Smith will be the Rangers' starting left fielder in 2023, barring any trades.
Without going into more trades, it is clear the results have been lukewarm at best, at least in recent seasons. Cashman's trade of outfielder Mike Tauchman for reliever Wandy Peralta a couple of years ago stands out as one of his best. We need more of those and less of the prospect-gutting trades that prove fruitless.
The trade misfires have depleted the Yankees' farm system, which leaves them with less ammunition at this year's trade deadline. They have a longstanding interest in Pittsburgh Pirates outfielder Brian Reynolds yet lack the Major League-ready pitching the Pirates seek. 
The Yankees are in their current predicament, searching for a left fielder to replace Aaron Hicks, the current Yankee player most in need of a change in scenery, and a starter to fill in for Frankie Montas for the short-term and possibly longer because of the trade misfires. 
Brian Cashman has been Yankees GM for a quarter of a century. He has one World Series championship that was built under his watch. He may have been the general manager for the historic 1998 World Series championship and the World Series wins in 1999 and 2000, but Cashman largely inherited those teams, which Gene Michael and others had constructed. 
I am not calling for Cashman's head. I have no issue with the Yankees' decision to bring him back for another four years, but I do want to see better results. I was pleased with the addition of decorated MLB executive Brian Sabean to serve as an executive advisor for Cashman. I am hopeful Sabean can offset Cashman's weaknesses and illuminate his strengths. The Yankees also added former Major League general manager Omar Minaya as special advisor for baseball operations. I look forward to the synergy of the new brain trust, and I hope the newest executives help Brian Cashman build his next and greatest championship. Getting three hits in every ten at-bats may be a beautiful thing for baseball players. For general managers, not so much. Time for Brian Cashman to go yard.
He must do more if the Yankees intend to break the Houston Astros' stranglehold on the American League.