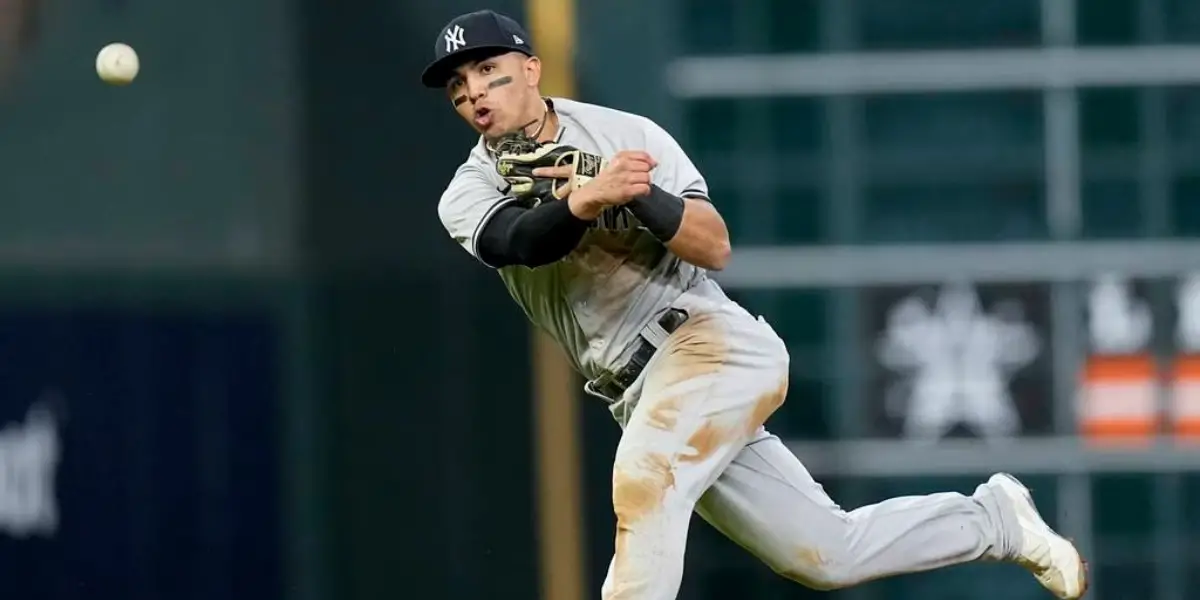 Youth Excitement Returns
Antony Volpe, Oswald Peraza, and Jasson Dominguez have been major revelations this Spring, which is surprising considering they are already the top three-ranked prospects in the organization and have drawn much focus during their respective developments in the minor league system. 
Entering Spring Training, Oswald Peraza, 22, was the only player viewed as a likely member of the 2023 Opening Day Roster. He is expected to take over starting shortstop duties from the 'much better as a utility player' Isiah Kiner-Falefa. Peraza has flashed amazing leather in Florida this month, showing defensively he will be an upgrade over IKF, who seems to struggle with the easier plays. Peraza is only hitting .200/.333/.267 (.600 OPS) in six exhibition games, a limited sampling, but the bat is expected to be an upgrade. Peraza is not a man of many words, but that is okay; his bat can do the talking. His confidence is strong, and he appears ready to ascend to one of the highest-profile positions on the team. 
Anthony Volpe, 21, came to Tampa last month as a young player looking to spend a few weeks with the big-league club before reassignment to Triple-A for further seasoning. With a track record of struggling at a level before mastering it, Volpe has only played twenty-two games for Scranton/Wilkes-Barre. The general assumption has been that Volpe will open the season in Triple-A and looms as a potential call-up by the All-Star Break, or sooner if injuries create opportunity. 
Volpe was not listening to the game plan. He came to Spring Training and showed he belongs with the big boys…now. Volpe has been drawing praise from guys like Aaron Judge, the team's Captain, and former players such as Willie Randolph. He has slashed .286/.423/.524 (.947 OPS), with one home run, in eight Spring games. Many Yankee fans would love to see Volpe make the Opening Day Roster as the starting shortstop, but he is expected to move to either second or third base when he is ready since Peraza seems ticketed for short.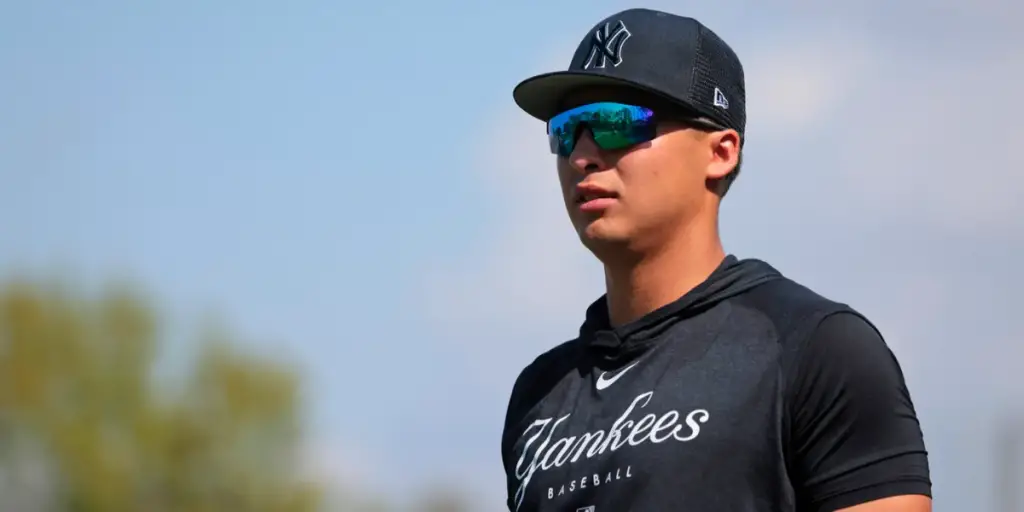 On his radio show, Michael Kay said last week that Volpe has a chance to make the team. I have held the position he needs more time in Triple-A, but regardless of whether he heads north with the big-league club in a few weeks or goes to Eastern Pennsylvania, he will make his Yankees debut in 2023. I am open to the possibility Volpe is ready now if the Yankees feel he is. Conversely, I will not be disappointed if he gets a minor league reassignment. I honestly do not believe it would be a case of service-time manipulation. The Yankees will play Volpe when they feel it is his time. Fans may not agree, but it does not matter. Volpe's future requires the best preparation for sustained high achievement in his upcoming big-league career. The Yankees know better than us.
Volpe has a chance to be a special player, and I am excited about his future.    
Jasson Dominguez is the player who has opened my eyes this Spring. His arrival had originally been expected to be in 2025, but he is moving the time up. The 20-year-old outfielder has been the team's top hitter this Spring. For a team with a strong need in left field, Dominguez has fans salivating over the possibility he will share the outfield with Harrison Bader and Aaron Judge. Dominguez has played nine Spring games and is hitting .421/.500/.1.063 (1.553 OPS). He has slugged four home runs and nine RBI, leading the team in both categories.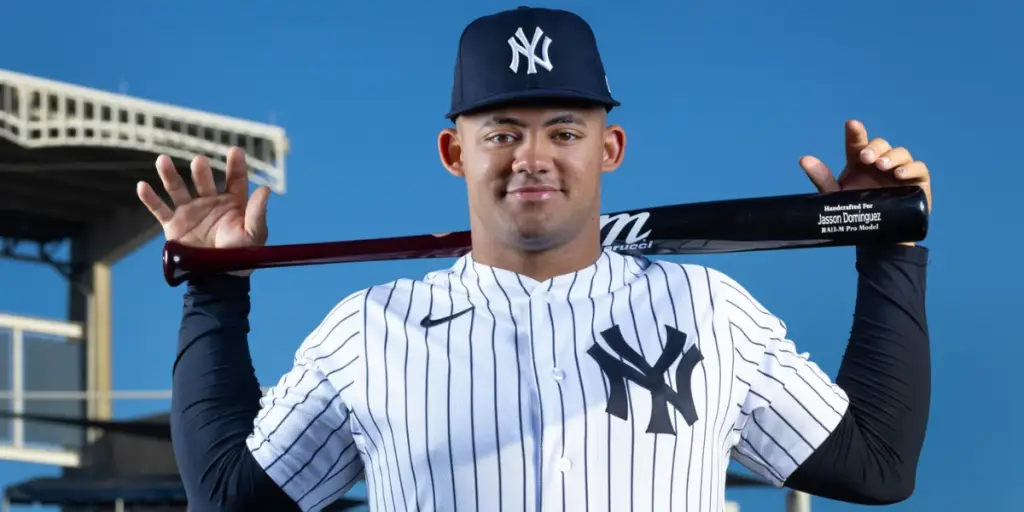 I am old enough to remember when fans wanted to include Dominguez in a trade to Pittsburgh for Brian Reynolds. Sometimes the best trades are the ones never made. I still shudder to think of what Mariano Rivera may have looked like as a Seattle Mariner. Now, fans are clamoring for Dominguez to make the Opening Day Roster. Despite his tremendous success in camp, I feel Dominguez is the least likely of these three talented young players to be in the Bronx on March 30th when the Yankees play the San Francisco Giants.
Nevertheless, Dominguez has rewritten his game plan. He will make his Major League debut in 2023 like Volpe, especially if he continues to play like a man among boys. Dominguez has only played five games in Double-A. He was expected to be re-assigned to Double-A to start the season, with a planned Triple-A promotion later in the year if all goes well. It probably remains the plan, but Dominguez seems to be on the fast track. After a winter of disappointment about the Yankees' inability to replace Aaron Hicks in left field, Dominguez offers a gleaming ray of hope. Hopefully, the Yankees can get enough out of Hicks to adequately hold the position until Dominguez arrives. 
The youth movement is further invigorated by Oswaldo Cabrera, 24, the team's best utility player. I did not purposely intend to exclude Cabrera from a discussion about youth because he will play a valuable role for the team, but for me, he has already made it.
By September, it seems likely the trio of Anthony Volpe, Oswald Peraza, and Jasson Dominguez will take the field together at Yankee Stadium, representing the heart of the newest core of Baby Bombers. As they say, the future is so bright we have got to wear shades.