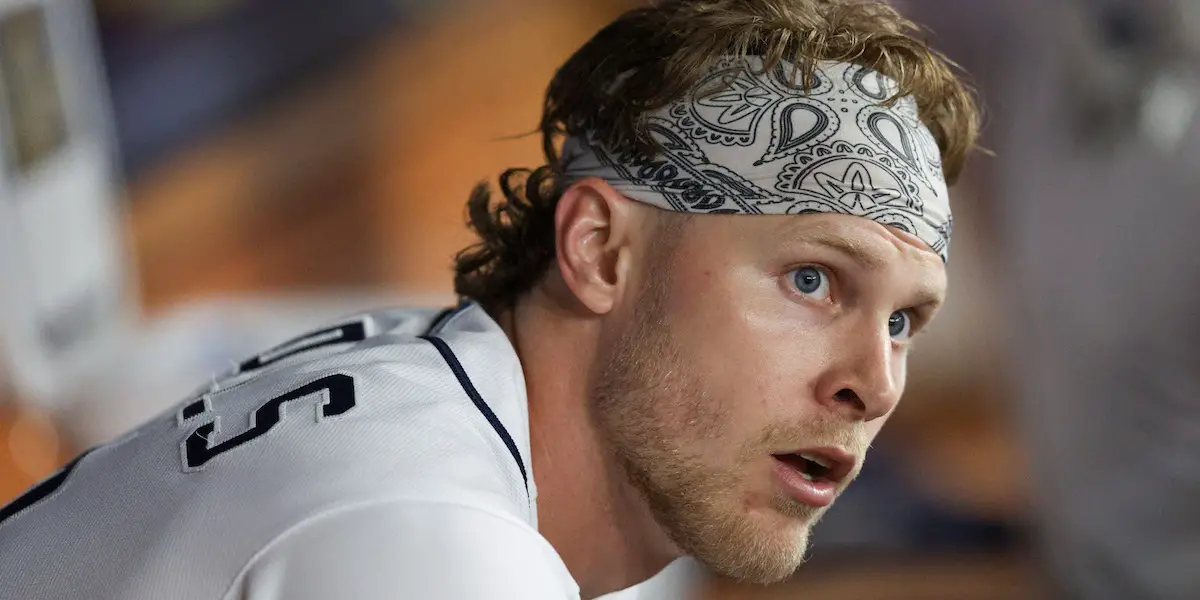 June 7th, 2022. It is the 10th inning. The Cardinals have managed to take the lead, and now the Rays face a sticky situation. At the start of the inning, Paredes managed to draw a walk off Drew VerHagen. In the second at-bat, Brett Phillips bunted toward third base. Arenado duly picked the ball up and threw straight to the shortstop to get the leadoff runner, Kevin Kiermaier, out at third. Afterward, Diaz could only muster a fly out as it looked like the Rays would just come short thanks, once again, to a stuttering offense that could not get going all night. Two men on, two outs. 2-1 down. Up steps Taylor Walls. Oh god.
When Taylor Walls steps up to bat, his batting average always sticks out like a sore thumb on television broadcasts. During the 2022 season, he hit a measly .172, far below the Mendoza Line. Even looking below the surface, the picture is still pretty bleak for him. The main goal for a batter is to get on base, but even his on-base percentage (OBP) was low for his standards, coming in at .268. And it's not like these statistics came from a small sample size either. Walls had the third-highest amount of plate appearances in 2022 due to injuries. Clearly, then, Walls was one of the worst offensive players, not just in the American League but in the MLB.
In an age where offensive statistics are easy to find, it would be easy to conclude that Walls is a AAA player that was forced to play in the Majors. But here's the thing: he's not a bad player. In fact, he's a really good piece for the team and should continue to feature in 2023.
Walls' strengths lie not in his offensive statistics but rather in his defensive statistics. For instance, he led the team in defensive runs saved last year. One statistic that Taylor particularly stands out is defensive WAR, a metric collected similarly to WAR but only using defensive statistics (i.e. fielding stats). In this metric, Walls had a dWAR of 2.6, which is a full 2 points above the next nearest player. Even in the standard WAR metric, he doesn't fair too poorly, with a score of 2.5. It is easy for us fans to look at his poor stat line or his poor batting and believe he is not good enough for Major League Baseball. Really, the problem was that he was overexposed due to injuries – he's a good player, but he was not ready for everyday action. But should he be traded for it? Of course not. He doesn't get the credit he deserves for his defense and can still become an everyday player for the Rays. He is, and will probably continue to be, underrated.
Up steps Taylor Walls. He's had three hits in his past 25 at-bats, and he's gone 0 for 3 today. This is the man who the Rays need to save them? Why isn't there a pinch hitter? VerHagen deals. Walls leaves it because it's low. The ball just clips the bottom of the strike zone.
Strike one.
He deals again but in a similar spot, and it goes low—ball one. The third pitch comes. It goes high and wide for another ball.
And now the fourth. Walls finally swings but misses underneath the ball. Two balls, two strikes. One more strike and the Rays have lost.
After time is called, VerHagen deals again…
Even the worst offensive players can produce moments of magic.
Stats taken from BaseballReference.com