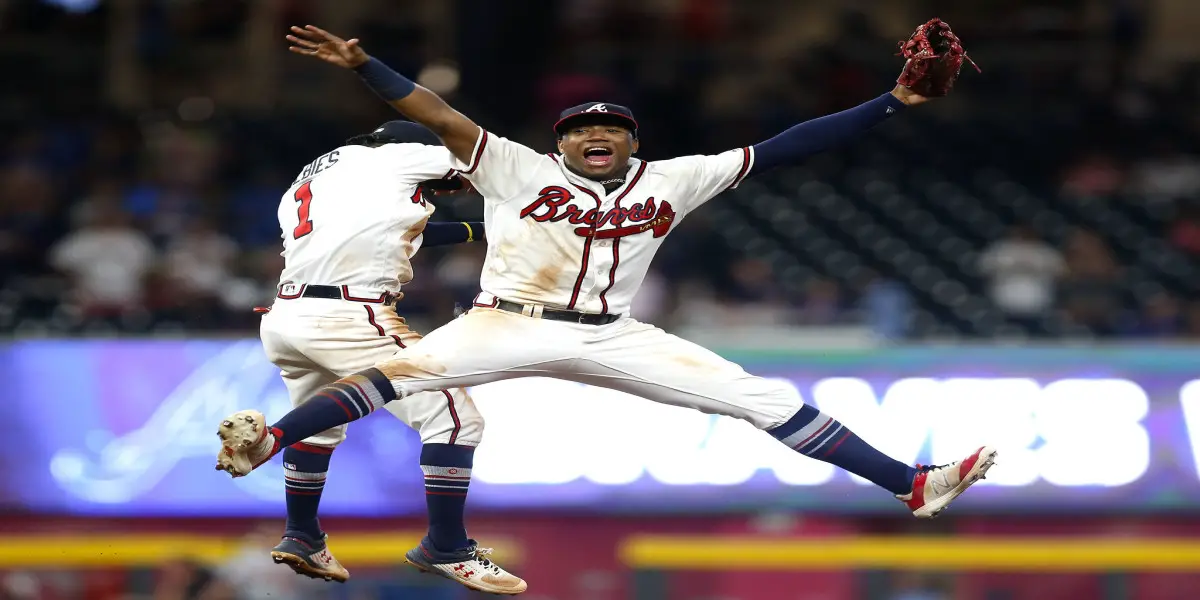 The MLB All-Star break is here, and it is that time of the year when fans start to pay attention to standings and what players are on pace to finish statistically. Some intriguing storylines are happening around the league right now, so let's look at them.
Acuña Jr.'s Chase for 40-80
Ronald Acuña Jr. is having yet another monster season where he is the heavy favorite to win the National League MVP. Acuña is hitting .331/.408/.582 with an NL-leading .990 OPS and 164 wRC+. But that is not exactly what people are excited about when considering Acuña's season. With 21 home runs and 41 stolen bases, Acuña is on pace for a ridiculous 38 home runs and 75 stolen bases. 
Only four members of the illustrious 40-40 club (40 home runs and 40 stolen bases) exist. They are Jose Canseco in 1988 (42 home runs, 40 stolen bases), Barry Bonds in 1996 (42 home runs, 40 stolen bases), Alex Rodriguez in 1998 (42 home runs, 46 stolen bases), and Alfonso Soriano in 2006 (46 home runs, 41 stolen bases). Acuña flirted with 40-40 back in 2019 when he had 41 home runs and 37 stolen bases.
Acuña could slow down on the stolen bases if he wants to since he already has eclipsed the 40 mark, but given the type of player he is, I highly doubt he will. The only way I see Acuña slowing down on the bases is if he is told to do so to maintain his health since 2019 was his last full season without injury.
How awesome would it be if Acuña kicked it into overdrive in the second half, shattered 40-40, and reached 40-80? As ludicrous as it sounds, you almost cannot put a limit to what this guy can do.
Can the Reds Youth Movement Carry Them to October?
The Cincinnati Reds have a one-game lead in the NL Central, thanks largely to their rookies who have stepped up and taken control of the ship. According to Fangraphs, the Reds have four rookies in the top 15 in wRC+ among the 54 qualified rookies around the league. Will Benson (133 wRC+ ranked 5th), Elly De La Cruz (131 wRC+ ranks 7th), Matt McLain (131 wRC+ ranks 9th), and Spencer Steer (123 wRC+ ranks 11th) have been running the show offensively and have helped the Red overcome a struggling pitching staff.
Rookie Andrew Abbott has been outstanding on the mound in his first seven career starts, posting a 2.38 ERA with a 10.9 K/9, 1.03 WHIP, and a 3.38 xERA. Abbott does give up a fair amount of hard contact, though, because of his 92.9 mph average fastball velocity, which has a 48.1 Hard Hit% and his curveball has a 50 Hard Hit% as well as a .500 SLG against, according to Baseball Savant. The changeup is the best pitch in Abbott's arsenal with a 42.6 Whiff%, 34.5 K%, and a 25 Hard Hit%.
Despite scoring the 5th most runs in baseball (454), the pitching staff has been subpar. Their bullpen ranks 13th in baseball with a 3.86 ERA, but their starting pitching is 3rd worst at an abysmal 5.69 ERA. Only the 34-57 Colorado Rockies and the 25-67 Oakland Athletics have a worse starting pitching ERA. The rotation needs to sharpen up in the second half to give this team a much better chance at a postseason berth, but with how weak the NL Central is, I do not see why the rookies would not be able to carry them to October.
Will the Angels Trade Ohtani?
This one will only be a story for the rest of July until the trade deadline, but this might be the biggest story in baseball. Since Angels GM Perry Minasian came out and said that they were not going to trade Ohtani on June 20th, the Angels are 4-13. They are without key contributors in Mike Trout, Anthony Rendon, Brandon Drury, Zach Neto, Logan O'Hoppe, Gio Urshela, Matt Moore, and Ben Joyce because of injury. This sudden collapse has potentially changed the minds of the Angels front office.
The Angels are now sitting at 45-46 and have slipped from being in the second Wild Card spot to four games out of the last spot and have let the Boston Red Sox and Seattle Mariners pass them in the standings. Their schedule for the rest of July also does the Angels zero favors. They start the second half at home with a series against the 50-41 Houston Astros, the 49-42 New York Yankees, and the 41-49 Pittsburgh Pirates, then head on the road to face the 39-50 Detroit Tigers, the 50-41 Toronto Blue Jays, and the league-leading 60-29 Atlanta Braves. That is a combined winning percentage of .534 that the Angels will face until the trade deadline. Things are looking bleak in Anaheim.
Esteury Ruiz Stolen Base Pace
If you are an Oakland A's fan, there is not much to be excited about, and you are in the middle of probably losing your team to Vegas in a drama-filled battle with ownership. But, something cool happening in Oakland is that rookie center fielder Esteury Ruiz is leading MLB in stolen bases with 43, despite having a below-average .310 OBP. Ruiz is on pace for 76 stolen bases, which would be the most in a season since José Reyes swiped 78 bags in 2007.
As I was writing this, the Athletics placed Ruiz on the 10-day IL with a right shoulder subluxation after diving back to first awkwardly. This will put a damper on the stolen base pace, but if Ruiz can still somehow reach 70, he will become the fourth player to reach 70 stolen bases since 2000 (Scott Podsednik 70 SB in 2004, Jacoby Ellsbury 70 SB in 2009, and José Reyes 78 SB in 2007).
Also, as mentioned earlier, Ronald Acuña Jr. is right there with Ruiz in the stolen base race, as he is on pace for 75 bags. Now, Acuña is also chasing 40 home runs where Ruiz is not (he has one this year so far), but Ruiz's stolen base chase is giving A's fans something positive to root for this year in a year filled with pain.
Red Hot Phillies
The Philadelphia Phillies are one of the hottest teams in baseball right now and have won 21 of their last 30 games. The problem is they have somehow lost four games in the AL East standings because the Atlanta Braves are an outrageous 25-5 in their last 30 games. That's beside the point. The point is, the reigning NL champs were off to a slow start and have stormed their way back to the playoff picture even with star players Trea Turner and J.T. Realmuto not swinging the bats to their potential this year.
The Phillies are 12 games back from the Braves in the NL East standings, so they will be battling for a Wild Card spot. Their 48-41 record sits a half-game out of the last Wild Card in the NL and tied with the Milwaukee Brewers. 
Philadelphia's offense has been getting contributions from most of the lineup, with Comeback Player of the Year candidate Nick Castellanos slashing .301/.344/.496 with a .840 OPS and a 124 wRC+. Castellanos has raised his OPS by 164 points from last season's .694, which was a career low. Bryson Stott, Alec Bohm, and Brandon Marsh are having solid seasons at the plate, with a wRC+ of 105 for Stott, 103 for Bohm, and 114 for Brandon Marsh. Bryce Harper also has not played up to his potential, but that could be a product of him coming back from Tommy John surgery sooner than expected. Harper is hitting .290/.386/.400 for a .786 OPS. He's getting hits and on base, like he normally does, but coming back from the elbow surgery so soon may be affecting his power.
On the mound, the Phillies starters have turned it around after a rocky start and are starting to help out their offense. Aaron Nola, Zack Wheeler, and Taijuan Walker are pitching much better recently and have lowered their ERAs to the low 4.00s. On May 24th, Walker took the mound with a 6.53 ERA and has had a 2.13 ERA, a .201 batting average against, and 46 strikeouts in 55 innings since. Ranger Suarez also continues his success from last season's transition from the bullpen to the rotation, so the Phillies rotation seems poised for a strong second half.
With the rotation continuing to improve and an offense clicking without its stars performing to their potential, the  Phillies are poised for a playoff push and another deep playoff run.
Braves Home Run Pace
The Atlanta Braves can mash from top to bottom and are one of the best offenses in baseball. Their 5.6 runs per game rank second in baseball, as their .271 team batting average and their .339 team on-base percentage. Their .492 team slugging percentage and .831 team OPS rank first. The Braves also lead the league with 169 home runs, 20 higher than the next highest. The difference between the first-place Braves and the second-place Los Angeles Dodgers is the same difference between the second-place Dodgers and the fifth-place New York Yankees.
The Braves are on pace to finish the season with 308 home runs, surpassing the MLB record of 307 home runs done by the 2019 Minnesota Twins. The Braves have an absurd five players on pace for 30 or more home runs (Sean Murphy, Matt Olson, Ozzie Albies, Ronald Acuña Jr., and Marcel Ozuna). Olson and Albies are on pace to finish with over 40 home runs. This offense has been potent for a few seasons and continues to improve. I do not anticipate them slowing down in the second half, so the Twins' home run record is in jeopardy.