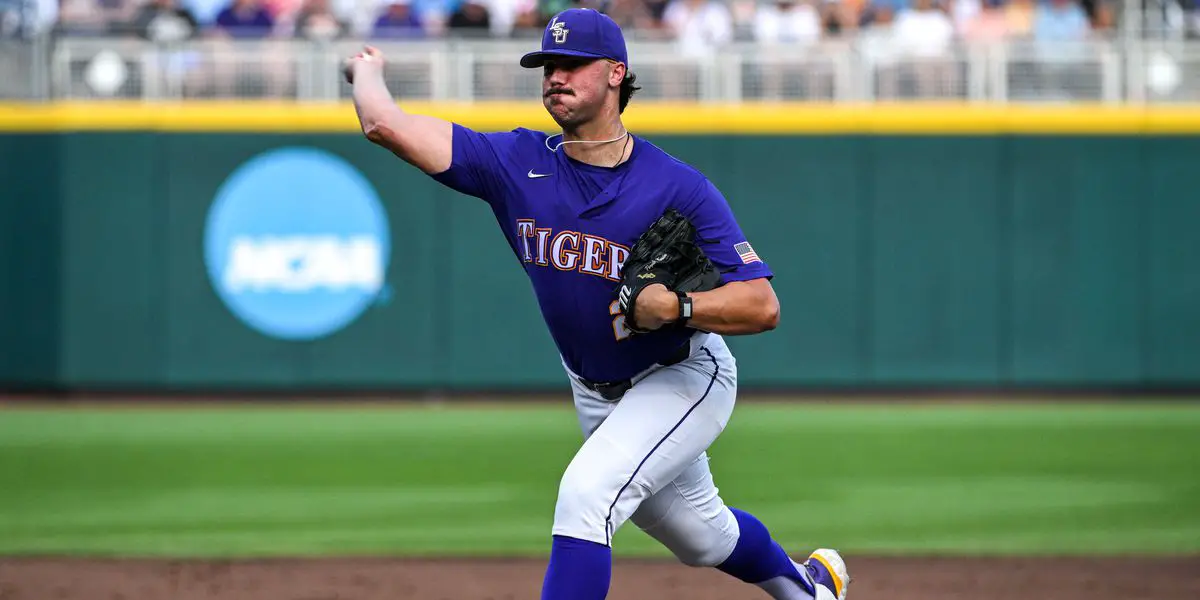 The August MLB Top 100 Prospects list has been released, and the Pittsburgh Pirates are tied with the Baltimore Orioles for most players on the list with six. First overall pick RHP Paul Skenes is third, 2B Termarr Johnson is 23rd, C/1B Endy Rodriguez is 42nd, RHP Jared Jones is 75th, LHP Anthony Solometo is 90th, and RHP Quinn Priester is 99th. The only player taken off the rankings is C Henry Davis after his graduation to the big leagues.
Pirates Prospects By The Numbers
RHP – Paul Skenes
Skenes joins the list as the Pirates' top prospect after they took him with the first overall pick in the draft in June. At LSU, he was 12-2 with a 1.69 ERA in 19 starts; he posted a 0.75 WHIP, a 1.5 BB/9, and a 15.3 K/9 leading the Tigers to the National Championship. He made his professional debut with the Pirates rookie ball team going one inning, he didn't allow a run, a hit, or a walk, and he struck out one.
2B – Termarr Johnson
Johnson jumped up three spots in the rankings and has spent time with the Pirates' Low-A and High-A affiliates. He has played in 85 games, slashing .233/.406/.432 with a .838 OPS; he has ten doubles, one triple, 15 home runs, 47 RBI, 66 runs scored, eight stolen bases, and 80 walks. With High-A, he's played in ten games, slashing .162/.311/.324 with a .635 OPS; he has two home runs, three RBI, nine runs scored, one stolen base, and eight walks.
C/1B – Endy Rodriguez
This may be Rodriguez's last month on the list, as he has played 24 games with the Pirates. He started the season with Triple-A Indianapolis playing in 67 games there and slashing .268/.356/.415 with a .771 OPS; he had 16 doubles, three triples, six home runs, 38 RBI, 54 runs scored, four stolen bases, and 36 walks. With the Pirates, he is slashing .239/.320/.433 with a .753 OPS; he has three doubles, two triples, two home runs, seven RBI, 11 runs scored, and eight walks.
RHP – Jared Jones
Jones is new to the rankings for Pittsburgh, and this season he has played across Double-A and Triple-A. With Double-A Altoona, he has made ten starts going 1-4 with a 2.23 ERA; he posts a 1.08 WHIP, a 3.2 BB/9, and a 9.5 K/9. With Triple-A Indianapolis, he has appeared in nine games, making eight starts going 2-2 with a 5.44 ERA; he posts a 1.34 WHIP, a 4.0 BB/9, and an 11.3 K/9.
LHP – Anthony Solometo
Solometo jumps up four spots in the new rankings spending time between High-A and Double-A for the Pirates. With High-A, he has made 12 starts going 2-3 with a 2.30 ERA; he posts a 1.15 WHIP, a 3.8 BB/9, and a 10.4 K/9. With Double-A, he has made eight starts going 2-4 with a 4.15 ERA; he posts a 1.26 WHIP, a 2.1 BB/9, and a 9.6 K/9. Combined between the two levels, he is 4-7 with a 2.99 ERA, posting a 1.20 WHIP, a 3.2 BB/9, and a 10.1 K/9.
RHP – Quinn Priester
Priester dropped significantly from July to August, going from 53rd to 99th. He played most of this season with Triple-A Indianapolis making 18 starts and going 7-3 with a 4.31 ERA; he posted a 1.35 WHIP, a 3.6 BB/9, and an 8.6 K/9. On July 17th, he made his big-league debut, and since then, he has made five starts going 2-1 with an 8.75 ERA; he posts a 6.35 FIP, a 1.90 WHIP, a 5.7 BB/9, and a 7.6 K/9. Priester is expected to make his next start tonight against the New York Mets.