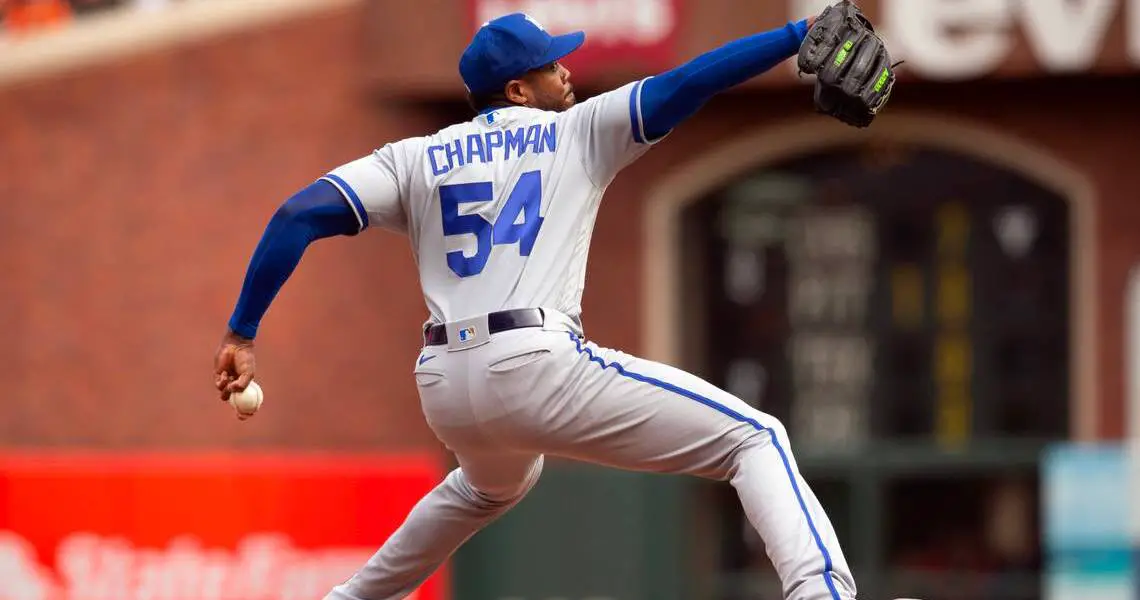 The Kansas City Royals have been off to a disastrous start, as they sport a 7-22 record. Due to their immense struggles, they are expected to be sellers at the 2023 MLB Trade Deadline. They have a valuable trading asset in Aroldis Chapman who will surely generate interest.
Chapman has been a rare bright spot for the Royals so far this year, as he has a 1-1 record to go along with an impressive 1.74 ERA in 11 appearances. The seven-time All-Star is starting to show signs of his former self, so we should expect several playoff clubs to pursue him as we inch closer to the deadline. Let's go over three specific teams who could be in the mix for his services.
New York Mets
The New York Mets were given brutal injury news before the start of the regular season. All-Star closer Edwin Diaz is expected to miss the entirety of the 2023 season due to a torn patellar tendon. As a result, the Mets could certainly use a boost in their bullpen, and a veteran like Chapman would provide them with just that. Thus, we should expect them to make a push for him as a rental.
Philadelphia Phillies
Sticking with the NL East, the Philadelphia Phillies could make sense as a landing spot for Chapman. After all, their bullpen could use another closer option, and Chapman could certainly fill the role if needed. The Phillies also could be on the hunt for bullpen help fairly soon, as they are aiming to get ahead of their division rivals.
Boston Red Sox
The Boston Red Sox have dealt with bullpen inconsistency this season, so they also could be among the suitors for Chapman. Although they are last in the AL East, they are still very much in the wild card, as they have a respectable 15-14 record. One long winning streak would help their chances of being a postseason club immensely. Perhaps adding a revitalized reliever like Chapman to their bullpen could be in the cards for them because of this.