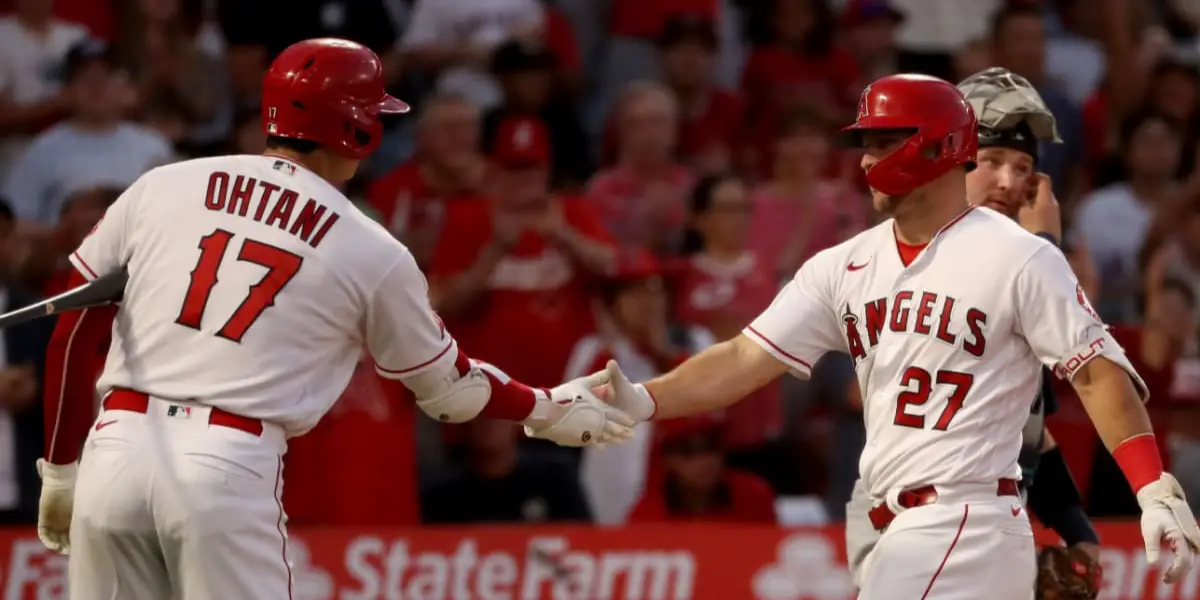 The 2023 MLB season is nearly underway. With new additions everywhere, key pieces staying with contending teams, and ultra-talented rookies all around the league, baseball is looking absolutely unpredictable this season. In this article, we will be predicting the records of every MLB team in 2023, along with the playoff picture when it's all said and done. From teams you'd expect to be at the top to teams that will be sneaky competitive, we have it all right here. Let us know your thoughts in the comments!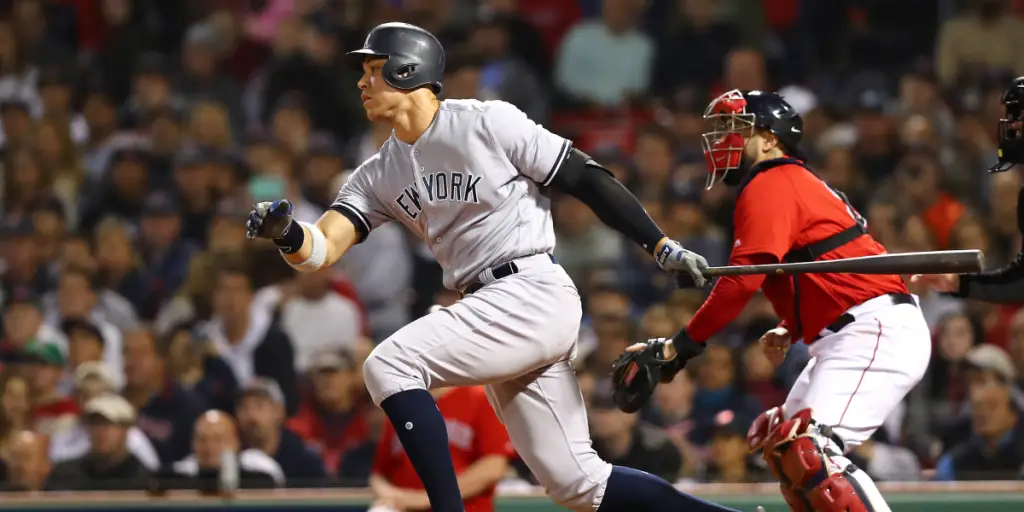 AL East
1. New York Yankees – 97-65 (99-63 in 2022, 1st in ALE)
In 2022, Yankees fans were let down yet again after being swept by the Houston Astros in the ALCS. After a historic MVP season from superstar Aaron Judge, fans expected their Yankees to be much more competitive in the 2022 postseason. While they did make it to the ALCS, they looked very uncompetitive vs. the eventual World Series champion Astros. The addition of strikeout machine Carlos Rodon to their rotation should be crucial to the Yankees' success in 2023. While we do predict a similar regular season for the Bronx Bombers, their postseason will have to be much more successful than their 2022 campaign to satisfy fans.
2. Toronto Blue Jays – 96-66 (92-70 in 2022, 2nd in ALE)
We expect a big improvement from the Blue Jays in 2022, with them competing with the Yankees for the AL East crown. Blue Jays' star Vladimir Guerrero Jr. had an underwhelming 2022, and we expect a big bounce back from the young superstar. Although the Blue Jays lost Teoscar Hernandez in a trade with the Seattle Mariners, they are still in a prime position to compete, acquiring Daulton Varsho in a trade with the Arizona Diamondbacks. The Jays' pitching staff is no slouch either, with Kevin Gausman and Alek Manoah leading the charge. Expect Toronto to be one of the best teams in the AL in 2022.
3. Tampa Bay Rays – 90-72 (86-76 in 2022, 3rd in ALE)
Tampa Bay has been plagued with injury as of late, with both 21-year-old superstar Wander Franco and ace Tyler Glasnow missing most of the 2022 season. Glasnow returning in 2023 means that the Rays now have one of the most feared one-two punches in baseball, alongside Shane McClanahan, who is bound to have another big season for Tampa Bay in 2023. The AL East is looking to be competitive once again in 2023, having three projected 90+ win teams, and Tampa Bay will be looking to make some noise in the 2023 postseason.
4. Baltimore Orioles – 86-76 (83-79 in 2022, 4th in ALE)
The Orioles are one of the youngest, most fun baseball teams in the world. With former first overall pick Adley Rutschman due to break out in 2023, along with young stars like Gunnar Henderson, and Ryan Mountcastle, Baltimore looks to make some big noise in the 2023 season. Starting pitching is still a question for the O's. However, #2 pitching prospect Grayson Rodriguez is set to make his Major League debut in 2023. Can Rodriguez be the elite starting pitcher the Orioles rotation desperately needs? Only time will tell.
5. Boston Red Sox – 69-93 (78-84 in 2022, 5th in ALE)
The Red Sox 2022 offseason was nothing short of underwhelming. After losing superstar SS Xander Bogaerts, the Red Sox front office did little to try and match the production of the former Silver Slugger. Although Boston went out and got Japanese outfielder Masataka Yoshida, there weren't many other additions that stood out. Speedster Adalberto Mondesi was acquired in a trade with the Kansas City Royals, and they signed free-agent Justin Turner, but that doesn't make up for losing one of the best hitters in baseball. The Red Sox, also having a below-average pitching staff, look to regress heavily in 2023, placing last in the AL East yet again.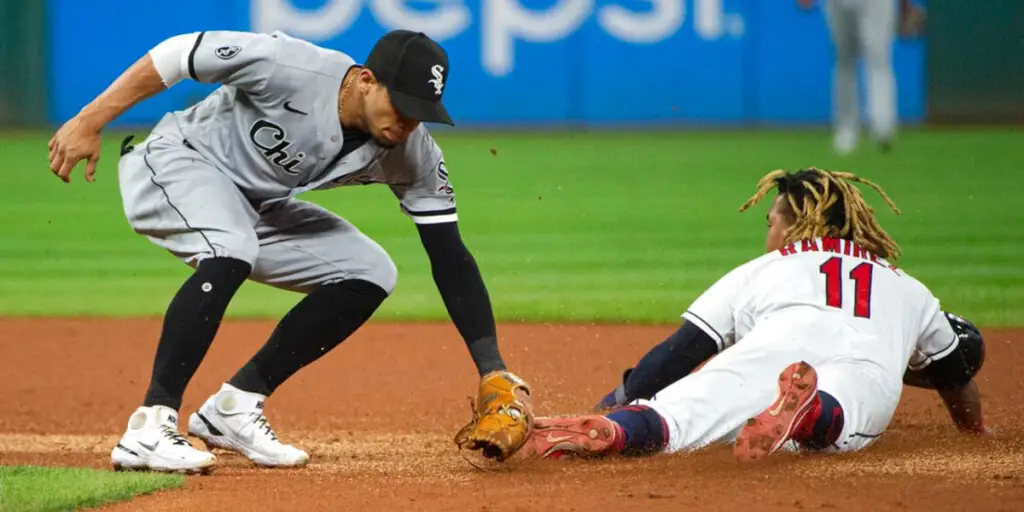 AL Central
1. Cleveland Guardians – 98-64 (92-70 in 2022, 1st in ALC)
The Cleveland Guardians are scary. Cleveland has one of the best players the sport has to offer in Jose Ramirez, young emerging superstars such as Steven Kwan and Andres Gimenez, and sluggers such as newly acquired Josh Bell and fan-favorite Josh Naylor. Their pitching staff is also something to marvel over. With Shane Bieber as their ace and Triston McKenzie due to break out in 2023, this team is bound to be special. We didn't even mention Cleveland having one of the best closers in baseball in Emmanuel Clase. The Guardians are going to open a lot of eyes in 2023 and be in contention for the AL crown come October.
2. Minnesota Twins – 83-79 (78-84 in 2022, 3rd in ALC)
Baseball fans everywhere, including us here at ITD, are excited to see the Carlos Correa saga continue in 2023. The Minnesota Twins were feared to have lost Carlos Correa in free agency to the San Francisco Giants and then eventually to the New York Mets; however, Correa's physical fell through both instances, so he would end up back in Minnesota for the 2023 season, and more. Minnesota also hopes that Byron Buxton can stay healthy in 2023, which would heavily boost their chances of competing. With a somewhat lackluster roster around Correa and Buxton, we're not sure how successful the Twins will be, but that duo and their above-average bullpen will single-handedly win them games. Regardless, they'll be very fun to watch.
3. Chicago White Sox – 80-82 (81-81 in 2022, 2nd in ALC)
The White Sox have been one of baseball's most disappointing franchises over the past few years, and with the loss of former AL MVP Jose Abreu, this looks to be the case once again in 2023. Although White Sox ace Dylan Cease broke out in 2022, the rest of the starting rotation lacks the production that Cease brings on the mound. However, Chicago's lineup has some real talent in players like Tim Anderson, Luis Robert, and Yoan Moncada. We'll see if Chicago can have a similar season to their 2021 stint, in which they finished 93-69, but for now, we believe there won't be much to hope for if you're a South Side Chicago fan.
4. Kansas City Royals – 70-92 (65-97 in 2022, 5th in ALC)
The record doesn't show it, but the Kansas City Royals are bound to have a good 2023. The win total won't be the entire story with this team. We fully expect young stars Bobby Witt Jr. and Vinnie Pasquantino to have big breakout seasons in 2023, along with future Royals' ace Brady Singer poised to have an above-average season on the mound. The Royals have a very bright future ahead of them, and it all starts in 2023, regardless of what the win total shows you. Look out for this team to potentially have multiple all-stars.
5. Detroit Tigers – 67-95 (66-96 in 2022, 4th in ALC)
The Tigers have one goal in mind this season, to have the best season possible for Miguel Cabrera's farewell tour. Now yes, Detroit would love to see players like Riley Greene and Spencer Torkelson break out, but regardless of that, the Tigers don't look to be nearly as successful as they'd like in 2023. Yes, they will improve in the win column, but not by much. Detroit very well could have some success in 2023 with Austin Meadows returning from injury; however, one player won't change an entire season for this Tigers franchise. Miggy's farewell tour, however, should give fans a reason to watch as many Tigers games as possible this season.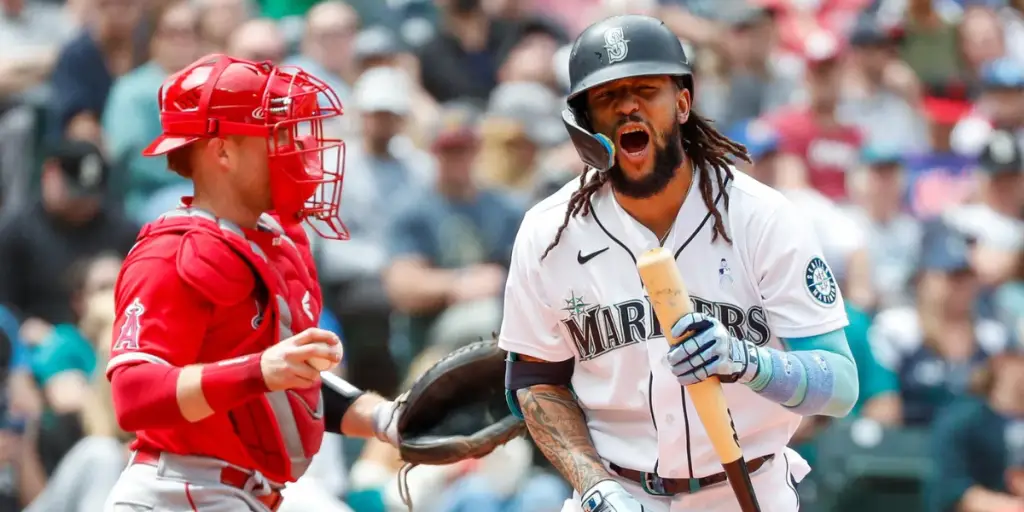 AL West
1. Houston Astros – 112-50 (106-56 in 2022, 1st in ALW)
Did anyone expect the Astros not to be at the top of the AL West once again? The AL West has been the Astros' division for over half a decade, and that does not look to change in 2023. Fresh off a World Series win, the Astros look to compete once again, somehow getting even better. Houston acquired former AL MVP Jose Abreu from the Chicago White Sox to replace departing Yuli Gurriel at first base, which makes their lineup much more dangerous. With Yordan Alvarez in his prime, as one of the best pure hitters baseball has to offer, veterans Jose Altuve and Alex Bregman still playing amazing baseball, and young stars like Jeremy Pena and Kyle Tucker bound to have excellent seasons at the plate, this team continues to be dangerous. Look out for Houston to be the best team in baseball once again in 2023.
2. Seattle Mariners – 97-65 (90-72 in 2022, 2nd in ALW)
Mariners fans should be excited about this team, as Seattle is in their best position to compete in 20 years. Julio Rodriguez has turned into the superstar this franchise desperately needed, and he's surrounded by loads of talent, such as Eugenio Suarez, Ty France, and newly acquired Teoscar Hernandez. The Seattle pitching staff is no slouch either, having names like former AL Cy Young winner Robbie Ray, ace Luis Castillo, and rising superstar George Kirby controlling games on the mound. In 2022, the Mariners reached the postseason for the first time in two decades, and with the amount of talent on this roster, they're sure to do it again, with hopes of competing for an AL pennant.
3. Los Angeles Angels – 83-79 (73-89 in 2022, 3rd in ALW)
Angels fans, we're sorry. The Los Angeles Angels have two of the most talented players this sport has ever seen, yet they are never in a position to compete. Why? Well, for starters, injuries have held Mike Trout back during Shohei Ohtani's rise to the top, but that's no excuse, considering Trout still played 119 games in 2022, his most since 2019 (134). The roster around Trout and Ohtani has been far from great, but that changed in the 2022 off-season. The Angels acquired players like Hunter Renfroe and Brandon Drury to join their 2023 campaign and signed pitcher Tyler Anderson in free agency. With players like Taylor Ward and Jared Walsh due to have successful seasons in 2023, the Angels are in a great spot to compete; we just don't think it will happen this year. However, come 2024, keep an eye out for the Halos.
4. Texas Rangers – 75-87 (68-94 in 2022, 4th in ALW)
The Texas Rangers have the star-level talent to compete; however, the roster around those stars is very lackluster. Texas has superstar infielders Marcus Semien and Corey Seager, alongside young studs like Adolis Garcia and Nathaniel Lowe, but the rest of the team is not very notable. The Rangers did, however, sign one of the best pitchers baseball has to offer in free agency, Jacob deGrom. Now, we don't know how much deGrom will be able to stay healthy in 2023 or how much that will affect the Rangers' season, but having that sort of talent in your rotation is a massive advantage. The Rangers very well could make a splash at the trade deadline, which would immediately boost their postseason chances, but we doubt they will make that splash in 2023.
5. Oakland Athletics – 44-118 (60-102 in 2022, 5th in ALW)
There is not much to say about the A's other than the fact that they'll be the worst team in baseball in 2023. In the last two seasons alone, Oakland has lost players like Starling Marte, Matt Olson, Matt Chapman, and now Sean Murphy. While the A's do have some young talent that will be getting a starting opportunity in 2023, they simply do not have the talent to compete in the AL, let alone the AL West. There are some bright spots on this team, such as Cristian Pache, Ramon Laureano, and Aledmys Diaz, but don't expect them to win many games in 2023. Here's hoping for a bright future in Oakland.
NL East
1. Atlanta Braves – 105-57 (101-61 in 2022, 1st in NLE)
The NL East is absolutely loaded. With a three-headed monster of the Atlanta Braves, New York Mets, and Philadelphia Phillies, this division could be the most unpredictable in the sport; however, we believe the Braves will have the best season out of the three. Atlanta is looking to have their best roster in years in 2023, which could easily be better than their 2021 World Series winning team. Superstar Ronald Acuna Jr. looks to be healthy and in his prime going into the 2023 season, and players like Austin Riley and young star Michael Harris II look to produce at a very high level for Atlanta. Their ace in 2023 looks to be Spencer Strider, a flamethrower with superb control, coming off of an excellent rookie year. Look out for Atlanta to make some serious noise in the NL this year.
2. Philadelphia Phillies – 94-68 (87-75 in 2022, 3rd in NLE)
The Phillies had a big offseason, looking to prove to the baseball world that their 2022 World Series run wasn't a fluke. The addition of Trea Turner immediately boosts Philadelphia's chances of success in 2023, while their young pieces, like Alec Bohm, Bryson Stott, and Brandon Marsh all look to improve. Although the Phillies will be missing former NL MVP Bryce Harper for over half the season, we believe Philadelphia has what it takes to compete without him. In 2022, without Harper, the Phillies rode on the back of elite starting pitching from Aaron Nola and Zack Wheeler while also getting elite production at the plate from all-stars J.T. Realmuto and Kyle Schwarber to stay alive in the postseason hunt. Once the Phillies regain Harper and finally have their lineup at full strength, they become one of the scariest teams in all of baseball.
3. New York Mets – 94-68 (101-61 in 2022, 2nd in NLE)
It's tough to predict a regression for the Mets, but we truly believe their 2023 campaign will be a bit less successful than their 2022 campaign. However, the Mets will still be in a prime position to compete and will likely make a big splash in the 2023 postseason. In free agency, New York lost one of the best pitchers in baseball, Jacob deGrom, but made a big splash to replace him, signing reigning AL Cy Young winner Justin Verlander. Verlander and second-year Met, Max Scherzer, make up arguably the best one-two punch baseball has to offer, and alongside newly acquired Kodai Senga, and Jose Quintana, the Mets look to have maybe the best rotation in all of Major League Baseball. Mets' hitters Francisco Lindor and Pete Alonso also look to continue their elite production. The Mets would be much higher up in the standings if their deal with Carlos Correa hadn't fallen through, but their talent is still undeniable.
4. Miami Marlins – 71-91 (69-93 in 2022, 4th in NLE)
Although the Marlins improved in the 2022 offseason, it wasn't enough for a drastic change in the win column. Miami acquired batting champ Luis Arraez in a trade with the Minnesota Twins and Jean Segura in free agency, both second basemen. The Marlins' best player, Jazz Chisholm Jr, is also a second baseman, now moving to center field due to the overload of infielders. Will Jazz at center field work out for Miami? We have no idea. However, seeing how well Chisholm Jr. plays in the outfield is worth a shot. The Marlins have a fantastic pitching staff, headed by reigning NL Cy Young winner Sandy Alcantara, but the lack of pure talent at the plate holds this team back. Expect another Cy Young caliber season from Alcantara, met with minimal success once again.
5. Washington Nationals – 52-110 (55-107 in 2022, 5th in NLE)
Only five years after winning the World Series in 2018, the Washington Nationals look to be one of the worst teams in baseball, but how did that happen? For starters, they traded away two of their best young pieces, Trea Turner and Juan Soto, who happen to be two of the league's best all-around players. Secondly, the players they got in return happen to be very young and unproven. The Nationals do have some promising young pieces, such as C.J. Abrams and Joey Meneses, but D.C. doesn't look to have much excitement in 2023.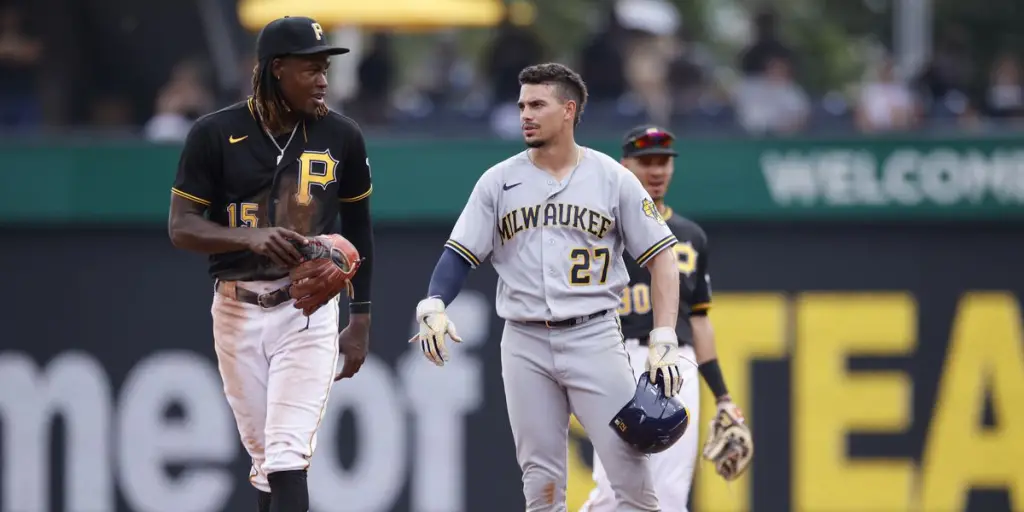 NL Central
1. St. Louis Cardinals – 91-71 (93-69 in 2022, 1st in NLC)
After a promising 2022 regular season, Cardinals fans were left disappointed after the 2022 postseason. In a season where the Cardinals had two top-3 NL MVP vote-getters in Nolan Arenado and eventual winner Paul Goldschmidt, St. Louis would go on to get swept by the Philadelphia Phillies in the NL Wild Card round. Fans everywhere said goodbye to one of the greatest players of all time, Albert Pujols, in 2022, after witnessing him surpass the 700 home run milestone. Cardinals' legend Yadier Molina retired alongside Pujols, ending what was an iconic era in St. Louis baseball. While the Cardinals still have a very good roster, we don't see them competing for a World Series in 2023. However, they will go on to once again win the NL Central due to the lack of competition the division has to offer.
2. Milwaukee Brewers – 88-74 (86-76 in 2022, 2nd in NLC)
The Brewers did little to improve in the 2022 offseason; however, we do expect them to exceed expectations in 2023. Milwaukee may not be the best team in the sport, but they'll give some contenders some real trouble while making a postseason push themselves. The Brewers' rotation is still among the strongest in all of Major League Baseball, with former NL Cy Young winner Corbin Burnes, Brandon Woodruff, and Freddy Peralta leading the way on the mount. Milwaukee also has one of the deadliest arms in baseball coming out of their bullpen, Devin Williams. Don't expect anything special from the Brewers in 2023, but expect them to stay afloat in the Wild Card hunt throughout the entirety of the 2023 season.
3. Chicago Cubs – 77-85 (74-88 in 2022, 3rd in NLC)
Once again, the Cubs find themselves in the middle of the pack in the NL Central. In the 2022 offseason, Chicago signed Dansby Swanson and former NL MVP Cody Bellinger to deals in free agency, attempting to solidify their lineup as much as possible. We do expect improvement from players like Seiya Suzuki and Ian Happ in 2023. However, the Cubs have one of, if not the worst pitching staff in baseball. If the Cubs can make an in-season move for a starting pitcher, they will improve immensely, but until that happens, don't expect Chicago to make much noise. The Cubs will be a team that beats the teams they're supposed to, but can't beat the teams above them, therefore, a 77-85 finish.
4. Pittsburgh Pirates – 61-101 (62-100 in 2022, 5th in NLC)
Pittsburgh is in a sticky situation, with star player Bryan Reynolds requesting a trade in the 2022 offseason. At the time this article is being written, Bryan Reynolds is still a Pirate; however, we do expect him to be moved by the trade deadline. The Pirates do have some promising young stars in Oneil Cruz and Ke'Bryan Hayes, but their production will not make up for the Pirates' lackluster surrounding cast. Much like the aforementioned Chicago Cubs, the Pirates pitching staff is far from great, which absolutely holds them back, and keeps them at over 100 losses for 2023.
5. Cincinnati Reds – 57-105 (62-100 in 2022, 4th in NLC)
In 2022, The Reds held the tiebreaker over the Pittsburgh Pirates to finish 4th in the NL Central, but they won't be competing with them this year. Longtime Reds' star Joey Votto is on the decline, and the rest of the roster is nothing to marvel over. Cincinnati does have players like former NL Rookie of the Year Jonathan India and Tyler Stephenson, but outside of them and Votto, the Reds' lineup sort of looks like a Triple-A squad. The Reds do, however, have a young ace by the name of Hunter Greene that looks to be a breakout candidate in 2023. There isn't much else to say about Cincinnati other than the fact that they will be one of the worst teams in the NL in 2023.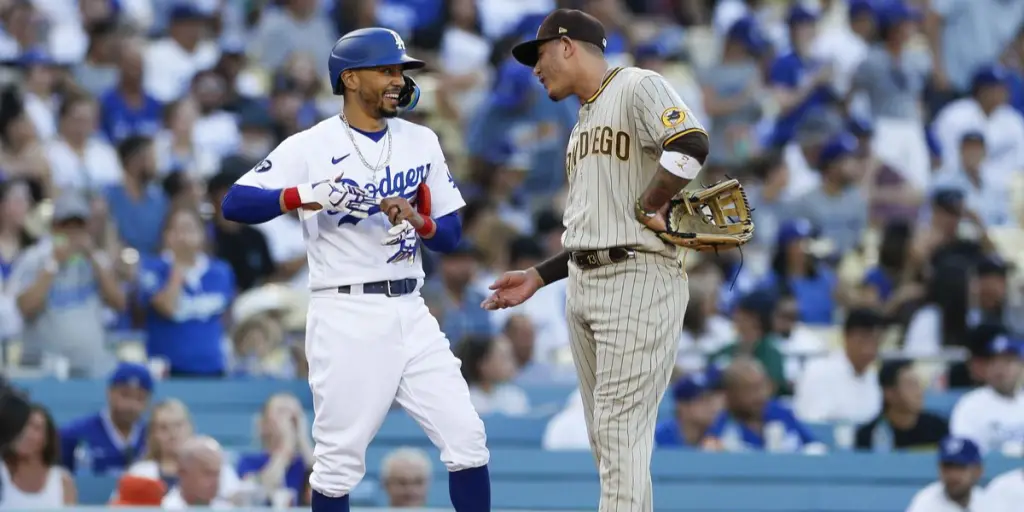 NL West
1. San Diego Padres – 105-57 (89-73 in 2022, 2nd in NLW)
The San Diego Padres come in as our biggest leap for the 2023 season. With the addition of Xander Bogaerts in free agency and the return of superstar slugger Fernando Tatis Jr, the Padres are a scary sight in the NL. The Padres were already loaded with superstars, such as Juan Soto and Manny Machado, and now they get to add two more to their lineup. San Diego also has one of the best closers in baseball, returning to prime form in 2023, Josh Hader. Fresh off of an NLCS berth in 2022, the Padres made it very clear that they're coming back for more in 2023. Don't be surprised if we see a Padres ring ceremony in 2024.
2. Los Angeles Dodgers – 93-69 (111-51 in 2022, 1st in NLW)
The Dodgers go into 2022 with nearly the same roster; however, they had two significant losses in the 2022 offseason. LA lost Trea Turner to the Phillies and Justin Turner to the Red Sox in free agency. Obviously, the Dodgers will still be a force to be reckoned with, but with the loss of those key pieces, and the massive improvement of the San Diego Padres, the Dodgers are in for a rough ride in 2023. Having players like Mookie Betts and Freddie freeman automatically makes you able to compete, but after those two, and all-star catcher Will Smith, the roster looks a bit thin. Having a good pitching staff helps, but don't be shocked to see a falloff from the all-mighty Dodgers in 2023.
3. Arizona Diamondbacks – 77-85 (74-88 in 2022, 4th in NLW)
Arizona will open some eyes in 2022. The Diamondbacks have the #2 prospect in all of baseball in Corbin Carroll and some more exciting young outfielders, such as Jake McCarthy and Alek Thomas. Chiseled veterans such as Ketel Marte and Christian Walker will also be suiting up for the Diamondbacks in 2023, making a sneakily dangerous lineup. However, the best player on this Diamondbacks squad is not in their lineup. Starting pitcher Zac Gallen is arguably the most talented young pitcher in all of baseball, looking to get a ton of Cy Young votes in 2023. This Arizona squad is loaded with super young, super fun players that can potentially play very well together. If it weren't for the Diamondbacks playing in a loaded NL West, their record would be better, but we're sure it will improve heavily in 2024.
4. Colorado Rockies – 72-90 (68-94 in 2022, 5th in NLW)
The Rockies have one problem, a lack of talent. Outside of C.J. Cron and Kris Bryant, the Rockies lineup is very lackluster. However, Brendan Rogers and Randal Grichuk have the potential to produce at a high level in 2023, and we believe at least one of them will, placing them 4th in the NL West. The Rockies don't have the most talented pitching staff; however, German Marquez is a more than adequate ace, and closer Daniel Bard will single-handedly save them a few games. Don't expect anything special from Colorado in 2023, but expect them to be a fun watch, having sluggers all around and the most hitter-friendly ballpark in baseball.
5. San Francisco Giants – 70-92 (81-81 in 2022, 3rd in NLW)
Giants fans, don't hate us for this one. The NL West is only getting stronger, and without any real star, the Giants don't look to be in a position to compete in 2023. The Giants did go out and get Mitch Haniger in free agency; however, they lost out on Carlos Correa due to his physical falling through, which is a huge blow for San Francisco. Reigning AL MVP Aaron Judge was also rumored to the Giants but eventually re-signed with the New York Yankees. It's unclear how the future looks in the bay area, but we here at ITD are excited to see how it pans out, even if it results in an unsuccessful 2023.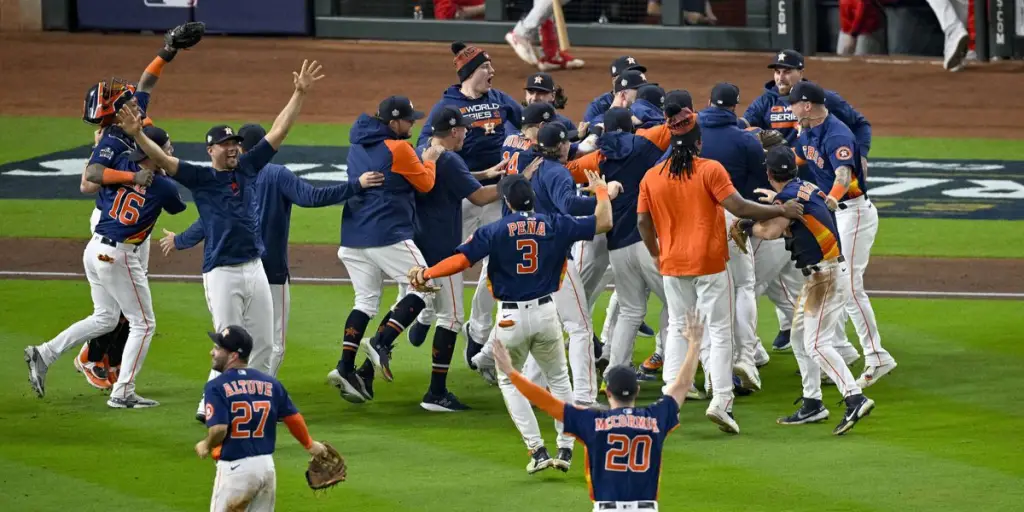 Playoff Picture
Every regular season has its postseason counterpart. Here is where we will look at the projected 2023 postseason, given these predictions.
AL
1 – Houston Astros (112-50, 1st in ALW)
2 – Cleveland Guardians (98-64, 1st in ALC)
3 – New York Yankees (97-65, 1st in ALE)
4 – Seattle Mariners (97-65, 2nd in ALW)
5 – Toronto Blue Jays (96-66, 2nd in ALE)
6 – Tampa Bay Rays (90-72, 3rd in ALE)
NL
1 – Atlanta Braves (105-57, 1st in NLE)
2 – San Diego Padres (105-57, 1st in NLW)
3 – St. Louis Cardinals (91-71, 1st in NLC)
4 – Philadelphia Phillies (94-68, 2nd in NLE)
5 – New York Mets (94-68, 3rd in NLE)
6 – Los Angeles Dodgers (93-69, 2nd in NLW)
Let us know what you think of our predictions in the comments! We hope you enjoyed!