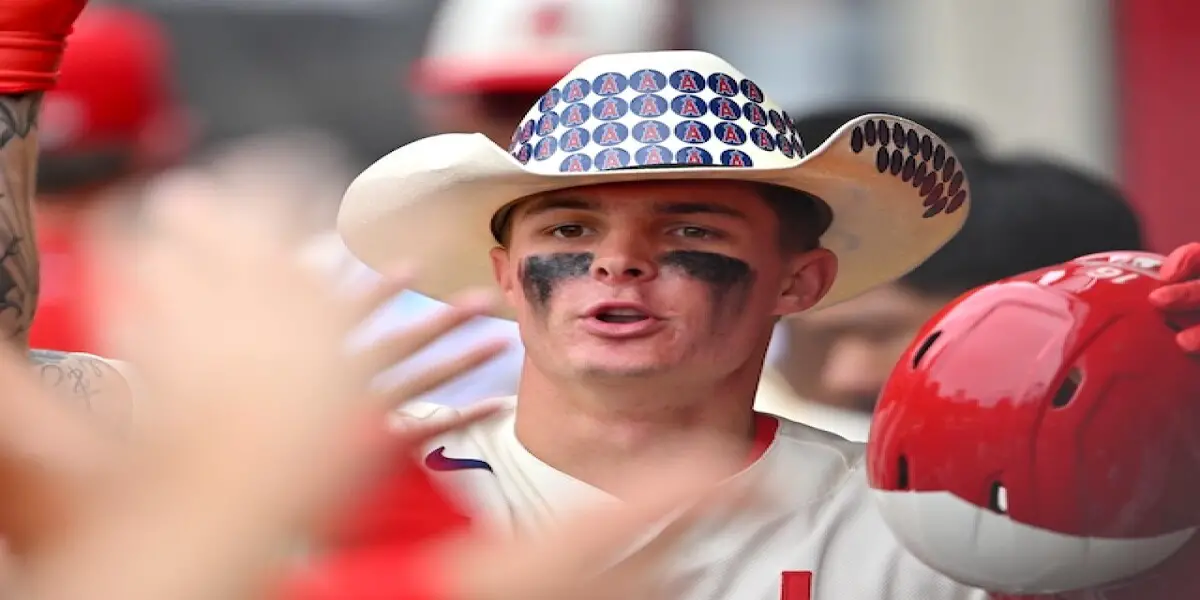 On August 2nd, 2022, the Philadelphia Phillies traded former first-overall pick Mickey Moniak to the Los Angeles Angels for Noah Syndergaard. In his first few call-ups with the Phillies, Moniak had been overmatched. Still, Moniak has been on a tear since the trade, and he might finally be tapping into that first overall potential that everyone saw during the draft process back in 2016.
Moniak debuted in 2020 when he had a brief visit with the Phillies playing in eight games, and he was 3-14 at the plate. Then in 2021, he appeared in 21 games and was 3-33, then was 6-46 in 18 games before getting traded in 2022. For those counting, that is a .129/.214/—172 slash line for a .386 OPS and an abysmal 9 OPS+ in 105 games as a Phillie.
In 19 games with the Angels after the trade in 2022, Moniak hit .200/.226/.417 with a .642 OPS, which is not good, but it was better than how he was playing in Philadelphia. Moniak only appeared in two games with Triple-A Salt Lake City Bees after the trade but was 3-9 with two home runs to cap off a total .312/.362/.600 and .962 OPS in 30 games in the minor leagues in 2022. To put it in perspective, Moniak's highest OPS in a season in the minors was .749, which was in rookie ball the year he was drafted.
Building off the minor league success and improved numbers in the majors, Moniak continued to improve in 2023. It started in Spring Training, where Moniak looked very impressive and hit .409 with a 1.185 OPS.
With the additions of Hunter Renfroe and Brett Phillips, the Angels' outfield was packed, and Moniak was forced to start the season in Salt Lake City and picked up right where he left off from Spring Training. Moniak played in just 30 games in Salt Lake City, hit .308 with a .939 OPS, and earned a spot on the Angels roster once Phillips was Designated for Assignment.
Moniak's impact was immediate. He was 3-4 with a home run in his season debut with the Halos on his 25th birthday, May 13th, and homered again just two games later. In his first ten games with the Angels this season, Moniak hit .419 with a 1.373 OPS and four home runs. Moniak has hardly slowed down this year and is currently on a 14-game hitting streak. In 47 games with the Angels, he has a total slash line of .331/.362/.615 with a .977 OPS, 166 wRC+, and 11 home runs. Moniak has also provided solid defense in center field during Mike Trout's absence. Despite only playing in 47 games, Moniak's 2.3 bWAR is the third-most on the Angels this year. Over 162 games, Moniak is on pace for a 38 home run and 7.9 bWAR season.
The underlying numbers back up the eye test as well. Moniak has career highs in Barrel% (15.0) and Line Drive% (32.7). Moniak succeeds by hitting more balls on a line and toward the middle of the field. According to Baseball Savant, his balls put in play percentages are 46.9% pull-side, 31.9% middle, and 21.2% oppo.
Another way to see just how good Moniak has been this year is to look at how he is hitting on individual pitches. Baseball Savant has Moniak having a .384 Expected Weighted On Base Average (xwOBA) against fastballs, .403 xwOBA against curveballs, .422 xwOBA against cutters, .766 xwOBA against sinkers, and a .570 xwOBA against splitters. Moniak is struggling with sliders, changeups, and sweepers are the only pitches this season. Raking off five out of eight types of pitches he has seen this year has made Moniak very difficult to get out.
Now, it is essential to note that Moniak's success has come against right-handed pitchers, as he has struggled mightily against lefties. With Mike Trout out for a few more weeks with a broken hamate bone, Moniak has had no choice but to face lefties more often. Moniak is hitting .125 against lefties in 26 plate appearances this season.
Even with the struggles against lefties, the Angels are ecstatic with the development of Moniak in the last year; hopefully, the 25-year-old will be a tremendous asset for their future.