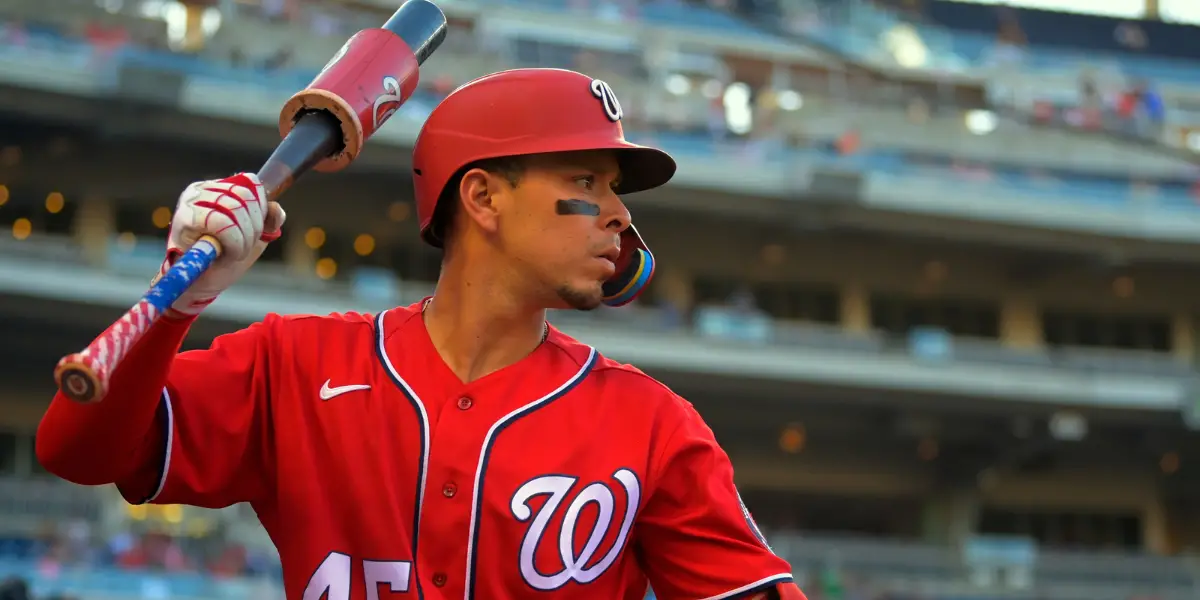 After spending a decade in the minor leagues, Joey Meneses signed a minor league deal with the Nationals in January 2022. He excelled at Rochester, hitting .286/.341/.489 with 20 HR, 14 2B, and 64 RBI in 96 games. Meneses got rewarded with his first major-league call after Juan Soto and Josh Bell departed at the trade deadline. Joey homered in his first game, hit five in his first nine games, and Meneses never looked back, as in 56 games, he hit .324/.367/.563 with 13 HR and a 156 wRC+.
Joey was one of the few bright spots for the Nationals in 2022 and a great story as he immediately seized his opportunities in the big leagues after toiling away in the minor and foreign leagues for over a decade. So what were his expectations heading into 2023?
The Nationals' offense wasn't expected to do much heading into this season, and they've followed those expectations by only scoring 65 runs and hitting nine home runs 19 games into the season. Still, Joey has been expected to be one of the bright spots in the lineup. It would be unrealistic not to expect a bit of a drop off from his 2022 numbers as players who spend over a decade in the minor leagues don't turn into elite MLB hitters, and some of the advanced metrics provide evidence that he was lucky. Opposing teams will also have more data to combat his strengths. However, he should still serve as an above-average bat this year.
Meneses launched a 409-foot blast over the left-center wall yesterday in the Nats' 3-2 win in cold conditions, but it's been a horrific start for him as he's hit .225/.267/.296 (51 wRC+) before yesterday's win. That was his first home run of the season, and hopefully, it sparks Joey's season as it sparked a late-innings rally for the Nats yesterday.
Digging Deeper
To see if Meneses can produce this year, we're going to have to dig deep into his batted ball profile and other hitting metrics on Baseball Savant.

There isn't a notable difference in Meneses' Statcast Batting Statistics compared to last year other than a drop in launch angle from 9.5 to 7.5 degrees. Numbers that do stick out are an XBA (X stands for expected) of .267 and an XSLG of .457, which are both a decent amount below his 2022 numbers, but it still would've put him around a 120-130 wRC+, which is still great. He's hitting the ball as hard as last year with similar K and BB rates.

Last year Meneses excelled against all types of pitches, but his XBA and XSLG both suggest he was lucky against fastballs and breaking pitches. This year he's hit offspeed pitches well so far, but he's been unlucky against breaking pitches and fastballs so far. Meneses has a 10-degree drop in his launch angle against breaking pitches, which has been the main reason his overall launch angle has dropped, but his exit velocities and whiff rate are similar across the board.


By looking at his batted ball profiles and swing decisions, we can get a good breakdown of his tendencies and approach this year. Meneses has seen a 7% drop (23 to 16) in fly ball rate, leading to a 7% increase in line drive rate (25 to 32), which should yield more positive results. Another change we see is that he's been chasing a bit more (30% to 33%), but the contact rate on those chases has decreased from 61% to 48%, which is not a recipe for success. The biggest change so far has been in his approach. His Pull% has gone from 34% to 26%, while his Oppo% has taken a big leap from 27 to 39%. It's obvious that Meneses has made an effort to start hitting line drives up the middle and to right field rather than pulling flyballs to leftfield.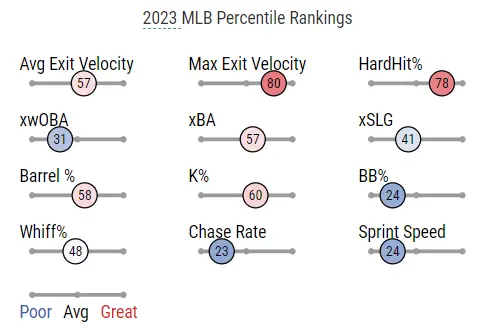 This display gives a better idea of how Joey has been hitting compared to the rest of the league. He's been hitting the ball hard, but he needs to limit the number of pitches he's been chasing. These profiles are similar to Bo Bichette, Jeremy Pena, and Nathaniel Lowe from last. They were all at least above-league-average hitters, so it's a good sign for Meneses that he should start performing over time.
Will He Perform?
By looking through these advanced metrics and batted ball data, it's clear that Meneses was lucky last year, but he's been extremely unlucky this year so far. Joey has hit a lot of hard line-drive outs right at the outfielders, he hit one at 105.9 mph right at the Twin's CF before going yard yesterday. Meneses has shown a right-field line drive approach that should bring more success as the season goes along. Not to mention he raked for Mexico as he hit above .300 for his nation in the WBC this year. It's still interesting that he's moved away from his pulling flyball approach that brought him success last year on a team that is devoid of power.
Now that Joey Meneses has hit his first home run of the year, he'll start to rack up good performances and numbers. He's been consistently hitting the ball, but they haven't fallen for hits that often yet. Joey should consider going back to his approach from last year, as the team needs a player to provide some consistent pop. He'll end up with a batting average of around .260-.270, about 25 HR, and an OPS hovering around .800, which will put him at a 110-120 wRC+, and we'll be looking back to his April as a slow start.