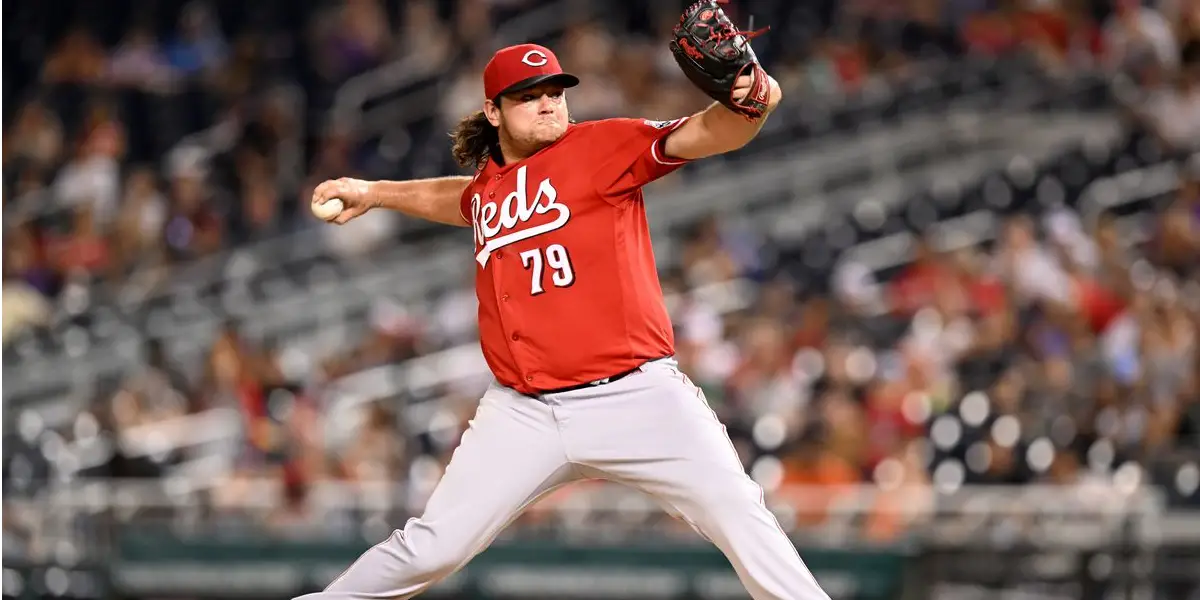 A Case Study in Reds Bullpen Performances
Over the past few years, the Cincinnati Reds Bullpen has been a revolving door of waiver claims, fringe quadruple-a pitchers and has seen their better arms plagued by injuries. Tejay Antone, likely their best reliever in 2021, posted a dominant 11.23 K/9 and a 3.26 FIP to compliment a 2.14 ERA in just over thirty innings before going down with Tommy John Surgery. Lucas Sims has been dealing with elbow problems for the past two years, and Tony Santillan had major back problems after stumbling to start the season.
One bright spot for the Reds bullpen this year was Rookie of the Year vote-getter Alexis Diaz. Brother of Mets Bullpen Star Edwin Diaz, Alexis didn't have quite the same caliber of season but showed out majorly in his first major league season. Diaz had very good strikeout numbers to the tune of 11.7 K/9 but walked a ton of batters as well, with over a 4.5 BB/9 on the season. His ERA was also way lower than his FIP, with 1.84 vs. 3.32. While that FIP is decent, it points to possible regression into next season, especially if the walks are still a problem.
Gibaut's Successes and Failures in 2022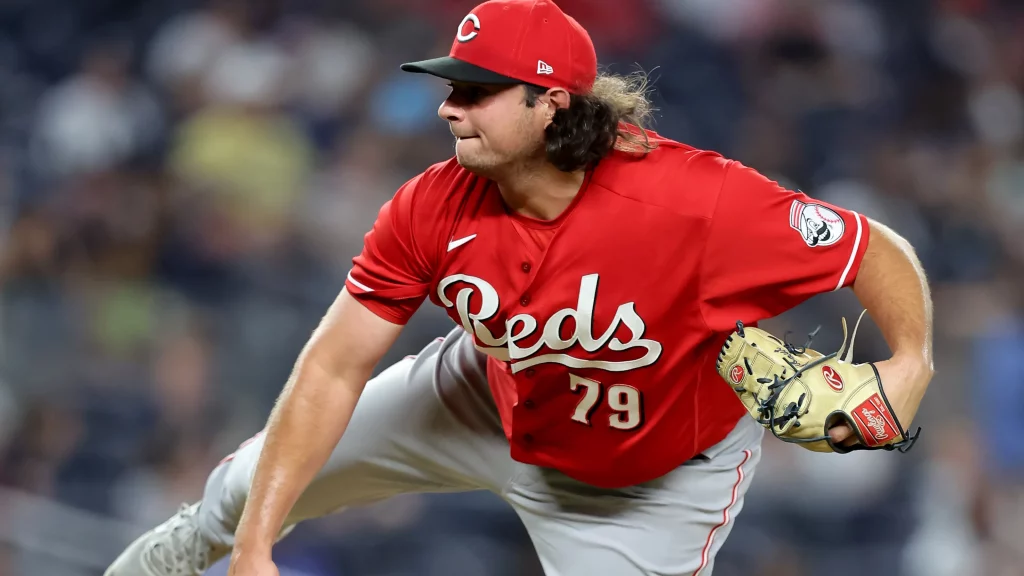 In comes the hero of this week's story, Ian Gibaut. Claimed off waivers from the Dodgers on July fifth, making his debut two days later on the seventh. In his 36 big league innings last season, Gibaut had a 4.5 ERA, which doesn't immediately pop out at you, but he had a good FIP of 3.11 while also having an extremely solid K/9 of 12 even, the best we've talked about in this article so far.
Walks were a problem for Gibaut last year as well, with a 4.5 BB/9 on the season, but this also indicates a more significant problem with the Reds catching staff last season, as with the major injuries to star young catcher and QB1 Tyler Stephenson and backup Aramis Garcia, the Reds had to resort to several waiver claims and had a revolving door at the position, a common theme coming up once again.
Digging Deeper Into Ian Gibaut's Arsenal
One resource I like to use a lot to analyze pitchers is PitchingBot, a tool created by Cameron Grove, utilizing the Stuff+ model by Eno Sarris. This tool grades Stuff, Command, and Overall Ability for both pitchers and their individual pitches on a similar 20-80 scale that scouts use for prospect analysis. Pitching Bot's website is the second source I consult after Fangraphs or Baseball Savant to see how well a pitcher is truly doing.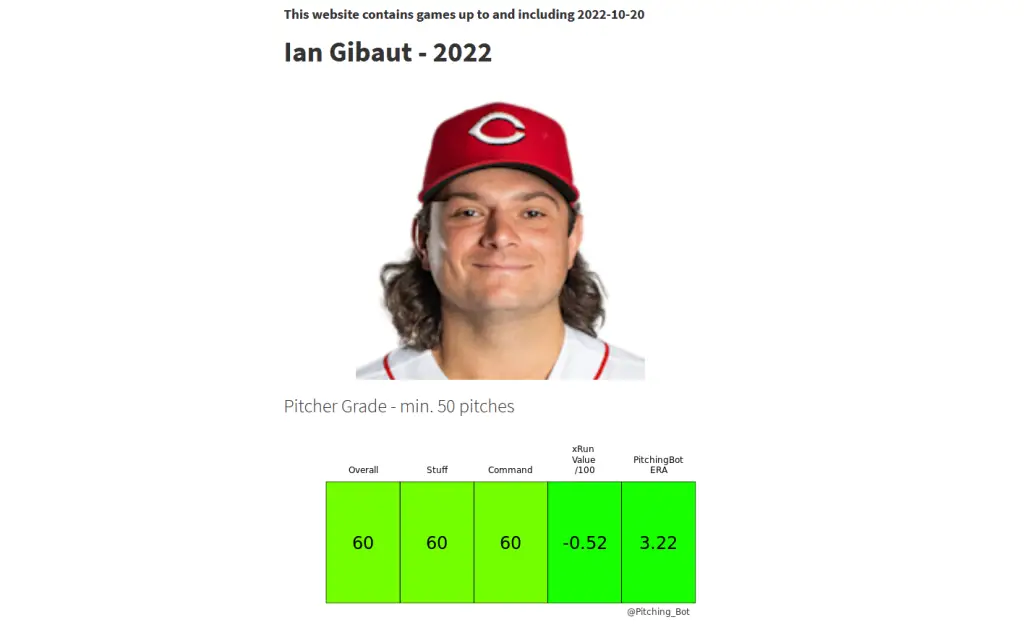 Seen above from the Pitching Bot website is Gibaut's Stuff, Control, and Overall grades, combined with his expected run value and the estimated pitching bot ERA, which is notably over a run below Gibaut's actual ERA during the 2022 Season. For reference, Edwin Diaz's dominant 2022 season had his stuff at 80, command at 50, and overall at 70. This makes Gibaut's scores on this Bot all the more surprising. He was showing as an above-league-average pitcher with a lot of potential going into 2023.
His pitches also all grade above average, but his slider and change-up grade exceptionally well. With four average to well above average pitches, I see Gibaut being a very good swing-man to bridge the gap to Alexis Diaz in the ninth inning, which will be a force to be reckoned with every other day from the seventh inning onward.
Looking Ahead to Next Year
The Reds Bullpen next year, barring any injuries, gives me a lot more hope than I had to go into either the 2021 or 2022 seasons, with a good amount of pitchers who have either had success in the major leagues or have shown a lot of promise in their time with the Reds.

The first seven names on this chart for the Reds projected 2023 Bullpen give me a lot of hope. Diaz, Sims, and Antone have all been very good relievers, even though Antone and Sims have had a lot of injury issues as of late. Reiver Sanmartin looked amazing out of the bullpen last year and is especially useful as a lefty. And a back end of Santillan, Farmer, and Gibaut (whom I project to slide up this depth chart) is extremely solid.
Reds fans have something to look forward to this season, and that's a more steady bullpen that doesn't have to rely on the "waiver boys" of 2021-22. Maybe tune into a Reds game sometime in Mid-June as they tread water around .500 and watch Ian Gibaut strike out the side. I know I wouldn't be surprised.