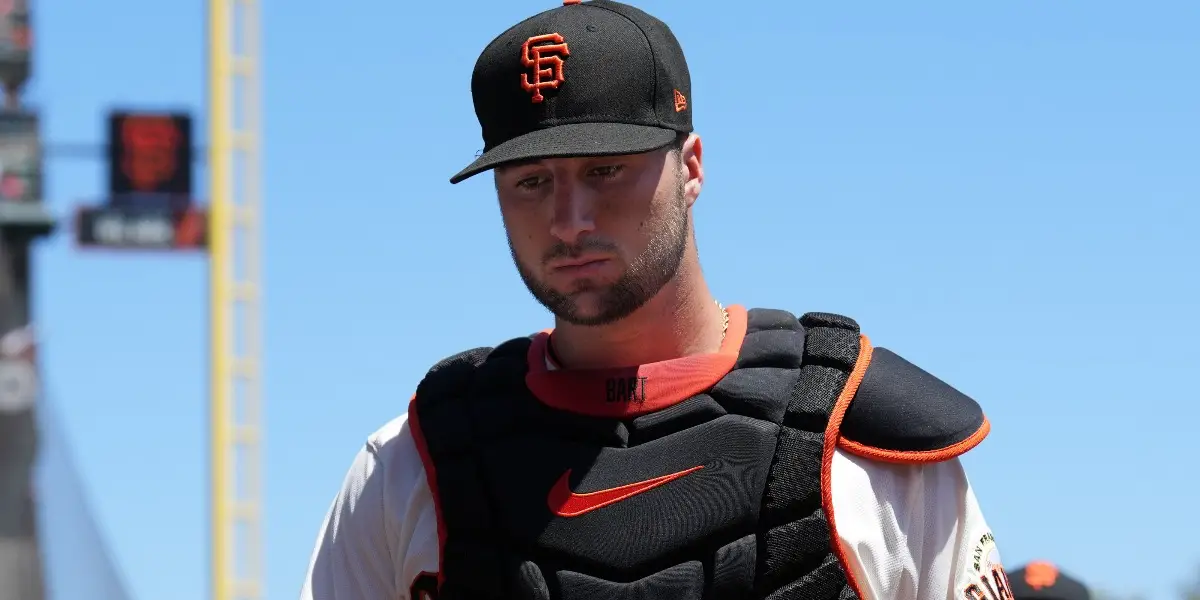 The Giants enter camp with a problem they haven't had to deal with in over 15 years. Their catching position is up in the air as they start spring training, and they don't have a set starter. Their options to fill the two catching spots are Joey Bart, a former number 2 overall pick and the starter from last season. Austin Wynns, the backup from last season. Roberto Perez, a veteran, and former Gold Glover, and Blake Sabol, an intriguing Rule-5 pick who doesn't have much pro catching experience.
Joey Bart
Bart enters as the incumbent. However, a spot on the roster isn't guaranteed for him. He made the Opening Day roster in 2022, but after three months of poor performance, he was sent down to Triple-A. He was recalled a month later and stayed with the big league club till the end of the season.
His 2022 stats leave much to be desired, as he hit a .215/.296/.364 slash line, with a 38.5 K% that ranked third-worst in baseball, minimum 250 PA. Some teams, like the Astros, are willing to overlook poor offensive performance from their catchers if the catcher provides excellent defense, yet Bart wasn't particularly good on that side of the ball either. He had pedestrian framing numbers and only threw out 20% of potential base stealers, well below average. With the new rule changes expected to increase stolen base attempts this season, Bart will need to show marked improvement if he expects to make the Opening Day roster.
Manager Gabe Kapler recently told reporters, including Andrew Baggarly of The Athletic, "He's had some moments of performance at the major-league level, (but) I don't think the body of his career has earned a surefire inside track to the No. 1 catching job. And the only way that happens is through earning it and making it abundantly clear that he should be our starting catcher."
Austin Wynns
Wynns was brought in last season to backup Curt Casali after the Giants sent down Bart and responded by posting a .259/.313/.358 slash line, good for a 92 wRC+. Wynns defensive metrics weren't particularly good either, but he earned the trust of the coaching staff and the pitching staff. However, his weak track record, combined with his poor offensive and defensive showing last year will make it tough for him to make the roster this season.
Roberto Perez
Perez was brought in on a minors deal, and if it were 2020, we would all be freaking out right now. It's 2022, though, and Perez comes in with three straight up-and-down injury-marred seasons. If the Giants wanted someone to shore up their defense, they certainly brought in the right man for the job. Perez is a two-time Gold Glove winner, throwing out a career 39% of base stealers and historically having well above average framing numbers.
The big questions with Perez are his health and how well he performs offensively. Perez has spent significant time on the IL in each of the last three seasons for a hamstring strain, shoulder inflammation, and a finger fracture. His offense also is a huge question mark, as the last four seasons where he accumulated more than 150 PA's have resulted in wRC+s of 56, 102, 41, and 73, not exactly stellar showings. In 2019, he did notch a career-high 24 homers, and the Giants certainly hope he can rediscover that form and earn a spot on the roster.
Blake Sabol
Sabol is the wild card of this group. As a Rule-5 pick, he must make the Opening Day roster or be offered back to his original team (the Pirates). Sabol also has the least experience out of this group, logging only 94 professional games at catcher. He is a defensive question mark, catching only 14% of base stealers (keep in mind this was in Double and Triple-A, where they already had the bigger bases) and allowing 11 passed balls in 563 innings. Sabol could benefit from a camp with big league coaches, and getting more reps behind the plate will be a top priority once spring games start.
In the minors, Sabol demolished pitching in Double and Triple-A last season, recording a 124 WRC+ in AA and a 157 wRC+ in AAA. As the only lefty in the group, he could have a leg up if the Giants prefer a platoon at catcher. He also plays outfield, giving them a bit of extra versatility if needed.
Gabe Kapler summed up the catching position well: "A completely open competition," Kapler said. "Four catchers, all of them with an equal opportunity to earn both playing time and roster spots."
The Giants will have to decide which combination of these catchers deserves a spot on the Opening day roster. No player has a leg up on the other, and with all of them fighting for a spot on the roster, every called pitch, every swing, and every throw could make or break their chances of making the Opening Day roster.