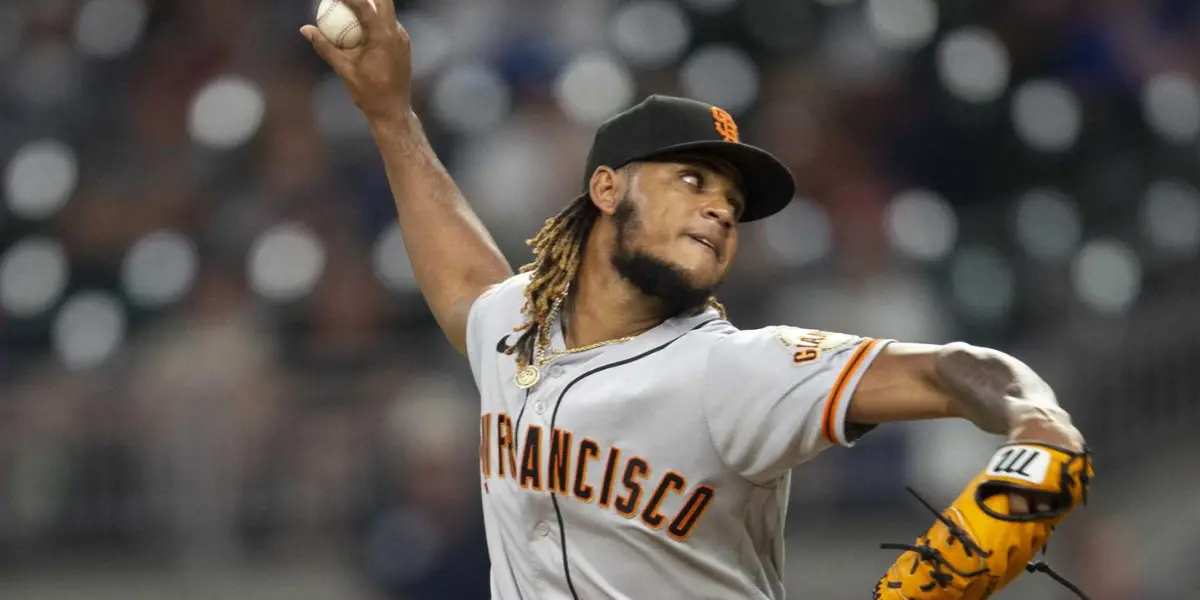 104 MPH with late snap is nearly impossible to hit, let alone make contact with. Add in the daunting factor of not knowing exactly where it's going? A major league hitter's nightmare.
Camilo Doval came on to the Big League scene, making his debut on April 18, 2021, after being fast-tracked through the minors (28 games in AAA in 2021), including no 2020 season. He struck out two of three batters he faced against the Miami Marlins in a crowdless COVID game early in the season. Doval would go on to appear in 12 more games before being demoted back down to AAA due to lack of command. That year the San Francisco Giants went on to win a shocking 107 games. Doval averaged 3.00 BB/9 but finished with that respectable number after he tweaked some things before coming back up in August and eventually taking over closer duties for Jake McGee during the season's final weeks.
The flamethrowing Dominican, who is still a young 25, began consistently throwing in the 98-100 MPH range instead of 100-102 to take command of the strike zone better. Also, throughout 2021, Doval was relying more and more on his slider, something that would frustrate many Giants fans, instead of him using his heat to put away batters. When Doval returned in August 2021, he settled in nicely and converted three saves in the final week of the regular season. He was using his fastball/slider combo efficiently, keeping batters unbalanced at a premium. Doval was awarded NL Pitcher of the month for September. His season, unfortunately, concluded on a sour note, as in Game 5 of the NLDS against the rival Los Angeles Dodgers, Doval went too slider heavy, tossing 13 of 16 pitches that weren't fastballs. The result in his 8th inning appearance? 2 hits, the go-ahead run, no strikeouts, the loss, and the end of a magical season.
Fast forward to 2022, Doval added opposite movement. Introducing a sinker that moves low in on righties and away from lefties, Doval finally put together a deadly combination of pitches: the fastball (slight cut movement), slider, and a sinker (two-seam).
PITCH USES
2021: FB-41.6% SL-58.4%
2022: FB-56.4% SL-43.6% SI-18.4%
While averaging 99.0 on his fastball, 87.8 on his slider, and low-to-mid 90s with the sinker in 2022, Doval showed elite closer potential throughout the season. He finished with 27 saves while only blowing three opportunities alongside a 2.53 ERA and 10.64 K/9. Although he did finish with a higher walk rate, 3.99 BB/9, Doval had a strong season in a bullpen that struggled to find consistency and more save opportunities. San Francisco finished 17th in baseball with 61 save chances. He was again awarded NL Pitcher of the Month in September.
Entering 2023 with the bullpen addition of Taylor Rogers this off-season, the late season surge of Scott Alexander, and more John Brebbia used as a pure reliever, Doval will have some help in the later innings regarding all-around depth for relievers. Given an offseason of bettering his pitch selection and it being only the third season of his young career, Doval can easily see better strikeout numbers and decreased walks. Also, with more bullpen help, he could be used less in non-save opportunities and be fresher throughout the longevity of a 162-game season.
If he stays healthy, Camilo Doval will be in the conversation of being selected as a National League All-Star in 2023.