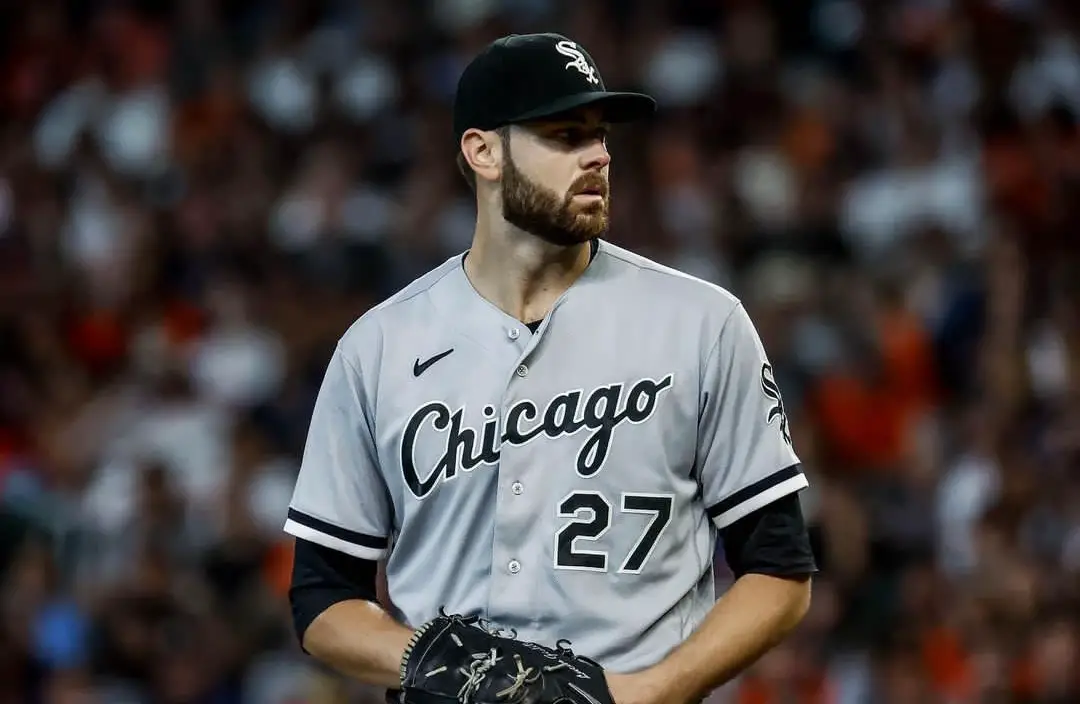 The MLB trade deadline is arguably the most exciting deadline in all of sports. There's way more action throughout deadline day in baseball than really any other major sport. While there may not be as much drama as far as some of the biggest names in baseball being available, we could still be in for an eventful day on August 1. Here are some predictions that could be made for the trade deadline.
White Sox trade Lucas Giolito to Houston Astros
This article will not feature trade packages, I'll simply make predictions on where players will land.
Giolito is definitely one of the biggest names available at the deadline this season. This season has been a disaster for Chicago and they will almost certainly be sellers. They are 15 games below .500 and 8.5 games (as of me writing this on Mon, July 17th) back of Minnesota in a weak AL Central division. The Houston Astros are WS contenders, and as I look at their roster, I could see them pursuing one of the best starting pitchers available. Perhaps knowing the Rangers are interested could push the Astros to make this happen.
Other fits: Rangers, Reds, Orioles, Dodgers
Tigers trade Eduardo Rodriguez & Alex Lange to Texas Rangers
I'll just make an assumption/guess and say the Giolito trade will happen before this one and force the AL West leading (as of me writing this) Rangers to make a move. With as much money as the Rangers have spent the previous two off-seasons, falling short of a playoff berth this year would be extremely disappointing. E-Rod is 30 years old, so it's not like he's an untouchable young ace, but when he's on, he is next-level dominant. A little more consistency would be ideal for Rodriguez, but he's having a great season. Alex Lange has been one of the better relief pitchers in baseball this season. Pitching is undoubtedly an area the Rangers will look to improve on at the deadline. This would be the best opportunity for the Tigers to put together a package deal as Texas would be addressing the starting rotation and their bullpen. Texas recently traded for Aroldis Champman, adding Lange would give the Rangers a dynamic setup & closer duo.
Other fits: Astros, Reds, Dodgers, Rays
Nationals trade Jeimer Candelario to Arizona Diamondbacks
The Arizona Diamondbacks seem like a great fit for Candelario. Evan Longoria could play primarily against left-handed pitchers while Candelario played 3rd base against right-handed pitchers. Candy could also see some time at DH for Arizona. For years in Detroit, he was quietly super productive and sometimes very consistent. Candelario currently is tied for 2nd in the NL with 27 doubles. It would be a great addition for Arizona, and they would not have to give up too many good prospects.
Other fits: Brewers, Marlins, Twins
Cardinals trade Jordan Montgomery to Tampa Bay Rays
Sure, Montgomery isn't the most exciting pitcher on the market, but it makes sense, and he's had a pretty solid season. The Rays need pitching and could look to add a lefty to their rotation. The Rays were the first team to 60 wins, but the Baltimore Orioles remain hot on their tail for the lead in the division. Montgomery has a 6-7 record this season with a 3.23 ERA and 1.223 WHIP. It would definitely be a great addition for a team that has a pretty solid rotation already.
Other fits: Reds, Phillies, Orioles, Rangers
Cubs trade Marcus Stroman to Los Angeles Dodgers
The Dodgers need some pitching help. Losing their ace, Walker Buehler, was a massive blow. Marcus Stroman makes a lot of sense. He's 10-6 already this season with a 2.88 ERA and 1.087 WHIP. The addition of Stroman definitely strengthens the Dodgers' rotation.
Cubs trade Cody Bellinger to Houston Astros
Here's a fun trade idea. Although Bellinger no longer plays for the Dodgers, LA fans would probably feel sick to their stomachs if this happened. Almost everyone ruled out Cody Bellinger and thought his days as a productive hitter were over. Most of us are being proven wrong. It's mid-July, and Bellinger is batting over .300 with 26 extra-base hits, including 12 home runs. This would be a terrific addition to any team. Jose Abreu is getting up there in age, so there could be opportunities for Bellinger to play some first base in-between starts as the outfielder. The Astros could make a move for Bellinger at the deadline.
Other fits: Orioles, Phillies, Reds,
Tigers trade Michael Lorenzen to Cincinnati Reds
The first reunion of the article. I think it would sense for both teams. Reds are showing they can be contenders with a couple of pieces. While I don't think they'll be making big splashes, a trade for Lorenzen just feels right. He will be a free agent next season, so it would make sense for the Tigers to try and get something for him before he almost certainly departs from the team in free agency. Lorenzen would be a big help for Cincinnati as they look to battle for the NL Central.
Other fits: Rays, Red Sox, Braves, Phillies
White Sox trade Lance Lynn to Arizona Diamondbacks
I honestly don't think it will take a lot to acquire Lynn, who has struggled a bit in 2023. A change of scenery could be huge for Lynn. The Diamondbacks make a lot of sense since this wouldn't be a huge splash and I feel like the two could easily work out a deal with the D-Backs deep farm system. At this point in the article, I would have the D-Back adding a bat, and a veteran starter to their rotation. I would call this a successful deadline for Arizona.
Other fits: Rays, Rangers, Reds, Phillies,
White Sox trade Tim Anderson to Los Angeles Dodgers
It's shocking how bad Tim Anderson has played this season, but you can't ignore the fact that he's still young and, at one point, was one of the biggest stars in baseball. I think playing on a non-competitive team took a lot out of Anderson. If you've watched White Sox baseball enough times with Anderson in the lineup, you'll know he's a fiery and energetic player who feeds off the energy of the crowd. It's safe to say that there hasn't been much energy at Guaranteed Rate Field this season. As far as why this makes sense for the Dodgers, it just seems like something they would do.
Other fits: Yankees, Marlins, Cubs,
Mets trade David Robertson to Atlanta Braves
A trade between division rivals is rare, but when they do happen, a relief pitcher is usually the big get in the deal. It's pretty simple really, the Braves need a relief pitcher, the Mets haven't been good this season, Robertson has been excellent this season, and he'll be a rental, so it won't cost much. Obviously, there are plenty of relief pitchers available so the Braves shouldn't have an issue with making a deal for one.
Other fits: Rangers, Orioles, Cubs,
Cardinals trade Jordan Hicks to Baltimore Orioles
The Orioles already have a great bullpen, but they have an opportunity to make it elite with some great relief pitchers available at the deadline. Jordan Hicks could likely be the most heavily pursued relief pitcher on the market. Despite having a 1-6 record, Hicks has a decent 3.86 ERA. Most importantly, Hicks is only 26 years old, and he still has a lot of potential to get better. I think this trade would make a lot of sense for both sides.
Other fits: Rangers, Braves, Rays
Red Sox trade Justin Turner to San Francisco Giants
The Giants are in striking distance of 1st place in the NL West and could at least be very strong wild card contenders. San Francisco could go after a pitcher or a middle-of-the-lineup guy at the deadline and the addition of Turner makes a lot of sense. The Giants have seen a lot of Justin Turner over the years as he was a long-time Dodger. They know he is a very valuable asset when he's playing well. Turner has been having a great 2023 season. He's slashing .290/.360/.474 and has 36 extra-base hits, including 14 Home Runs.
Other fits: Blue Jays, Yankees, Twins, Mariners
Red Sox trade Adam Duvall to Toronto Blue Jays
Toronto will obviously be looking to add a pitcher at the deadline, but a right-handed bat is a need for the Jays as well. Although division rivals making a trade is rare, I wouldn't be surprised to see it happen with Boston and Toronto at the deadline. Duvall has had a pretty good season slashing .252/.321/.528.
Other fits: Braves, Mariners, Marlins, Phillies
Mets trade Tommy Pham to Philadelphia Phillies
Oh boy, another trade between division rivals. Although it really doesn't seem like something the Mets of all teams would do, they need to try something new because what they are doing now is leading to no success and quite frankly, it's embarrassing. The Mets have the highest payroll in baseball and yet they can't put a competitive team on the field. Bryce Harper is moving to first base and Kyle Schwarber is expected to play more at DH, so a corner outfielder could make a lot of sense for Philly. Pham was quiet to start the year but since May he's heated up and has been playing well. It would make a lot of sense for the Phillies to pursue him.
Other fits: Blue Jays, Braves, Mariners, Marlins,
Athletics trade Brent Rooker to Miami Marlins
Even the Oakland A's didn't know Brent Rooker would be arguably their biggest trade piece at this point in the season, but here we are. Rooker's 2023 campaign came out of nowhere. He's slashing .241/.335/.470 with 29 extra-base hits, including 16 home runs and 44 RBIs. The Miami Marlins are having a great season and are expected to he mini-buyers at the deadline. A trade for Rooker makes a lot of sense.
Other fits: Blue Jays, Mariners, Yankees
Cardinals trade Jack Flaherty to Toronto Blue Jays
The Blue Jays will look to add a starting pitcher to their rotation at the deadline. They aren't in the best position to win the AL East, but they are still contenders. Although some people have the Blue Jays linked to Rodriguez, Stroman, Montgomery, and Giolito, I think it's more realistic to think the Jays will acquire someone like Flaherty. I don't think they should be too aggressive at the deadline. Flaherty would still be a solid addition for Toronto.
Other fits: Rays, Diamondbacks, Reds
Rockies trade CJ Cron & Brad Hand to Milwaukee Brewers
The Brewers are well within reach of the postseason. They could be buyers at the deadline, but I don't think they'll be super aggressive. They could use a bullpen arm and a bat, the Rockies are sellers, I wouldn't be surprised to see this happen. Cron is a great option for the Brewers as they could use a 1st baseman. They need help in the pen, so why not throw Brad Hand into the mix as well.
Other fits: Twins, Mariners, Rays, Cubs
Cubs trade Kyle Hendricks to Baltimore Orioles
I feel like the Orioles will add a starting pitcher to their rotation. Kyle Hendricks has been efficient this season after suffering a season ending injury last season. It feels like it would be a good fit. It wouldn't cost the Orioles much considering Hendricks would be a rental, which I think is important because I don't see the Orioles being over aggressive.
Other fits: Rays, Rangers, Blue Jays, Reds
Mets trade Brooks Raley and Mark Canha to Minnesota Twins
Brooks Raley is having a great season for the Mets. In 40 games, Raley has a 2.18 ERA. The Minnesota Twins need some bullpen help. I think Raley will help Minnesota in the bullpen. They could also use some depth in the outfield and at first base. Canha would be a good fit.
Other fits: Brewers, Orioles, Reds
Royals trade Scott Barlow to Los Angeles Dodgers
We've already seen the Dodgers add Stroman and Anderson in this article so far, but they also need a bullpen arm. Scott Barlow seems like a great option. The Royals will be sellers, but we haven't talked about them until now. Barlow has a 3.97 ERA in 33 games this season. It would be a very solid addition to the Dodgers pen.
Other fits: Rangers, Orioles, Yankees
Rockies trade Ryan McMahon to Seattle Mariners
Perhaps I'm missing something here, but it's surprising that McMahon isn't receiving much trade deadline hype. He's been very solid at the top of Colorado's lineup all season. The Mariners feel really good about their rotation and overall pitching core. They definitely need to pursue a bat at the deadline. McMahon is a versatile infielder, so the Mariners will find plenty of opportunities to get him in the lineup. This would be a big help for a Seattle team that's surprisingly underperformed a bit this season.
Other fits: Brewers, Twins, Yankees
Red Sox trade James Paxton to Cleveland Guardians
I don't think the Cleveland Guardians will be sellers at the deadline. I think they will try to win the American League Central. At the same time, you won't be hearing about them much at the deadline. I see them making just this small move to add a veteran lefty to their rotation. Paxton has been pitching excellent in his return to the mound this season. He doesn't bring much value to a Red Sox team that is tied for last place in their division, so why not trade Paxton while he's playing well. This move could definitely help the Guardians in their attempt to chase down the Twins.
Other fits: Rangers, Dodgers, Rays, Reds
Pirates trade Carlos Santana to San Diego Padres
It's unlike the Padres lately to stay quiet at this point in the season, but there's not really any reason to be big spenders at this deadline. However, they might look to make a small move and go get them a DH upgrade.
Other fit: Brewers
Rockies trade Jurickson Profar to New York Yankees
2023 has been a disaster for the Yankees, and I don't see it getting any better. They need some outfield help, but I don't see any reason why they should be big spenders, just like the Padres. Jurickson Profar would be better than nothing though, and would be a little bit of an upgrade.
Other fits: Marlins, Phillies, Giants
Twins trade Max Kepler to Seattle Mariners
This is probably one of the most unrealistic predictions of the article, considering the Twins probably aren't in a rush to get Kepler out the door. He has struggled through this season, and maybe if the right offer comes along, the Twins would be okay with letting him go. It would provide great offensive depth for the Mariners.
Other fits: Marlins, Phillies, Yankees