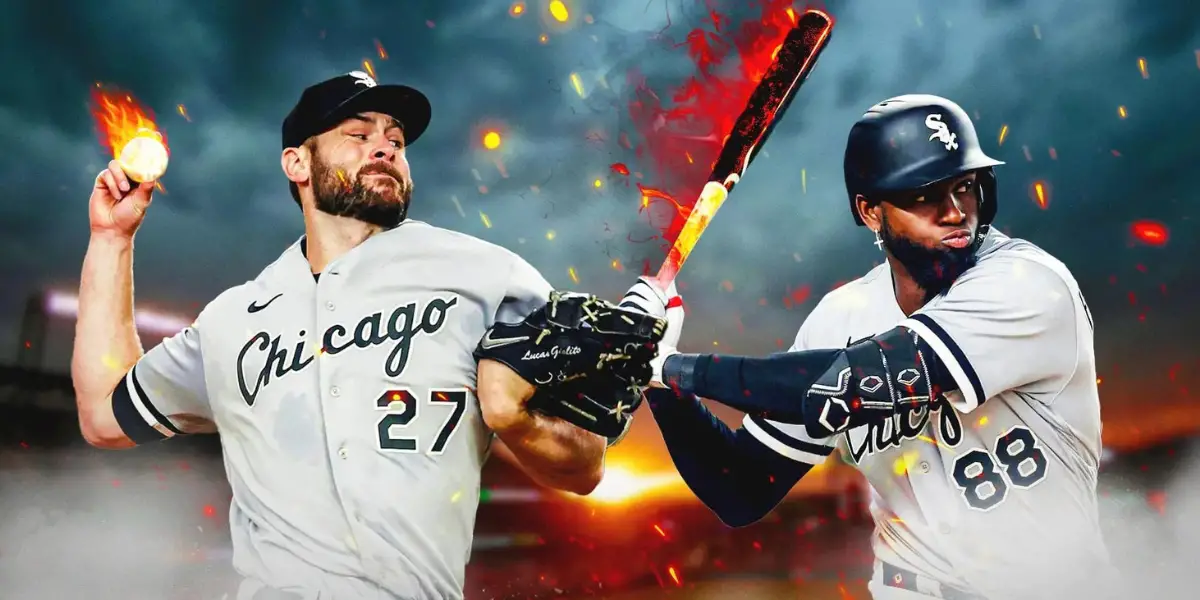 The Chicago White Sox have been underperforming for over a year now. Between injuries, playing out of position, and just never "clicking," it looks as though 2023 might be the year the White Sox officially call it quits on their long-anticipated rebuild. If this is the deadline that many prominent pieces go, what are some moves the White Sox should look to make?
Related Article: 25 MLB Trade Deadline Predictions
Lucas Giolito
Current Contract: 1 yr/$10.4 million
Potential Trade: Los Angeles Dodgers receive RHP Lucas Giolito, White Sox receive C/2B Yeiner Fernandez, and OF Jose Ramos
Lucas Giolito has been a staple at the front of the White Sox rotation since 2018, with a tenure including multiple Opening Day starts, two playoff appearances, and a no-hitter in 2020. His 4.17 ERA through 160 starts with the White Sox makes him a valuable asset to a team looking for a final piece in the rotation to make a push to October. The California native has been shown interest by the NL West leaders, who have plenty to bargain with, as their pipeline sits at #2 in MLB's 2023 Preseason Farm System Rankings. Giolito could fill the role of Dustin May, who is on the 60-day IL, or generally serve as a back-of-rotation starter for the Dodgers.
Fernandez and Ramos sit at #14 and #20 in the Dodgers pipeline. With the White Sox's recent first-round pick of Jacob Gonzalez (SS, Ole Miss) in 2023 and Colson Montgomery (SS, Southridge High School) in 2021, catching and outfield play will likely be two of the greatest areas of need for the White Sox.
Dylan Cease
Current Contract: 1yr/$5.7 million
Potential Trade: Houston Astros receive RHP Dylan Cease, White Sox acquire LHP Colton Gordon, and OF Drew Gilbert
The Astros recently became public about their interest in Cease and other top starters around the league. The reigning World Series champions are looking to repeat, and the 2022 AL Cy Young runner-up would be a good piece to add. After losing the 2022 Cy Young in Verlander this offseason, the rotation could quickly add another dominant pitcher, and a change of scenery may bring Cease to find his control and efficiency again.
Trading for a pitcher like Cease would likely cost the Astros a decent haul. They sit below the White Sox in the MLB's preseason farm system rankings, falling into the bottom five league-wide. That haul may be their top pitching prospect in Colton Gordon and their only prospect who cracks the MLB's Top 100 Prospects, Drew Gordon, and there's a good chance the White Sox will demand even more.
Tim Anderson
Current Contract: 1yr/$12.5 million club option ($14 million club option in 2024)
Potential Trade: Miami Marlins receive Tim Anderson, White Sox receive RHP Karson Milbrandt
Tim Anderson has historically been the heart and soul of the White Sox, but his 2023 campaign, mixed with underwhelming team performance, has put him on the trading block for this deadline. Not many teams in contention are lacking in the middle infield, particularly when looking at trading outside the division. Anderson brings a certain grit and swagger to the game when he is on and could be an amazing pairing with Jazz Chisholm to make Miami an entertaining and marketable team. Joey Wendle and Luis Arraez are already high-quality middle infield. However, Arraez's experience in a utility role in Minnesota gives the Marlins flexibility, and Wendle's contract ends after this season. At the same time, Tim Anderson is due for a club option and could be retained without negotiation. These factors combined make space for Anderson in Miami to reset away from the south side and start fresh. Anderson and Arraez could be the most consistent batters reaching base in the league if Anderson could find his old self in Miami.
This trade doesn't offer much for the Marlins, so a payment of the Marlins' #15 prospect in Milbrandt would be enough to get it done. Despite not being listed on the MLB's Top 100 Prospects, Milbrandt is a great athlete and could be a project to look forward to under Sox pitching coach Ethan Katz.
Lance Lynn
Current Contract: 2yr/$38 million (facing $18 million club option in 2024)
Potential Trade: Brewers receive RHP Lance Lynn, White Sox receive 3B/OF/2B Tyler Black
The Brewers sit atop the NL Central with the Elly De La Cruz and the red-hot Reds slowly trying to close the gap. A 60-day IL stint with Brandon Woodruff leaves the Brewers as potential buyers for a pitcher, and the youth on their team allows space for a veteran mid-to-back of rotation starter like Lynn to serve as a workhorse and eat up innings and keep high-quality relievers like Devin Williams well rested for a playoff push.
With Lynn's slight stagnation over the last few years, combined with his age likely not making him a part of the future for the Brewers for the next decade, the Crew won't need to give up many prospects for the trade. Their #5 prospect and MLB's #98 has the talent to be an MLB starter. However, the Brewers' rich talent in the lineup doesn't offer Black a spot to play, and the top 10 farm system gives them room to afford shopping him for a piece that would provide them a deep playoff run.
Luis Robert Jr.
Current Contract: 6yr/$50 million ($20 million club option in 2026)
Potential Trade: None.
Luis Robert has been the best player on the White Sox in 2023, and his long contract, youth, and promising career arc makes him a very valuable trade piece if the White Sox were to blow up the ship completely. Many teams would pay a pretty penny to get a player like Robert Jr. on their roster. However, the White Sox will likely (or at least should) keep Robert Jr. as a centerpiece of their rebuild. If the south siders can keep him and his talent for his career like they were able to with Jose Abreu, there is a very slim chance that they regret it.