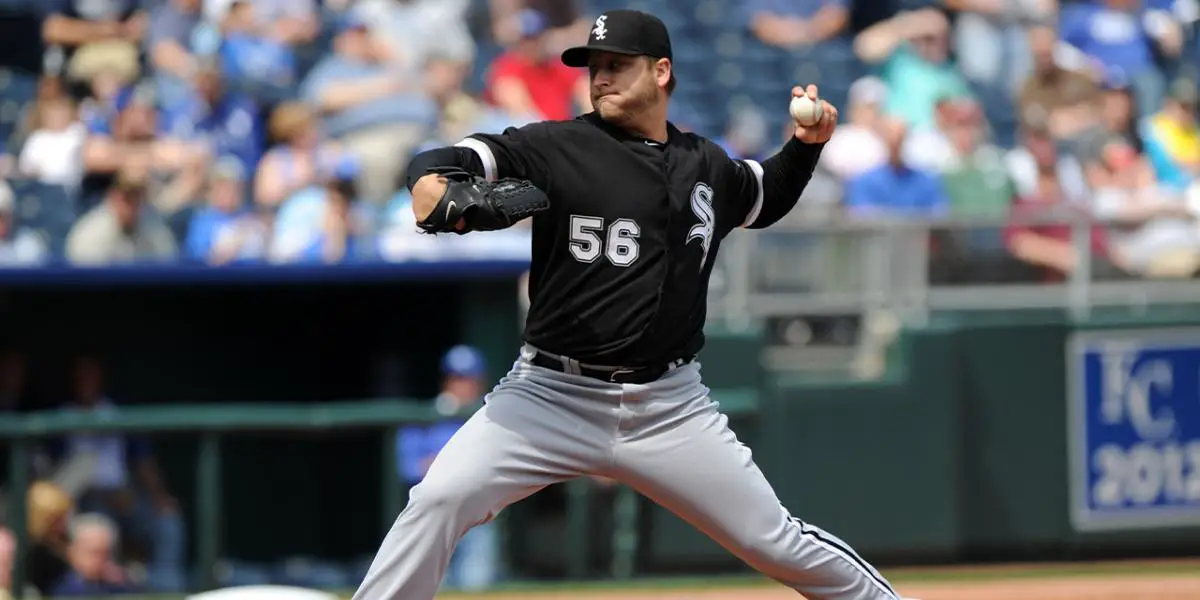 Mark Buerhle is a one-of-a-kind pitcher as a matter of efficiency and consistency while still reaching an incredibly high peak. There are a multitude of reasons why he belongs in the Hall of Fame, so for the purposes of this article, we're going to split it up into two categories: anecdotally and statistically. In other words, what storylines make Mark Buerhle a legend, and what stats do as well?
Storylines
Let's start with one of the hottest conversations in baseball legitimacy now. He has no blemishes keeping him out. He's never done steroids, he's never gambled on games, and he's never been caught cheating or being unfair, period. In his long stay with the White Sox, he actually only received two ejections – and the ump in one of them, Joe West, was fined as a result. However, that's the expectation! There's no reason to celebrate him just for playing fair. What's the big story behind that?
Here's why that's impressive. He was one of the most efficient pitchers of all time. In an era of baseball that has decided it necessary to bring in a pitch clock, this has got to get some people's attention. He started in 37 games that took two hours and ten minutes or less. Even more impressive, there have only been 97 big league games that took two hours or less. He started in 11.3% of them (11 games).
He also performed successfully at the highest level. As a starting pitcher, he naturally started for the White Sox in Game two of the 2005 World Series. He pitched over 100 pitches, went for seven innings, and thought his work was over. Then came inning 14 of Game three. A day and a half after working his arm to the max to get his team a 2-0 lead at the biggest stage, he was the White Sox's last hope. He came in and got the save. With a tired arm, in the 5th hour of a 14-inning game, Mark Buerhle did was legends do. This is impressive enough as it is, even if you take out the fact that he was told on multiple occasions to rest because there "was no chance" he pitched that day and therefore had a few beers in the dugout. He closed out World Series Game three with a buzz going. Legend.
Numbers
Buerhle was more than just a funny guy who could pitch quickly, though. The numbers back up his historic career. Let's start with the basics. He is a 5x All-Star and a 4x gold Glove winner, with arguably one of the more impressive defensive plays out of a pitcher, which came on opening day in 2010.
But let's continue. In 2004, he led the league in innings pitched, games started, and complete games. He was one of the most reliable pitchers of all time. His pitching WAR is 60 (!!), greater than that of Sandy Koufax. He threw 200+ innings in 14 consecutive seasons. DID YOU READ THAT! In 14 straight seasons, he went out there for 200 innings or more and came awfully close in his 15th season.
Now comes the nail in the coffin. Let's talk about Thursday, July 23, 2009. Twenty-six batters up, 26 batters down. Up steps, Jason Bartlett, hitting .339 at the time, whose only mission is to get on base.
This perfect game was only one of two no-hitters in Buerhle's career, a career so impressive that a not-perfect-game no-hitter is one of the last things you bring up.
His number is, of course, retired by the White Sox. He is one of the best players in their franchise's history, where he was a World Series champion. He is one of the greatest pitchers since he came into the league and deserves to be recognized as one of The Greats. Get this man to Cooperstown.
*For more fun storylines and distinguishable accomplishments in Buerhle's career, reference this tweet from Mark Potash. Credit to him and this tweet for some included stats and features.