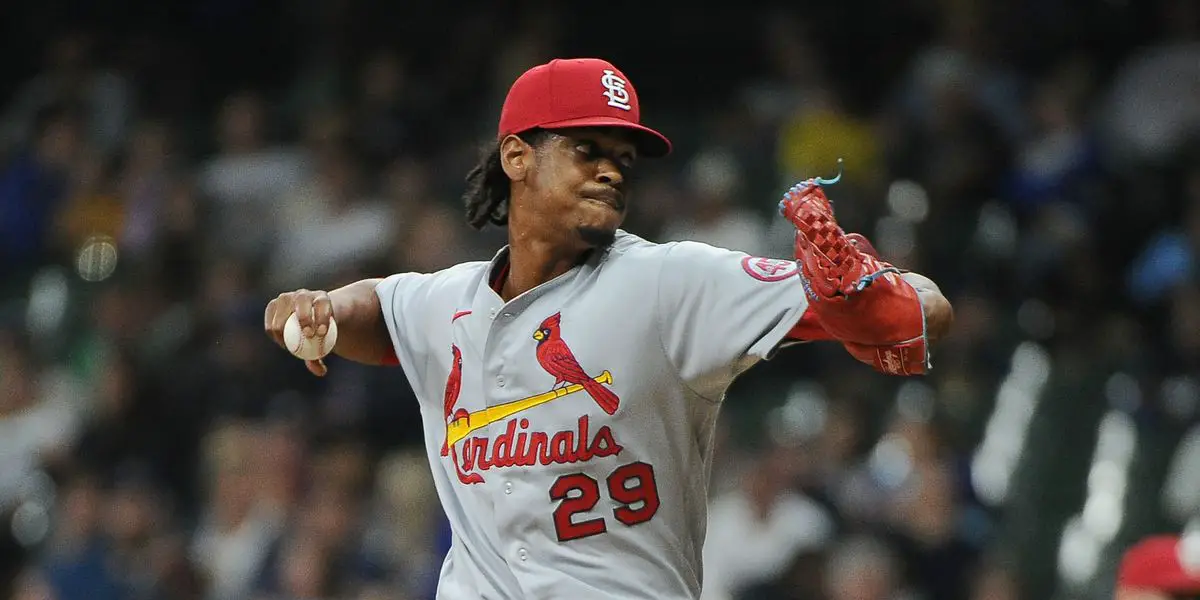 The Toronto Blue Jays bullpen has been a topic of discussion for a long time now. Lacking some of the big names at the Major League level, the Blue Jays have done an excellent job of finding value without any major financial commitments. The Blue Jays have done well this offseason, ensuring depth around the roster with the additions of Brandon Belt, Kevin Kiermaier, and Erik Swanson. However, this free-agent relief pitcher is a name Blue Jays management should be all over. 28-year-old right-hander Alex Reyes from the St. Louis Cardinals would be a fine addition to the Blue Jays bullpen. 
Alex Reyes has had his fair share of ups and downs throughout his Major League career. After not pitching in 2022 due to a shoulder injury that ended up needing surgery. The 28-year-old right-handed pitcher has dealt with injuries his whole career. In 2017, Reyes missed the entire Cardinals campaign after a UCL tear. The former top prospect had a very nice 2021 season, showing how valuable he can be when healthy. The former All-Star pitcher could bring a lot of good to the Blue Jays bullpen, and the reward is certainly worth the risk.
Now if the Blue Jays were to take a flier on Alex Reyes, the upside is there without question. Relief pitching, especially swing and miss arms, has skyrocketed in value, despite a long list of stints with the injured list throughout his career. The 28-year-old has some real flash in his pitching arsenal that can be very useful for the Blue Jays. According to Baseballsavant.mlb.com, Alex Reyes ranks in the eighty-seven percentile for strikeout percentage, ninety-fifth percentile in whiff percentage, and ninety-one percentile in fastball velocity. When Reyes is healthy, there's no question his stuff can be nasty. After being a top prospect in 2016, Reyes has never really been able to make a home at the Major League level, but with the Blue Jays' need for swing and miss in the bullpen, Reyes could be a home run addition.
If you're not sold on the velocity Alex Reyes would bring to this Blue Jays bullpen, then maybe this will. According to Baseballsavant.mlb.com, Reyes is ranked in the seventy-two percentile for fastball spin and eighty-seventh percentile in curve spin. It's clear Alex Reyes's pitches have some serious movement, you don't have one-hundred and seventy-seven strikeouts in one-hundred and forty-five career innings for nothing. Reyes has a five-pitch arsenal that includes his four-seam fastball, slider, sinker, changeup, and curveball. According to Baseballsavant.mlb.com, Alex's most used pitch is his four-seamer (30.7%), but the 28-year-old does use a fair mix of his slider (28%) and sinker (23.8) as well. 
Another reason Alex Reyes would be an intriguing gamble is his resume. Despite only one-hundred and forty-five career innings, Reyes has a 2.86 earned run average and a 1.34 career WHIP. Those are pretty solid numbers for a bullpen arm that shouldn't command too much in a 'Prove it' type deal. Another thing to note about the 28-year-old is his closing experience. Reyes has a total of thirty-one saves in his career, twenty-nine of which came in his All-Star 2021 season. With the Blue Jays' addition of Erik Swanson, another season of Anthony Bass, and still having Jordan Romano, the Blue Jays have the luxury of being patient with Reyes. I think the fit for both sides should be intriguing, especially because of how the Blue Jays coaching staff could deploy him and get him back into his groove. 
Undoubtedly, the Blue Jays and Alex Reyes would be a nice fit. As I mentioned, I'm sure both sides have interest, and I'd expect a decision from Reyes shortly. However, there is some risk with bringing in the former All-Star, but like any transaction, there will always be a risk. If the Blue Jays can bring in Reyes and let him go on a bit of a run, slowly build him up and keep him healthy. I have no doubts that by the time late July comes, Blue Jays fans will be glad they brought in the former Cardinals right-hander. 
Thanks for reading! For more baseball content, follow my Twitter at @ITR_Anselmo.