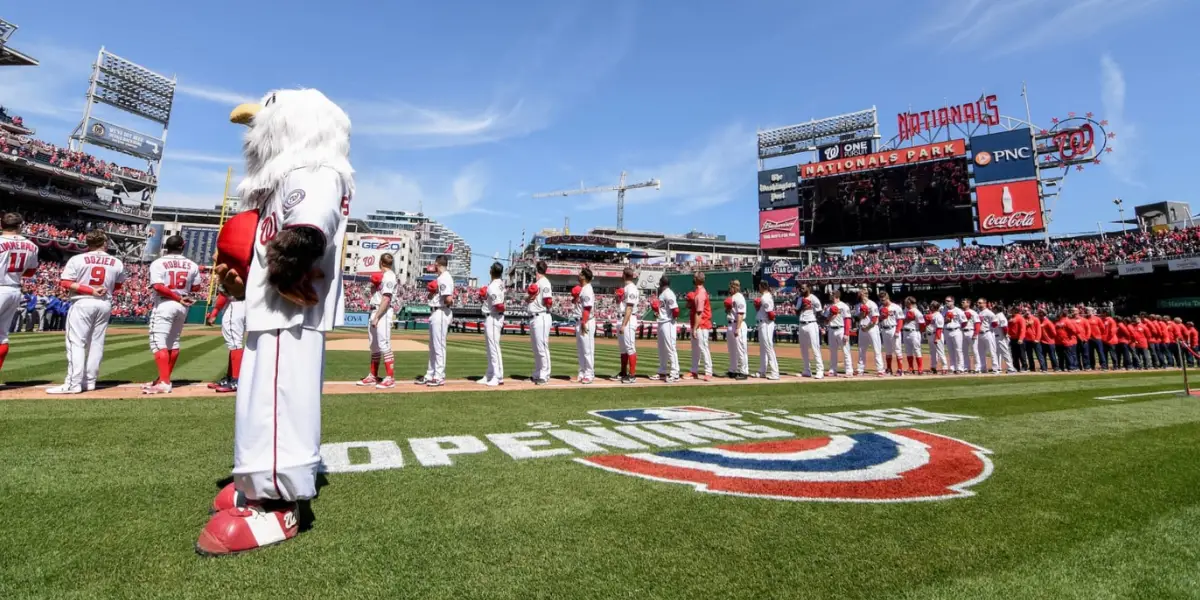 With Opening Day just ten days away, MLB managers now have the possible headache of choosing the team's Opening Day Starter. Some teams have an easy choice, while others don't. For the majority of the last decade, the Nationals had it easy. Stephen Strasburg won the battle in 2012, and he was the guy for the next three years. In 2015 there was a bit of a battle, but it went to Max Scherzer, and he was the man from 2015-21 on Opening Day except for 2017 when Strasburg took over after a niggle delayed Scherzer's season debut.
Last year with Strasburg injured and Scherzer gone, the Nationals turned to Patrick Corbin, who had a terrible 2021, but he is one of the few remaining remnants of the 2019 team. With less than two weeks remaining, the Nationals will have to make a decision sooner than later, and it might not be an easy one. Cade Cavalli had a small shot of being the Opening Day starter, but unfortunately, he has to go through Tommy John surgery, and his replacement won't be hitting the mound on Opening Day. Let's take a look at the four options, their season expectations, and the likelihood of them starting on Opening Day.
Trevor Williams
Trevor Williams signed a two-year $13 million deal this past offseason. In 30 appearances as a starter and a reliever, he tossed 89.2 innings and had an ERA of 3.21. There could be a small chance he's the best starter on the Nationals if all goes well for him since Corbin, at best, will be league average and if Gore and Gray don't show much improvement from last year. However, it's unlikely because he'll be dealing with a full-season workload as a starting pitcher for the first time since 2019.
Williams was a solid starter from 2017-18 with the Pirates and used a 4-seam, sinker, slider, and changeup combination to induce a heavy diet of groundballs. He had an ERA of 3.56 in 321 IP over 56 starts in those two seasons. He struggled from 2019-21 with an ERA of 5.21 in 292 IP over 52 starts. It'll be hard to predict his numbers as I don't think he'll be a starting pitcher the whole year due to injuries or due to calling up other pitchers. I'd expect him to sit around the league average with a 100 IP. Since Williams is a newbie and isn't a player for the future, he won't be starting on Opening Day.
MacKenzie Gore
Last August, MacKenzie Gore was sent to the Nationals in the Juan Soto trade with the Padres. He was a top-10 prospect two years in a row before making his debut last year. Gore had an electric start as he had 48 IP in his first nine starts with an ERA of 1.50, striking out 10.7/9 and walking 3.3/9. Gore looked incredible and was all set to at least win rookie of the year in 2022 before dealing with shoulder injuries. He went through it for about two months, and he ended up with an ERA of 4.50 over just 70.0 IP. The injuries clearly had an effect as his pitch velocities significantly dipped.
Gore could've made a couple of starts last September, but the Nationals decided to play it safe so he could be prepared for 2023. Out of the three young starters, Gore definitely has the highest ceiling with a lively fastball and curveballs and sliders that have the potential to be filthy. The biggest thing for Gore is to stay healthy, which he's struggled with over the past couple of years. If the health is there, I'd expect him to pitch around 150 innings, 10.0K/9, 3.5 BB/9, and an ERA of close to 3.50. This could make him the best starting pitcher on the Nationals, which gives him a great shot at being the Opening Day starter.
Josiah Gray
Josiah Gray came to the Nationals when Max Scherzer and Trea Turner were traded to the Dodgers in 2021. He's made 40 starts since, and the numbers haven't been that great. Over 211.1 IP, he's had an ERA of 5.11, mostly because he's given 38 HR and 94 BB. Gray has shown some promise as he's struck out 9.2/9. He's showcased a top slider with a plus curveball. His fastball was good in the minors, but it hasn't translated to the big leagues yet, and that's mostly because his release point is a bit lower for the fastball, and hitters have been able to recognize it.
If Gray can fix his fastball release, it should be an effective pitch since it has good movement on it. He's also been working on adding a cutter over the offseason. He could also use a better changeup to keep hitters off balance. Another positive about Gray is he's stayed healthy. He didn't become a full-time pitcher until his later years in college. The Nationals have struggled with many injuries over the past few years, especially with their pitchers. It's good to see someone not miss any time.
Gray only tossed 148.2 innings last year over 28 starts. His turn through the rotation last year was skipped a couple of times later in the year to manage his workload, but I expect to see less of that this year since he has a full season under his belt. The key for Gray will be to improve his control and throw his fastball from the same location as his other pitches. If this happens, he could make a considerable jump. His numbers for 2023 will be around 180 IP, 9.5 K/9, 3.5 BB/9, and an ERA close to 4. Gray makes a strong case to be the Opening Day starter since he's one of the top youngsters, and he has a full season under his belt.
Patrick Corbin
There isn't much to say about this guy. After a great 2019, he's been the worst pitcher in baseball ever since. In 73 starts since 2020, in 390.0 IP, he's had an ERA of 5.82, 7.6 K/9, and 2.9 BB/9. That's a significant drop off from his numbers from 2018-19, where in 66 starts, he had 402.0 IP, an ERA of 3.20, 10.8 K/9, and 2.6 BB/9. It's been a puzzling case since his walk rate hasn't gone up by that much, and most of his pitches have kept the same velocity. If anything, his slider has seen a 5% drop in break from 2019 to 2022, but that's not too big of a difference from him going from a top to a bottom pitcher. The hitters are just finding ways to pick out his slider better. It's gone from a -25 run value in 2019 to +24 last year, a big swing. Corbin's fastballs aren't overpowering, and his changeup isn't that good, either.
There's no way Corbin will ever be good again, but he could still be closer to the league average (around a 4.50 ERA). In the last three years, he's had a FIP of 4.97, which is almost a run lower than his ERA. The discrepancy was higher last year when his FIP was 4.83, about 1.5 lower than his ERA. This indicates he's been hurt by poor infield defense, and that was on a show with Franco, Hernandez, and Escobar in the infield last year. Hopefully, having CJ Abrams and Luis Garcia up the middle will benefit Patrick Corbin. The only good part about Corbin is he stays healthy, and if he continues to do that this year, he'll throw around 160 innings with an ERA of approximately 5.00, 8.0 K/9, and 3.0 BB/9. That would show improvement from his 2021-22 campaigns. Since Corbin is the veteran starter, a 2019 WS champion, and the Opening Day starter from last year gives him an edge to be the opening day starter.
Who Should be the Opening Day Starter?
Since the team is still in a rebuild, I'd give the ball on Opening Day to a young pitcher the team has faith in to develop into a great pitcher in the future because it shows confidence in them. Also, one of the biggest, if not the largest, crowds of the season will be on Opening Day, so the fans should get something to look forward to. None of the veteran starters are good, so that leaves us with MacKenzie Gore and Josiah Gray. Gore might be the better pitcher, but I'd give it to Josiah Gray because this is his third season with the team, and he's gotten a full season under his belt already. Gray also has a 2.05 ERA in four career starts against the Braves, so it gives the Nationals a good chance at an Opening Day victory.
Who Will be the Opening Day Starter?
I think most Nationals fans would agree with Gray or Gore starting on Opening Day since they're the youngblood that can take the team forward, and it's better than watching Corbin pitch. Unfortunately, the Nationals think tank doesn't think like that. Last year they continued to play struggling veterans after the trade deadline, even though there were younger guys who did well in the minor leagues that should've gotten a shot. Corbin was the Opening Day starter last year, and he's the guy best lined up for Opening Day based on their pitching schedules, so I think Davey Martinez will decide to go with him. It will be the wrong option because he's not the future and isn't good anymore. Sure, he played a significant role in winning the 2019 WS, but we have to move on from that year and look toward the future. I'd be glad to be proven wrong, but it's unlikely.