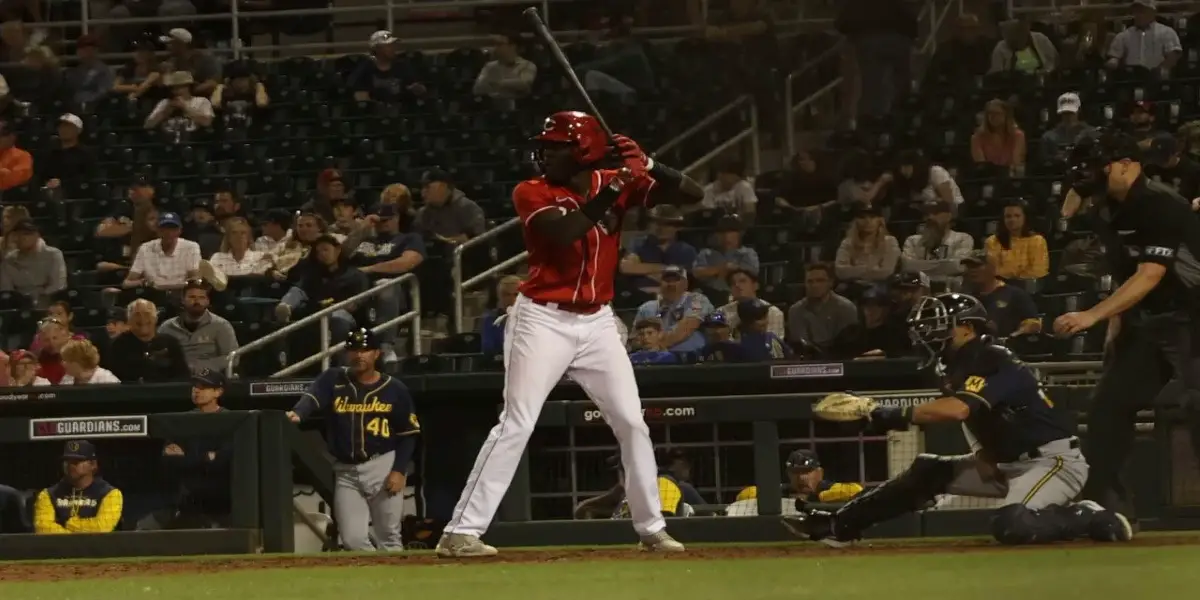 The Reds have a plethora of exciting prospects in their farm system, 4 of which were spotlighted on MLB Pipeline's Top 100 List when the preseason rankings were dropped earlier this week. Those four on the list are:
SS Elly De La Cruz (Ranked 10th)
3B/SS Noelvi Marte (Ranked 29th)
SS Edwin Arroyo (Ranked 44th)
3B Cam Collier (Ranked 69th)
Edwin Arroyo and Cam Collier are both younger than 20 and will likely be in High-A and Low-A respectively, so they won't make an impact on the Reds until 2025 or later. However, De La Cruz and Marte will likely be called up later this summer or in September when roster expansion hits. While the Reds farm system has a good number of prospects inside the Top 100 (at least according to Pipeline), they also have a ton of depth and players on the rise, especially those that can make an impact next season.
Which Rookies will Make the Majors in 2023?
Many different publications have ideas on who will make the major league roster, but there are a lot of good players on the fringe of making the major league club, or are fast risers through the Reds system. There are about ten players that I think could make the roster sometime during the 2023 season. Let's discuss who those players are, how they'll impact the Reds' major league roster this season, and who can really help the Reds tread water and make progress this season.
INF/3B Spencer Steer
Spencer Steer got called up to the Cincinnati Reds on September 1st and made his major league debut on the 2nd, where he made waves by hitting a home run to straightaway center field. After being traded to the Reds in the Tyler Mahle trade at the deadline, Steer headlined the package as a high-floor infielder with great bat-to-ball and on-base skills.
Throughout the rest of September and October, Steer hit .211/.306/.326 for a 76 wRC+. While it was a bit of a rough start, his >10% walk rate gives me a lot of hope for his plate discipline, which many scouts also really love. His minor league stats are also quite impressive, having a 120 wRC+ at the AAA level between St. Paul and Louisville last season.
The freshly 25-year-old Steer will likely be the main player to hold down the hot corner. With the Reds releasing Mike Moustakas, trading Brandon Drury last deadline, and their other third-base prospects further away, I expect Steer to get everyday at-bats at all four infield positions, but mainly at third, where he is most skilled defensively. Steer will be a good player who makes lots of contact with the baseball, has excellent plate discipline, and will sneak out a few more home runs than he otherwise might due to the smaller confines of Great American Ballpark.
CF Michael Siani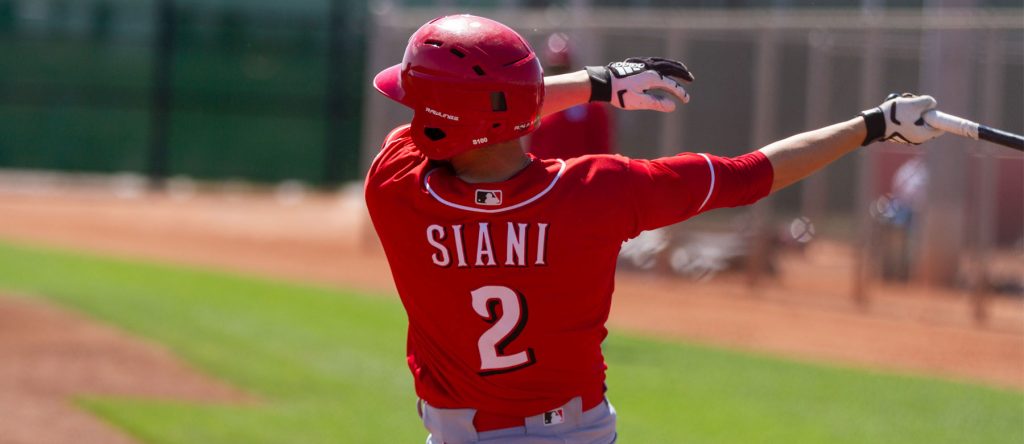 Michael Siani is a prospect that I've loved for a long time. He has excellent defense in all three outfield spots, especially in center field, has very good speed along the basepaths, doesn't strike out very much, but also doesn't impact the baseball much either. On the 20-80 scouting scale, Fangraphs ranks his future fielding value as a 70, the best in the Reds' system. If you're skeptical at all about his defense, here's a highlight from his time in 2019 with the Dayton Dragons, the Reds' High-A affiliate:
Siani likely won't be more than a fourth outfielder, but he made really good strides this year. On top of his elite defense, he stole 52 bases between AA and AAA last season and increased his walk rate from about 8% in 2018 and 2019 to above 12% in the previous two full seasons. Siani's on-base skills are a crucial aspect of his game due to his reliance on speed, and with him hitting above average this past minor league season, I have a lot of hope going into next year.
In 2023, Siani will probably be used as a late-inning defensive replacement/pinch runner or as a 4th outfielder who can give Senzel, Myers, Friedl, or Fraley a day off their feet. While this isn't an everyday player, unless Siani continues to make offensive strides, his role is still very useful. It provides elements of speed and defense to the Reds' roster that they haven't had since the days of Billy Hamilton.
LHP Brandon Williamson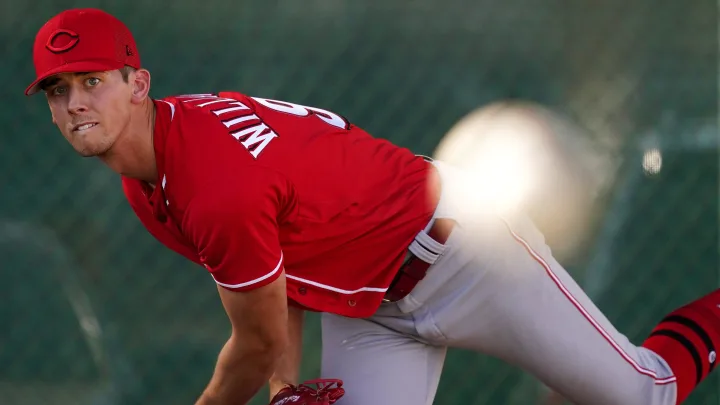 Brandon Williamson lost a bit of prospect steam during the 2022 minor league season, falling off MLB Pipeline's Top 100 between 2022 and 2023. Williamson also struggled in games as his K/9 decreased and BB/9 increased. Williamson pitched 67.1 AA innings during the 2021 and 2022 seasons, first with the Mariners, then with the Reds. Between these two seasons, Williamson's K/9 decreased from 12.56 to 9.89, but even more shocking, his walks ballooned from 3.07 to 5.39. Both aren't good, but the walks were even more of a problem when he was called up to AAA Louisville in early July, sitting at over six walks every nine innings.
If Williamson wants to make the big league club, he'll need to significantly cut down on the walks, which I think he can do. He has such a good Slider/Curveball combo that really compliments his left-handed arm slot, and Williamson really needs to hone in on that if he wants to make the Reds rotation in 2023.
Last season was Williamson's first year in the Reds system, as he was the headliner of the package that sent Jesse Winker and Eugenio Suarez to the Mariners, the Reds still got a decent return and a pitcher with a bright future.
Going into 2023, the Reds rotation is pretty well set with a good and young top three of Hunter Greene, Nick Lodolo, and Graham Ashcraft. But the back end of the rotation is much more suspect, which is currently occupied by Luke Weaver, Justin Dunn, and Luis Cessa. Cessa will likely migrate back into a relief role as the year goes on, but the 4 and 5 are much more open for surprises than the 1, 2, and 3. Thus, Brandon Williamson will likely earn a spot in the Reds' rotation in June/July if he fully settles into the Reds' organization and calms down the walks in AAA.
RHP Levi Stoudt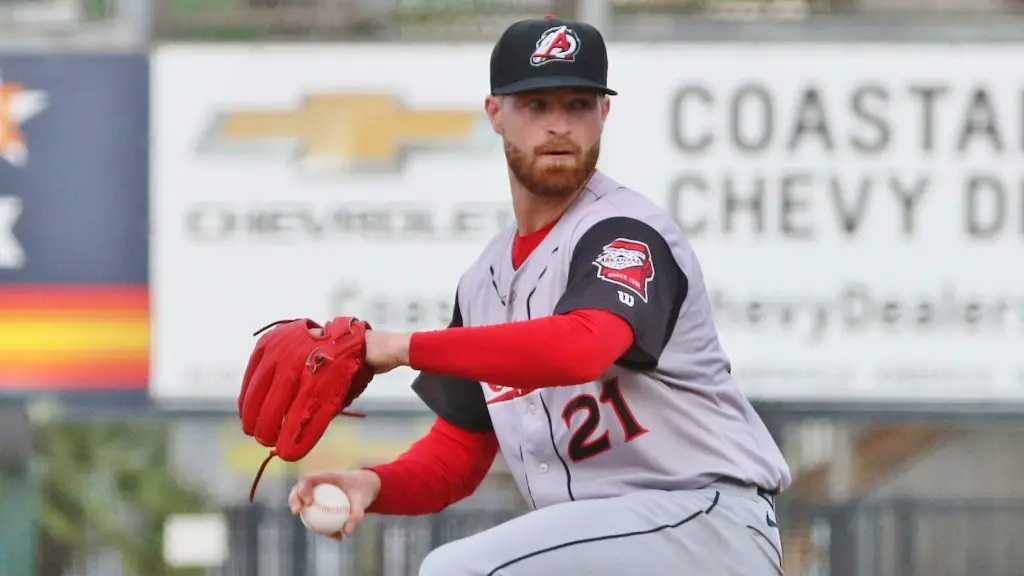 Another former Mariners minor league starting pitcher that could make his way into the Reds' 2023 rotation at some point is Levi Stoudt. He was acquired as the third piece in the Luis Castillo trade last deadline and pitched pretty well for the Mariners this season with an 8.5 K/9 for the AA Arkansas Travelers. After being traded to the Reds, Stoudt pitched very well with a 3.67 FIP in 19 innings with Louisville.
Stoudt's main strength is his command, posting a 60 future grade on Fangraphs, and he had a 2.25 BB/9 in AA last season, which is very encouraging for a potential 4/5 starter down the stretch for the Reds. If Stoudt can come up next season and give quality innings without a lot of walks and is able to not allow some sneaky GABP home runs, he could be crucial for the Reds' rotation going forward.
SS Elly De La Cruz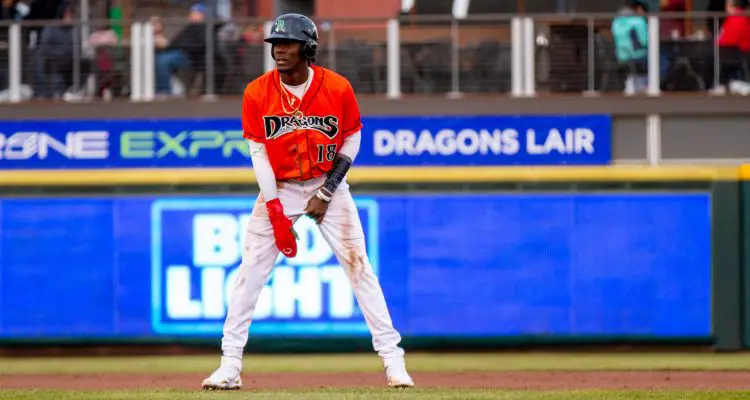 I don't know how much I need to point out about Elly De La Cruz to convince you of his greatness. He's a consensus Top-10 prospect, switch hitter, has extreme raw power, lightning-fast speed, and plays good defense at shortstop. I think there is no prospect with a higher ceiling in the game, and he might just be the next superstar in the making. He hit a ball 512 feet, for crying out loud. 512 feet, and he makes it look effortless, my goodness!
Speaking of effortless, De La Cruz has a cannon of an arm, and will fit as either an elite defensive third baseman or an above-average shortstop if he can smooth out his movements. I think he has the ability to stick at short, as he has such vast reserves of athleticism and is such an effortless fielder.
In the tweet shown above, Elly smokes a liner to the center fielder and advances all the way to third base on the throw! His strides are so long, making it seem like he's gliding along the basepaths. De La Cruz also stole a total of 47 bases between High-A Dayton and AA Chattanooga and will likely slide into AAA to start the season next year.
One concerning thing with De La Cruz is his strikeout rate, as he's striking out at a pretty consistent 30% rate. While it is a little alarming, a lot of sluggers strikeout around that 30% mark, but De La Cruz will need to adjust when he makes it to the big leagues later on in 2023.
Speaking of, I think De La Cruz's momentum will carry him to a call-up to the Reds' major league roster sometime around late June or early July. The shortstop spot will be manned by a combination of Jose Barrero and Kevin Newman, which doesn't exactly inspire confidence in me, and will likely get Elly called up as soon as he is big league ready.
3B/1B Christian Encarnacion-Strand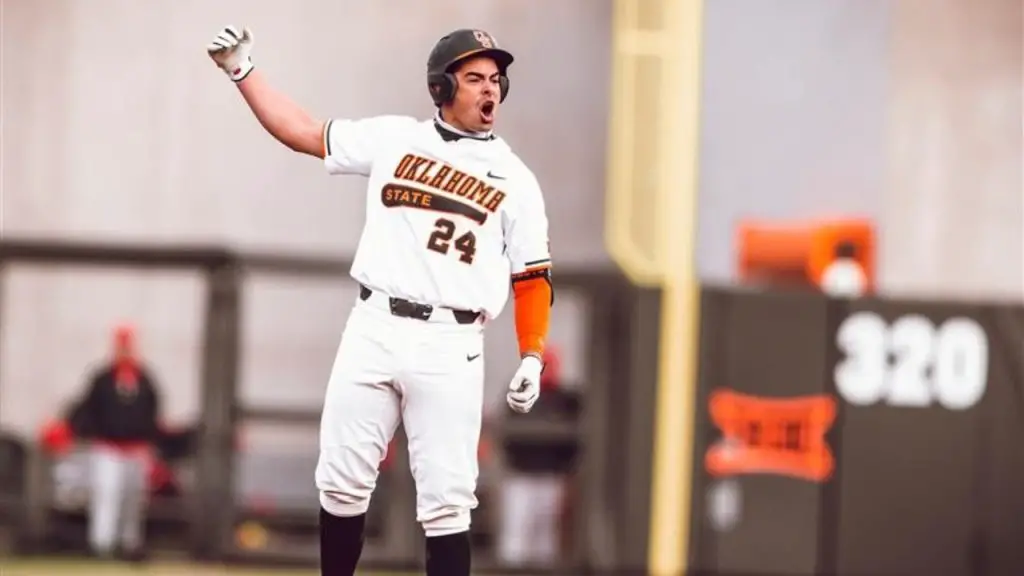 Christian Encarnacion-Strand is a very interesting and good player that the Reds acquired from the Minnesota Twins this deadline in the same deal that brought up the first name on this list, Spencer Steer. Encarnacion-Strand is a great power bat that I think will find a home at 1B/DH, likely succeeding Joey Votto. You can learn more about Encarnacion-Strand in this article that I posted a couple of weeks ago if you're looking for a more in-depth analysis:
2B/SS Matt McLain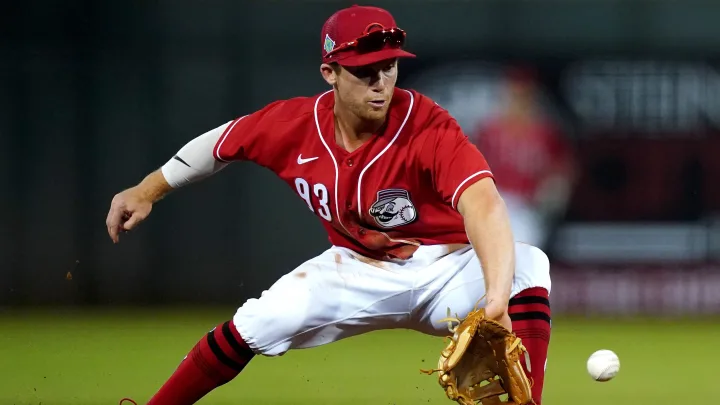 Matt McLain has been a fast riser through the Reds system since he was drafted in the first round by the Reds in the 2021 amateur draft. Spending the entire year in AA Chattanooga, McLain hit pretty well, slashing .232/.363/.453 for a 116 wRC+. McLain did strike out a lot more than you would expect with his profile, with a 26% strikeout rate. He also walked a ton more with nearly a 16% walk rate.
McLain also saw a jump in his power, with 17 home runs in just 371 At-Bats, likely having something to do with the increased strikeout ratMany of scouts seem to be down on him right now as McLain's on-base skills are going to suit him well and will likely see him called up during September when roster expansion kicks in.
Defense is also crucial to where Matt McLain will fit into the Reds' roster. He mainly plays shortstop and second base, but his arm strength isn't the greatest, which leads me to believe he'll be a second baseman long-term. However, he did play some center field in college, and since Jonathan India currently blocks 2B, we could see McLain taking on a more utility role when he sees time in the major leagues.
Which Rookie will be Most Impactful?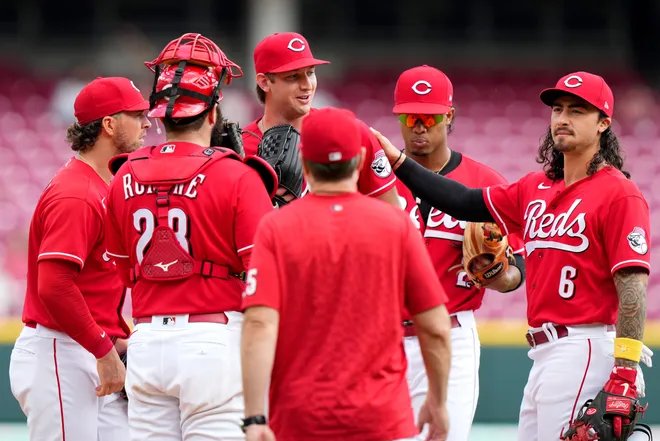 The easy answer here is Spencer Steer, who will likely have 400+ plate appearances this season and has already earned his roster spot going into 2023. However, if I were to make a bold prediction, if Elly De La Cruz shows out well in spring training, carries his momentum into Louisville, and shows improvements in his weaker areas, I could see him being called up in late June and still putting up about 2.0 WAR.
You could also take one of the pitchers into consideration, but taking into account that they'll both likely be on innings limits and in the 4/5 spot in the rotation, Williamson and Stoudt likely won't get enough innings to eclipse one of the Reds' rookie batters.
At this point, it's then an argument between a consistent, high-floor player or a volatile massive ceiling player. With that being said, I'm taking Spencer Steer to man third base as the most impactful rookie for the Reds. While Elly De La Cruz has an astronomical ceiling, Steer will be in the opening-day lineup and will grind out plate appearances from day one. For 2024, I might have to go with a different answer between those two, but there's still a long road ahead for the 2023 Reds. One thing I know for sure is that I can't wait to watch all these rookies take the field and become bonafide major league baseball players.