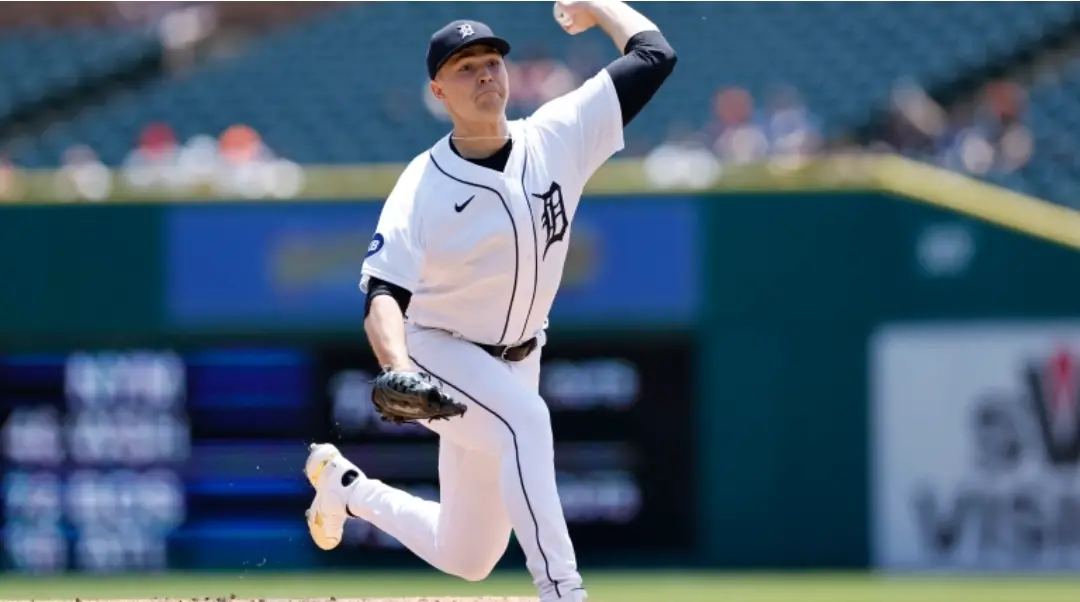 (Photo by Joe Robbins/Icon Sportswire via Getty Images)
Tarik Skubal and Eduardo Rodriguez are healthy, and they are back with the Tigers after they both spent long stints on the IL.
Skubal, by far, spent the most time recovering, as he's been injured since midway through last season. This will be Skubal's first MLB start since August 1st, 2022. Skubal made his first rehab assignment start for the West Michigan Whitecaps on June 9th. He pitched in two games for West Michigan, where he had seven strikeouts, zero walks, and zero earned runs. Skubal only gave up three hits in his time with the Tigers High-A minor league affiliate. After that stint with the Whitecaps, Skubal was ready to move up to Triple-A to make rehab starts with the Toledo Mud Hens. Skubal pitched in the three games for Toledo. He had a 1.86 ERA, 13 strikeouts, three walks allowed, and a 0.931 WHIP. In his starts with Toledo and West Michigan combined, Skubal had a 1.23 ERA, 20 strikeouts, 3 walks, and a 0.818 WHIP.
Eduardo Rodriguez was pitching like a CY Young candidate before his injury. He has a 4-4 record this season with Detroit, but he should have more wins. Unfortunately, in some of his most brilliant starts this season, he had no run support. That includes the game in Baltimore, where he took a perfect match into the 7th and didn't allow a run in his outing. Detroit lost that game in extra-innings. Rodriguez, before going down, had a 2.13 ERA. He struck 67 batters and walked 16. E-Rod had a 0.975 WHIP. Perhaps one of his most underrated stats is the fact that he hasn't hit a batter this season yet. Rodriguez was on pace to easily make the American League All-Star roster before the injury. He had a stretch where he was easily the best pitcher in baseball as well.
The Detroit Tigers rotation has been riddled with injuries. Getting Tarik Skubal and Eduardo Rodriguez back is huge for putting a healthier team on the field. But, when you look at the big picture, it becomes a way bigger deal.
Skubal and Rodriguez's return makes Detroit a legitimate contender in the AL Central
It's July 4th, and the Detroit Tigers are amazingly only 4.5 games out of 1st place in the American League Central. The Tigers are a team that's been unhealthy all season long and went through a stretch where it looked like they couldn't even hit a basketball if it was thrown right down the middle. Somehow, they are keeping their head above water and are within striking distance of 1st place. This is the point in the season where they needed to be within striking distance to have a chance. Detroit is getting healthy again, and the timing couldn't be more perfect. The 2022 season was a nightmare for Tigers fans, but Skubal gave fans a reason to watch every time he took to the rubber. A lot of people, including myself, thought Skubal was going to he the ace after the season he had. If Detroit can get the same level of dominance from Skubal and Rodriguez that they have gotten in the past, they can win this division. It's important to point out that Matt Manning made his return as well last week and pitched well. A healthy rotation might be what Detroit needs to make a push towards overtaking the Twins and Guardians for first place in the AL Central and finally get into the playoffs.