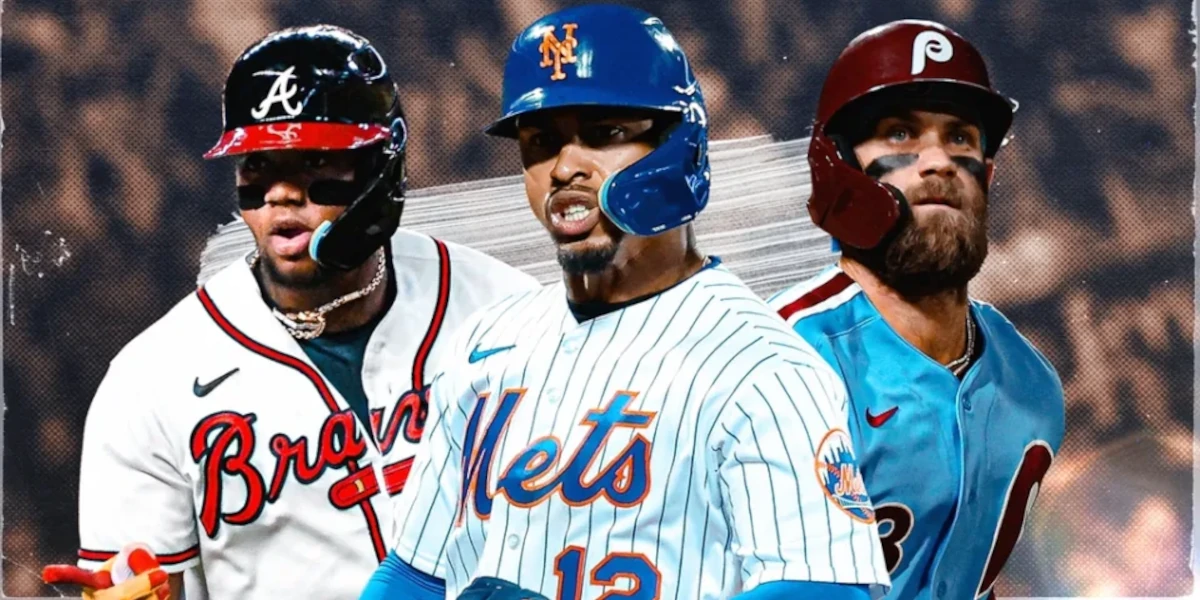 The National League East is brimming with talent, leading many to consider it the best division in baseball. Whether other not you believe in that sentiment, it is hard to argue against the sheer number of all-MLB players inside the division. This list intends to catalog the division's standout studs based on their abilities at the plate, in the field, and on the bases.
#10, Marlins, Jazz Chisholm Jr.
Chisholm is a star at every level of the game; he produces high levels of offense, steals bags, is excellent on the base paths, and can pick it at every position in the infield. So why is he so low on the list? Health. During his 2022 regular season, Chisholm missed over 100 games due to injuries, primarily in his back. If the 25-year-old can stay on the field, which is now made tougher by the Marlins' decision to play him in center field, he has great odds of climbing the list.
#9, Braves, Sean Murphy
Catcher is a premium position in today's league, and Murphy is slowly becoming one of the best. During his 2022 season with the Oakland Athletics, Murphy put up an OPS of .759 (in a notoriously known pitcher's park) along with a 5.1 fWAR, which ranked 2nd among all qualified catchers. Furthermore, he was an 84th-percentile framing catcher, adding even more value. Atlanta took a hefty swing on trading for Murphy, and I believe he is the perfect catcher for their championship aspirations.

#8, Mets, Jeff McNeil
While many players in the new era of baseball are sacrificing contact for power, McNeil has done the reverse. The 2022 MLB batting champion had an average of .326 during his campaign, amounting to a 143 WRC+, which was second among qualified second basemen. "The Squirrel" is also known for his gold-glove caliber defense at second base and in both corner outfield positions. McNeil was signed to a four-year, 50-million-dollar deal earlier this year, and Mets fans couldn't be happier.
#7, Braves, Austin Riley
Riley's name has been sprinkled in MVP talks the last two seasons, and for a good reason. The 25-year-old third basemen have recorded a WRC+ of 142 and 136 his last two seasons, along with fWARs of 5.5 and 4,7, respectively. In almost 700 plate appearances, Riley smashed 38 long balls and 93 RBIs during the 2022 regular season.
#6, Phillies, Trea Turner
In his six years of service, Turner has been one of the most dynamic and dominant offensive shortstops in the Majors. His 99th percentile speed and ability to hit for average and power make him the complete offense package. His defense is subpar, but Philadelphia is hoping Turner can be the new addition that pushes the team over the hump after losing in last season's World Series.
#5, Mets, Pete Alonso
MLB's leader in home runs since his debut in 2019 has been one of the most consistent offensive forces in the majors. After hitting 53 long balls in his rookie season, Alonso has recorded season totals of 16 (60-game-shortened season), 37, and 40. 2022 also saw the Polar Bear's highest batting average for a season, which was .271. Alonso is expected to have another tremendous 2023 campaign.
#4, Phillies, J.T. Realmuto
Undoubtedly the best catcher in baseball, Realmuto is everything the Phillies asked for at such a premium position. Realmuto is in the 100th percentile at the second base pop time, 2nd in WRC+ among qualified catchers, and 1st in fWAR (6.5). The 31-year-old also recorded an eye-popping 21 stolen bases in 2022.
#3, Mets, Francisco Lindor
When Steve Cohen bought the Mets, he promised to turn the disgraced franchise into a perennial contender. To kick off this quest, Cohen traded for an extended superstar shortstop Francisco Lindor to a 10-year, 341 million dollar deal. Although Lindor struggled in his first season in Queens, he bounced back ferociously in 2022, logging a 6.8 fWAR, which was 1st among shortstops and sixth among all position players. Lindor is nothing short of a franchise foundation.
#2, Braves, Ronald Acuña Jr.
Acuña Jr. has been a superstar from the moment he took the field in the Majors. Beginning in 2018, he has posted year-by-year a WRC+ of 142, 125, 158, 157, and 114, respectively. The 25-year-old also plays elite defense in any outfield position, has one of the MLB's best arms, and is one of the fastest players in baseball. After tearing his ACL in mid-2021, Acuña would struggle to find his footing in 2022; many, including myself, expect him to be an MVP candidate for 2023.
Honorable Mentions
Kyle Schwarber, Brandon Nimmo, Starling Marte, Matt Olson, Michael Harris II, Joey Meneses, Keiburt Ruiz, Travis D'Arnaud
#1, Phillies, Bryce Harper
"The Chosen One." Harper has been a top 10 player in the league for nearly a decade and has accrued himself a bundle of accolades, including two MVPs, seven all-star selections, two silver slugger awards, and much more. Harper's memorable World Series run this past October was one more for the ages, and nobody will ever forget his go-ahead home run vs. the Padres in the NLCS. Harper will miss at least the first half of the 2022 season, and the team's hopes of winning a championship rely on the protagonist's shoulders.