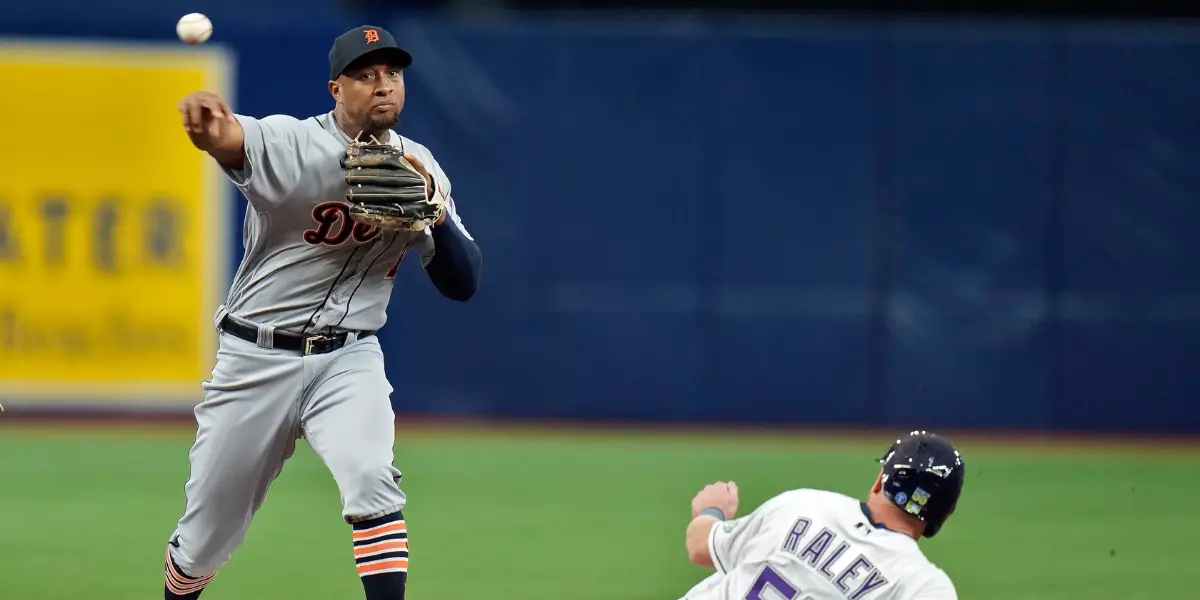 The 2023 Detroit Tigers started their season this weekend in Saint Petersburg against the Tampa Bay Rays. The Tigers came into this season with the bar for offense very, VERY low, but most fans (including myself) thought there would be improvement. However, watching this series over the weekend, it seems as if nothing has changed offense-wise. Without further ado, let's break down each game:
Game 1: Rays 4, Tigers 0.
Opening Day for your Tigers was a very winnable game: they just failed to put runners in scoring position, and when they did, they could not capitalize. Austin Meadows accounted for 3 of the Tigers' 6 hits, with others coming from Javier Báez, Miguel Cabrera, and Riley Greene. Eduardo Rodriguez was on the mound and was decent until the end of his night, allowing only three hits and allowed only three runs through 5.1 innings ( Jason Foley inherited two runners and allowed them to score). Overall, it was one of those games where the Tigers were in the game the entire way; they just couldn't figure out Shane McClanahan and the Rays' Bullpen.
Game 2: Rays 12, Tigers 2.
Game 2 was an absolute mess, to put it lightly. Spencer Turnbull, in his first start since Tommy John surgery, allowed seven runs on eight hits, including five doubles in only 2.1 innings of work. Quickly, at the end of the 3rd inning, it was already 8-0 Rays and the Tigers' offense had yet to score a single run to that point. Miguel Cabrera finally broke the dry spell in the top of the 4th with a two-out RBI single that drove in Kerry Carpenter. The Rays would add four more unanswered runs to make it 12-1, and the Tigers would only add one one more on an Austin Meadows RBI single, and the final score ended up being 12-2. Tyler Alexander was one of the few bright spots in the loss, striking out seven and walking nobody in relief, becoming only the 9th reliever in modern Tigers' history to do so.
Game 3: Rays 5, Tigers 1.
Game 3 was DOMINATED by Jeffrey Springs, who stole the show and threw six no-hit innings while striking out 12 Tiger batters, 9 of those strikeouts coming within the first three innings of the game. In the 7th inning, Kevin Cash turned to his bullpen, and Riley Greene broke up the combined no-hit bid with an infield single in the 7th. The Tigers would only score once in the 9th, that coming from a Jake Rogers Home Run, but outside of that, the Tigers' offense was quite literally nonexistent. Joey Wentz had a similar start to E-Rod's, allowing only one run in the first five innings but falling apart in the 6th, allowing two runs to come across. He finishes the night with three strikeouts and 1 Home Run allowed.
Probable Starters vs. HOU
The Tigers will now head to Houston for a three-game series against the reigning World Series Champion Astros. Matthew Boyd will make his Tiger return on the mound in Game 1, and the Astros will turn to Wayne State University product Hunter Brown, making his season debut. In Game 2, Matt Manning will make his season debut, and he will square off against Framber Valdez, who last pitched on Thursday against the White Sox, pitching five innings and allowing no runs. In the series finale, Eduardo Rodriguez will make his second start, and opposing him will be Christian Javier, who, in his last start, allowed three runs on eight hits in five innings of work.