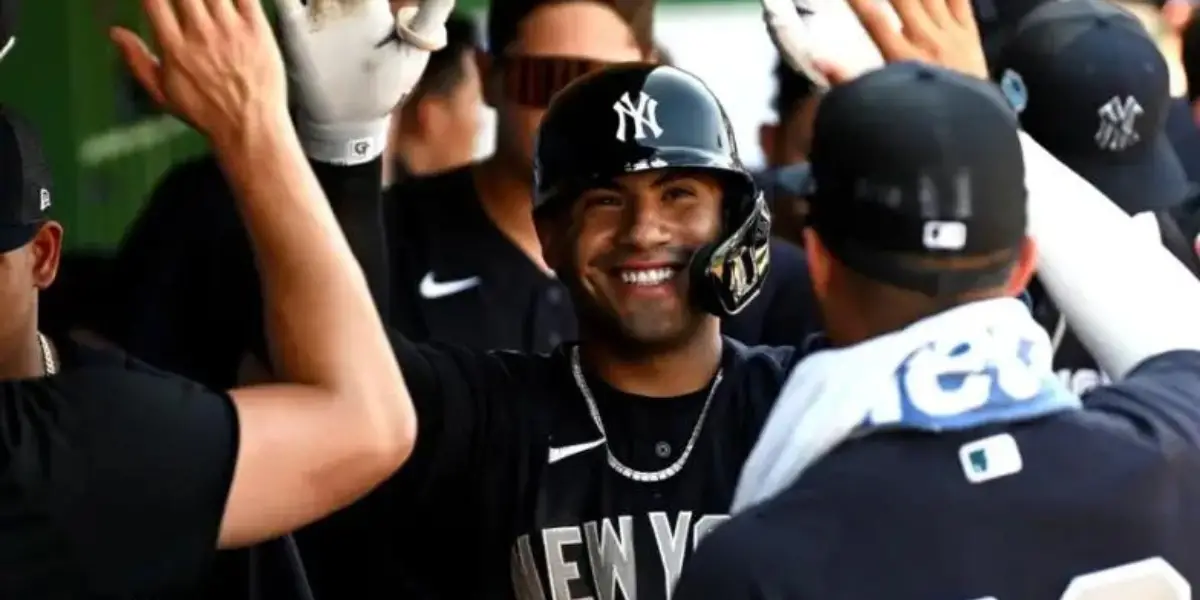 Torres and Dominguez with the first Spring Home Runs
On Saturday, the New York Yankees made their Spring debut BayCare Ballpark in Clearwater, Florida, against the Philadelphia Phillies. While they did not win the meaningless pitch clock-controlled game, they saw home runs from two polarizing players who drew much attention from the Yankees fan base. Gleyber Torres, with a towering shot over the right field wall, and Jasson Dominguez, who, in the words of the Phillies broadcasting team, sent a Martian shot to the left-center field bleachers.
Contrary to the feelings of many fans, I do not feel the Yankees should trade Gleyber Torres. I understand the potential glut of infielders when Anthony Volpe makes his much-anticipated debut. However, Volpe is not breaking camp as a member of the Opening Day roster. Even with a strong Spring, it is a near certainty he will be re-assigned to Triple-A to complete his development. Injuries can alter the timeline, but based on the current good health of the available infielders, it seems likely Volpe will spend the first few months of the season in Eastern Pennsylvania with the Scranton/Wilkes-Barre RailRiders.
Torres signed a one-year contract for $9.95 million to avoid arbitration this off-season and has one year of arbitration eligibility remaining. He can be a free agent in 2025.
Only yesterday, Gleyber seemed to be the darling of the Yankees fan base. I can easily remember the prominence of 'He's only 22' as many viewed him as a cornerstone of the team for years to come. He is still young, only 26, but he has not developed into the superstar many believed he would become. Regardless, he is a productive player. Steamer predicts Gleyber will hit .261/.327/.442, with .334 wOBA and 3.5 fWAR, for the 2023 season. Multiple home run projections place him in the range of 21-23 home runs. 
Manager Aaron Boone has said Gleyber will be the Yankees' starting second baseman in 2023. Although nothing is set in concrete, I believe Gleyber will be a Yankee for the entirety of the season.
I look forward to the future of top prospect Anthony Volpe who seems destined for Gleyber's spot at second base, especially if young Oswald Peraza wrestles away the shortstop position from incumbent Isiah Kiner-Falefa as expected. Yet, as great as we believe Volpe may be, he has not mastered Triple-A like he has the lower levels, and there is never a guarantee of Major League success for anyone. I would prefer the Yankees retain Torres and ensure Volpe's big-league success before deciding to move on. The Yankees will need a third baseman in the not-so-distant future. If Josh Donaldson cannot resuscitate his bat, the Yankees could cut bait later this season, and I find it unlikely he will return in 2024 (his contract calls for a $6 million mutual option). Volpe or Peraza could be moved to third base, with the other taking shortstop if Gleyber remains planted at second base. 
If Volpe makes his Major League debut by the All-Star Break, maybe the Yankees will consider trading Torres at the trade deadline. It is no secret his name was mentioned in potential trade talks with the Miami Marlins last July. 
My preference is to keep Torres, make sure you know what you have with Peraza and Volpe, and then re-evaluate. The health of DJ LeMahieu, a needed bat in the lineup, plays into the equation. So, I am not ready to see Torres go, even for a potential starting pitcher. Needs may change in a few months, but Gleyber Torres is my second baseman until he is not. 
You could say Jasson Dominguez opened eyes with his fifth-inning home run on Saturday, but not among Yankees fans. The Yankees' second-ranked prospect has been very high profile for the fan base since he was signed as a 16-year-old for $5.1 million as the best available international player in the 2019 signing period. The Yankees historically bring their young players along slowly, and despite starting Low-A just two summers ago, Dominguez has already reached Double-A. He is expected to return to the Double-A Somerset Patriots in 2023 but should be promoted to Triple-A later this year. Once there, he is only a level away from the Show. His home run on Saturday caused many Yankees fans to anoint Dominquez as the Opening Day left fielder on social media. 'He cannot be worse than Aaron Hicks' seems to be a general sentiment.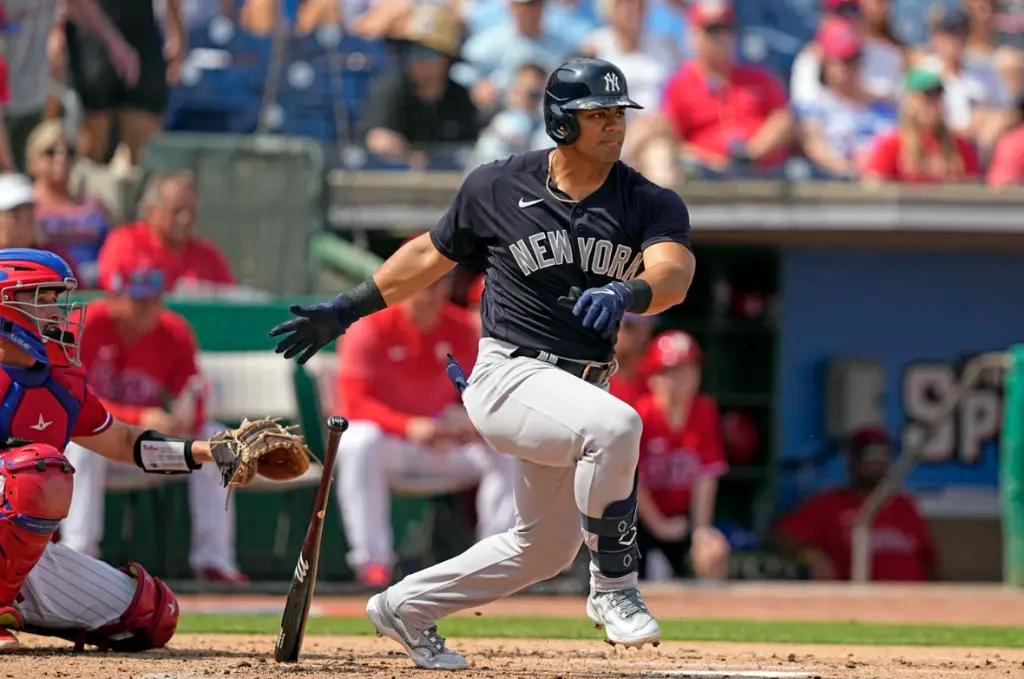 Like Volpe, Dominguez needs more development. He is only 21 years old and seemingly has a chance to be a special player. Maybe not the projections when he originally signed comparing him to Mickey Mantle but "The Martian" can be his own man…one day, not today. When Dominguez is ready, he will make his Bronx debut. There is no need to rush him, regardless of the perceived black hole in Left Field. Sacrificing the long-term future of a potentially great player for short-term benefit seems rather near-sighted. Hitting Spring Training pitching is different from facing proven, locked-in Major League starters and relievers in the regular season. The Yankees must ensure the best possible outcomes for both Dominguez and Volpe and place them in positions to succeed. They represent the future of the New York Yankees. This requires patience, a trait the Yankees fan base does not typically carry. 
Keep Torres and continue to develop Dominguez—two important players for the present and future of Yankees baseball.