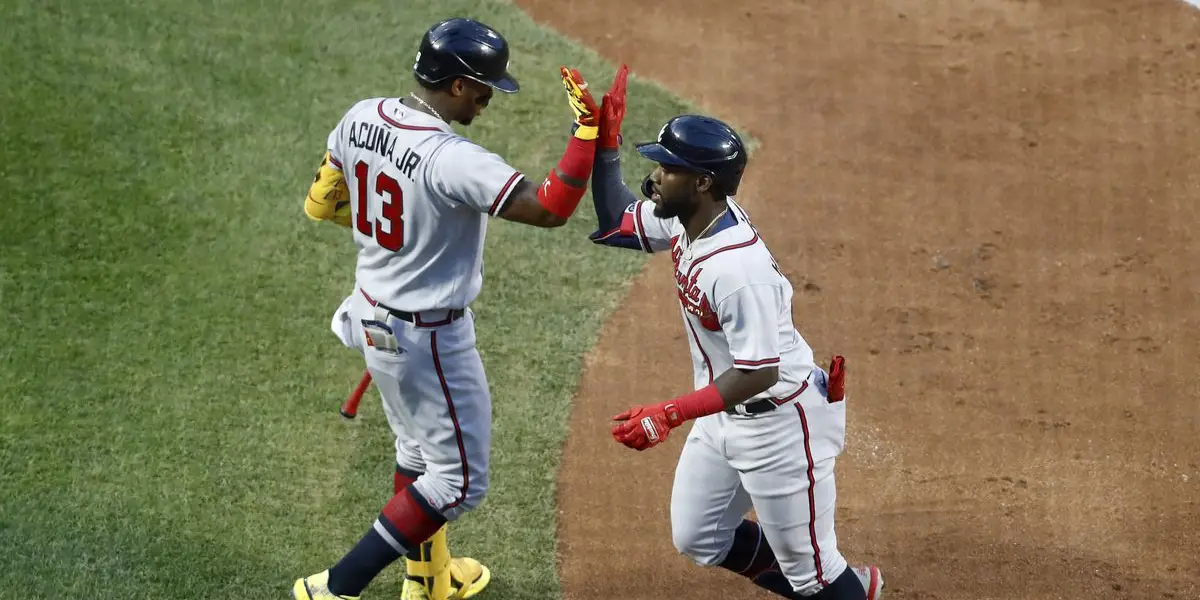 As we inch closer and closer to the start of Grapefruit League Action on February 25th, let's dive into the Atlanta Braves outfield and analyze what the 2023 season may have in store. There is only one spot under scrutiny this offseason, and Manager Brian Snitker will have a tough decision ahead of him pertaining to left field. Ronald Acuña Jr. and Michael Harris II are solidified as starters in right field and center field, respectively. Still, he has to decide between a 2-time Silver Slugger winner, the 2021 NLCS MVP, and some younger talent eager to impress this spring.
What the Baseball World Already Knows
Ronald Acuña Jr. – Right Field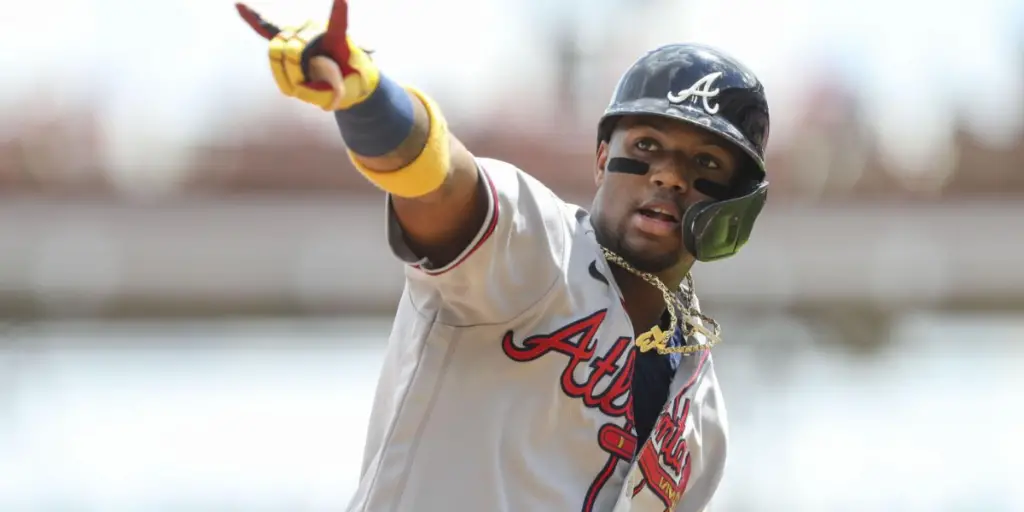 Acuña is looking to bounce back after a substandard year for him. Anyone with functioning eyes could see he was not fully recovered from his ACL reconstruction surgery in July 2021 but still managed a 2.8 WAR and an All-Star Game appearance. All reports coming out of North Port sound like the right fielder is set to resume his MVP-caliber play and put last season behind him. In his short career, Ronald is a 3-time National League All-star, a 2-time Silver Slugger Award winner, NL Rookie of the Year, and finished 5th in MVP voting in 2019, where he was three steals shy of a 40/40 season. He was potentially on his way to a 40/40 season and perhaps the MVP Award in 2021 before that fateful play in Miami that ended his season. He will be the leadoff man and the catalyst of the Braves' offense this year.
Michael Harris II – Center Field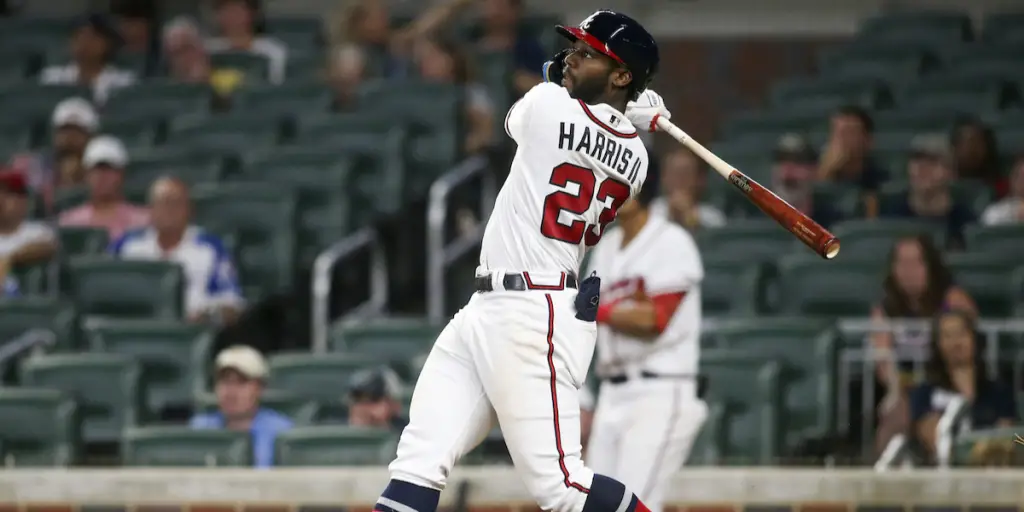 Harris burst into The Show last year when he was promoted from AA-Mississippi during Memorial Day Weekend. The call-up was earlier than expected, but it was out of necessity. Ronald Acuña Jr was battling a quad strain, Adam Duvall was hitting under .200, Eddie Rosario was still recovering from laser eye surgery, and Travis Demeritte wasn't cutting it in the big leagues. Seemingly out of options, the Braves made the call that changed the course of their season. Harris struggled a bit his first few weeks in the Bigs' but started to come into his own at home against Oakland in early June and finished the month hitting .347 with four long balls and a .946 OPS.
As expected, the league caught up to the youngster, and his a lull in July, hitting just .222 with five round-trippers. Desperate to prove he belonged, a change in his batting stance saw a surge of offensive production that saw Harris claim the National League Rookie of the Year award over teammate Spencer Strider. Harris finished his freshman campaign slashing .297/.339/.514. He nearly hit the 20-homerun mark and drove in 64 runs, primarily hitting in the 9th spot. For his effort, and in true Alex Anthopoulos fashion, Harris signed a $72 million contract extension that will keep him in Atlanta through 2030, which could be pushed to 2032 with two $15m club options.
Left Field Options
Marcel Ozuna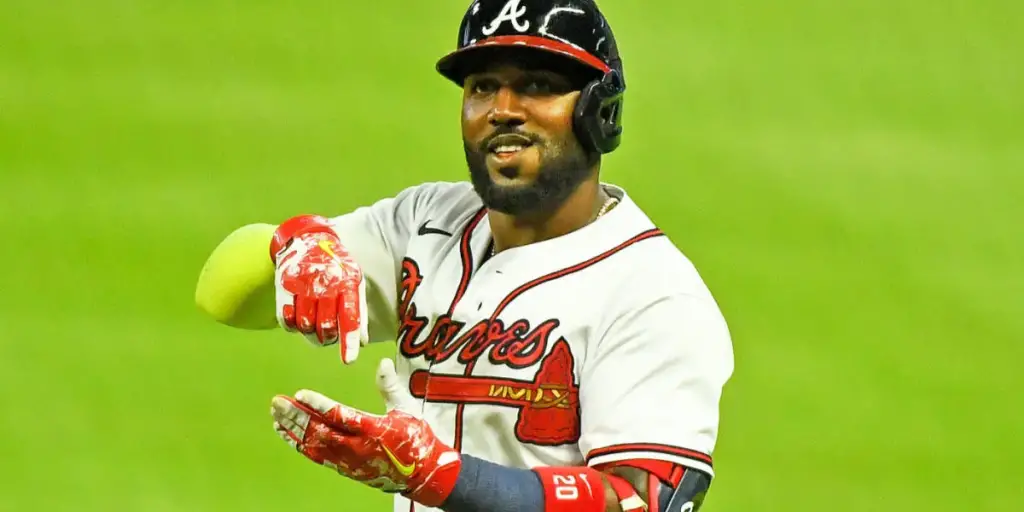 Once a fan favorite, a couple of off-the-field incidents led the fans to boo Ozuna at home last season. He was arrested for DUI last August, and the body cam footage did not paint Marcel in a positive light as he tried to use his fame and connection with the organization to get off the hook. In 2021 Ozuna was involved in a now-resolved domestic violence incident that saw him placed on administrative leave and later retroactively suspended for 20 games. That incident occurred while Ozuna was on the IL after fracturing fingers in his left hand.
In his last season before injury and drama, Ozuna finished 6th in MVP voting and won his second Silver Slugger Award during the COVID season when he mashed 18 homers and drove in 56 runs in the 60-game season. If he comes to camp healthy and with a clear mind, he, without question, provides the most pop of any options in front of Snitker. Ozuna has a career WAR of 20.1, the aforementioned Silver Sluggers, 196 homers, 676 rbi, and a slash line of .268/.327/.456.
While he certainly possesses the most significant bat, he also cashes the biggest checks. Atlanta is on the hook for $36 million over the next two seasons before they can buy him out for a million bucks following the 2024 season. If Ozuna is going good at the plate, his bat will be in the lineup, whether that be in left or as the designated hitter. Having him clog the DH role limits Snitker's lineup management and could cut into Travis d'Arnaud's at-bats. While he is considered the worst defensive option, the team could shade Harris and Acuña around to help cover the ground Ozuna can not. If you're looking for a fact to justify his defensive prowess, he did win a Gold Glove in 2017.
Eddie Rosario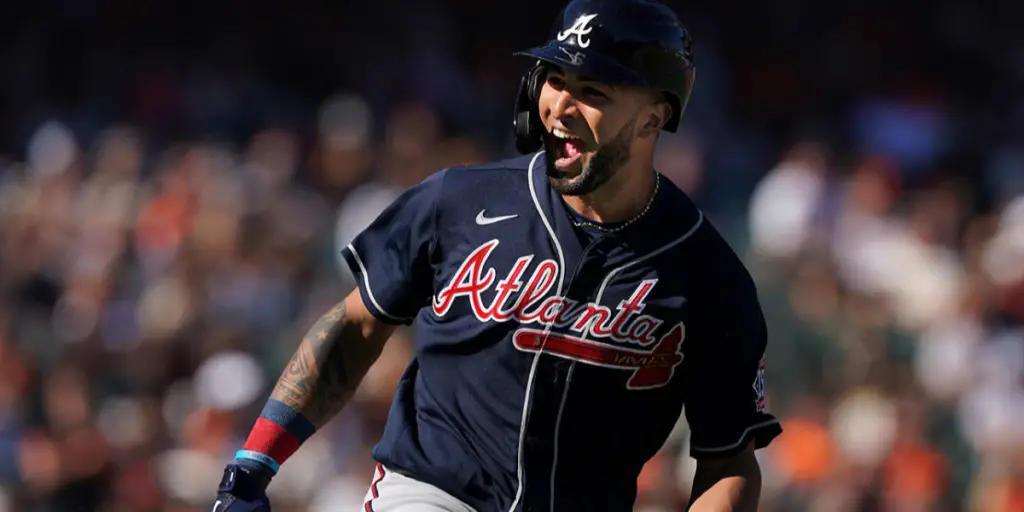 Having his own woes in 2022, Rosario looks to regain the mojo he had when the Braves acquired him at the 2021 trade deadline. After winning the 2021 NLCS MVP Award, propelling the Braves into the World Series and an eventual championship, Anthopoulos resigned Rosario to a 2-yr $18m contract, and hopes were high for his 2022 campaign. As April was coming to a close and everyone in Braves Country was scratching their collective heads at the abysmal start Rosario was off to. It was announced that he would be placed on the IL after undergoing laser surgery on his retina to repair blurred vision and swelling in the eye. That certainly bought him a pass for the 3-44 start to his year.
Eddie returned to the lineup in July, and his struggles continued as he tried to find his swing in the middle of the MLB season. He hit .222 in July and .231 in August, leading many to question if he was still having visual problems. He did put together a nice September when the Braves needed it the most as they chased down the Mets to win the NL East, he batted .315/.333/.444. Rosario was unable to recapture the postseason magic from the prior year, as he was hitless in NLDS against the Phillies.
Everyone Else
Jordan Luplow
Luplow was signed to a free-agent deal for the 2023 season for $1.4 million. At age 29, he has a very unimpressive back of the baseball card. The once-promising star was drafted in the 3rd round of the 2014 MLB Draft by Pittsburgh and has yet to amass 1,000 career at-bats. Last season Luplow hit 11 home runs while hitting a pedestrian .176 in 205 plate appearances. Let's not kid ourselves here. He was signed to be the late-inning defensive replacement and a spot starter. He provides some depth in either corner position.
Sam Hilliard
The 437th overall selection of the Colorado Rockies in the 2015 draft was acquired by the Braves in a trade with Colorado this offseason that saw pitcher Dylan Spain going the other way. Hilliard had his best season in 2021, where he deposited the baseball into the seats 14 times with a respectable.757 OPS. Last year wasn't so kind to him as he regressed to 2 homers and a .184 batting average with only 38 fewer at-bats. Hilliard will be lucky to be in an Atlanta uniform come Opening Day, let alone in left field.
Eli White
White was purchased for cash from the Texas Rangers just after Christmas. White's role on the team will be late-inning defense and pinch running. White has been successful 17 of 22 times swiping a bag in his career while playing stellar defense. Statcast has him rated nine runs better than par in Outs Above Average, and 11 runs above average in Defensive Runs Saved. White's 2022 season came to an abrupt end when he required wrist surgery in June. White's speed is certainly his selling point, but with a career OBP of .260, it's hard to display it from the dugout.
Kevin Pillar
By far the most experienced of the longshots, Pillar is a career .259 hitter with 97 home runs and nearly 400 RBI. He is a non-roster invitee to North Port and has 3 million reasons to show out during Spring Training. If he cracks the Braves Major League team, his minor league contract will turn into a $3 million payday. Pillar is 34 years old and coming off a season-ending shoulder injury that required surgery. He battled his way through the Dodgers farm system and made it to the big league club before the injury occurred after just four games.
Analysis
The everyday job is only between two players. Ozuna and Rosario are each coming off years they'd rather forget for different reasons. I would say that the ball is in Ozuna's court. If he shows that he can swing it like the Ozuna of years past, he is the easy selection here. He offers the biggest boom potential at the plate without question, and if he is hitting well and clogging up the DH spot, it takes swings away from the d'Arnaud/Murphy platoon and Eddie Rosario. Having Marcel in left definitely affords Brian Snitker more lineup flexibility.
Ozuna could also find himself struggling to get looks at the dish. If he struggles this spring and Rosario is the player of old, then he could quickly claim stake to left field. As a switch hitter, you don't have to worry as much about the left/right matchups as with Ozuna. Snitker isn't just going to take Travis d'Arnaud's bat out of the lineup. He will see his swings when Murphy is catching and vice versa. This is going to be very interesting to follow in the early part of the season.
It is also worth noting that aside from Pillar and his minor league deal, none of these players have options to be sent the minors. They will either make the team or be released.
Prediction
Like many, I can not see a situation where there is not a platoon in left field this season between Ozuna and Rosario. Ozuna will start against lefties and Rosario against righties. There are better defensive options, but they offer little to no offensive upside, and they can only be seen as late-inning defensive replacements or spot starters. Kevin Pillar does pose an interesting option should he have a good spring. Perhaps he can be this year's Robbie Grossman. The team could use an older veteran in the outfield group. It's a long shot, but he could break camp with the club. I think Luplow's contract and White's speed gives them the edge to be the two OF options on the bench come March 30th.