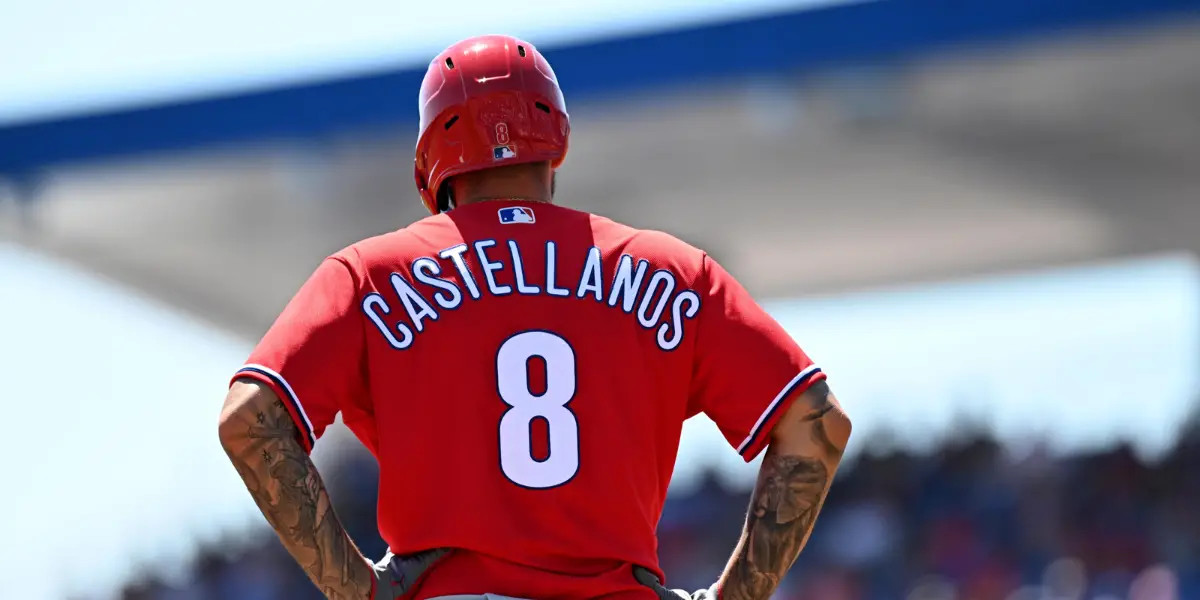 On March 18th, 2022, The Philadelphia Phillies signed all-star Nick Castellanos to a 5-year, $100,000,000 ($20,000,000 AAV) contract. Earlier in that offseason, the Phillies went out and signed Kyle Schwarber, meaning the Castellanos signing put the Phillies over the luxury tax. However, John Middleton and Dave Dombrowski made it very clear that the Phillies were looking to compete in 2022 after a disappointing end to their 2021 season. Although the Phillies did exactly what they expected to do in 2022, compete, it wasn't due to the elite production we all anticipated from Castellanos. If anything, he was a liability at the plate in the latter half of the season. But why? Join us as we explore Nick Castellanos' 2022 season and why he's due for a bounce-back season in 2023.
The Injury
The first month of Castellanos' Phillies career went "phantastic"! Castellanos posted an .849 OPS, with a .300 batting average, showing his talent at the plate that we saw in 2021 with the Reds, but then something happened. On May 5th, 2022, Castellanos was hit by a pitch in the wrist, the same wrist he injured in 2021. Nobody thought it was severe at the time, but Castellanos' production took a significant dip after this injury. After May 5th, Castellanos posted an abysmal .653 OPS, with a .254 batting average, along with only 9 home runs and 21 doubles. Castellanos also struck out 105 times in this span (111 games, 455 plate appearances). His wrist injury absolutely had something to do with his negative play at the plate. Castelannos will never admit it, but the all-star was quoted as saying this:
"Last year, I was just pissed off, unhappy, frustrated. Baseball wasn't fun. It was a job. I'm very lucky that I've never worked a day in my life. And to do something that you don't love doing sucks. What I love doing is playing baseball with my friends and beating the team that's not wearing the same uniform that we're wearing. That's the only thing I'm worried about. Last year was last year. That's where it stays — in last year."

Phillies' RF Nick Castellanos on his 2022 season
Now, the injury absolutely played an effect on Castellanos' swing, but it seemed to be more mental than anything once his wrist healed. He tried to find a comfortable swing while he was hurt but ultimately only found an uncomfortable swing, healthy. At the beginning of the 2022 offseason, Phillies' hitting coach, Kevin Long, reviewed film on Castellanos' swing and noted that Nick was adding unnecessary movement to his swing, potentially due to his wrist injury. In response to Kevin Long's actions, Castellanos was quoted as saying this:
"I was probably doing too much, whenever I get more movement, it's becausw I'm trying too hard.That is the best way I can put it. Those swing decisions are big for me. I've always been an aggressive hitter, so the more times that I'm swinging at pitches in the zone, the more chance I have to do damage. — I feel good, I was able to step away from the craziness and go back to my comfort place and go back to work. Now I want a World Series ring. Have a good time with these guys and win two more games than we did last year. That's it."

Phillies' RF Nick Castellanos on the change in his swing in 2022, and how he feels going into 2023
Phillies fans get excited because it looks like Nick Castellanos is physically and mentally ready to dominate in 2022. Philadelphia made it all the way to the World Series in 2022 after a down season from Castellanos, and if he can play at the level we all know he can, with all of the new additions the Phillies had in the 2022 offseason, Major League Baseball should be scared of the Fightins. Expect a huge bounce-back year from Nick Castellanos.