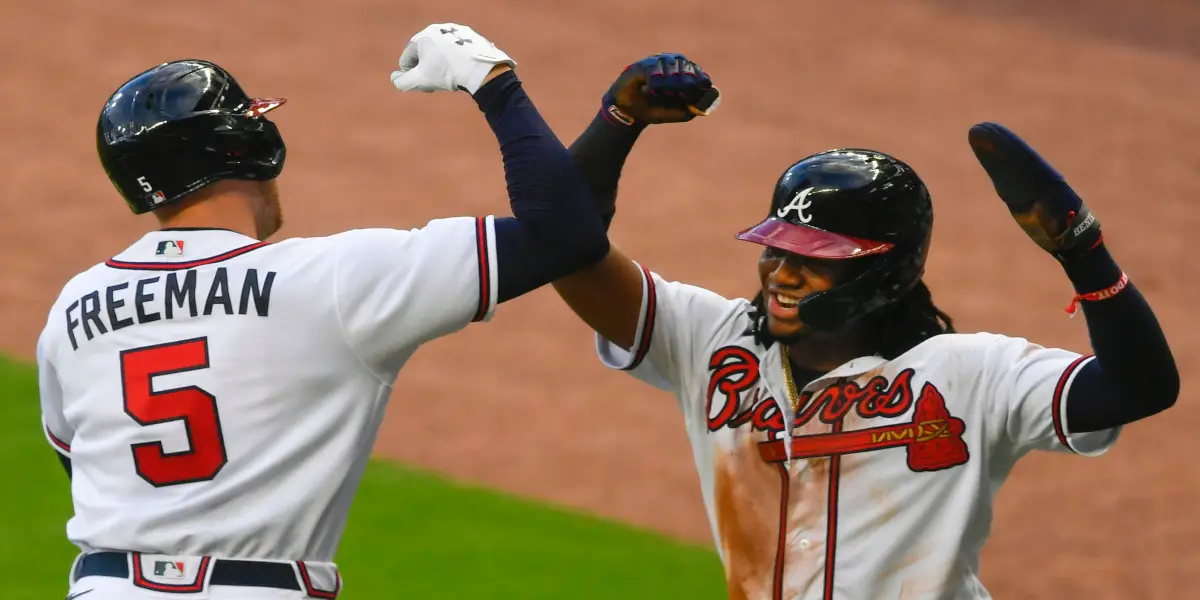 The National League MVP race has quite the storyline, as former Atlanta Braves teammates Ronald Acuña Jr. and Freddie Freeman are neck-and-neck with about a month and a half to go in the regular season.
Freeman and Acuña were teammates for four years in Atlanta and won the 2021 World Series together. After winning the World Series, Freeman signed a six-year $162 million deal with the Los Angeles Dodgers. Freeman debuted with the Braves in 2010 and won the 2020 NL MVP. Meanwhile, Acuña is chasing his first MVP.
On July 2nd, Acuña was the clear-cut favorite, slashing .336/.415/.604 with a 1.018 OPS, 171 wRC+, 21 home runs, 54 RBI, and 39 stolen bases. The next highest wRC+ in the National League at the time was Juan Soto's 155 wRC+. Acuña also had a substantial lead in fWAR in the National League. His 4.7 fWAR was 1.2 higher than the next closest player.
Until then, Freeman was putting together another great season, but it was not on the same level as Acuña. Freeman was slashing .315/.396/.533 with a .930 OPS, 150 wRC+, 3.4 fWAR, 14 home runs, and 54 RBI. A great season, but nobody would even consider Freeman for the MVP over Acuña.
Since then, Freeman has been otherworldly and has made the MVP discussion a coin flip. Freeman is slashing .420/.485/.773 with a 1.258 OPS, 237 wRC+, and 2.6 fWAR since July 3rd. And it is not like Acuña has fallen off; his stats have been about the same. In that same span, Acuña slashes .345/.442/.536 with a .978 OPS, 167 wRC+, and 1.5 fWAR.
With all of that said, here is where they stand today.
Freddie Freeman: .343/.419/.597 1.016 OPS 173 wRC+ 6.0 fWAR 23 HR 81 RBI
Ronald Acuña Jr.: .339/.422/.587 1.008 OPS 170 wRC+ 6.2 fWAR 26 HR 68 RBI 53 SB
Another component to this, which often gets overlooked, is defense. Acuña has the advantage since he plays a more premiere position in right field as opposed to Freeman playing first base.
His cannon of an arm powered Acuña's defensive success. According to Baseball Savant, Acuña has -5 Outs Above Average because he gets terrible jumps. Acuña receives an average of 1.1 fewer feet on his reactions and 0.6 fewer feet on his bursts than the average right fielder but gets 0.8 more feet covered than the average outfielder with his routes. With an average throw of 96.4 miles per hour from the outfield, Acuña's arm has prevented four runs from scoring with his arm (Baseball Savant).
On the other hand, Freeman does not have a ton of defensive value, given that he plays first base. Baseball Savant has him at -1 Outs Above Average, -1 Run Value, and -1 Range Run-Value.
It is hard to imagine that a guy on pace for 38 home runs and 77 stolen bases is not the favorite for MVP, but that speaks to how good Freeman has been. Acuña's power/speed threat and the fact that he plays a tougher position will give him the fWAR advantage and will be more impressive to some voters. But if Freeman stays hot at the plate, it will be tough not to vote for him.
With over a month and a half to go, the National League MVP race will be one of the most exciting stories to watch down the stretch.