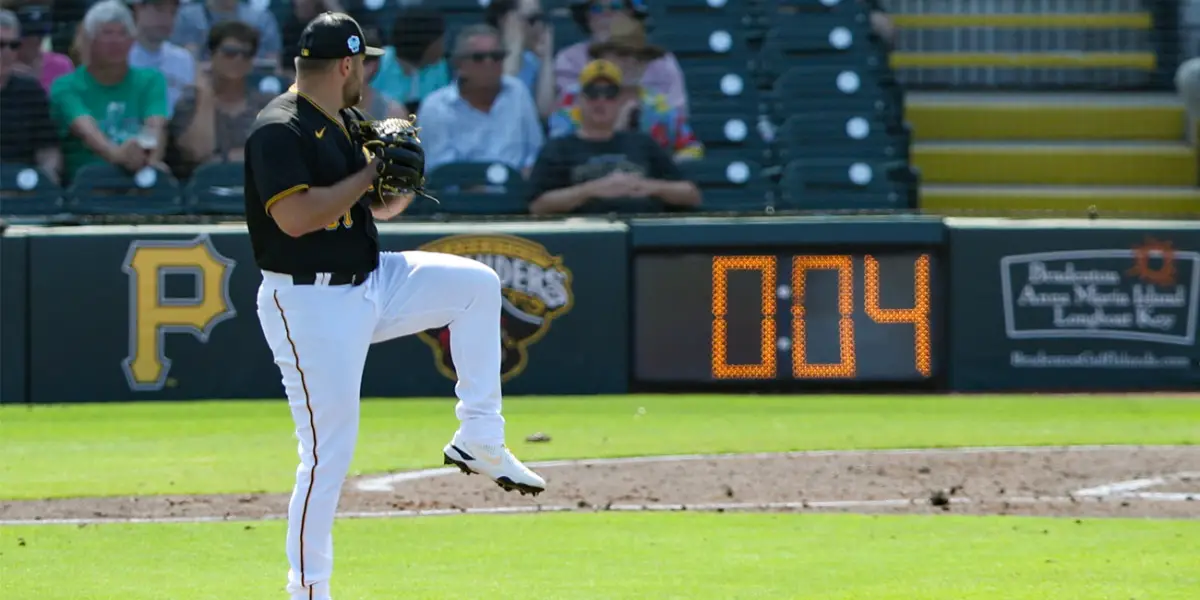 The first slate of Spring Training games are in the past, and there has been one story surrounding this weekend in baseball: the pitch clock. Many rule changes were put into effect for the 2023 season, and the pitch clock is easily the most controversial of the bunch. Baseball fans around the world are having mixed opinions about the new rule, and there are absolutely some pros and cons. In this article, we'll be looking through those pros and cons to decide whether or not the pitch clock is good for baseball or if it's ruining America's favorite pastime. Let us know your thoughts in the comments!
Pros
Shorter Game Times
This is exactly why this rule was brought into play in the first place. MLB commissioner Rob Manfred felt that MLB games were too slow-paced, and took too long, so he implemented this rule to attempt to fix that. It's safe to say that Manfred's vision became a reality, as the average game time so far this Spring is 2:39, compared to the 2022 average of 3:03. The game absolutely feels more fast-paced with this rule in play, and the 23-minute difference in game time makes that evident.
No More Stalling
Before this rule took effect, pitchers had the ability to stall the game as much as they wanted, making the game unwatchable at times. This one is a bit more on the silly end of things, but watch this video that Rob Friedman posted on Twitter for a perfect example of this.
This is absolutely unheard of. The pitch clock forces pitchers to pick up the pace and makes for a much more enjoyable viewing experience… for most. Now, the pace does slow down a bit more with runners on base, going from a 15-second pitch clock to a 20, or at times a 25-second pitch clock. However, 25 seconds is still a huge difference from what we saw from Pedro Baez in Rob Friedman's video.
Viewership
This may not come as a surprise, but it's still a huge benefit of having a pitch clock. Let's take a look at the viewership of the World Series specifically. Outside of the shortened 2020 season, 2021 and 2022 have the two lowest World Series viewership totals in its televised history, 11,750,000 and 11,780,000 viewers, respectively. The next lowest viewership total was in 2012, at 12,636,000 viewers. Clearly, something had to change. In comes the pitch clock. With the pitch clock in play in 2023, viewership totals are expected to skyrocket as the game is much more fast-paced and energetic.
Cons
Bad Endings to At-Bats
This is the biggest concern that the pitch clock brings to baseball. If a batter isn't in the box, ready to swing with 8 seconds remaining on the clock, they are given an automatic strike, drastically changing the feel and eventually the outcome of an at-bat. Spring Training has only been going on for a few days, and there has already been an extreme example of this. On February 25th, the first full day of Spring Training, in a game between the Boston Red Sox and the Atlanta Braves, the game was tied 6-6 in the bottom of the 9th inning, with bases loaded. The batter, Braves' infielder Cal Conley, had worked a 3-2 count against RHP Robert Kwiatkowski, and what happened next was a prime example of how strict this new rule can be. When the pitch clock wound down to 8 seconds, the home plate umpire called a violation. Believing he was ready in the batter's box, Conley began walking to first base, as he thought the violation was on the Red Sox catcher. Little did he know that the violation was on him, abruptly ending the game in a tie without a satisfying conclusion. Luckily, this situation happened as early as the first day of Spring Training, not in an important setting like the postseason. Many believe that these penalties shouldn't take place in clutch situations, and with this happening on day one, that may be the case sooner than you think.
Pitchers; Hitters Feel Rushed
There have been some notable players that have said they feel rushed and tired during at-bats in Spring Training. In an interview during Phillies vs. Blue Jays on February 28th, Phillies' ace Zack Wheeler was asked how comfortable he's getting with the pitch clock, and he was quoted as saying this:
"I don't like it. I guess you've got to get comfortable with it but I don't like it at all. I think it messes with the game too much."

Philadelphia Phillies RHP Zack Wheeler on if he's comfortable with the pitch clock
Not only does Zack Wheeler think the pitch clock messes with the pace of the game, new Mets pitcher Jose Quintana agrees. Quintana was asked in a post-game interview if he felt rushed by the pitch clock during his start on February 28th vs. the Houston Astros, and he said this:
"I felt it a little bit in the beginning, trying to be on time. But after, I started to feel I was leaving the ball in the middle (of the strike zone), so I needed to be more aggressive. I started to think more in myself, and stopped worrying about the clock. But at the beginning, I felt I had to make an adjustment."

New York Mets LHP Jose Quintana on if he feels rushed by the pitch clock
We're sure pitchers will get used to this change, but as of right now, we have yet to see a full start from a pitcher. Once the regular season rolls around, pitchers will begin to go 5-7 innings, and we'll start to see the real effect of the pitch clock in a full-game scenario.
The In-Person Experience Takes a Hit
Sure, the shorter game time is great for viewership, and the more fast-paced style of play makes for a more exciting viewing experience, but for fans going to games, their time to enjoy the game heavily decreases. When you go to a baseball game, your main thought should never be, "I can't get concessions because I might miss three innings." Say you wanted to get food in between the 2nd and 3rd innings; instead of missing maybe an inning, you may miss up until the 5th or 6th inning of the game due to how fast the game itself is moving. Less time to enjoy baseball means a less exciting fan experience. Hopefully, this doesn't decrease ticket sales. We're sure the fan experience will still be loads of fun, including can't-miss moments, but the game's overall enjoyment takes a slight hit.
So, Is the Pitch Clock Good for Baseball?
It's very hard to answer this question, as we have yet to see it take effect in the regular season and the postseason, so as of right now, the answer is: it's too soon to tell. To the people who believe a pitch clock is what's best for baseball: Great! Whatever makes your experience as a baseball fan the best is what's best for the sport. However, to the people who don't believe a pitch clock is good for baseball, we say: Keep an open mind. There are absolutely some major cons to the rule, but until the rule is in play for a full season, all the anti-pitch clock fans can do is give it a chance. Maybe you'll learn to love it.