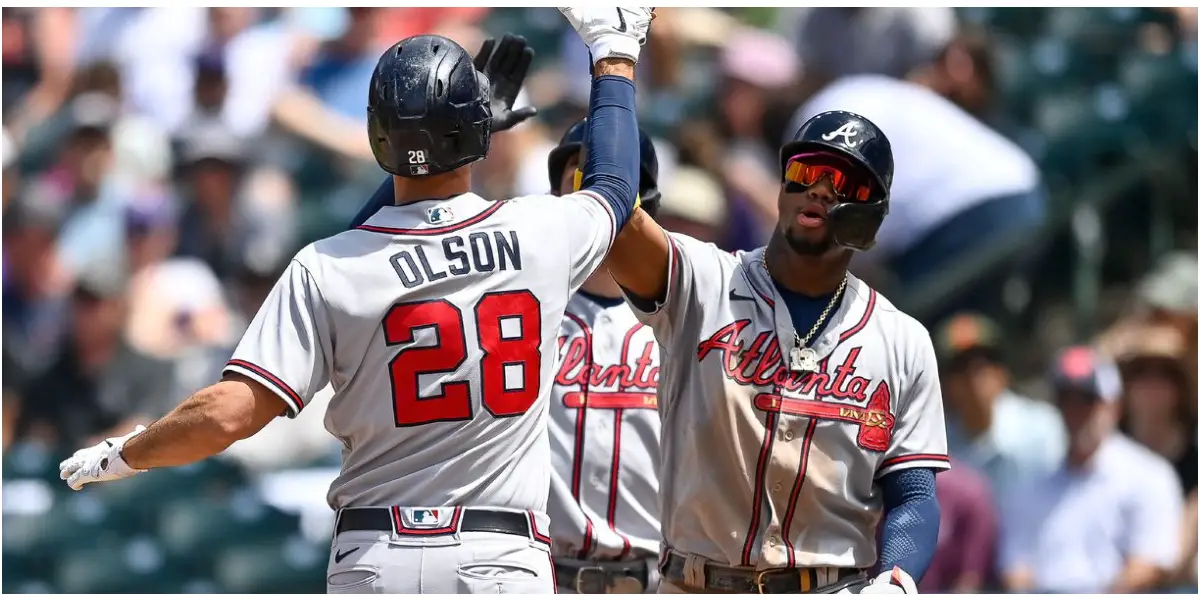 The NL East is an absolute beast. New York and Atlanta are coming off 101-win seasons, the third-place Phillies made it to the World Series, and all three improved this winter. This is part three of a six-part series.
Atlanta Braves
The Atlanta Braves are doing it right. Their homegrown star shortstop is now in Chicago, and Atlanta won't miss a beat. Superstars Austin Riley, Matt Olson, Ronald Acuna, Ozzie Albies, Michael Harris, Spencer Strider, and Sean Murphy are all locked into team-friendly deals through at least 2028, and Max Fried still has two seasons remaining before he is a free agent. This is how you run a franchise. The Braves payroll is $50 million less than Philly's and about $140 million less than the Mets, and the latter teams are still chasing Atlanta.
The rotation is just about set with Fried, Strider, Charlie Morton, Kyle Wright, and Ian Anderson returning, and Mike Soroka finally ready to contribute after several Achilles injuries and setbacks. Kenley Jansen is now in Boston, but Alex Anthopoulos brought in Joe Jiminez and Lucas Luetge to go along with last season's deadline acquisition of Raisel Iglesias and returning AJ Minter and Colin McHugh to form a deep and reliable bullpen.
The only question in Atlanta is how Vaughn Grissom will do replacing Dansby Swanson at shortstop. In 41 games last year, Grissom hit five home runs and batted .291… if he keeps that up and maybe takes a pitch or two, the free-swing rookie should fare just fine.
101 wins will be tough to match, but the Bravos have the arsenal to do it. Over/under is 96.5. The pick: Atlanta Braves over 96.5 wins.
Miami Marlins
The Miami Marlins are the MLB equivalent of a rudderless ship floating lost at sea after having one of the worst offenses in the league last year. GM Kim NG brought in AL batting champ Luis Arraez but failed to upgrade any of the other eight positions in the lineup. Jazz Chisholm is bumped to CF by the arrival of Arraez, Joey Wendle, and Jean Segura, and this experiment likely won't go well. None of the three infielders are particularly adept defensively, and the outfield is weakened by forcing a second baseman to cover such an important position.
On the bright side, the Marlins do have one of the best young rotations in the MLB. Cy Young winner Sandy Alcantara, Jesus Lazardo, Trevor Rogers, Edward Cabrera, and Johnny Cueto will not allow many runs. Unfortunately for these pitchers, you still have to score at least one run to win a game.
New manager Skip Schumaker certainly has his work cut out for him and needs to be near .500 come July, so the front office doesn't trade away any and every veteran they have. If Jorge Soler and Avisail Garcia can rebound from terrible, injury-riddled seasons, maybe the Marlins can play spoiler a bit and at least give fans hope of a wildcard spot.
Miami won 69 games in 2022, and the line is set at 76.5 for 2023. The pick: Miami Marlins to win under 76.5 games and miss the playoffs.
New York Mets
This winter was wild in Queens. Steve Cohen spent about $500 million, signed ten free agents, bungled the Carlos Correa signing, lost three starting pitchers to free agency, and somehow ended up with basically the same team for 2023.
Justin Verlander was brought in to replace Jacob DeGrom, Kodai Senga and Jose Quintana were swapped out for Chris Bassitt and Taijuan Walker, and the losses of Seth Lugo, Joely Rodriguez, and Mychal Givens were offset by the signings of David Robertson, Brooks Raley, and TJ McFarland.
The Mets also threw tons of money at Adam Ottavino, Edwin Diaz, Jeff McNeil, and Brendan Nimmo to ensure that the lineup and back end of the bullpen remained intact.
With a $370 million payroll, the sky is and should be, the limit for this version of the Mets. However, the more things change, the more they stay the same: The success of the Mets depends entirely on aging aces Verlander and Max Scherzer staying on the field, as well as the health of Carlos Carrasco and Senga adjusting to the American game. That's a lot of "ifs," and it makes it very hard to predict where this team will be come October.
The Mets will certainly make the playoffs, but I fail to see how they gained any ground on the Atlanta Braves. Vegas agrees. The line is set at only 94.5 wins after a 101-win season in which they choked away the division with only a few games remaining at the end of 2022. The pick: Mets to win over 94.5 wins, but under whatever number the Braves win.
Philadelphia Phillies
The Phillies shocked the league last year when they barely snuck into the playoffs, then took down two division winners, and the Padres, to make it to the World Series. The only problem the Phillies have now is that expectations are very high, and the NL East didn't get any easier.
Dave Dombrowski usually doesn't disappoint in the offseason, and this winter, he gave $300 million to Trea Turner to sure up shortstop and the leadoff spot. That move will surely look good for a few years, but Turner's value is about his speed and quickness… players like him do not typically age well. However, a ring between now and 2025 will surely ease the pain of that contract in 2029, when Turner is a burden.
Making 2023 even tougher for the Phils is Bryce Harper missing the first half of the season. Although replacing the production of a superstar like Harper is tough, having JT Realmuto, Trea Turner, Kyle Schwarber, and Nick Castellanos certainly helps.
A solid rotation, anchored by co-aces Zach Wheeler and Aaron Nola, could see a significant upgrade by the addition of one or two of the three top right-handed pitching prospects Philly has in waiting. Andrew Painter is the most likely to contribute in 2023, and he has the stuff to be a top of the rotation contributor for years to come.
Bet on Philly to improve on their 87 wins from 2022. The line is set at 89.5, and I like them for 89-92 wins. The pick: Philadelphia Phillies to win over 89.5 games. It's going to be close, don't bet the mortgage on this one.
Washington Nationals
The Nationals won the World Series in 2019……that seems so long ago now. The entire core of that team has been traded off for pieces, and Mike Rizzo isn't done yet. Assuming they are in last place come July, veterans like Corey Dickerson, Chad Kuhl, Alex Colome, and Wily Peralta will certainly be dealt away too.
The only thing Nats fans can hang their hats on is that there are some young future stars to watch. Keibert Ruiz is still only 24 and should take a few steps forward this year, CJ Abrams was a top 10 prospect and should improve on a shaky rookie year, and Joey Meneses came out of nowhere and showed flashes of power that Rizzo hopes will continue in 2023.
55 wins in 2022 was good for the worst record in baseball, and this summer does not look much better. Vegas generously set the line at 59.5 wins. The NL East boasts three of the best team in baseball, and wins are going to be tough to come by for the Nats. The pick: Washington National to win under 59.5 games
NL East Best Bet: Not a lot to choose from as NY, Atl, and Phi are all favored to make the playoffs. The Phillies are +300 to win the division. That's the best payout you'll get in the East.