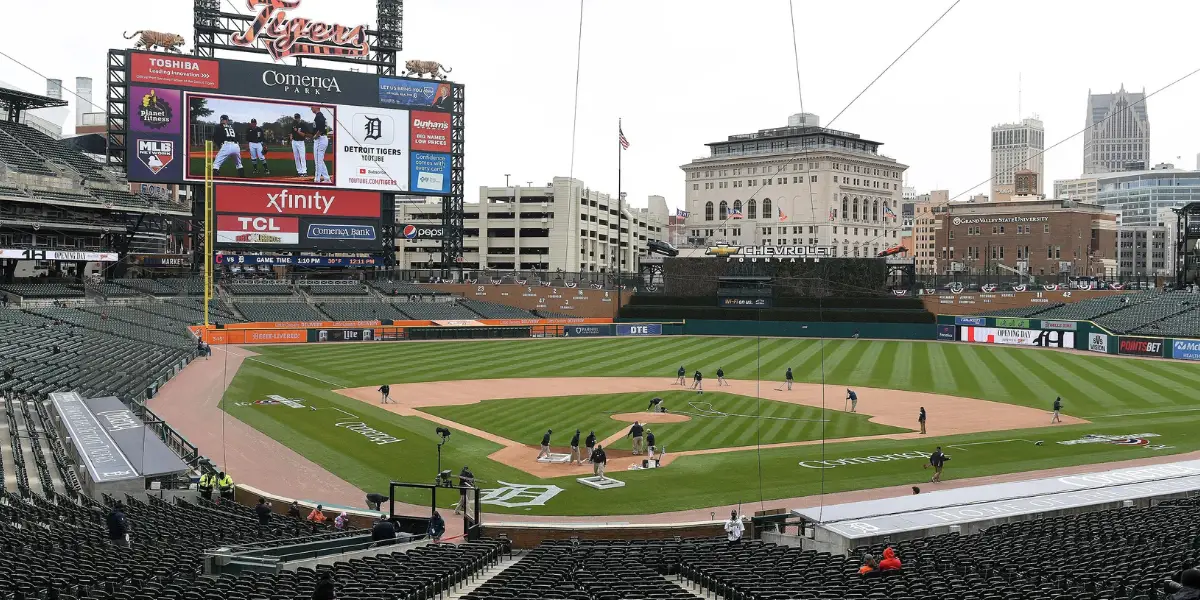 There are plenty of problems General Manager Scott Harris inherited coming to Detroit. New additions Javier Baez and Eduardo Rodriguez were abysmal. They combined for just a 2.5 WAR last year—the league's worst-hitting offense. The early struggles from Torkelson and Greene are alarming for all Detroit fans. On that list of issues for Harris was Comerica Park. It is no secret Comerica has been a pitcher's park for years. It is in the top five statistically for being the most home-run-suppressing ballpark. It is a massive home-run denier. The park has not posted a single season park home -run factor greater than 80 in the last decade. Comerica is also lesser known for the fact it is tough to hit doubles as well. It has been over a decade since it landed an above-average park factor for doubles. The run scoring environment overall is below the league average. In 2022, only Oracle Park was more difficult to homer in for a left-handed batter. Batted balls in Detroit have massively underperformed their expected wOBA by nearly fifteen points. That ranks in the bottom five as well. Also, barreling up a batted ball is less valuable in Detroit than in any other MLB ballpark. Riley Greene and Spencer Torkelson, our two most prominent young stars, felt the wrath of Comerica Park in 2022.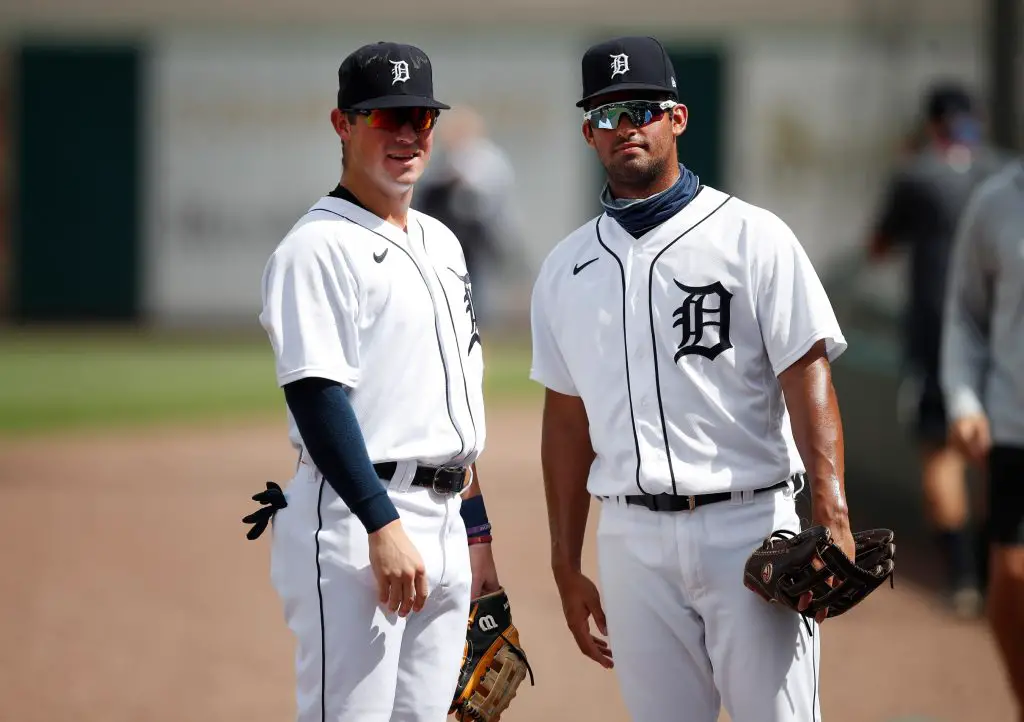 Riley Greene was more successful at the plate compared to Torkelson in 2022. He hit for a 98 wRC+ and boasts a great contact rate at home. He had a special barrel rate near 14 percent. Here is the Comerica curse, among every batter for the Tigers that had at least 25 barreled balls… Riley had the least home runs per barrel at just 20.7 percent. This fell short by around 240 points of wOBA, near the bottom of the league. Moving on to Torkelson, his power disappeared completely in the majors. Tork posted a 76+ wRC and was sent down to Toledo after the All-Star Break. Thankfully, after returning from Toledo, he killed the ball. His hard-hit rate increased by more than 10 points. He almost doubled his barrel rate. Torkelson did not look so lost at the plate. Ultimately… Comerica got him as well. Despite the increases, his expected stats fell way behind. His wOBA was around 95 points lower than expected at Comerica. Even more concerning was how drastic the difference was at the plate when he played home games versus away games. Torkelson needs to learn to pull the ball and use his power instead of tweaking his swing based on what park he is in.
Greene and Torkelson are both still young, under 24 years of age. They have plenty of time to acclimate and learn. The new park will reward their best hit balls more often than in 2022. As a left-handed batter, Greene will benefit greatly from lower wall height in both Right Field and Right Center. Something very needed for both players and the Tigers in general. If you are a Tigers fan, you are no stranger to watching hard batted balls become flyouts to deep center. The center field wall was the deepest in the MLB. It was brought in ten feet. Granted, that is still the second deepest in the MLB. Both center field and right field walls are being lowered to seven feet, originally 8.5 feet. Scott Harris said, "these changes will accomplish our goal of improving offensive conditions on the hardest hit balls while maintaining Comerica Park's unique dimensions and style of play." The park has only been adjusted twice since opening, this time for good reason.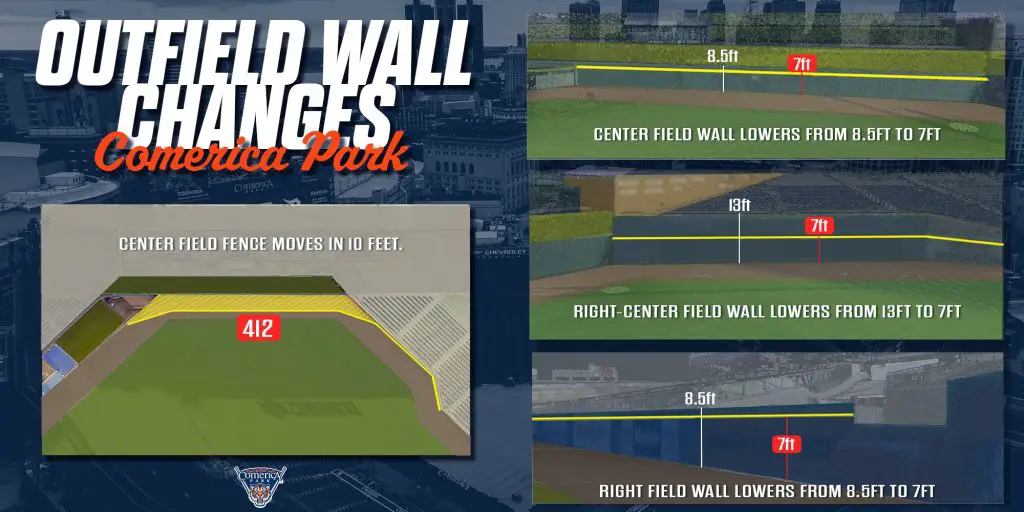 Do not be fooled by the recent adjustments, however Comerica Park still boasts the second deepest center field wall and by no means is a hitter's park. This is arguably STILL one of the hardest ballparks in the MLB to be a power hitter in. It does not mean that our pitching will get rocked, and we are allowing more runs because of it. It does mean that our hitters have at least a prayer to hit for power and compete with other teams. Logistically in this ballpark, Detroit has no chance to keep up with power-hitting rosters. Detroit is not a power-hitting team like the Yankees or the Padres. We saw that last year in Comerica Park. As a team that played 81 games in Comerica last year, these new adjustments will be noticed. Hitters will be rewarded for batted balls and hard-hit balls. Not to mention this gives Detroit a chance to appeal to power hitters in free agency or trade markets now. Scott Harris made the right decision, and a team who desperately needed some help at the plate will benefit greatly. Will the Tigers hit a bunch of home runs now and smoke the league in power-hitting? Obviously not. The Tigers can make small improvements and see more rewarding at-bats for our players, however. This is a win for Detroit and Scott Harris. What do you think?