On the morning of January 18, 2023, news broke that the Red Sox were signing Outfielder Adam Duvall. Duvall is a 6 foot 1, 34-year-old right-handed hitter and a very solid addition for the Red Sox.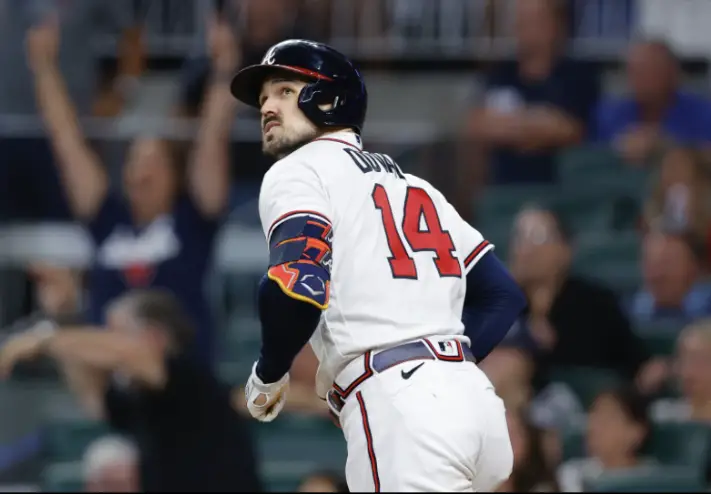 After acquiring Tommy Pham last season and then parting ways with him soon after, the Sox added Duvall, agreeing to a 1-year, $7 million contract. Later in the same day, the Mets would sign Pham to a 1-year, $6 million deal. Both of these are fairly small contracts, and while we pay Duvall an hefty million more dollars than we would have had to pay Pham, this is the better move. Why? Simply because Duvall (if healthy) will have a better impact on this team than Pham would have, had we payed him the $6 million to stay here for another season. 

Both veteran outfielders are 34 year old right handed batters who have bounced around between a few different teams throughout the course of their careers. Pham has traveled from the Cardinals, to the Rays, the Padres, the Reds, and they're here in Boston for a short period of time before signing with the Mets on January 18. Duvall has made his debut with the Giants in 2014 before going to the Reds, then the Braves, then to the Marlins, and back to the Braves. Now, we got him. Adam Duvall, welcome to Boston. Duvall has a career .230 batting average and 163 home runs. Pham has a career .259 batting average and 114 home runs. Now, these stats aren't everything, they somewhat put into perspective that these are fairly similar players. 
However, I personally would rather have Duvall on the team. Evidently, Chaim Bloom and the Sox organization felt the same way. Not because Pham is bad or because I have anything against him. In fact, I think he is a great veteran player to have on any team who can have a solid impact. The Mets made a good move in picking him up. But why let one 34 year old outfielder walk, just to pick up another one for virtually the same price? I'll say this as simply as I can put it. He produces runs in a way that can help this team tremendously. Although the pitching was the main focus in the offseason because of how poor it was in the 2022 season (and the Red Sox did do a pretty good job taking care of that), the offense wasn't anything special aside from essentially just two players: Devers and Bogaerts. Those guys hit homers last year. Plenty of guys hit the ball decently last season but baseball isn't a hitting competition. The players got get on base and then you have to get them in somehow. A big part of that will come from Duvall this season. The goal is to get more runs than the other team. The offense wants to produce runs and the defense wants to prevent them. The Sox have done a solid job constructing a defense and pitching staff and bullpen that can keep us in most games and even win us some. None of that matters if they don't score any and I believe Adam Duvall will help us to do that in an impactful manner this season.
With the team we have right now, it may not be fair to expect a World Series in 2023. All we can ask for is improvement. Adding Adam Duvall could pan out to be our best move this offseason, as far as offensive improvement goes.