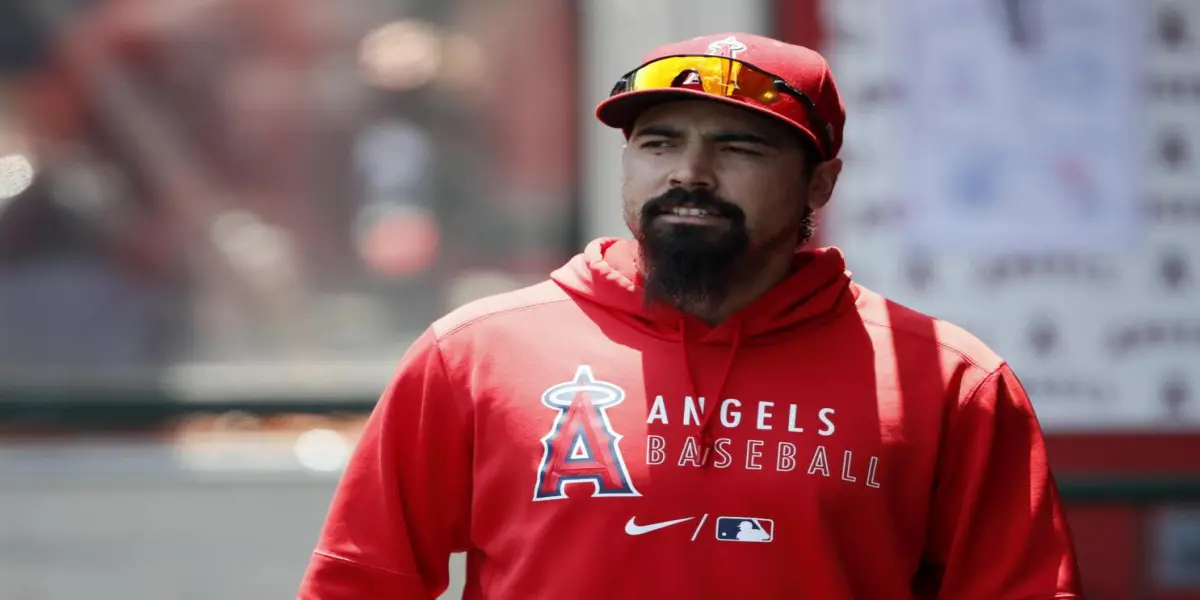 The second half of the season begins tonight with a mouthful of roster moves for the Angels. The injury-riddled Halos are getting back two key contributors from stints on the injured list but are losing three more players.
Anthony Rendon missed the last week of the first half after fouling a ball off his shin not even 24 hours after Mike Trout broke his hamate bone. The shin contusion appears not to be healing the way they expected, so Rendon will return to the IL. 
Rendon, Trout, Brandon Drury, Gio Urshela, Zach Neto, Jo Adell, Sam Bachman, and Ben Joyce were all placed on the IL within the last few weeks alone, not to mention Matt Moore and Logan O'Hoppe; O'Hoppe has been on the IL for a while. Neto and Moore will be coming off the IL and that will certainly help, but those two are not going to be the difference that turns the Angels' season around.
This will be Rendon's second trip to the IL this season alone. He had surgeries in the 2021 and 2022 seasons to care for groin and wrist injuries. Rendon has played in 148 games and 625 plate appearances in the last three seasons combined. As a reference, Shohei Ohtani played in 155 games with 639 plate appearances in 2021 and 157 games with 666 plate appearances in 2022 while also making 68 starts and 397 innings on the mound since the start of 2021.
After this season, Rendon has three more years on his contract, and the only season he has played a full year was the 60-game-shortened COVID season in 2020. Except for 2020, Rendon has not played nearly as well as he did in his time with the Nationals, where he was one of the most consistent players in baseball and even received some down-ballot MVP votes. Despite an impressive 2020 season, Rendon is hitting .249/.359/.399 with a .758 OPS in an Angels uniform. His wRC+ as a Halo has been 152 in 2020, 94 in 2021, 103 in 2022, and 97 this season. 
As for Adell, he came out of the game against the Dodgers in the last game of the first half when he struck out swinging and walked back to the bench with discomfort. The timetable is unclear, but Neto was reinstated today for the same injury and was put on the IL on June 15th, and Moore as well, but he was placed on the IL on May 28th. Of course, every strain is different so it could be a different recovery time, but I imagine it would be about the same. Adell only has five games played in the majors this season and has spent most of the season leading the PCL in home runs for the Triple-A Salt Lake City Bees. 
Bachman's Bachman'she IL hurts a little bit more. Bachman has been solid in the bullpen for the Halos in his brief time in the big leagues. He owns a 3.18 ERA and a 3.75 FIP in 17 innings pitches, largely thanks to his slider. According to Baseball Savant, Bachman's Bachman'ss 34.2 inches of drop to it and has produced a 34.0 Whiff%. 
Zach Neto returns after missing a month after his battle with an oblique strain suffered in Texas. Neto was hitting .259/.338/.431 with a .769 OPS and a 114 wRC+ while also playing great defense at shortstop. The 22-year-old was starting to play his way into the American League Rookie of the Year conversation by hitting .409 with a 1.409 OPS and three home runs in his last seven games before the injury. Andrew Velazquez and David Fletcher were the replacements at short, and with Fletcher getting outrighted to Triple-A Salt Lake, Velazquez will be the defensive replacement moving forward.
Matt Moore has not appeared in a game since May 23rd because of his right oblique strain. He returns to the Halos bullpen with a 1.44 ERA and a 2.88 xERA in 25 innings. If Moore can come back and pitch to the same caliber that he was before getting hurt, it will be a massive boost to the bullpen. Now the Angels have three active arms in the bullpen with sub-3.00 ERAs in Moore (1.44), Jacob Webb (2.49), and Carlos Estevez (1.80).
Since Jo Adell is on the IL, the Angels have called up Trey Cabbage. The power-hitting corner outfielder and first baseman has spent the whole year in Sal Lake City, where he is hitting .287/.358/.576 with a .934 OPS and 23 home runs in 81 games.
Michael Stefanic also gets another shot in the big leagues with Rendon gone. Stefanic only has seven plate appearances in the big leagues this year and has spent the rest of the year in Salt Lake City and hit .349/.445/.440 with a .885 OPS. Stefanic does not hit for power and has great discipline at the plate, with 37 walks and 21 strikeouts in Triple-A.