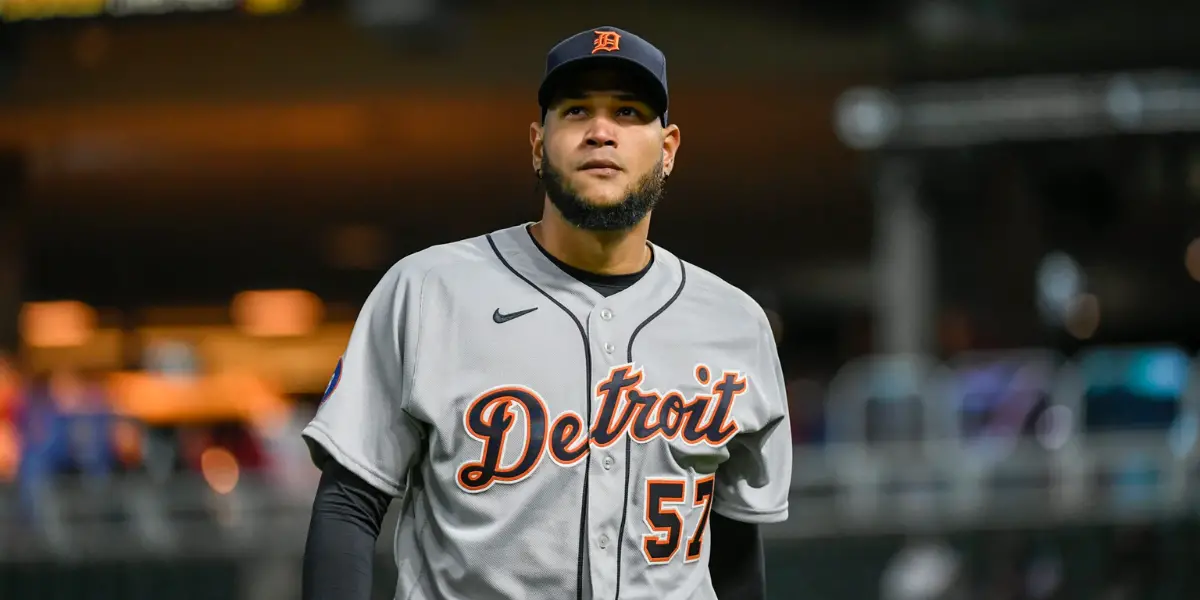 The Detroit Tigers have announced that for the 2nd season in a row, left-handed pitcher Eduardo Rodríguez will be on the mound as the opening-day starter.
Rodríguez will face the Tampa Bay Rays lineup on March 30th, on the road in Tampa, to kick off the 2023 season. This decision shouldn't surprise anyone as the 29-year-old veteran lefty has impressed this spring despite early concerns. You don't have to go far to find the last Tigers pitcher to start back-to-back opening days… Eduardo Rodríguez will be the first Tigers pitcher to do it since Matt Boyd, who started on opening day in 2020 and 2021. The last Tigers right-handed pitcher to start on opening day was Jordan Zimmerman in 2019. Rodríguez is entering his 2nd season as a Detroit Tiger. He signed a 5-year, 77 million-dollar contract with Detroit in November of 2021. The Tigers didn't get what they had hoped for out of Rodríguez last season, and he had disappeared, with reports coming out that Detroit hadn't even heard from him. Rodríguez did not play in June and July but did return in August. He finished the 2022 season with a 5-5 record. He pitched in 17 games, had a 4.05 ERA, struck out 72, and walked 34 in 91.0 innings pitched. Eduardo Rodríguez will be an important piece to Detroit's puzzle this season and will play a bigger role with Casey Mize and Tarik Skubal injured. So far, Eduardo Rodríguez has looked sharp this spring. He's appeared in 4 games, has a 1-0 record, hasn't allowed a single run this spring in 13.0 innings pitched, he's struck out 15 and walked 2. The only run he's allowed so far this season was against Team Nicaragua in the World Baseball Classic with team Venezuela. Manager A.J. Hinch wants the team to be more competitive this season. If Rodríguez continues to dominate and has a strong 2023 season, it'd go a long way towards Detroit exceeding most fans' expectations.
Michael Lorenzen Won't be Ready for the Start of the Season
Detroit signed right-handed pitcher Michael Lorenzen to a one-year, $8.5 Million contract. Lorenzen spent last season with the Angels. He had a winning record of 8-6, an ERA of 4.24, 85 strikeouts, and 44 walks in 97.2 innings pitched. Lorenzen will miss the start of the season because of a left groin strain, but he's making progress toward his return. He is scheduled to start a running progression over the weekend.
Joey Wentz Makes Opening Day Roster with Lorenzen Injured
Evan Petzold has reported that Joey Wentz will start one of the first five games as Lorenzen will not be ready to go. Wentz pitched in 7 games last season at the big league level for Detroit. He had a 2-2 record, 3.03 ERA, 27 strikeouts, and 13 walks in 32.2 innings pitched. Wentz has not had a very good spring but has only appeared in 3 games. He has an 0-2 record and an ERA of 7.98. Wentz has allowed 13 runs in 14.2 innings pitched, four of those were Home Runs. He's struck out 19 while walking 6 this spring as well. He has potential but often finds himself in trouble. Hopefully, he can have a good start to the season, and maybe he'll be a more familiar face at the big league level.
Detroit Announces Catchers Who will Make the Opening Day Roster
Eric Haase and Jake Rodgers will be the catchers for Detroit on the opening-day roster. Andrew Knapp will not make the opening-day roster despite having a good showing in spring training. Detroit also announced that catcher Donny Sands, who was acquired in the trade with Philadelphia in the off-season, was optioned to Triple-A Toledo.
RHP Will Vest Optioned to Triple-A Toledo, and 3B Andy Ibañez Reassigned to Minor-League Camp
Relief pitcher Will Vest will start his 2023 season in Toledo with the Mud Hens. Andy Ibañez, who was considered by many fans as a dark horse to earn the vacant 3B position, has been reassigned to minor-league camp. Vest played in 59 games for Detroit last season out of the bullpen. He had a 3-3 record, one save, a 4.00 ERA, 63 strikeouts, and 22 walks in 63.0 innings pitched. Andy Ibañez has two years of experience in the big leagues; he played for the Texas Rangers in 2021 and 2022. Now he'll have to work through the minor league's to get back to the majors.