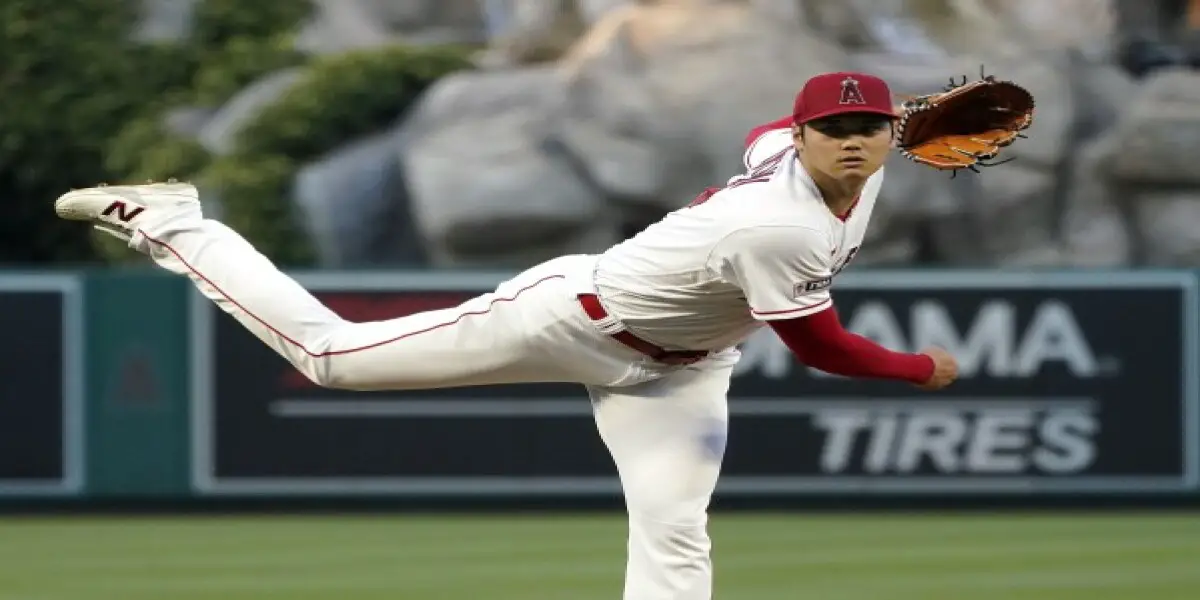 The Angels front office is in one of the most challenging situations in baseball history. Two-way superstar Shohei Ohtani will be a free agent at the end of the season and is expected to sign the most expensive contract in baseball history. Out of pure speculation, it is uncertain whether Ohtani will want to stay in Anaheim, given their lack of success over the last decade. This raises the concern that the Angels need to trade Ohtani at the trade deadline so he does not walk away without getting anything in return.
Angels GM Perry Minasian has already come out and said they do not plan on trading Ohtani, so we know a trade almost certainly will not happen. This was expected because I doubt Angels owner Arte Moreno would trade his biggest revenue-getter. This article will be more about weighing which option favors the Angels more.
There are multiple factors that make this decision insanely difficult. The most significant one is that the Angels are currently in the thick of the Wild Card race, and Ohtani is a large part of why the Angels are even in the conversation for playoffs. Ohtani is slashing .303/.390/.664 with a 1.054 OPS and a 182 wRC+ and has a 3.02 ERA, 127 strikeouts, 3.33 xERA, and an 11.99 K/9 in 16 starts (95.1 IP). He leads the Angels in almost every significant offensive and pitching statistic. At the plate, he leads the majors in home runs (31), triples (5), slugging percentage (.664), OPS (1.054), wRC+ (182), and total bases (217). Ohtani is well on his way to his second MVP selection in three years, barring injury at this point.
The Angels are currently 45-42 and are now three games out of the last Wild Card spot after their recent skid just past the halfway point of the season. Competition around the Angels for the Wild Card is also not as strong as many had thought. Since 2022 AL MVP Aaron Judge landed on the injured list on June 4th, the Yankees are 11-13, and their offense has been a major issue. With Judge on the IL, the Yankees do not have any hitters on their roster that have an OPS north of .800. It is uncertain when Judge will return, and until then, things are looking grim for the Yankees. The Astros had a bit of a slow start and did not quite look like the powerhouse that has made trips to the ALCS every year since 2017, four World Series appearances, and two World Series championships. But in the last couple of weeks, they have started to turn things around. The defending champs are 47-38 and are tied with the Yankees for the second Wild Card Spot. Missing former MVP Jose Altuve for almost two months and currently missing one of the league's most feared hitters in, Yordan Alvarez, have done the Astros no favors this year. Further down the standings, the Mariners have not played up to expectations and are slipping from the playoff picture with every passing series, and the Red Sox have been fighting the .500 Monster all season.
It can be impossible to wrap your head around the thought of trading the game's best player while you're in the middle of a playoff race, but are the Angels, serious playoff contenders? Their record against teams that are .500 or over is 18-27, and their inconsistencies have raised question marks. This is a team that went into Texas and took three out of four against one of the best teams in baseball and then just over a week later lost two of three to the 20 games under .500 Colorado Rockies. A series that saw the Angels score a franchise-record 25 runs in a game in their only win. The Angels outscored the Rockies 32-12 in that series and lost two out of three. And with the strength of their schedule for the rest of the summer, the Angels' playoff hopes look bleak.
But let's not get too down on the Angels this year. They possess the fourth-best team OPS as an offense (.777) and the eighth-lowest bullpen ERA (3.80) but ranks just 19th in starting pitching ERA (4.50). Last year's 3.67 starting pitching ERA was 6th best in baseball, and with a similar rotation from last year, the Angels could see those pitchers bounce back. One of those pitchers is already starting to bounce back. Reid Detmers, who struggled out of the gate this year, has a 1.42 ERA in his last five starts with 43 strikeouts and ten walks in 31.2 innings pitched. If the starting pitching can return to form from last year, the Angels will tremendously improve because it will also take off some of the workload the bullpen has been dealing with.
GM Perry Minasian has already made some aggressive moves to fill out the roster because of the injuries suffered by Zach Neto, Gio Urshela, and Anthony Rendon. Since all three of these players got hurt in the last couple of weeks, Minasian has gone out and gotten veteran infielders Eduardo Escobar and Mike Moustakas. It appears that the Angels are going all in this year as if it is their version of The Last Dance with Ohtani.
Should the Angels go all in, they will need to add at least one quality starting pitcher and another reliable bullpen arm. The problem is most of the promising prospects that teams are going to be looking at are already contributing at the major league level. In an already thin farm system, four of the Angels' top 30 prospects are already making an impact in the majors. Those four players, Logan O'Hoppe (1st), Sam Bachman (4th), Ben Joyce (9th), and Jose Soriano (24th), not to mention Zach Neto, who graduated from prospect status this year, are the bulk of promising prospects that the Angels have. It will be difficult for the Angels to make significant moves knowing that these players will likely be off the table come the August 1st trade deadline.
So the Angels are fighting for a Wild Card spot but are inconsistent and struggle against winning teams and are looking to buy but do not have the prospect capital to get much. A constant battle of being mediocre has plagued this franchise for over a decade. Do they trade Ohtani and get a haul of prospects and major league-ready players to give them a better chance to win sooner rather than later?
The problem with trading Ohtani at the deadline is that the Angels did not trade him last year. The baseball world was rumbling about Ohtani being traded at the previous deadline, and if that had happened, the Angels would have gotten a much larger return than what the return is expected to be this year. As a generational talent as Ohtani is, teams are not going to want to empty the farm system for a rental that is not guaranteed to sign an extension or resign in the offseason. Ohtani's price tag lowered significantly once this season started, and the Angels may have missed their best opportunity to maximize Ohtani's value.
But to put things into perspective, something is better than nothing, and nothing is what the Angels are going to get if they do not resign Ohtani in the offseason. They will not get the return that they want, but the Angels will still be getting at least a good haul of prospects that could get more production than a compensation pick in the draft. Last year's trade deadline saw another generational talent in Juan Soto get dealt to the Padres, who gave up their 1st, 3rd, 4th, and 8th-ranked prospects (Fangraph's rankings). Granted, Soto had another year on his deal, so he was not a rental like Ohtani is now. Still, since Ohtani is in a class of his own, given he is statistically the best hitter and a top-15 pitcher in baseball, the Angels might be able to get a similar deal.
If the Angels choose not to trade Ohtani, which Minasian has made clear that they do not plan on it, then Arte Moreno has to open his wallet and dish out yet another lucrative contract. Moreno's track record shows that he is willing to hand out large contracts, albeit most of them were failures. The problem is Moreno's track record also shows that once he signs his guy, not much other money gets handed out throughout the roster. Since Moreno took over the Angels in 2003, the only time that the Angels were over the luxury tax was in 2004. Right now, the Angels are about $4 million shy of the luxury tax threshold, according to Spotrac, and with the sense that the Angels will be buyers, it will be very interesting to see if Moreno is willing to go over.
Along with Ohtani, pending free agents Hunter Renfroe, Gio Urshela, Matt Moore, Mike Moustakas, and Chris Devenski should clear up close to $30 million in payroll if they do not resign with the Angels. That gives Moreno more room for a contract that is expected to be near $50 million a year.
The only way that Ohtani decides to stay in Anaheim is if Moreno shows that he is able to accept going over the luxury tax threshold to fill out the rest of the roster. And that does not mean the Matt Harvey type of signings that he made in the late 2010s, where they took chances on guys that used to be good because they were cheaper. If Moreno is serious about keeping Ohtani and building a winning team, he has to accept the fact that it is not going to be cheap. My personal belief is that Ohtani is not going to stay if he does not think that the Angels are going to win, and with one of the worst farm systems in baseball, the Angels have to rely on free agents to build a winning roster. Moreno would not have to worry about building a competitive roster from free agents if he actually invested in scouting and development, but that is a separate issue.
This situation is filled with ifs, but if Moreno is willing to spend the money and risk going over the luxury tax, then it is a no-brainer for the Angels to try to bring back Ohtani by any means necessary, and it makes it more likely that Ohtani would want to resign. If Moreno is not willing to do so, I doubt Ohtani would want to stay, and he will take his talents elsewhere, and all the Angels will get is a compensation pick in next year's draft. If Moreno knows he does not want to spend more outside of Ohtani, then the Angels should trade Ohtani to at least get back a decent haul.