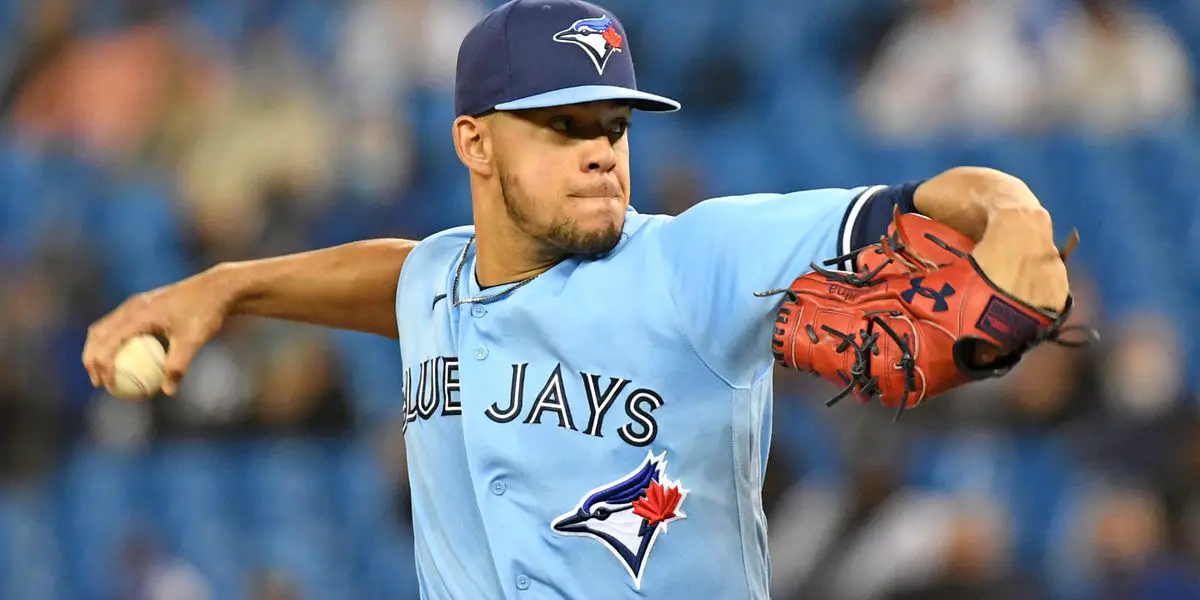 After coming over in a trade between the Minnesota Twins and the Toronto Blue Jays during the 2021 season, it's fair to say that Blue Jays right-hander Jose Berrios didn't have a particularly strong 2022 campaign. Despite showing flashes of promise, the 28-year-old couldn't string it together. Berrios rough season resulted in Jose's worst year since being a rookie in 2018 with the Twins.
How bad was Jose in 2022? Well, in one-hundred and seventy-two innings last year, Berrios posted a 12-7 record with a 5.23 earned run average. If you wanted to dive a bit deeper into the analytics, Berrios had a -0.5 wins above replacement, according to Baseball-reference.com, and gave up twenty-nine home runs. That home run number is an all-time high for Berrios, who's been one of the better pitchers in baseball prior to 2022.
After signing a whopping seven-year extension worth one-hundred and thirty-one million with the Blue Jays last offseason, Berrios was given high expectations. General Manager Ross Atkins and Team President Mark Shapiro rewarded the right-hander last offseason as they projected Jose to lead the Blue Jays pitching staff in 2022. However, Jose's season was so poor the 28-year-old didn't even throw a pitch for the club in the playoffs.
Now, for some, it might be hard to trust in Jose Berrios to bounce back in 2023. After deep diving into the career of the 28-year-old, I found some reasons to get behind the Jays starter, as we all hope for a return to form. If the Blue Jays can get the Jose Berrios they paid for, this team's rotation could be filthy. Especially after the emergence of Alek Manoah, Kevin Gausman, and the addition of Chris Bassitt.
The first encouraging stat I came across was regarding Jose's career wins above replacement numbers. After having a below zero grade for the first time in Jose's career, according to Baseball-reference.com. It's definitely encouraging to see that Berrios career wins above replacement is around 10.8. That's a serious gap between the two, and after one outlier season, it's hard not to be confident he'll find his groove. A career 10.8 wins above replacement is significant. Especially as a starting pitcher with as much experience as Jose, that's not just a fluke.
The second thing you can look at when evaluating Jose Berrios long-term outlook is his career earned run average. After a high of 5.23 in 2022, Jose's career average is almost about a whole point lower at 4.24. This is another significant sign of how odd Jose's 2022 season was. After being solid for so long, what was Berrios biggest struggle last season?
Jose's biggest issue last season was mainly about how hard the 28-year-old was getting hit. Berrios' 4-seam fastball was the pitch that generated the hardest contact in 2022. The 4-seamer was his second most used pitch that, causing a 55.3% hard-hit percentage. According to Baseballsavant.mlb.com, Berrios had an 11% HardHit% in total with a 15% Barrel% in 2022. Those numbers aren't exactly great, especially when being a projected head of the rotation-type pitcher. If Berrios can take advantage of his strong chase rate percentage numbers and generate more swings and misses than contact, we could see a significantly different 2023.
If you're still not completely sold on a Berrios bounce-back next season, fangraphs.com projects Berrios to have a 4.14 earned run average and have wins above replacement at about two. That's a season much more aligned with Jose's career average. If the Blue Jays want to be more than just playoff contenders, the 28-year-old must find his rhythm. With Berrios projecting to me a middle-of-the-rotation arm this season for Toronto. It'll be key that Berrios performs at least somewhat as projected. The Blue Jays rotation should be amongst the best in 2023 if so.
Thanks for reading! For more baseball content, follow me on Twitter at ITR_Anselmo.